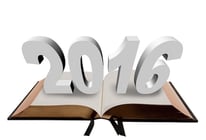 The College Board recently published a new version of the Official SAT Study Guide (3rd edition) to reflect the newly redesigned 2016 SAT. What's the book like? Is it helpful? In this review, I'll break down the strengths and weaknesses of the book, talk about how students feel about it, and tell you whether it's worth buying.
Should You Buy the Official SAT Study Guide?
While the Blue Book (as it was called by students) used to be the must-have source for SAT prep, the Official SAT Study Guide, 2016 Edition is not worth purchasing. The book in its entirety — including its four practice tests — is available free online, so don't waste your money buying the book.
Why did the College Board release this edition for free? It's part of the College Board's attempts to make the SAT more accessible and to reduce SAT inequality based on socioeconomic background. This is a wonderful move by the College Board, but it now means buying the book is a complete waste of money.
If you have the time is it worth reading the Official SAT Study Guide, 2016 Edition, free online? Yes and no. The four practice tests from the book (which are all available online for free) are absolutely crucial to your SAT prep. However, these are only four of the eight available SAT practice tests created by the College Board which reflect the redesigned 2016 SAT. Plus, the book doesn't provide you with details of how to score your practice test. You have to go online to do that, rendering the book really useless. If you can't even score your tests using the book, why buy the book?
Also, the educational material other than the practice tests doesn't give any helpful test insight nor strategy. The educational material just provides surface level details about the test. It doesn't teach you the content needed for the SAT. There are far better, more in-depth SAT study guides out there including the free ones that we've written: Check out our Reading, Math, and Writing study guides. The educational material also mostly just tells you to go learn more on the Khan Academy SAT prep site, which is free for anyone to access whether or not you purchased the book.
Strengths
The strengths of the books are very limited:
Four of the College Board practice tests are pre-printed for you, so you don't need to spend money printing them yourself.
You can recycle the book (AKA use it for kindling in your bonfire or use it for a paper mache project).
Weaknesses
There many:
The entire book is available for free online.
The book doesn't provide you with scoring information for your practice tests; you have to go online to get the information.
The book only provides surface level description of each section and doesn't provide instructional material, so you can't actually learn skills and content from the book. The book does not include any content lessons. For example, if you're struggling with geometry questions, you won't get any assistance from this book. You'd need to seek additional help.
Also, just taking SAT practice tests without a method of learning from your mistakes will not help you improve. The book gives no guidance on how to learn from your mistakes nor how to study content.
How Students Feel About the
Official SAT Study Guide 2016
If you don't believe me, check out how other people feel about it. On Amazon, the book is rated 3.5 stars out of 5 with about half of people giving it 5 stars (it is still full of official practice problems) but a large percent of people giving it 1 star.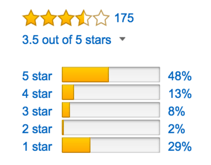 The 1-star reviewers generally agreed with my feeling that the book was a waste of money: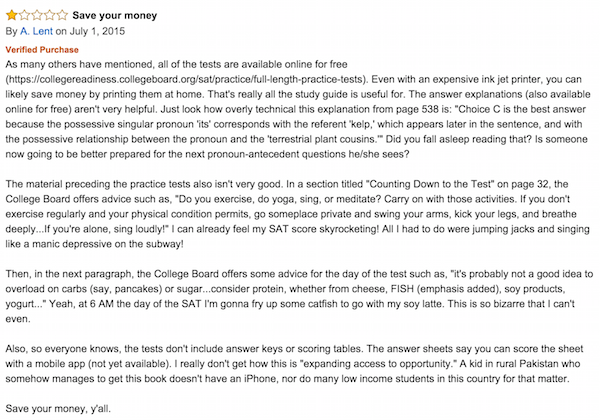 The five-star reviewers also agreed that all the material was online but felt the book was worth the money since it's a hassle to print out the four practice tests:

How You Should Use the Official SAT Guide
I recommend no students buy the book, but all students should be using the free practice tests that are available online.
I don't think any student needs to read the additional information included in this guide. The information is superficial yet difficult to parse: it discusses the types of question and content covered without giving many if any examples. We've created better free guides: check out our Reading, Math, and Writing study guides.
If you're a worry wart (like me), and you're stressed that you don't know everything you can about the test, then go ahead and read the extra material for free online. You should be able to read all of it fairly quickly. As I said, it's pretty sparse and superficial.
However, reading this book alone will not prepare you for SAT success. You need to review your SAT practice tests to learn from your mistakes. You need to be doing in-depth content reviews for subjects you don't know or have forgotten such as systems of equations or how colons work.

You still need to study!
What SAT Prep Material Should You Use?
Now that you know not to buy this book, and you'll print the free practice tests from the College Board website, what other resources should you use to help you prep?
First, I'd recommend our free SAT study guides for Reading, Math, and Writing. As I mentioned before, these guides are all available here on our blog for free.
If you find yourself still struggling to improve after taking a few practice tests and using our free guides, I'd recommend that you consider using one of the best SAT prep books, hiring a tutor or using an online program. Whatever option you choose, make sure the program is specialized to you. You want a program that will identify your strengths and weaknesses, so you can improve your weak areas and, therefore, improve your score.
What's Next?
Studying for the new SAT? Check out our complete guide to test changes and our ultimate SAT study guide.
Looking for extra help? Check out our guide to the best SAT prep books. Trying to decide whether to hire a tutor or do an online prep course? We can help.
Getting ready to apply to college? Unsure of where you want to go? Check out our guide to finding your target school and how to find out what your target SAT score should be.
Want to improve your SAT score by 160 points? We have the industry's leading SAT prep program. Built by Harvard grads and SAT full scorers, the program learns your strengths and weaknesses through advanced statistics, then customizes your prep program to you so you get the most effective prep possible.
Check out our 5-day free trial today:
Have friends who also need help with test prep?
Share this article!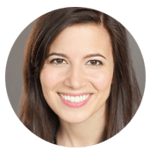 About the Author
As an SAT/ACT tutor, Dora has guided many students to test prep success. She loves watching students succeed and is committed to helping you get there. Dora received a full-tuition merit based scholarship to University of Southern California. She graduated magna cum laude and scored in the 99th percentile on the ACT. She is also passionate about acting, writing, and photography.
Get Free Guides
to Boost Your SAT/ACT