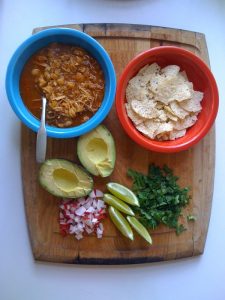 Have you heard people discuss the deliciousness of pozole and you were confused because you didn't know what they were talking about? Have you eaten pozole, and now you need to know how to make it?
Well, you're in luck. I'm going to educate you on all things pozole. By the end of this article, you'll know about the origins of pozole, how it's made, and you'll be able to prepare all the major types of this traditional Mexican stew.
What Is Pozole?
Pozole, AKA posole or pozolé, is a traditional Mexican soup. Because making it is labor-intensive and time-consuming, it's often a treat for special occasions. Those who grew up with pozole associate it with family and festivities.
I may be biased because I love it, but if you haven't tried pozole, you need to ASAP. It's rare to find somebody who's tried pozole who doesn't like it.
Pozole comes from the Nahuatl word "pozilli," meaning "foam." Nahuatl was the language of the Aztecs, an indigenous people of modern-day Mexico.
Pozole is made with hominy, which is processed corn with the germ removed, and meat, traditionally pork. It's also often made with chicken, especially for those who don't eat pork. The stew is seasoned with a combination of spices, and it's typically topped with garnishes like radishes, avocados and lime juice.
Here's a pic of hominy. It looks like puffed-up corn kernels.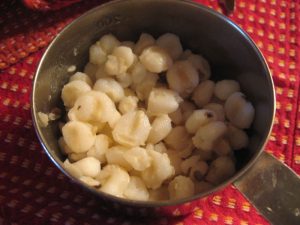 You can buy dried hominy or make your own hominy from corn, but it's easiest to buy canned hominy. All you have to do to make pozole from canned hominy is drain and rinse the hominy from the can. Then, it's ready to cook.
The History of Pozole
Pozole originated with the Aztecs and other indigenous tribes in Mesoamerica. Historical texts state that the pozole of the Natives was made with sacrificed human flesh, and it was eaten on special occasions. Yummy.
After the Spanish arrived and cannibalism was banned, the human flesh was replaced with pork. There is some speculation that the Aztecs opted to use pork because it tastes like human meat. I guess that means I'd regrettably find cannibalism delicious.
Today, pozole is still a very common food for Mexicans to eat on special occasions, like weddings, quinceañeras (special celebrations for girls' 15th birthdays), birthdays, baptisms, and holidays.
The Different Types of Pozole
There are different variations of pozole associated with different regions of Mexico. These are the three major types of pozole: pozole rojo (red pozole), pozole verde (green pozole), and pozole blanco (white pozole). In my experience, red pozoles seem to be the most common, but one of the best meals I've ever had was a green pozole.
Here's how the different colors of pozole look.
Pozole Blanco: Basic Pozole Without Salsa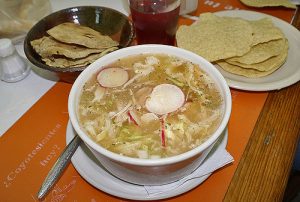 Pozole Rojo: Pozole With a Red Salsa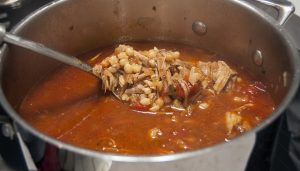 Pozole Verde: Pozole With a Green Salsa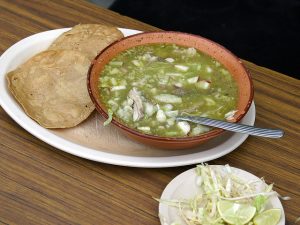 Primarily, the difference in color in the salsas comes from the red chiles in pozole rojo and the green tomatillos in pozole verde.
Also, instead of pork, you can make a pozole with chicken or goat. In Mexico, pozole is traditionally made with pig's head, but because it's a little harder to find pig's head to purchase in the US, you can stick with pork shoulder or pork butt. However, if you're feeling a little adventurous and can find a place that sells pig's head, go for the glory.
How to Make Pozole
There are a number of ways to make pozole, but generally it consists of hominy, spices, pork or chicken, and vegetables. Depending on how you make it and the ingredients you use, it can take up to two days to prepare, but you can also make it in less than an hour.
I'll go through one complete pozole recipe and then provide information about how to make the major types of pozole. You can make slight alterations to pozole recipes based on your available ingredients and equipment. Also, you can change the amount or type of ingredients to suit your taste preferences.
Chicken Pozole Blanco
This is a white pozole recipe made with chicken. The white pozole is the easiest of the major types of pozole to make. I found this recipe on Simply Recipes. It's intended to serve 6 people; adjust the amounts accordingly.
The garnishes are just for extra flavor, so you only need to use those that you have and like. In most of the pozoles I've had, radishes, lime, and avocados are almost always included as garnishes.
Ingredients for pozole
1 Whole chicken — 4 1/2-5 1/2 pounds cut into parts (but still on the bone)
Salt
1 red onion sliced in half
1 large 6 lb. 9 oz. can of hominy, drained and rinsed
4 large cloves of peeled garlic
1-2 tablespoons of dried oregano (preferably Mexican oregano)
Ingredients for Garnishes
1/4 whole cabbage thinly sliced
1 tomato, cored and chopped
1 avocado, peeled and chopped
1 red onion, peeled and chopped
1 large bunch cilantro, chopped
1 large bunch watercress, chopped
Mexican cheese (queso fresco), sliced
4 red radishes, thinly sliced
2 limes cut into wedges
Chopped seeded jalapeno or serrano chiles (you can substitute other chile peppers)
Tostadas, tortillas, or tortilla chips
Instructions
First, put the pieces of chicken, still on the bone, in a large pot with roughly 3 quarts of water.

Add the two half onions and a teaspoon of salt.

Bring the water to a boil, and then reduce the heat to a simmer.

Simmer uncovered for approximately 20-30 minutes, or until the chicken is tender and fully cooked.

Remove the chicken from the pot and let it cool until you can handle it without burning your hands.

Use a fork to pull the chicken meat from the bones.

Set the chicken aside and put the bones back in the pot.

Simmer the bones uncovered for another half hour.

While the broth and bones are simmering, put about half the can of hominy into a blender.

Add two cups of stock from the pot into the blender.

Then add the garlic cloves.

Make sure the top is fully secured on the blender, and then blend until everything is fully blended.

After the 30 minutes of additional simmering has elapsed, skim the foam and excess fat from the surface of the stock. Just use a large ladle to scoop it out.

Remove the bones and any other solids from the pot.

Pour in the hominy blend.

Add the remaining unblended hominy and the oregano

Simmer for an additional 20 minutes.

During this last period of cooking, you can prepare the garnishes. Normally, the garnishes are put into individual bowls, so people can choose what and how much to add.

Before serving, shred or chop the cooked chicken meat and add it back to the pot.

If you like a little extra salt, add it to your taste preference.

Then serve your pozole in individual bowls with a side of tortillas, tostadas, or tortilla chips.

Add your garnishes to your bowl of pozole as you wish.

Dig in!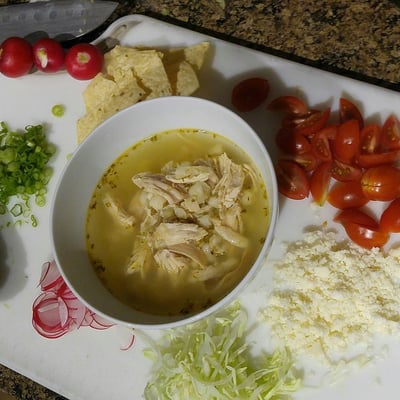 Chicken pozole blanco with garnishes on the side
Pork Pozole Blanco
If you want to make a pork pozole blanco instead, you can follow the same exact recipe except with 1 ½ -2 pounds of pork shoulder or roast instead of chicken.
Pozole Rojo
To turn this white pozole into a red pozole, you just have to add in a red chile purée when you add the hominy blend and unblended hominy. Here's how to make a red chile salsa for your pozole rojo. I got this recipe from Leite's Culinaria, which adapted it from Pati's Mexican Table.
Ingredients
2 dried ancho chiles, rinsed, stemmed, and seeded
3 dried guajillo chiles, rinsed, stemmed, and seeded
1/4 cup of chopped white onion
3 chopped garlic cloves
A pinch of ground cumin
2 whole cloves
1 teaspoon kosher or coarse sea salt, or to taste
3 tablespoons of vegetable oil
Instructions
Put the ancho and guajillo chiles in a medium saucepan.

Add just enough water to barely cover them and bring to a boil over medium-high heat.

Simmer for about 10 minutes, until the chiles are softened and rehydrated.

Put the chiles and ¾ of a cup of their soaking liquid in a blender or food processor with the onion, garlic, cumin, cloves and salt.

Blend until the mixture is smooth.

Pour the purée through a strainer and into a bowl.

Press on the solids with the back of a wooden spoon to get out as much of the liquids as possible. You can discard the solids.

Heat the oil in a medium saucepan over medium heat until hot but not smoking.

Add the chile purée and bring to a boil.

Then, partially cover the pan and simmer.

Stir occasionally, for roughly 6 to 8 minutes, until the purée is thickened.

Finally, remove the chile purée from the heat, and it's ready to be added to your pozole.
Pozole Verde
The green sauce for the pozole verde is added at the same time as the red sauce for pozole rojo. Again, add the green salsa when you add the hominy blend and unblended hominy. This recipe comes from recipe.com.
Ingredients
1 lb. of green tomatillos, husked and halved
1 small onion, quartered
2 poblano chiles, cored, seeded, and quartered
2 jalapenos, seeded and quartered
4 large garlic cloves, smashed
½ cup chopped cilantro
1 tablespoon oregano leaves
Salt and ground black pepper
1 tablespoon of vegetable oil
Instructions
Put the tomatillo, onion, poblanos, jalapenos, garlic, cilantro, and oregano in a blender.

Pulse until it's finely chopped, and then add one cup of the pozole cooking liquid (the liquid from your unfinished pot of pozole).

Blend until it's smooth. You can use a strainer to ensure smoothness.

Season the purée with salt and pepper, so it's to your liking.

Then, in a large, deep skillet, heat the vegetable oil.

Add the purée, and cook it over medium heat. Stir it occassionally

Cook it for about 12 minutes, until the sauce turns a deep green.

Then, it's done and ready to be added to your cooking liquid.

Ta-da!
6 Other Ways to Make Pozole
As I previously mentioned, there are tons of slight variations in pozole recipes. The recipes differ in the ingredients and how the pozole is prepared. Here are a few other examples of how you can make pozole.
I'm giving you multiple options, so you can be more familiar with the different varieties and find the recipe that will work best for you.
Traditional Pozole
Here's an extremely traditional pozole rojo recipe with pig head. And it provides instructions for making your own hominy from corn. Old school Mexicans believe that making your own hominy instead of using the canned hominy makes the pozole taste better.
Also, in this recipe, the meat and bones are left in the pot throughout the cooking process.
Pozole With Dried Hominy
Additionally, you can make pozole with dried hominy that you prepare by soaking overnight in cold water before cooking.
Here's a pork red pozole recipe from The New York Times with dried hominy.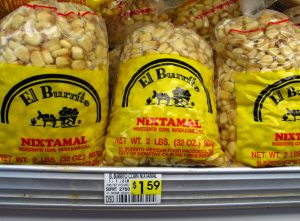 Bags of dried hominy
Vegetarian Pozole
If you don't eat meat, you can also make a vegetarian pozole with hominy, aromatics, vegetables, and spices. Check out this vegetarian red pozole recipe that incorporates dried hominy.
Pozole With Chicken and Pork
If you're a fan of meat, you can make a pozole with both chicken and pork. Just cut the amounts of chicken and pork in half. To serve 6, you'd need about 2 ½ pounds of chicken and a pound of pork. Or you can use 5 pounds of chicken and 2 pounds of pork to make a pozole with double the meat.
Easy-to-Make Pozole
There are variations of pozole that are super easy to make. You can substantially cut down on the time it takes to make pozole by using canned hominy and chicken that's already cooked.
Additionally, for your sauces, instead of making them by scratch, you can use canned green chiles for pozole verde and canned salsa to make pozole rojo.
Here's a 20-minute recipe for chicken pozole verde. While this type of pozole can taste good, it probably won't be nearly as delicious as pozoles that require more cooking. You probably shouldn't serve an easy to make pozole to a traditional Mexican.
Different Spices and Chile Peppers
Each pozole recipe will somewhat vary in the amount and type of spices used to season the pozole. Most call for garlic, cumin, oregano, salt, and pepper.
A couple of changes you can make include using garlic powder instead of garlic cloves, and you can add paprika for a little extra kick.
Furthermore, you can leave out any of the spices if you don't like them. There are enough flavorful ingredients in pozole that you shouldn't have to worry about your pozole being bland, especially if you're making pozole verde or pozole rojo.
Additionally, you can change the chile peppers in your red sauce or green sauce to alter the spice content. Traditionally, the red pozole sauce calls for ancho and guajillo peppers. For a less spicy sauce, you can use cubanelle peppers or anaheim peppers. If you want to go more spicy, you can use puya peppers or morita chili peppers.
The green sauce tends to use poblano peppers and jalapeños with the tomatillo. You can use fewer peppers if you want to decrease the spice level, or you can use a Sonora chili pepper. Keep in mind that when added to the pozole, the green sauce in pozole verde is pretty mild. To make it spicier, I would suggest adding additional jalapeños.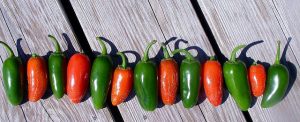 Jalapeño peppers! The red ones are ripe.
Pozole Garnishes
As I mentioned previously, you add the garnishes to your individual bowl of pozole after the pozole is done. The garnishes add more flavor, and it's entirely up to you how to garnish your pozole.
These are the most common garnish options:
Radishes
Lime juice
Avocados
Cabbage
Lettuce
Cheese (Normally queso fresco)
Tortilla strips
Tostadas (on the side)
Tortillas (on the side)
Chopped onion
Cilantro
Jalapeño
Hot sauce
Scallions
Sour cream
All you have to do is add any of these ingredients that you like to your bowl of pozole to maximize your pozole experience. If you're preparing pozole for multiple people, you can serve garnishes in individual bowls and let your guests decide what they want to put in their pozole.
Now that you know what pozole is and how to make it, you should whip up a batch and find out how it tastes. You can thank me later.
Have friends who also need help with test prep?
Share this article!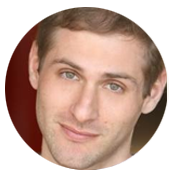 About the Author
Justin has extensive experience teaching SAT prep and guiding high school students through the college admissions and selection process. He is firmly committed to improving equity in education and helping students to reach their educational goals. Justin received an athletic scholarship for gymnastics at Stanford University and graduated with a BA in American Studies.
Get Free Guides
to Boost Your SAT/ACT