Who is Todd Spiewak? To the public, he's known as Jim Parsons' boyfriend. The couple has been together since at least 2003.
We know a lot about Todd's beau, who plays the lovable, eccentric genius Dr. Sheldon Cooper on The Big Bang Theory. Like his television persona, Jim hails from Texas. He had an extensive background in theater before getting his big break playing Sheldon.
On the other hand, Todd Alan Spiewak has managed to remain a mystery, despite being linked to one of Hollywood's most prominent actors. I couldn't even confirm his date of birth, which has been reported as January 19th, 1977.
However, I did some digging and was able to learn quite a bit about this mystery man. Let's get to know Mr. Spiewak, who is an accomplished fellow in his own right.
He's Educated
Todd graduated from Boston University in 1999. That's rather impressive considering Boston University only accepts only about a third of its applicants and is among the top 50 National Universities in America according to US News. Furthermore, he received a Bachelor of Fine Arts in Graphic Design, a major which requires both technical and artistic skills.
He Has a Good Job
He's employed as an Art Director. You may be wondering what an art director does—I know I was. An art director is responsible for the visual style and images in product packaging, magazines, newspapers, and movie and television productions. I would be terrible at that job.
Some of Todd Spiewak's clients include American Express, Barnes & Noble, HP, KitchenAid, and The New York Times.
Todd Spiewak is an artistic fellow.
He Works With Jim
Jim and Todd started a production company together called That's Wonderful Productions. In 2015, they hired former Paramount Insurge development and production executive Eric Norsoph to be head of development and production.
Let's hope that Jim and Todd can be as successful together in business as they've been in romance.
He Loves Dogs
Jim's character, Sheldon Cooper, is a fan of the felines, but Jim and Todd are dog lovers. The couple lives in Los Angeles with their two dogs, Otis and Rufus. Here are Otis and Rufus wearing ties:
They don't look like the best guard dogs, but they're kinda adorable.
His Internet Presence Is Limited
Even though dating a celebrity gives Todd fame and a platform, he has chosen to mostly stay out of the limelight. You can't find much information about him online. He's not posting on social media. He's not sounding off on any issues; he's basically an anti-Kardashian.
So Todd Spiewak remains an enigma to the general public. I assume he's content with allowing his boyfriend to be the focal point.
Good luck finding online info on Todd.
Jim Gave Him a Shout-Out at the Emmys
In his 2013 acceptance speech for winning Best Actor in a Comedy Series, Jim started thanking a bunch of people. Eventually he said thanks "to [his] favorite person on the planet, Todd Spiewak." See for yourself. Jim's speech starts at around the 2:00 mark.
Todd must have felt pretty special that night. I want somebody to tell me that I'm her favorite person on the planet in an acceptance speech at the Emmys. Sad face.
Todd and Jim Are Not Engaged
Despite rumors and reports to the contrary, Todd and Jim don't have plans to wed. In 2014, The National Enquirer, perhaps not the most reliable source, reported that they were in fact engaged.
Then Jim posted this epic response on Instagram to clear up any confusion and let everyone know that they they're happy, but neither has put a ring on it:
Also, on an Ellen appearance in 2014, Ellen DeGeneres asked Jim if he and Todd are going to get married. Ellen was pressuring poor Jim to get hitched and a flustered Jim said that he hasn't "been enthusiastic enough about it and [he] feel[s] like a loser for the cause."
Awww. And Todd was watching.
Todd and Jim Made Their First Public Appearance in 2013
At the 9th Annual Gay, Lesbian, and Straight Education Network (GLSEN) Respect Awards at the Beverly Hills Hotel, Todd and Jim made their very first public appearance when they were given the Inspiration Award. Todd's parents even flew in from Philadelphia to attend.
In his acceptance speech, Jim said this:
I've never considered myself an activist. I've never considered my relationship with Todd to be an act of activism. Rather simply, it's an act of love, coffee in the morning, going to work, washing the clothes, taking the dogs [out]—a regular life, boring love.
After Jim finished his speech, Todd lovingly said, "Well, as always, Jim didn't leave much for me to say."
They don't need to be married to act like a married couple.
Are Jim and Todd the Gay Brangelina?
In 2015, US Weekly named Jim and Todd one of Hollywood's gay power couples. Other "gay power couples" included Ellen Degeneres and Portia de Rossi, Jesse Tyler Ferguson and Justin Mikita, Lance Bass and Michael Turchin, and Neil Patrick Harris and David Burtka.
I'm pretty confident that Jim and Todd were more honored to receive GLSEN's Inspiration Award, but being part of a power couple sounds fun.
Have friends who also need help with test prep?
Share this article!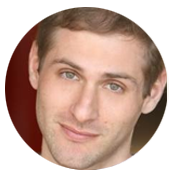 About the Author
Justin has extensive experience teaching SAT prep and guiding high school students through the college admissions and selection process. He is firmly committed to improving equity in education and helping students to reach their educational goals. Justin received an athletic scholarship for gymnastics at Stanford University and graduated with a BA in American Studies.
Get Free Guides
to Boost Your SAT/ACT