If you've taken the ACT and gotten your score back, you probably want to know how you did. Or you might be planning for the ACT and want to know what score to aim for.
In this article, we'll discuss what a good ACT score is. We also give you a step-by-step guide on figuring out what ACT score YOU need, depending on the colleges you plan to apply to.
Aside: Are you looking for SAT standards instead? If so check out our SAT good score guidelines.
What's a Good ACT Score Compared to the Rest of the Country?
The short answer: 20 (composite score) is the national ACT average. About half of students score above that, and half of students score below. The top 25% of ACT takers score about 24 or more, so if your score is above 24, that's excellent. The bottom 25% of ACT takers score 16 or less — so if you're scoring in that range, be careful!
Exclusive Free Bonus: Click here to download a free step-by-step guide on finding your personal ACT score target. Once you go through these steps, you'll know exactly what ACT score you need to aim for.
Again, to reiterate:
> 24 = Excellent
20 = Good (Average)
< 16 = Lowest Quarter
Here is the precise Official ACT chart of percentiles.
The number 20 is not a coincidence. The ACT makers actually design the test so the target average score is about a 20, and the target section score is 20 on each ACT section as well.
Remember that the lowest score you can get on the ACT total is 1, and the highest you can get is 36. If you're comparing your ACT score against the SAT, keep in mind that the SAT has a much higher minimum score.
Now, these are statistics on a national level. What's really important to you is how your ACT score compares to other students applying to the same colleges as you are. If you don't impress the admissions officers with your stats, you may find it hard to get in.
Keep reading for a step-by-step guide to figuring out what should be your target score.
What's a Good ACT Score for YOU Specifically?
You already know that your ACT score helps you get into college. But how good of an ACT score do you need to get into which schools?
Your score target is unique to you, based on the schools you're interested in. We're going to take you through an easy process to figure out what ACT score you need to aim for, based on just 10 minutes of work.
Step 1: Download This Worksheet
To work through the following steps, we'll be filling out a worksheet for all the schools you're planning to apply to. Click here to download it, or click the image below.
I recommend you print it out so that you can write on paper and keep it next to your work space.
Step 2: Fill in the Schools You Want to Get Into on the Left
These might be schools you're sure you want to apply to already. Include your reach schools, and don't include your "safety schools," or schools that you're 90% sure you'll get into.
If you don't know what schools you're aiming for yet, feel free to use ones that have been suggested to you, or schools that your friends are interested in. I recommend that you take the time to research schools first, though, so that you have a realistic target score.
Step 3: For Each School, Google "[Name of School] Prepscholar ACT"
For example, if I'm interested in U Alabama, I'll do the following search: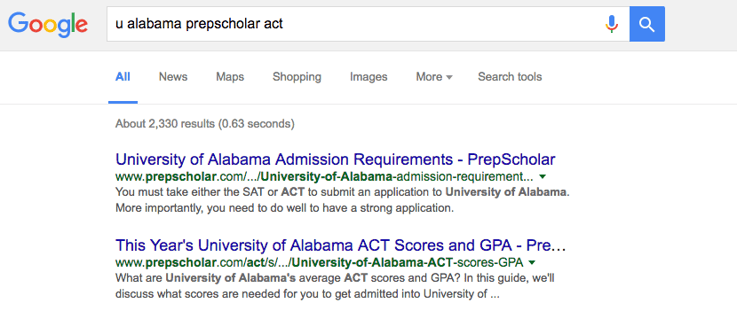 Click on the Admission Requirements page (or the ACT and GPA post) to see the 25th/75th percentile ACT scores for current students. As a reminder of what this means: 25th percentile means that 25% of the students attending have a score at or below that number (this is below average). 75th percentile means that 75% of students have a score at or below that number. In essence, the 25th/75th percentile covers the middle 50% of all students admitted to U Alabama.
If you score at the 75th percentile for any school, you have a great chance at getting in. If you're at the 25th percentile, you'll need to have a strong application to boost your odds of getting in.
Fill out the worksheet this way for all the schools on your list.
Step 4: Calculate Your Final ACT Target Score
Finally, take the average of both columns – 25th percentile and 75th percentile – to find the average ACT score of the current students at that school.
I recommend that you use the 75th percentile average as your target score. If you achieve this score through hard work, you'll have a very strong shot at getting into many of the schools on your list.
For you, this is what a "good ACT score" is. This is your personal goal - not your friends' goals, and not your parents' goals.
Finally, you should set a target for your score for each section. My suggestion would be to use the composite score for each section. If you're applying to engineering schools or as a science major, your math and science scores can be higher than your other sections. Similarly, if you're applying to liberal arts programs or as a humanities major, your English and Reading scores can be higher.
Step 5: Share Your Target Score
As a last step, I suggest that you do two things with your score target:
Share it with your parents. This will be a helpful conversation around your personal goals and how you want to achieve your target ACT score.
Tape it to your wall. This will keep your goal in mind so that you can guide your studying powerfully.
What to Do Next
Figure out whether you should retake the ACT, and how much improvement you can expect.
Do you want to improve your ACT score? Check out our top guides:
Check out our online ACT prep program. We have a 4 point improvement guarantee - if you don't improve your score by 4 points, you get every penny of your money back. Plus, you get a 5-day free trial, so if you don't feel that it's helping you, you can cancel at any time.
Have friends who also need help with test prep?
Share this article!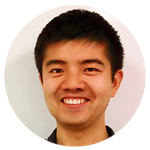 About the Author
Fred is co-founder of PrepScholar. He scored a perfect score on the SAT and is passionate about sharing information with aspiring students. Fred graduated from Harvard University with a Bachelor's in Mathematics and a PhD in Economics.
Get Free Guides
to Boost Your SAT/ACT