What is a good SAT score? You took the SAT, got your scores back, and now you want to know how you did. Or maybe you just want to know what score to aim for next time. Here we answer that question for you quickly, and then dive in carefully to explain the answer.Importantly, we also give you a step-by-step guide to figuring out what SAT score YOU need, depending on the colleges you want to apply to.
Note: the Old SAT was scored on the 2400 scale, but the New SAT is scored on the 1600 scale. Because most colleges will accept scores from both SATs for the Class of 2017, we'll cover both tests here.
What's a Good SAT Score, Compared to the Entire Country?
The short answer: for the New SAT (out of 1600), 1000 is considered an average score. Roughly half the students score higher than this threshold and the other half score below it.
For the Old SAT (out of 2400), 1500 is the national average score.
The top 25% of SAT takers score about 1200 or more (or 1800 on the Old SAT); if your New SAT score is above 1200, then that's quite good. Whether this is good enough to get into the colleges you care about is what we'll cover next.
The bottom 25% of SAT takers score 840 (or 1260 on the Old SAT); if you're scoring in that range, be careful! It may be hard for you to get into the college you want to attend.
Again, to reiterate:
| | | |
| --- | --- | --- |
| | New SAT (of 1600) | Old SAT (of 2400) |
| Excellent (top 25%) | 1200 | 1800 |
| Good (Average) | 1000 | 1500 |
| Poor (lowest 25%) | 840 | 1260 |
Here is the precise chart of percentiles, provided by the College Board.
The round number 1000 is not a coincidence. The SAT makers actually design the test so the overall average score is 1000, and the average score per section is 500.
Remember, the lowest you can score on the SAT is 400, and the highest you can score is 1600.
But wait - this is just the national average. Is the entire US population the exact right basis for finding what a good SAT score is? What if you're not an average American, but a football star, or an international student? Don't you want to define what a good SAT score is based on your personal potential?
If you agree, then you should read our guide to Defining what a Good SAT Score. We cover four different ways of defining what a good SAT score is.
One popular defintiion of a good SAT score must depend on what college you're aiming for. What you really care about is how good your SAT score is compared to the average score of students at schools that you're planning to apply to. If you don't get a score above your target score, you may find it hard to get into the colleges you're looking for.
Keep reading for our step-by-step guide to figuring out what a good SAT score for YOU is, in just 10 minutes.
What's a Good SAT Score for YOU Specifically?
By now, you already know that your SAT score is vital for getting into college. This leads most people to this important question: how high does YOUR SAT score need to be to get into YOUR favorite colleges?
Having a concrete target SAT score is really important. It gives us a goal to aim for and helps us track our progress during our study time.
Your score target needs to be different from everyone else's, because you have different goals from theirs. You need your own score target to aim for, based on data about colleges.
You are NOT aiming for what your parents think you should get. You are NOT aiming for what your friends think you should get.
There is a mathematical way to determine the target score you should be aiming for.
Step 1: Download This Worksheet
To follow the next steps, we'll be filling out a worksheet for all the top schools you're interested in. Click here to download it, or click the image below.
I recommend you print it out so that you can write it on paper and keep it next to your desk.
Step 2: Fill in the Schools You Want to Get Into on the Left
These might be schools that you already know you want to apply to. Include your dream schools, but don't include your safety schools, i.e. schools that you're 90% sure you'll get into.
If you don't know what schools you want to apply to yet, feel free to use ones that you've heard of, or schools that your friends are interested in. I recommend that you research schools first, though, so that you get a sense of what score you'll need to get into the schools you're interested in and can set a realistic target score.
Step 3: For Each School, Google "[Name of School] Prepscholar SAT"
For example, if I'm interested in University of Alabama, I'll do the following search: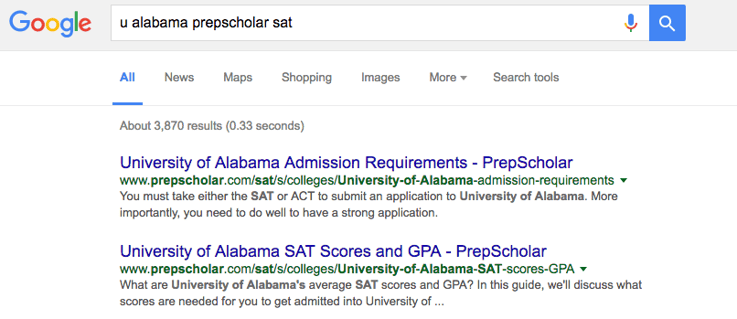 Most schools will have a PrepScholar.com link, as shown here. If you don't find one, try searching "[name of school] average sat score" to see if the scores are listed on their official website. You cal also use this method to double check your numbers.
Our PrepScholar.com page lists the 25th/75th percentile scores for current University of Alabama students. We currently have data for the Old 2400 SAT only - when the schools release their student data for the New 1600 SAT, we'll update these pages.
A refresher on what percentile scores mean: 25th percentile means that 25 percent of the students attending have a score at or below that number (this is below average). The 75th percentile means that 75 percent of students have a score at or below that number (this is above average). In essence, this covers the middle 50% of all students admitted to U Alabama.
If you score at the 75th percentile for this school, you have a great shot at getting in. If you're at the 25th percentile, you'll have to wow them some other way.
Sum up the scores across all 3 sections and enter them in the worksheet. For this U Alabama example, the 25th percentile is 1490, and the 75th percentile is 1870.
Now do the same for the rest of your schools on the list.
Step 4: Calculate the New SAT Score Out of 1600
Because you're taking the new SAT out of 1600, you need to convert the 2400 score to the 1600 scale in the right-most column.
Use our converter tool, which is based on official concordance tables from the College Board.
For U Alabama, this tool gives a new SAT goal score of 1320.
Step 5: Calculate Your Final SAT Target Score
Finally, take the average of all columns - 25th percentile and 75th percentile.
I highly recommend that your personal target score be the average 75th percentile score for all your schools that you just calculated. If you achieve this score, you'll have a very strong shot at getting into all the schools you listed.
For you, this is what a "good SAT score" is. This is your special number - not your friends', and not your parents'. If you get this number, you will almost certainly get into at least one of the colleges on your list.
Finally, you should have a target for what your score for each section should be. My suggestion would be to just divide your target score by 2. If you're applying to engineering schools, try to aim for your Math score to be 50 points higher than the others. If you're applying for a humanities program, your Math score can be a little bit lower than your Reading and Writing score.
Here's an example sheet I filled out: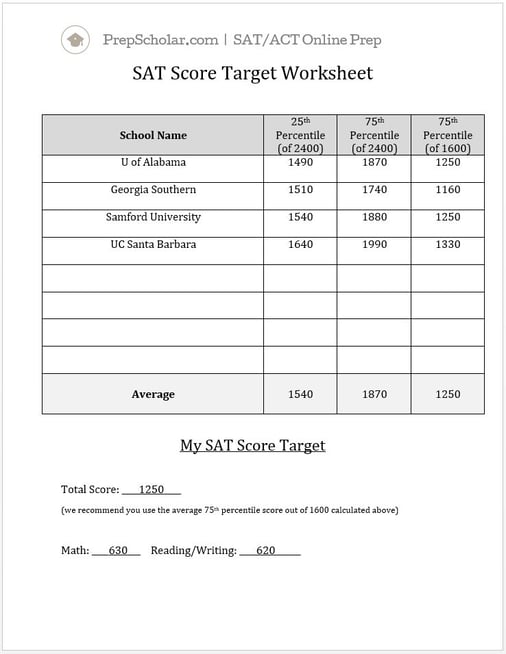 Step 6: Make Your Goal Known
Once you've finished your worksheet, I recommend you do two things:
Share it with your parents. This will get everyone on the same page on what SAT score you're aiming for and what kinds of colleges you're looking at. Plus, they'll be impressed that you're taking the initiative to set your own goals.


Tape it to your wall. I want you to think about your score target every time you study. This is your goal, and you're going to meet it.
Don't get stressed out by this score target. You can reach it. Every single student I've worked with has met his or her score target if she put in serious effort to study.
What's Next?
If you got a lower score, we have a low score guide that can help. Alternatively, here's a guide to scores for the Ivy League schools and other top schools.
Click here if you're considering whether or not you should retake the SAT.
Have friends who also need help with test prep?
Share this article!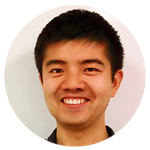 About the Author
Fred is co-founder of PrepScholar. He scored a perfect score on the SAT and is passionate about sharing information with aspiring students. Fred graduated from Harvard University with a Bachelor's in Mathematics and a PhD in Economics.
Get Free Guides
to Boost Your SAT/ACT