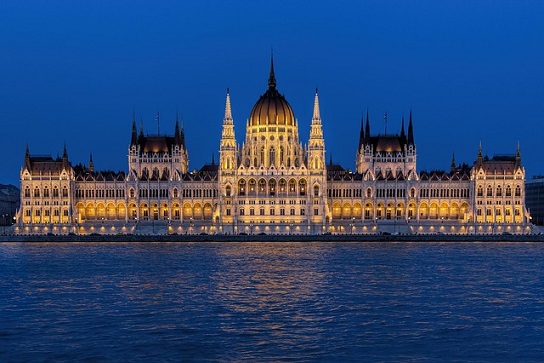 One of the rising stars in European tourism, Budapest's charms and sights are gaining popularity worldwide. Gone are the days when the Hungarian capital was widely thought of as a drab administrative city, filled only with aging Communist-era buildings. These days, Budapest tourism is rapidly growing and savvy visitors know that it's one of Europe's great cities with diverse architecture, unique cultural experiences, and some of the most inventive nightlife on the continent.
Are you wondering what to do in Budapest? Follow this guide to immerse yourself in Budapest's history, traditions, and culture. By visiting the Budapest attractions listed below, you'll find yourself relaxing in opulent thermal baths, paying your respects at moving WWII memorials, admiring the largest Parliament in Europe, and drinking a new cocktail in the gardens of a formerly abandoned warehouse.
This list of 11 things to do in Budapest is organized into four groups, based on the location of the sites: Castle Hill, City Park, Parliament and Around, and Central Pest. This organization lets you visit sites near each other, instead of spending your trip running from one end of town to the other. Many people choose to stay in downtown Pest because it has the most accommodation options, but Budapest has a great subway system to help you get from one area to another. You can buy individual subway tickets, day passes, or multi-day passes. I'd recommend that you spend at least a half-day to a full day in each area, and, if you choose to stay longer, you'll find Budapest has enough activities to fill any itinerary.
The Top 11 Places to Visit in Budapest
Check out this map of the best things to do in Budapest and then read more about each below. This map can also be viewed online.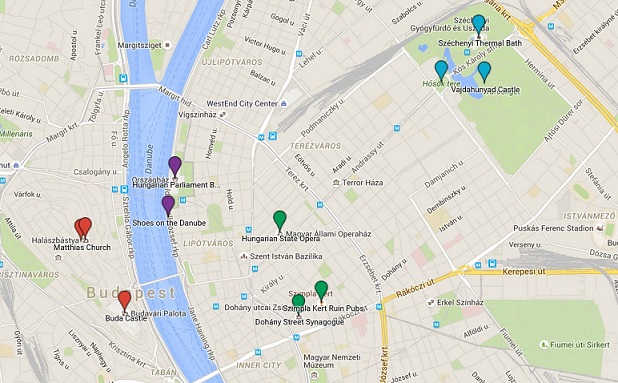 Castle Hill — Red
Matthias Church
Fisherman's Bastion
Buda Castle
City Park — Blue
Széchenyi Bath
Vajdahunyad Castle
Heroes' Square
Parliament and Around — Purple
Hungarian Parliament Building
Shoes on the Danube Monument
Central Pest — Green
Hungarian State Opera House
Ruin Pubs
Great Synagogue
Castle Hill Attractions
You can find some of the most famous—and stunning—things to see in Budapest in the Castle Hill area, including gorgeous architecture and historically important sites.
Matthias Church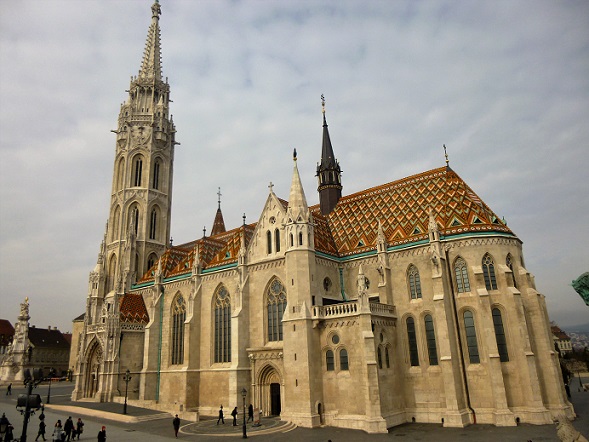 Matthias Church is one of the top Budapest attractions, and it's a center point of Castle Hill. Built in the late 13th century, Matthias Church was the first parish church in Budapest, and it has remained an important symbol of the city. During its long history, Matthias Church hosted multiple royal coronations, was damaged by cannon fire, and spent over 100 years as a Mosque while the city was under Ottoman rule.
Even if you feel like you've seen enough European churches to last a lifetime, stop for a look at Matthias Church. It doesn't have the soaring grandeur of larger churches like Notre Dame and Milan's Duomo, but its unique colors and design make it one of the most pleasant churches in Europe to view.
The church was extensively restored in the 1900s, and today it's popular with tourists who come to see and photograph the Gothic architecture, stained glass windows, and vibrant diamond-patterned roof tiles. The church is also home to the Ecclesiastical Art Museum. The museum (which charges a small fee) begins in the church's medieval crypt and continues to the chapel. While touring the museum, visitors can view the tombs of 10th century rulers King Béla III and his wife Agnes, replicas of the royal Hungarian jewels, and assorted other jewels and religious objects.
Fisherman's Bastion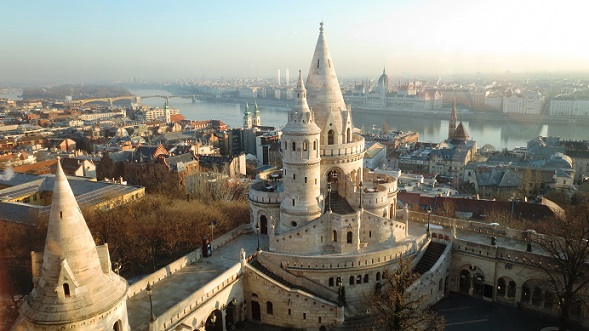 One of the most unusual sights in Budapest, Fisherman's Bastion is an elegant, neo-Gothic terrace overlooking the Danube. The site was named for a group of fisherman who defended the city from invasion during the Middle Ages. Walking under gleaming white arches and along staircases and terraces, visitors get sweeping views of the Danube, including a birds-eye view of Parliament. The seven turrets of Fisherman's Bastion represent the seven Magyar tribe leaders who are regarded as the founders of modern-day Hungary.
It may not seem like there's much to do at Fisherman's Bastion since the site is little more than an attractive lookout, but many tourists spend far longer than they planned here, strolling from one end of the terrace to the other and taking rolls of photos. When visiting Castle Hill, make Fisherman's Bastion your first stop (easy to do since it's very close to public transportation stops). The weather in Budapest can be fickle, and there are times when the terrace and its views are enveloped by fog. It usually clears later in the day, so check back periodically if the weather isn't cooperating when you first stop by.
Fisherman's Bastion is located next to Matthias Church, and together these two sites make up one the best places to visit in Budapest. Here you can walk along cobblestone streets, look at historic buildings, and grab lunch in one of the numerous traditional cafés that line the streets.
Buda Castle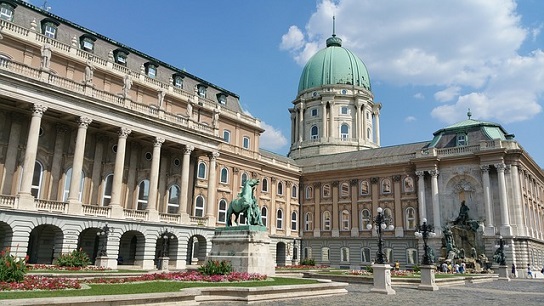 Rising up from the southern end of Castle Hill is the imposing, sprawling structure of Buda Castle. The first castle on this site was completed in 1265, and the castle continued to be expanded and rebuilt throughout the centuries. Buda Castle has been a royal residence for generations of Hungarian rulers, besieged by Ottoman armies, taken over by the Habsburgs, occupied by Nazis during WWII, and designated as a World Heritage Site in 1987. Today, the grounds are adorned with numerous statues and gardens, which visitors can admire while walking around the castle.
Within the castle are a trio of museums and institutions: the Budapest History Museum, the Hungarian National Gallery, and the National Széchényi Library (the museum and gallery both require tickets, but the library is free to visit). Each site is well worth a visit, focusing on the history of the city, Hungarian art, and a collection of rare books and paper, respectively. If you can only visit one museum (visiting all three can make for a long day), my pick is the Budapest History Museum. Far more than a dry collection of artifacts, this museum spans three floors and includes such varied exhibits as recreations of opulent rooms as they looked when used by royals, paintings by Hungarian Masters, and excavated rooms of the medieval castle in the basement.
There are no cars allowed on Castle Hill unless you live or work in the area, and the lack of noise and traffic contributes to the feeling that you've stepped into the past and are far removed from the bustle of the city down below.
City Park Attractions
City Park is a large public park that includes some of Budapest's best attractions.
Széchenyi Bath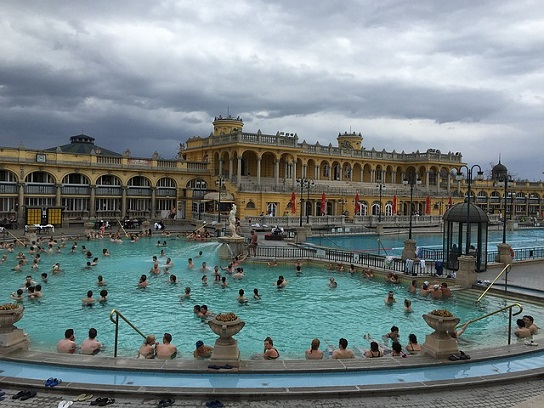 Visiting the city's famed baths is one of the top things to do in Budapest. Budapest's abundant thermal waters means there are numerous baths to choose from, but, in terms of history and enjoyability, Széchenyi Bath is far and away your best option. As the largest thermal bath in Europe, Széchenyi Bath is one of Budapest's iconic sites. When it was built in 1913, the architecture followed the Neo-baroque style popular at the time, and it's easy to feel like you're wading through the private pool of a royal palace as you move between the bath's 18 different pools.
When you arrive, you'll be given a waterproof key card to a personal closet-sized locker, where you can change into your swimsuit (required) and store your belongings while you're in the baths. There are both indoor and outdoor pools to choose between in Széchenyi. While the indoor pools have a wider variety of temperatures, as well as saunas and steam rooms, most people prefer the outdoor baths because they are typically brighter and cleaner, and they let you enjoy the cheery, slightly aged exterior of the baths.
Széchenyi is popular with tourists, and there will likely be a number of people soaking alongside you, but it remains an institution for Budapest locals. They come here to relax after work, socialize, and play a game of chess on one of the waterproof boards in the baths. At Széchenyi, you can also purchase additional services, such as massages. Ticket prices vary depending on the time of day you visit and if you want a cabin or locker, but expect to pay about 5000 Florin (about $18 USD). Massages are an additional 5000-35000 Florin. The thermal waters keep temperatures warm year-round at Széchenyi, so both the indoor and outdoor baths remain open in winter.
Vajdahunyad Castle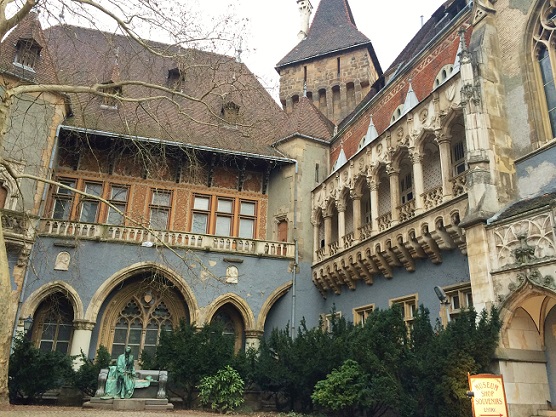 Vajdahunyad Castle is located close to the Széchenyi Baths within City Park, but many people breeze past this tucked away corner of town without pausing to explore. Vajdahunyad can't compare to Buda Castle's immense size or history, but this attractive and somewhat mysterious castle earns major points for charm.
The castle was originally built in 1896 as a temporary structure of cardboard and wood to celebrate the 1000th anniversary of the Hungarian Conquest of the Carpathian Basin. However, Budapest's citizens were so taken with it that the present structure, made of stone and painted in muted blues, purples, and oranges, was soon constructed. Set back amongst trees and gardens, the castle's shadowy exterior reveals features from numerous architectural styles that showcase the variety and evolution of architecture in Budapest.
Additional touches to the castle include sunken windows, a portcullis, and numerous turrets overlooking a boating lake turned ice skating rink in the winter. A popular spot for photos is the brooding, slightly creepy statue of Anonymus, a mysterious Hungarian notary and chronicler who lived around 1200 AD. Inside the castle is Museum of Hungarian Agriculture (small fee charged), but even if you're not interested in the museum's focus, it's pleasant simply to walk through the castle's interior and climb to the top of the two tallest towers for views of the park.
Vajdahunyad Castle was only built at the turn of the 20th century, but its historical architecture and romantic setting make it feel far older. A short stroll around the castle or a picnic on its grounds beside the lake is an excellent way to take a break from a busy day of sightseeing.
Heroes' Square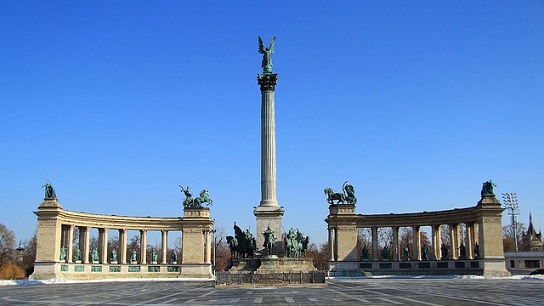 Another attraction near City Park, Heroes' Square does not take long to visit, but it's one of the city's most important landmarks. Located at the end of Andrássy Avenue, Heroes' Square is well-worth visiting to get a sense of Hungary's history. Built in 1896 to celebrate Hungary's 1000th anniversary, Heroes' Square is the largest square in Budapest.
The focal point of the square is tall column adorned with a statue of the archangel Gabriel. Flanking the base are seven statues representing the seven original Magyar chieftains. Surrounding the column are 14 pillars with statues of other important Hungarian figures. Viewing the square's statues and plaques is a great crash-course on the history of the country. Among the statues you'll see famed Hungarian saints, rulers, and warriors.
A plaque in the square dedicates the site "To the memory of the heroes who gave their lives for the freedom of our people and our national independence." During Budapest's long history, the city was occupied by foreign invaders several times and ruled by a communist regime. Heroes' Square now serves as a physical monument to Hungary's dedication to democracy. The square can be visited both during the day and at night, when it is lit up by floodlights.
Parliament and Around
If you're interested in more recent history, this is the area for you, with monuments to Hungary's tumultuous 20th century.
Hungarian Parliament Building
The Hungarian Parliament Building is the seat of the National Assembly of Hungary and one of the icons of Budapest. Its design was based on the UK Parliament Building, the Palace of Westminster, but the Parliament of Budapest is no mere copycat. This is one of the oldest and largest legislative buildings in Europe, and since the day it was completed in 1904, it has been the largest building in Hungary. Built along the bank of the Danube River, this soaring Gothic Revival building looks surprisingly delicate up close, with numerous intricate details.
Visitors can opt to take a guided tour of the building to see sights including the House Chambers, the inside of the dome, the grand entrance staircase, the Hungarian crown jewels, and a small museum. Tickets, which are 5200 Florin for non-EU citizens, must be purchased beforehand, either online or in person. Make sure you view the Parliament Building both during the day and at night, when the entire structure is lit up, its reflection glowing in the river.
Shoes on the Danube Bank Memorial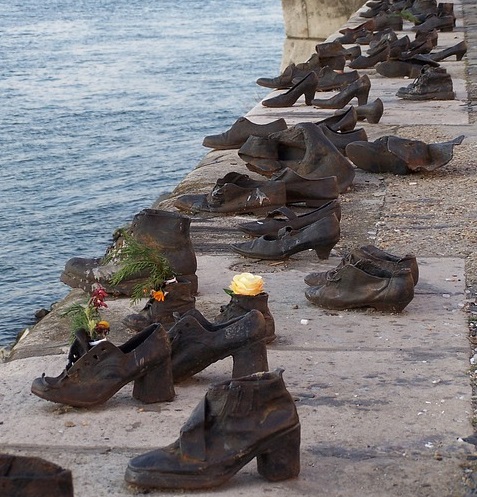 There are World War II memorials far grander than this collection of 60 pairs of iron shoes scattered along the edge of the Danube, but that doesn't make this site any less moving. The monument was conceived by director Can Togay and created by sculptor Gyula Pauer to honor the people murdered by soldiers of the Arrow Cross, a national socialist party in Hungary during WWII. Between 1944 and 1945, an unknown number of victims, mostly Budapest Jews, were taken to the edge of the Danube and shot, their bodies falling into the river. Before they were killed, they were told to remove their shoes, which could be resold for a profit.
This small memorial, a few hundred feet from Parliament, poignantly pays tribute to the victims. The shoes were designed to accurately represent shoes from that period, and they were created in many different styles to represent the wide variety of victims: men, women, business people, teenagers, and children. The shoes are often adorned with ribbons or flowers left as tokens of remembrance by visitors. Walking along the memorial and viewing the empty shoes strewn forlornly along the Danube's bank is a powerful reminder of the lives lost in WWII.
Central Pest Attractions
Central Pest is where many visitors choose to stay, because it offers easy access to all the Budapest sights. It's also home to some of the city's most exciting cultural attractions.
Hungarian State Opera House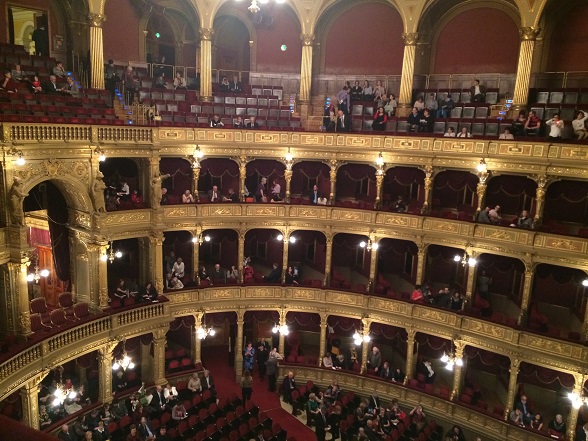 Housed in an elegant neo-Renaissance building dating from 1884, the Hungarian State Opera House is a point of pride for many Hungarians, yet it's much less well-known than many other European opera houses. For a small fee, you can take one of the regular tours of the opera house. After passing the figures of two of Hungary's most renowned composers in the entrance, you'll enter a foyer with marble columns and vaulted ceilings. Like all grand opera houses, this one has a sweeping staircase dominating the entrance, used by Hungarian's past elite to see and be seen. Other opulent touches include a brass chandelier and vast murals decorating the walls and ceilings.
The theater itself is decorated with red velvet and gold leaf. It seats over 2,600, with the royal box in the center of the horseshoe-shaped rows. Many people simply opt for a tour, but the Hungarian State Opera House is one of the best places to view an opera in Europe, particularly if you've never been to one before. The opera house often performs crowd pleasers like Carmen and Madama Butterfly, which are a great introduction for opera novices.
Additionally, tickets here are significantly cheaper than at most other opera houses; you can often get a seat for less than $10 USD. At many other opera houses, tickets this price are typically for the standing area only, and standing shoulder to shoulder with other guests for several hours is enough to fatigue even opera aficionados. At the Hungarian Opera House, you'll be able to enjoy the opera in comfort without breaking the bank.
In addition to operas, the building also hosts ballets and other performances. The Hungarian State Opera House website has a calendar showing all upcoming events. Operas are subtitled in both Hungarian and English, and opera season lasts from September to July.
Ruin Pubs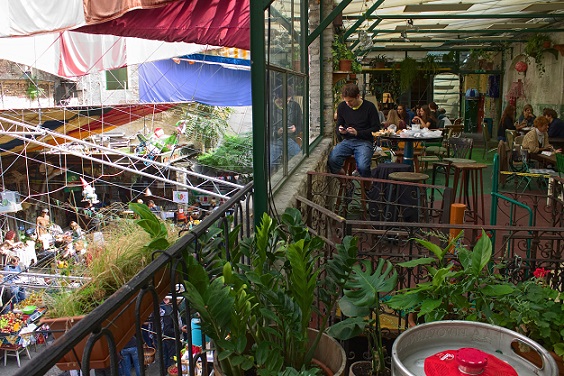 Budapest can be heavy with history, so for a change of pace and to get a sense of how the city enjoys itself, head to one of Budapest's many ruin pubs, drinking establishments that have sprung up in recently un-abandoned buildings. Rumor has it that ruin pubs first came into existence in 2001, out of a need for a cheap place to drink. No two ruin pubs are alike, but all of them share several characteristics: they're housed in a formerly abandoned building, the furniture is eclectic and often pre-used, and they show their links to the community by hosting local bands or DJs or having local artists decorate the interior.
Most of the ruin pubs are located in Budapest's old Jewish Quarter, in the streets behind the Great Synagogue. In a ruin pub, you could find yourself in a cozy former home with couches for seating, taking to the dance floor in a large, rambling warehouse, tasting pálinka (a traditional fruit brandy) under the glow of old-fashioned lanterns, enjoying beers in a courtyard filled with picnic tables, or learning Hungarian phrases at one of the regular informal classes the pubs host. One of the best aspects of ruin pubs is that you never know what type of experience you're going to get until you walk inside.
The best ruin pub to start at is the original, Szimpla Kert. Occupying a large, formerly abandoned building, Szimpla is filled with mismatched and often antique furniture and decorations. Outside there's a spacious courtyard which includes an old Trabant car guests can lounge in. Ruin pubs attract a mostly young, international crowd, but you'll find all types here. Local Hungarians often frequent them, as do older visitors. Ruin pubs may be most enjoyable to visit on a warm summer evening, but they're open year-round, with outdoor spaces typically closed in the winter.
Great Synagogue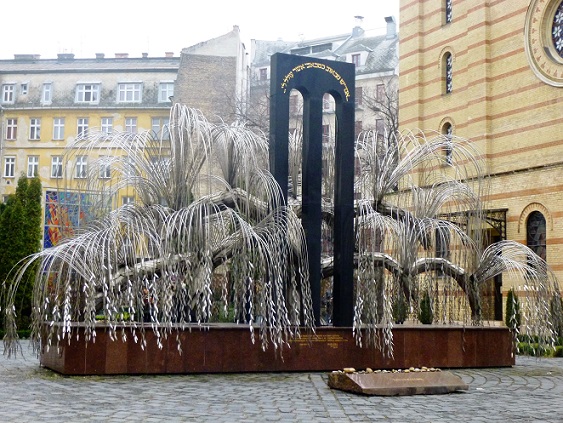 This massive building, also known as the Dohány Street Synagogue, is the largest synagogue in Europe and the second-largest in the world. It was completed in 1859 in the Neo-Moorish style, giving it a distinct look compared to many other synagogues. Inside the Great Synagogue is seating for more than 3,000 people, as well as the Jewish Museum, which has exhibits on Jewish traditions and the history of Judaism in Budapest.
The building is rich with history. During World War II, the site was bombed by Nazi planes, and it later became one border of Budapest's Jewish ghetto. In the grounds surrounding the synagogue is a graveyard where over 2,000 people who died in the Jewish ghetto during the winter of 1944-1945 are buried. There's also the Heroes' Temple honoring Hungarian Jews who died during World War I and the Holocaust Memorial.
The Holocaust Memorial, also known as the Emanuel Tree, is particularly striking to see. Crafted by Hungarian sculptor Imre Varga, the memorial takes the form of a delicate and intricate weeping willow. The name of a Hungarian Jew killed during the Holocaust has been engraved on each metal leaf. In my opinion, this is one of the world's most beautiful and moving Holocaust memorials. If you don't have time to tour the synagogue, you can get a view of the tree through the gate surrounding the grounds.
You can take a self-guided tour around the synagogue, but a guided tour (available at the entrance) can help you navigate the large site and fully appreciate its historical importance. Entrance to the synagogue costs 3000 Florin and includes access to both the building and its grounds.
Have friends who also need help with test prep?
Share this article!
About the Author
Christine graduated from Michigan State University with degrees in Environmental Biology and Geography and received her Master's from Duke University. In high school she scored in the 99th percentile on the SAT and was named a National Merit Finalist. She has taught English and biology in several countries.
Get Free Guides
to Boost Your SAT/ACT