In the '90s, box braids were everywhere. They were the coolest hairstyle, and our favorite movie and tv characters were wearing them, from Dionne in Clueless to Moesha. As is often the case, what was once cool is cool again. Box braids are back! If you're too young to remember the heyday of box braids or if you've never worn this hairstyle, it's time to up your box braid knowledge.
In this article, I'll enlighten you on all things box braids. I'll thoroughly detail what they are, how they're made, how they can be styled, and how to maintain them. So buckle up as I break it down for you in this box braid bible.
What Are Box Braids?
Box braids are a hairstyle associated with African and African-American hair. To make box braids, the entire head of hair is parted into boxes and each section is braided from the box all the way down.
Often, box braids will be mistaken for corn rows and vice versa. Don't make this rookie mistake. The difference between box braids and cornrows is that cornrows are braided directly from the scalp, and the braids in box braids start from the boxes of hair on the scalp.
For black people, and black women especially, braids and twists (in which the hair is twisted instead of braided) are known as protective hairstyles because they protect natural hair from the elements and don't require daily maintenance.
Here are some pictures of specific protective hairstyles so you can see how they look and how they differ.
First, check out cornrows. In this hairstyle, the hair is braided directly from the scalp:
Next, here's a type of twist hairstyle known as Senegalese or rope twists. The hair is twisted instead of braided to create this look.
A photo posted by Marie Hair braiding (@marie_bundu) on Jun 25, 2016 at 1:46pm PDT
Finally, this is a woman with box braids. Notice how the braids start from sections of hair instead of directly from the scalp.
The Process of Getting Box Braids
Getting box braids is a lengthy and labor-intensive process. Depending on the size of your braids and your stylist's skill, the process can take anywhere from 2-12 hours.
Preparation
Before getting a box braid hairstyle, you have to prep your hair. Here are the things you need to make sure to do to your hair before getting box braids:
Shampoo
Detangle
Deep-condition
Blow dry
Going through these steps will ensure your hair is as healthy and clean as possible. While your hair is braided, you won't be able to get rid of all the dirt and bacteria from your hair and scalp, so your hair should be super clean before it gets braided.
If your hair is long enough, box braids can be done with just your natural hair. However, if you want some additional length, hair pieces can be woven in. Keep in mind if you use extensions, that will add to the cost.
Cost
The cost for box braids varies depending on the length of your hair, the thickness of your braids, how much artificial hair is used, and where you get your braids done. Without extensions, you can get them at a salon for about $100-$300. Extensions with synthetic hair will normally add about $20-$50 to the cost, depending on the type of synthetic hair and how many packs you use. If you use human hair for your extensions, that will significantly increase the cost, and human hair is not recommended for larger braids.
You can try to braid your own hair or have a friend do them to lower your cost, but most often, you'll get the best results if you have your braids done by a professional.
The Basic Box Braid Steps
First, all the hair must be parted into individual boxes one at a time. When you grab a section of hair, the hair on your scalp should look somewhat like a little square or rectangle. The size of the boxes can vary, depending on how big you want the braids to be.
After the boxes have been created, the section of hair in each box is further divided into three even subsections and braided down to the ends. At the end of the process, the entire head of hair should be in individual braids. Then, you should moisturize your hair and scalp.
Here you can watch an almost 20 minute video of a woman getting box braids with extensions. She takes you through the entire process, from getting her hair washed, to parting the hair, to braiding in the extensions:
5 Types of Box Braids
There are multiple box braid styles. Depending on your style preference and your hair type, here are some box braid types you can choose from:
Poetic Justice Braids
Sometimes people will refer to box braids as Poetic Justice braids, but specifically, Poetic Justice braids are thick, long box braids, like the ones Janet Jackson wore in the movie Poetic Justice. Typically, thick box braids work best on women with thicker hair.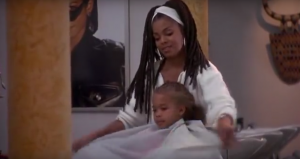 Janet Jackson with her Poetic Justice braids
Micro Braids
The thinnest of the box braids are known as micro braids. They're a great option if you have fine hair. Check out some micro braid examples:
Ombre Braids
Many women will opt for ombre braids if they're getting extensions. Ombre just means that the hair is darker at the root and gradually becomes lighter. You can get your braids in a ton of colors, including red, green, gold, silver, brown, and purple. Use colored braids to add some pop to your hairstyle. However, depending on the colors you choose, this look may not be seen as "professional," so make sure the colors will work for your lifestyle.
Short Box Braids
Your box braids don't have to be long, even though most women choose to go long with their braids. You can do a box braid bob and look totally awesome. Typically, the shorter dos work better with thicker braids.
Shaved Sides
You can rock long box braids and shave the sides and back of your hair. This undercut look provides some glam and edge.
12 Box Braid Hairstyles
After you get your box braids, there are a ton of ways you can style them. One of the biggest advantages of the box braid hairstyle is that it's very versatile. Here are some of the most popular box braid hairstyles, complete with descriptions and pics.
General Hairstyles for Box Braids
For the most part, any hairstyle you can do with long hair, you can do with box braids. For example, here are some classic hairstyles you can do with box braids. Additionally, you can use any combination of these looks.
Buns
Depending on the length and thickness of your braids, you can wear a variety of buns. You can sport your bun in the back of your head or near the front. Furthermore, you can put all your hair in a bun, or you can put some of your hair in a bun and wear the rest of your braids down.
Ponytails
It's pretty easy to put box braids into ponytails. Again, there are a ton of ponytails you can use on box braids. You can do a side ponytail, pigtails, a high ponytail, half ponytail, or just a simple traditional ponytail.
Braids
You can braid your box braids. It's like a braid within a braid. I call them inception braids. Check it out:
Specific Styles for Box Braids
In addition to the general looks that are possible, here are some more specific box braid hairstyles. Again, you can use any of these looks or combine looks to create a style all your own.
The Beyonce Bun
This hairstyle was popularized by Beyoncé. She rocked this look after she gave birth to Blue Ivy, and in typical Beyoncé fashion, she started a trend. Here's Beyoncé sporting the Beyoncé bun:
And check out this girl looking fabulous with her Beyoncé bun:
Twisted Bun
The twisted bun is basically a bun that has twisted or braided hair. You can create this look by twisting your braids and putting them in a bun. Typically, this look works better with thicker braids. The bun can be at the top of the head or closer to the neck. Here are a couple of examples of twisted buns with box braids.
Super High Bun
This is a bun or twisted bun that is closer to the front of your head. It gives a sophisticated look, and it can be a worn at work or for a night out.
Side Part
The side part is extremely simple to create. All you have to do is flip your braids to one side to sport this fierce look:
Thick Braid
You can braid your box braids into one thick braid in the back for a comfortable, fashionable look. While buns can add extra weight on your head and possibly hurt your neck, you won't run into any of those issues with the braid.
Ear Buns
I'm kinda feeling this look. This do consists of two buns at the sides of your head while wearing the rest of your hair down. It's sporty and cute.
Crown of Braids
You can make a bun-like crown of braids by bringing your hair from the back and working along your hairline. This is a lovely, regal do.
The High Half Ponytail
You can bring your braids from the side to the top of your head to make a high half ponytail. This is a good style for going out or if you just want to add some extra spice to your normal look.
Accessorizing Box Braids
On top of all the various hairstyles you can wear with box braids, you can also accessorize your hair to add a little something extra. You can put beads in your braids, and you can use scarves or headbands.
The scarves and headbands can help you create different hairstyles, but the beads are just for show.
How to Style Box Braids: 3 Video Tutorials
If you want to see how various box braid hairstyles are created, I've posted a few video tutorials to walk you through the process. The first shows 12 ways you can style your box braids.
The next shows seven top hairstyles for box braids or Senegalese twists:
Finally, you can watch this video which shows six simple and elegant box braid styles:
3 Things to Consider Before Getting Box Braids
Here are some essential things to think about before you get your box braids.
How Big Do You Want Them?
Do you want thick rope-like braids or very small braids? Small box braids work better for fine hair. If you have fine hair and opt for a bigger braid, the weight could damage your hair and you probably won't get the volume you desire.
Big box braids work better for thick hair. If you have thick hair and get braids that are too small, you'll end up with a ridiculous number of braids, the braids may be too thick to style, and they'll have too much weight.
Make Sure Your Hair Is Ready
Before getting a box braid hairstyle, you have to prep your hair. Thoroughly clean your hair, and don't put any product in your hair before you get it done. This will ensure your hair is as healthy and clean as possible. Again, while your hair is braided, you won't be able to be able to get rid of all the dirt and bacteria from your hair and scalp, so you need to make sure your hair is super clean before it gets braided.
Mentally Prepare Yourself for the Process
The process of getting box braids takes hours. On average, it typically requires about 4-8 hours. Generally, the smaller your braids, the longer the process.
Also, the braiding can be uncomfortable. However, even though it can be a bit unpleasant, it shouldn't be extremely painful. Intense pain can be a symptom that you're experiencing hair loss. If you're in agony, let your stylist know, and she can adjust the tension or take your braids out.
How to Maintain Your Box Braids
Like all hairstyles, box braids have to be maintained, but a huge benefit of getting box braids is that they don't require much daily maintenance.
Don't wash your hair too much, but keep your hair and scalp clean. While you should only wash your hair about once every week or two with box braids, you can clean your scalp more often. Dampen a washcloth and dip it into warm water and witch hazel astringent. Then part your hair and rub the washcloth on your scalp.
Don't leave your braids in for too long. Again, the braids only last a maximum of about two months. If you leave them in longer than that, they're going to start to look unkempt.
Also, leaving braids or weaves in for too long can lead to alopecia, or the thinning of the hairline. Your hairline is especially susceptible if your braids are too tight around the hairline. If you're especially worried about damaging your hairline, you can undo and rebraid the front few rows after about a month.
Additionally, make sure that your hairstyle isn't too tight. Don't wear an extremely tight bun or ponytail. If your hair is pulled back too tight, that can damage your hairline as well.
If possible, wear a satin headscarf at night. This will help keep your edges looking good and protect your scalp from drying out.
Keep your scalp moist. You can prevent your scalp from drying out by spraying your scalp with water when you're not washing your scalp or hair.
Only use natural oils to keep your hair and scalp moisturized. Stylists recommend avoiding mineral oils, even though they're popular in many braid moisturizers. Instead, use natural oils like almond oil and coconut oil. Also, you can use shea butter to soothe and moisturize your scalp.
Have friends who also need help with test prep?
Share this article!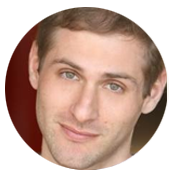 About the Author
Justin has extensive experience teaching SAT prep and guiding high school students through the college admissions and selection process. He is firmly committed to improving equity in education and helping students to reach their educational goals. Justin received an athletic scholarship for gymnastics at Stanford University and graduated with a BA in American Studies.
Get Free Guides
to Boost Your SAT/ACT