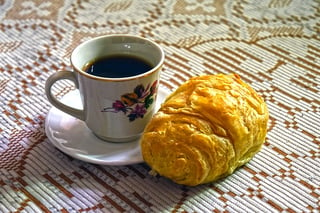 If you're going somewhere that's offering a continental breakfast, you may be confused by the term. What is a continental breakfast, really? Should you be excited for or fearful of it?
As someone who has eaten hundreds, if not thousands, of continental breakfasts throughout the world, let me guide you through the ins and outs of this specific meal. I'll explain the continental breakfast, break down a typical continental breakfast menu, and detail the differences between the very worst and the very best continental breakfasts.
What Is a Continental Breakfast?
A continental breakfast is a light morning meal. It's served buffet style, and it typically has fewer offerings than a traditional breakfast at a restaurant. Normally, it consists of bread products, fruit, fruit juice, coffee, and tea. Most often, you'll find continental breakfasts at hotels, motels, and events.
As a rule of thumb, a continental breakfast usually doesn't have hot food like eggs or sausages. Products will usually be cold or room temperature.
The hotels or motels that provide continental breakfasts will usually offer them for free for their guests from 6-9 or 6-10 in the morning. If you go on vacation, I wish you luck in your attempt to wake up in time to take advantage of the the free continental breakfast.
How Did the Term "Continental Breakfast" Originate?
It's unclear exactly when the term "continental breakfast" originated, probably in the mid-19th century, but the "continental" in "continental breakfast" refers to the countries of continental Europe where light breakfasts were the norm. Makes sense, right?
A continental breakfast is supposed to stand in contrast to a standard English breakfast, which is extremely heavy. The standard English breakfast includes eggs, bacon, sausage, toast, and coffee or tea. Additionally, it can include fish, beans, and English pudding. That's a whole lotta food to start your day.
The continental breakfast consists of lighter fare and is based primarily on bread products. Continental breakfasts became common at American hotels as more Europeans traveled to the US in the late 19th century, and the hotels tried to meet the tastes and expectations of the tourists.
Now, "continental breakfast" typically refers just as much to the price as the food options. Meals used to be included in the price of traditional American hotels; however, tourists began opting out of the hotel meals, but they still wanted breakfast. Thus, the free continental breakfast was born.
What Items Does a Continental Breakfast Include?
Here's a rundown of the food items you'll often find in a continental breakfast:
Bread Products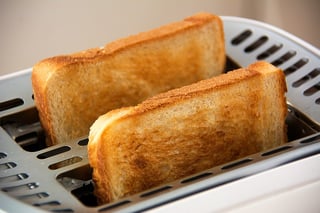 At the traditional continental breakfast, bread products reign supreme. You can often find donuts, muffins, bread, bagels, croissants, cereal, and pastries.
At nicer continental breakfasts, you may be able to feast on waffles, pancakes, or french toast.
You'll also have the necessary condiments to enhance your bread products, including butter, cream cheese, and jam/jelly.
Fruit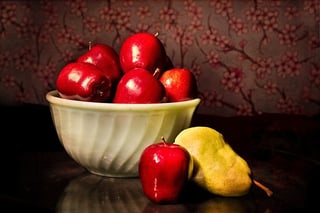 Most continental breakfasts provide fruit as a healthier option. Typically, there will be apples and bananas, so you'll be able to get your fiber and potassium. If you're lucky, you'll be able to indulge in melon, pears, grapes, and an assortment of berries.
Fruit Juice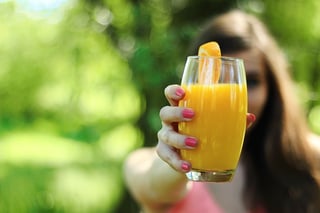 Another continental breakfast staple is fruit juice. Generally, you'll be able to choose between orange and apple juice. Other possible fruit juice options include cranberry, grapefuit, and grape juice.
Coffee and Tea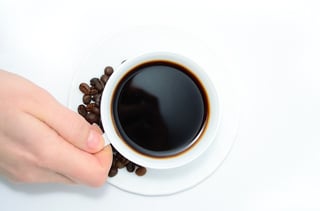 Most continental breakfasts will provide coffee and tea. Ideally, your coffee will be freshly brewed. If you prefer tea, you'll probably have to get yourself some hot water and a tea bag. There should be cream and sweeteners to add some flavor to your hot beverages.
Miscellaneous Items
Here are some other foods that you'll sometimes see at continental breakfasts:
Yogurt
Oatmeal
Eggs
Bacon
Sausage
Cheese
What Makes a Good Continental Breakfast?
The quality of a continental breakfast is dependent on the quantity and quality of its offerings. Basically, how many products does it have, and how good are those products? Here are your different levels of continental breakfasts:
Bad Continental Breakfast
I've seen some pretty sad and gross continental breakfasts. The worst ones I've seen only provided stale bagels and old cereal. There was no milk (was I expected to eat dry cereal?), no fruit juice, and no freshly brewed coffee. It was obvious that the continental breakfast wasn't well-maintained and the very limited products weren't regularly replaced.
Standard Continental Breakfast
The standard continental breakfast will be well-organized and provide mostly fresh products, but there will be limited offerings. The standard continental breakfast will have some combination of fruit, muffins, bagels, cereal, bread, croissants, pastries, waffles, yogurt, juice, milk, tea, and fresh coffee. Additionally, there will be butter, jam/jelly, cream, and sugar available.
Here's a pic of a standard continental breakfast: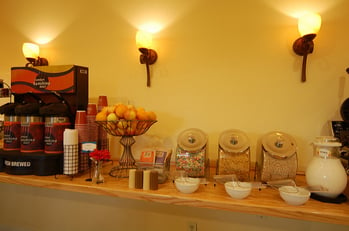 You can see the cereal, milk, fruit, and coffee. In the right corner of the pic, it looks like there may be a waffle maker. Most often, you'll have to make your own waffles at the continental breakfast.
Good Continental Breakfast
The primary factor that separates a standard continental breakfast from a good one is the number of food options. A good continental breakfast looks more like a breakfast buffet at a restaurant.
The most impressive breakfast spreads include eggs, bacon, sausage, french toast, and pancakes, in addition to all of the options at a standard continental breakfast. You may even get some fancier breakfast entrees like quiches, omelets, or Eggs Benedict. (To be fair, at this point it stops being a traditional continental breakfast and becomes more of an Everything breakfast.)
Look at all these options:
Bev Sykes/Flickr
How to Do a Continental Breakfast Right
As a connoisseur of continental breakfasts, let me advise you on how to make the most out of your free breakfast experience.
Step #1: Arrive On Time
For many people (myself included), the biggest obstacle to taking advantage of the free continental breakfast is waking up in time to partake in the breakfast fun. Some continental breakfasts end as early as 9:00 AM, and if you're on vacation and have a rare opportunity to sleep in, you may not want to get out of bed before noon.
I recommend arriving to the continental breakfast at least 20 minutes before it's supposed to end. If you show up at the last second, hotel staff may be taking away items as you're trying to serve yourself. You also want to give yourself enough time to get seconds.
If you love breakfast, but you aren't ready to start your day during the designated breakfast hours, you can always grab your continental breakfast, take it back to your room, eat, and then head back to dream land. That's a savvy move.
Step #2: Survey Your Options
Before grabbing food, see what's available and briefly inspect your options. Even though continental breakfasts are all-you-can-eat, it's better not to take food you're not going to eat or won't like.
For example, you may typically like bagels and fruit, but often, the bagels and fruit at the continental breakfast are far from fresh. I've seen some continental breakfast bananas that look a few months old and bagels that were hard enough to break a car window. I love eggs, but there are continental breakfast eggs that are as rubbery as car tires.
You'll probably have the most enjoyable meal by selecting the highest quality products available.
Step #3: Consider Your Goals
Think about what you're trying to get out of this meal. Do you want the tastiest meal possible? Generally, this is my goal at the continental breakfast. I want to satisfy my hunger and enjoy my food.
If you're like me, you'll probably want to look for the muffins, donuts, or pastries at a standard continental breakfast. If you have the patience, making your own waffle is also a good call.
If you're at a good continental breakfast, you'll want eggs and meat. My ideal continental breakfast is eggs, bacon, sausage, two muffins, a donut, and apple juice. Yummy.
Are you trying to gain muscle or lose weight? If you're looking to add muscle or lose weight, go for lean protein and fruit. Hard boiled eggs, turkey bacon, oatmeal, yogurt, and fruit would be ideal options for you.
Do you want a combo of healthy and tasty? For healthy and tasty, I recommend a moderately-sized balanced meal. As an example, you can do a bagel with low-fat cream cheese, fruit, eggs, and yogurt. For your beverage, try to stick to water, but if you need some caffeine, take it easy on the sweeteners.
Step #4: Take a Little Less Than You Plan on Eating
I think we're all guilty of letting our eyes be bigger than our stomachs. If you hit up the continental breakfast when you're rather hungry, you're likely to get too much food. You don't want to waste food, and you don't want to eat so much that you feel bad when you're done.
Admittedly, I've been guilty of gluttony and needed to lay down after five donuts, six sausage links, and five pieces of bacon. Remember the continental breakfast is all-you-can-eat. If you're still hungry after your first plate, you can always return for seconds.
Step #5: Lower Your Expectations
Because the continental breakfast is usually free, don't expect world-class food. If you're a food snob who can only enjoy the finest of foods, you'll undoubtedly be disappointed at any continental breakfast. If you go in just hoping for bread that isn't stale and food that tastes better than stale bread, you have a good chance of being pleased with your continental breakfast.
If the food is free, remind yourself that free food is the most delicious. It's very possible to get a satisfying meal with pretty good food at a continental breakfast, and it's free and all-you-can-eat. Nothing wrong with that.
Have friends who also need help with test prep?
Share this article!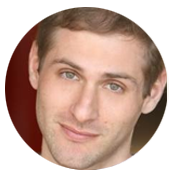 About the Author
Justin has extensive experience teaching SAT prep and guiding high school students through the college admissions and selection process. He is firmly committed to improving equity in education and helping students to reach their educational goals. Justin received an athletic scholarship for gymnastics at Stanford University and graduated with a BA in American Studies.
Get Free Guides
to Boost Your SAT/ACT