Practice tests are key to good ACT prep, but just taking full-length practice tests isn't enough to guarantee a good score. In this article, we'll go over the three major pitfalls that many students stumble into when attempting to use ACT practice tests.
feature image credit: Danger Danger Danger Danger/used under CC BY 2.0/Cropped and resized from original.
Danger #1: Inaccurate Practice Tests
Many non-official practice tests are lower quality than the real test. The quality problems can range from materials that don't test the right things or ask about them in the right way to tests that are rife with errors.
Some might argue that doing any sort of practice test is better than nothing, no matter if it's not as good as the real ACT. But using low-quality ACT practice tests is like practicing to become a ping pong champ by playing squash: it will not only waste your time but will also make your score worse because it's teaching you the wrong skills.
Danger #2: Overdosing on Practice Tests
Practice tests don't help you if you mindlessly do one after another without taking the time to study in-between. It's okay to take the first few practice tests without too much reflection, just to get used to the format and the experience of taking the test. Once you get to the 4th or more practice test, though, you need to thoroughly review your mistakes if you want to see any improvement in your score.
Danger #3: Underdoing Practice Tests
You cannot have a good ACT study program without at least four real practice tests. If you're spending less than 10% of your ACT prep time on practice tests, things are going wrong.
Preferably, you'll spend up to 30% of your total ACT prep time taking practice tests. Making room in your busy schedule for the chunk of time a realistic practice takes can be tricky, however. A good rule of thumb to follow is that out of every 40 hours you spend doing ACT prep, you should spend (at a minimum) at least 3-4 of those hours taking a realistic, full-length practice test (with breaks).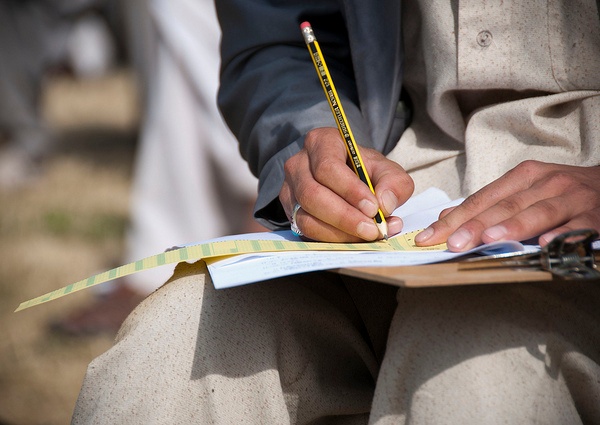 Thousands compete for military university admission/used under CC BY-SA/Cropped from original.
What's Next?
Running short on prep time? Follow our 20-hour prep guide to using ACT practice tests to get the most out of the time you have left.
Now you know what to avoid on a high-level with planning out your ACT prep, but what about while you're taking practice tests? We've collected the top eleven mistakes students make during ACT practice tests in this article.
Ready to take some practice tests, but not sure where to get them? Not to worry - we've got a collection of free official and unofficial ACT practice tests for you to use.
Want to improve your ACT score by 4 points?
Check out our best-in-class online ACT prep program. We guarantee your money back if you don't improve your ACT score by 4 points or more.
Our program is entirely online, and it customizes your prep program to your strengths and weaknesses. We also have expert instructors who can grade every one of your practice ACT essays, giving feedback on how to improve your score.
Check out our 5-day free trial:
Have friends who also need help with test prep?
Share this article!
About the Author
Laura graduated magna cum laude from Wellesley College with a BA in Music and Psychology, and earned a Master's degree in Composition from the Longy School of Music of Bard College. She scored 99 percentile scores on the SAT and GRE and loves advising students on how to excel in high school.
Get Free Guides
to Boost Your SAT/ACT