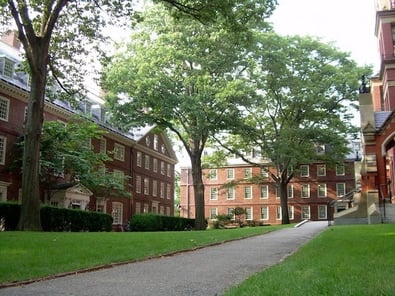 Setting a target SAT score to aim for is important, but what if you want to shoot for the moon and get an Ivy League-caliber SAT score? Read on to find out what SAT scores Ivy League Plus schools require.
feature image credit: Strauss Hall, Harvard Yard/used under CC BY 2.0/Resized from original.
Ivy League SAT Scores
While your SAT score isn't the only factor that determines whether or not you get accepted to Ivy League-level schools, it does play a significant role in helping colleges compare candidates from different high schools. This is even more true for international students who don't have AP or IB courses in their schools, since US colleges and universities use those courses as ways to evaluate the academic potential of students attending a wide range of high schools, including students from countries with different grading systems altogether.
Your personal target SAT score is determined by the scores of students attending the schools you want to attend. If you're aiming for top-tier schools like the Ivy League, Stanford, MIT, or UChicago, this target score is going to necessarily be higher than it would be for less selective institutions, but just how high does your target SAT score have to be?
To answer this question, we've compiled a chart of the 25th and 75th percentile scores from all eight Ivy League schools (Brown, Columbia, Cornell, Dartmouth, Harvard, Princeton, UPenn, and Yale) as well as from MIT, UChicago, and Stanford. The chart includes averages of section scores from all the schools as well as the total SAT scores.
School Names

New SAT 25th %ile Scores

New SAT 75th %ile scores

EBRW

Math

TOTAL

EBRW

Math

TOTAL

MIT

720

780

1500

770

800

1570

UChicago

720

750

1470

770

800

1570

Harvard

720

740

1460

780

800

1580

Columbia

710

740

1450

760

800

1560

Yale

720

730

1450

770

790

1560

Princeton

710

730

1440

770

800

1570

UPenn

700

740

1440

760

800

1560

Stanford

700

720

1420

770

800

1570

Dartmouth

700

720

1420

770

790

1560

Brown

700

720

1420

760

790

1550

Cornell

680

710

1390

750

790

1540

Average

707

735

1442

766

796

1563
Score data taken from College Board; section scores may not add up to the total score.

Want to improve your SAT score by 160 points? Tired of wasting time prepping in ways that don't work?
We have the industry's leading SAT prep program. Built by Harvard grads and SAT full scorers, the program learns your strengths and weaknesses through advanced statistics, then customizes your prep program to you so you get the most effective prep possible. It's the best prep program available right now.
Best of all, we guarantee your money back if you don't improve your score by 160 points or more.
Check out our 5-day free trial today:
What Does This Mean For You?
Going by our standard recommendations for setting target scores, you'd need to get a 1540 new SAT score to be on par with the top 75% of students admitted to Ivy League Plus schools; students with scores below 1390 on the new SAT are unlikely to be accepted.
The schools with the largest spread between the 25th and 75th percentile scores are Stanford and Cornell (150-point difference), while the school with the smallest spread is MIT (70-point difference). This is important because it means there's a lot more SAT score wiggle room for the middle 50% of students who apply to, say, Yale or Brown than there is for students applying to MIT or UChicago.
Untitled/used under CC BY 2.0/Resized from orignal.
Realistically speaking, few students apply exclusively to Ivy League Plus schools because they are so selective. If you do, you might fail to get into any college at all (this happened to a student a year above me in high school).
Plus, a high SAT score doesn't guarantee you admission to any school; other quantitative measures like GPA also matter a great deal. For example, Harvard's scatterplot of admitted students for Fall 2016 shows the vast majority of students with a GPA of 3.8 or better out of 4.0.
The bottom line: a score of 1540 or above on the SAT means that you are highly competitive for the top schools in the country, while a score of 1390 or below likely shuts you out of most of the Ivy League Plus schools.
What's Next?
Are you all fired up about getting into the toughest schools in the country after reading this article? Then you'll love our complete guide on how to get into Harvard and the Ivy League and these two sample recommendation letters that got PrepScholar co-founder Allen Cheng into Harvard (and other Ivy League Plus schools).
Want to ensure your SAT prep isn't time wasted? Make sure you're following all the top tips from our article on how to get a perfect SAT score.
Took the SAT before March 2016 and not sure how you measure up to students taking the new SAT? Use our Old to New SAT Conversion charts to figure out where you stand.
Ready to go beyond just reading about the SAT? Then you'll love the free five-day trial for our SAT Complete Prep program. Designed and written by PrepScholar SAT experts, our SAT program customizes to your skill level in over 40 subskills so that you can focus your studying on what will get you the biggest score gains.
Click on the button below to try it out!
Have friends who also need help with test prep?
Share this article!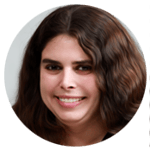 About the Author
Laura graduated magna cum laude from Wellesley College with a BA in Music and Psychology, and earned a Master's degree in Composition from the Longy School of Music of Bard College. She scored 99 percentile scores on the SAT and GRE and loves advising students on how to excel in high school.
Get Free Guides
to Boost Your SAT/ACT