One great way to insert some extra SAT prep into your daily routine is to do a free SAT Question of the Day. College Board and other websites offer a daily question online and on mobile devices to keep you practicing whenever and wherever you want.
In this article we'll point you towards the best SAT Questions of the Day, both how to find them and how to use them effectively as you prep for the SAT.
Where can you find SAT QOTD?
Even though a few companies offer Question of the Day, College Board's website is by far the best place for SAT QOTD. As the producers of the test, they release the highest quality questions. You can find their official practice question of the day online here: http://sat.org/qotd.
In addition to the practice question, this site will tell you how many students answered it and what percentage answered it correctly. If you need a hint, it will give you one, as well. If you missed a question in the last thirty days, you can access that, too. Finally, College Board will give you an explanation of the correct answer.
College Board has discontinued emailing practice questions, but you can pair up with a friend and email each other using their "Challenge a Friend" feature.
Another site that offers free SAT questions of the day online is Number2.com ). This site offers a question a day, but does not have the other features (the answer hint, statistics, or share with a friend) that College Board offers.
Do you tweet? College Board does too.
You can follow @SATQuestion on Twitter. College Board links you back to their main site, along with some inspirational quotes or helpful tips about the test.
How about QOTD on your phone?
You can download College Board's free apps to your phone, iPad, and Kindle.
Here are their links for free apps:
iPhones and iOS: https://itunes.apple.com/us/app/official-sat-question-day/id361264754?mt=8.
Android and Google Play: https://play.google.com/store/apps/details?id=org.collegeboard.qotd
Amazon: http://www.amazon.com/gp/mas/dl/android?p=org.collegeboard.qotd
How do you use QOTD effectively and get the most from them?
While answering QOTD questions is helpful, there are a few ways to get the most out of your time to improve your score the most.
Make sure you understand your mistakes
Did you answer it correctly? Read the explanation to make sure you understood the whole concept or skill being tested. The following example explains the answer to the math question above.
Did you answer it incorrectly? Write that question down in your notebook. Figure out why you got it wrong and what concept or skill you need to work on to answer it correctly in the future.
Figure out your weaknesses and drill them
Whether the QOTD is math, reading, or writing, you should understand why you missed a question deeply.
If you get stuck on a math question, seek out similar questions that test the same concept. If the vocabulary words are unfamiliar, look them up and shore up your vocabulary.
Here's an example of a Critical Reading sentence completion question from College Board.
We'll hide the answer from you until you're ready.
.
.
.
.Did you choose C, "volatile...liable"?
If you didn't choose C, what was your mistake? Were you unfamiliar with the vocabulary words? Did you not think about the relationship between the words or correctly interpret to the context of the sentence?
Through carefully analyzing your answers and working on your mistakes, you can turn your weaknesses into strengths. When a similar question comes up on the SAT, you can rest easy with the knowledge you've seen it dozens of times before.
There are some limitations to SAT QOTD.
First, because they are short questions, they usually don't include passage-based reading or improving paragraph questions. Instead, they tend to be math multiple choice, sentence completions, improving sentences, and identifying sentence errors.
Secondly, the difficulty levels of the questions are random. You can't choose whether the practice questions of the day are easy, medium, or hard. However, you will get to answer a variety and see how you do on each questions of each difficulty level. This way you can figure out what skills and knowledge require further study and practice.
Questions of the Day are a helpful tool and motivator, but they are not a replacement for more extensive study.
To sum up…
Pros:
SAT Questions of the Day ensure that you're preparing every day.
They're easy to access online or on your cell phone or other devices.
They can be a launching point to help you identify your strengths and weaknesses.
Cons:
There usually are no passage-based reading or improving paragraph questions.
The questions are random, so you can't choose whether they're easy, medium, or hard.
SAT Questions of the Day are a free and easy way to get in some extra practice, learn new words, and most importantly, root out the areas you need to work on the most.
Plus with the mobile apps, they're conveniently right there in your pocket or bag. Just don't get caught looking at your cell phone during class!
What's Next?
Now that you know how to prep using QOTD, there's a lot more you can learn about the SAT.
What's a good SAT score for you and your goals? Read our step-by-step guide to figure our your own SAT target score.
Planning to study with SAT books? Read our in-depth guide to the best SAT prep books.
Want to improve your SAT score by 160+ points? Download our free strategy guide for the most important things you need to make big score improvements.
Have friends who also need help with test prep?
Share this article!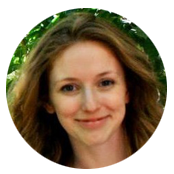 About the Author
Rebecca graduated with her Master's in Adolescent Counseling from the Harvard Graduate School of Education. She has years of teaching and college counseling experience and is passionate about helping students achieve their goals and improve their well-being. She graduated magna cum laude from Tufts University and scored in the 99th percentile on the SAT.
Get Free Guides
to Boost Your SAT/ACT