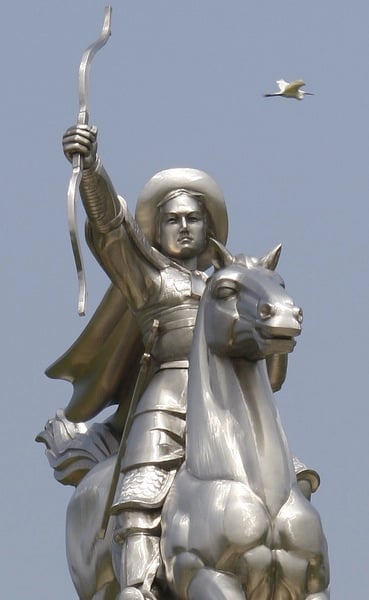 Let's get down to business, to defeat...the SAT Reading. How can you practice for the SAT Reading? Where can you find SAT Reading practice questions? Is it even possible to practice for the Reading section? Read on for the answers to these questions.
feature image credit: Mulan by mickey, used under CC BY 2.0/Cropped from original.
A Brief Breakdown of SAT Reading
To start off, I'll do a quick runthrough of the structure of SAT Reading. Feel free to skip over it to the Important Tips (™) (not actually trademarked, unless I can trademark things just by typing the symbol, in which case I just trademarked that).
The SAT Reading section consists of one 65 minute section with 52 passage-based (read the passage or paired passages, answer questions about it/them) multiple choice questions (each with four answer choices). In total, there are four long reading passages and one set of shorter paired passages. Read more about how the SAT is structured here, or find out more about the format of SAT Reading with our article about what's actually on SAT Reading.
Now that you have a better idea of what exactly is on SAT Reading, it's time to jump into tips for how to practice the SAT Reading section in the best way.
SAT Reading Practice Tip 1: Use Official SAT Tests
When you are practicing for the SAT, you must use actual SAT questions. Why? Because only official SAT questions will test you the same way the test does. Part of what is so tricky about the SAT is that it takes concepts everyone knows (since it's standardized, it has to stick to standard knowledge) and then asks about them in weird ways.
Therefore, the best way to ensure you get used to the weird ways of questioning is to do actual SAT questions. As PrepScholar co-founder Allen Cheng has said, "If you train yourself on questions that don't reflect what's on the SAT, you're going to learn the wrong patterns."
So where do you find official tests? Well, for starters, we've compiled a complete list of all available free complete SAT tests. You can also buy our very own PrepScholar test prep platform, which integrates offical SAT practice tests as part of your personal study program.
SAT Reading Practice Tip 2: Practice Under Realistic Conditions
When you take the SAT, you're going to have limited time, materials, and space to spread out (do not underestimate the effect of having to take a test on a tiny desk).
You'll be taking the Reading section first, which means that you'll need to be smart about knowing how much effort you can put into the Reading section and conserve enough energy for the rest of the test.
Bottom line: I recommend not only drilling reading questions and going through entire reading sections in isolation, but also taking least one full-length timed practice test so you can get used to making it through the whole test .
Additionally, make sure to take at least one practice test at the same time of day you would be taking the actual SAT, so that you'll have a good idea of how tired you might be. If you're not a morning person, an 8 am test might mean you don't pay as much attention when reading a passage, especially as compared to studying and practicing Reading questions and passages in the afternoon after school/after work.
SAT Reading Practice Tip 3: Review Your Mistakes Effectively
The most important part of studying that many students skip over is effectively reviewing mistakes. Learning from your mistakes isn't just a saying—it's the single most useful tool for improving your test score.
Yes, it's tempting to just look at a question and go "oh, I made a stupid mistake" and just move on (I mean, what person wants to dwell on what she got wrong?). KLAXON! KLAXON! Failing to review your mistakes is the biggest mistake of all. To see real improvement in your score, you really need to get down into the nitty gritty of WHY you made the mistake.
For instance, what kinds of questions do you struggle with? Do you tend to have problems with data graphic questions? Maybe you struggle when answering inference questions on passages (Line 42 primarily suggests that…), or finding the main point of a paragraph. Identifying the types of questions you struggle with most is necessary for creating the most helpful study plan—there's no point in wasting precious prep time practicing questions you already know how to answer.
If your problems are with analyzing data graphics questions, you're in luck - we have an article on how best to tackle these questions on this very blog! Have problems with getting through the passage with enough time left to answer all the questions? Brush up your passage reading skills with our article on how best to read the passage on SAT Reading and learn how to stop running out of time.
What about the kinds of mistakes you tend to make? Why did you make them? Don't just stop at surface explanations.
Surface reason: Oh, I just ran out of time for this question because it was at the end of the section. I totally could have gotten it since it was asking about a detail that was really easy to find.
This response is not helpful, because it doesn't make you learn from what you did wrong (and if you don't learn from your error, there's nothing to stop you from continuing to mess up).
Nitty gritty: I ran out of time because I spent a solid minute reading and re-reading this one sentence that really confused me on my first skimming of the passage. How can I avoid this in the future? Make sure that I really only skim on my first read-through or read the questions first and do all the detail ones that don't rely on having to read the whole passage.
Here's another example of possible reactions to getting a question wrong:
Surface reason: There were two answers that seemed like they were sort of right, and I went with the wrong one. Oh well.
A good start, but WHY did you go with the wrong one? Go deeeeeeper.
Nitty gritty: I didn't read the question carefully enough to get what it was really asking. Because of this, when I went back to the passage I wasn't able to eliminate three wrong answers. Next time, I will really focus on exactly what the question is asking and make sure I only answer the question based on the information in the passage, not based on my outside knowledge.
For even more detailed advice and suggestions on how to make sure you review mistakes in a way that improves your score, read my article on that very topic.
Action Plan
#1: Get official tests to practice from. Learn the way the SAT asks you about concepts to avoid tripping up on questions you can answer.
#2: Practice under realistic conditions. Don't neglect to do timed Reading sections as well as full-length practice tests, so you can get used to conserving your energy while still performing at a high level on Reading questions.
#3: Mark questions you are unsure of when you are taking the test. This way, you're not just reviewing questions you got wrong—you're also reviewing questions you were shaky on.
#4: Review your mistakes so you can pinpoint your higher level weaknesses and drill them. If there's a particular type of question you tend to mess up on, focus your studying on that skill type.
#5: Do it all over again: never give up [your test prep], never surrender.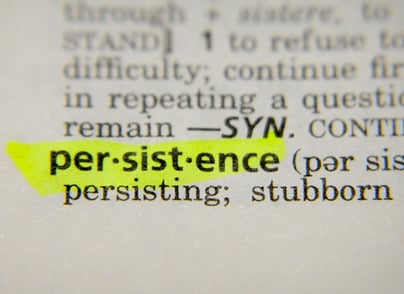 'Persistence" in the dictionary by uberof202 ff, used under CC BY-SA 2.0/Cropped from original.

As you study, your weak areas may shift, so don't hesitate to adapt your studying plan to fit your current skill level. For instance, if you had planned to spend a week studying each type of question, but find that after a couple of days you've already got the hang of answering questions that ask you to search for details in the passage, don't waste your time spending five extra days on it—reallocate that time to an area that needs your attention more.
For more guidance and suggestions that might work for you, try reading our article on how to improve your SAT Reading score and how to get a perfect on SAT Reading.
What's Next
Want more tips on how to study for the SAT? Read our guide to improving your SAT score by 160+ points!
Looking to target specific SAT Reading skills? Our ultimate guide to SAT Reading has a comprehensive list of articles targeting each specific Reading skill.
What's actually tested on SAT Reading? Find out here!
Interested in adding some tutoring to your test prep? PrepScholar Tutors might be right for you.
Want to improve your SAT score by 160 points?
Check out our best-in-class online SAT prep program. We guarantee your money back if you don't improve your SAT score by 160 points or more.
Our program is entirely online, and it customizes what you study to your strengths and weaknesses. If you liked this Reading lesson, you'll love our program. Along with more detailed lessons, you'll get thousands of practice problems organized by individual skills so you learn most effectively. We'll also give you a step-by-step program to follow so you'll never be confused about what to study next.
Check out our 5-day free trial:
Have friends who also need help with test prep?
Share this article!
About the Author
Laura graduated magna cum laude from Wellesley College with a BA in Music and Psychology, and earned a Master's degree in Composition from the Longy School of Music of Bard College. She scored 99 percentile scores on the SAT and GRE and loves advising students on how to excel in high school.
Get Free Guides
to Boost Your SAT/ACT