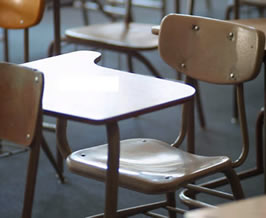 You don't want to walk in the morning of the ACT only to find you have to take the test on a super-tiny desk.
If you're preparing for the ACT, you've probably spent a lot of time studying and getting ready for the test. But you probably haven't given that much thought to the physical location of your test (especially if you're taking it as a part of your state's mandatory testing).
However, the place you take the ACT could definitely affect your performance. Read our guide to choosing the best possible ACT test location so you can knock it out of the park.
How to Search for Test Locations
Before we can even talk about what makes a good center, we need to go over how to find those test centers to begin with. Keep in mind this guide is intended for students taking the test outside of mandatory state testing sessions. If your high school requires you to take the ACT, you won't be able to choose the location for that session of the test. But if you sign up on your own, you will be able to chose.
The ACT website has two test center search methods – one that's easier to use but less detailed, and one that's more cumbersome but gives you more info. We'll tell you about both.
Method One: ACT's Test Center Search
The easiest way to start looking for an ACT Test Center is to use the search feature on ACT's website. This basic search method allows you to search by country, state, and city.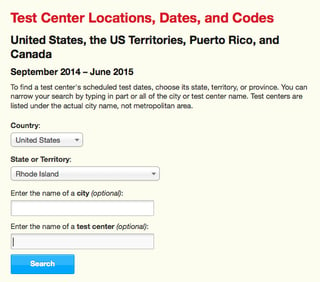 The upside is that this is a quick method, and you don't have to begin registering for the test. The downside is that since you can only search by city and state, and not zip code/distance, you might overlook test centers close to you.
However, for some states, this basic method might be all you need. For example, in Rhode Island, there are only two test centers that offer the test on all ACT dates, and eleven centers total. If you live in RI, that would probably make your choice of test center pretty straightforward, unless you want to consider options over the border.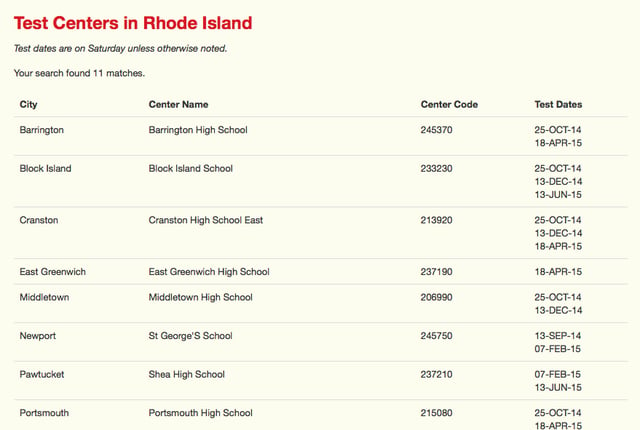 Eight of the eleven possible test centers in Rhode Island. The basic ACT Test Center search doesn't allow students in Rhode Island to easily see options over the state border. Image via the ACT Student website.
But for big states like California and Texas, you might need a more fine-grained search to be able to sort through the options closest to you. If that's the case, you may want to consider the second search method.
Method Two: Begin to Register for the ACT
Unfortunately, the best method for an ACT test center search is within the test registration process. You don't have to complete your registration, but use this method if you want to do a more efficient search by zip code. For some reason, both the SAT and the ACT only let you search test centers by zip code once you've begun to register.
Once you begin to register for the ACT, you can search for test centers by zip code. Image via the ACT Student website.
The registration search method will give you a list of the test centers nearest to you. This is especially helpful if you live close to a different city or even a state line, as it will show you options over the border.
A list of possible test centers found with the zip code search. Note that using this method you can still view which test centers still have space available. Image via the ACT Student website.
So if you use this search method and see that you have a lot of options, how do you choose the best test center? Your choice depends on a few important factors, which we will cover in order of importance.
How Far Away is the Center?
You don't want to risk a travel crisis the morning of the ACT. For that reason alone, it's wise to choose a test center as close to your home as possible. In most cases, the closer, the safer, especially if traffic or weather issues arise.
Also think about the parking and/or drop-off situation at the location. A high school parking lot might be crazy the morning of the ACT. In any case, always give yourself more time than you think you'll need to get to the ACT on time. This is not the morning to be late!
Do You Know the Building?
Once you're inside the center, you'll be less stressed out if you know how to get around. For example, if it's your own high school, even if you're headed to a room you've never had a class in, you'll likely be able to find it easily. This means less unnecessary stress on test day.
However, if you're in a different high school or university building, and have to go looking for your test room, that could cause unnecessary stress, especially if you take a wrong turn or get lost.
If you have to go to an unfamiliar location (say if your high school doesn't offer the ACT) you might consider scoping out the center ahead of time.
Will You Run Into Friends?
Will seeing friends or classmates at the ACT relax you, or stress you out? For some students, seeing their friends and talking before the test could help them relax and focus.
For others, seeing classmates could remind them of competition and college application stress, so being with strangers might be more relaxing.
There is no problem with being either type of person. But be introspective and try to decide if being with familiar faces will be good or bad for you, and plan accordingly. If you'll be especially stressed out by familiar faces, you might consider traveling a bit farther to go to a different test location.
Are There Issues With the Test Center?
Aside from the big issues of location and people present, there could be other, unexpected issues that make a test center better or worse.
What are the rooms like? For example, windowless rooms can be oppressive and stressful for some students. For others, sitting by a window could be distracting.
Does the room have decent temperature control? You don't want to be taking the ACT either uncomfortably hot or cold. If the high school across town has AC and yours doesn't, you might prefer to go across town, especially if you're taking the ACT in June.
Think about other possible problems with the test center. Is there construction happening nearby that could be distracting? Odd smells or lighting issues? There are things that could unexpectedly cause problems the morning of the test. If you're easily distracted, make sure to scope out potential test centers carefully.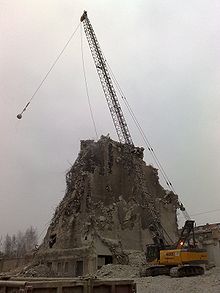 They came in like wrecking ball... and ruined your concentration during the ACT. Avoid test locations with nearby construction sites! Image via Wikipedia.
Finally, think about desk size. The bigger the desk or table you get to use, the easier, since you're going to be juggling your answer sheet and test booklet. Trying to cram everything onto a tiny desk is an annoyance you might not want to deal with on test day.
Should I Just Test at my High School?
After going through all these different potential testing locations and issues, you might think that just going to your high school is the best option. This is likely the case for many students, but consider the following potential problems before you register.
First, as we discussed above, being around friends and classmates can be stressful for some students. Will familiar faces distract you or stress you out? You might want the "blank slate" experience of going to a different location.
Second, is there a closer location? Don't underestimate morning-of travel and weather issues. If you commute across town to go to school, going to a location closer to home could save you morning-of travel time and stress.
Are there known issues with your high school, like small desks, lack of heating/cooling, or a nearby construction project? You might want to seek out a different test center at a local University or different high school for a better testing environment.
Do you tend to lose focus in environments you're used to? Some people prefer the environment of a new testing center. Of course, for others, being in familiar locations is less stressful.
That said, if you don't have any of those issues, your high school can be the best bet since you're familiar with it.
Personally, I took the ACT at my high school and found it much less stressful than going to a different location for my SAT Subject Tests. I happened to live within walking distance of my high school, and I liked having a short walk the morning of the test to calm my nerves. Plus, since I wasn't worried about finding the testing room, I was at ease that morning.
In contrast, I found it stressful to drive to different location for the SAT subject tests and deal with finding my testing room in a big University building I'd never been to before.
Remember, the best testing environment for you is all about your preferences and test-taking style. Take your own concerns and issues into account when choosing your test center.
Other Tips
Be aware of test center closings. Sometimes the ACT has to close test centers before a test due to weather or other unforeseen issues. Check your email carefully in the weeks and days leading up to the test in case this happens to your test center.
Drive to the testing location before the morning of the test if you've never been there. Don't rely on your GPS to get you there without problems the morning of. There could be problems with the route, or the address given might not take you to the right entrance. If you make the drive before the morning of the test, you can make sure to avoid any last-minute crises.
If you have a long drive the morning of, pack your breakfast with you to save time. You could put together a playlist for the drive as well. Either choose relaxing music if you tend to stress out, or music that will get you amped if you need some extra motivation! You could also bring along some flashcards or practice problems to get your brain going in the car.
If you've already registered but decide you want to switch locations, you can change your ACT location after registering, but there's a $28 fee and locations fill up the closer you get to the test. So if you want to change, do it quickly. Better yet, research your test center options before you register.
What's Next?
Do you feel like you've hit a wall with your ACT studying? Get advice from our 36 perfect-scorer. Even if you're not going for a 36 yourself, these tips will give you the motivation you need to get through these last few weeks of studying.
Try out some full-length ACT practice tests. Being used to the format, length, and pacing of the ACT will help you build stamina and feel confident and relaxed on test day.
Want other test day tips? Find out what to do – and what not do to! – the night before and morning of.
Want to improve your ACT score by 4+ points? Download our free guide to the top 5 strategies you need in your prep to improve your ACT score dramatically.
Have friends who also need help with test prep?
Share this article!
About the Author
Halle Edwards graduated from Stanford University with honors. In high school, she earned 99th percentile ACT scores as well as 99th percentile scores on SAT subject tests. She also took nine AP classes, earning a perfect score of 5 on seven AP tests. As a graduate of a large public high school who tackled the college admission process largely on her own, she is passionate about helping high school students from different backgrounds get the knowledge they need to be successful in the college admissions process.
Get Free Guides
to Boost Your SAT/ACT