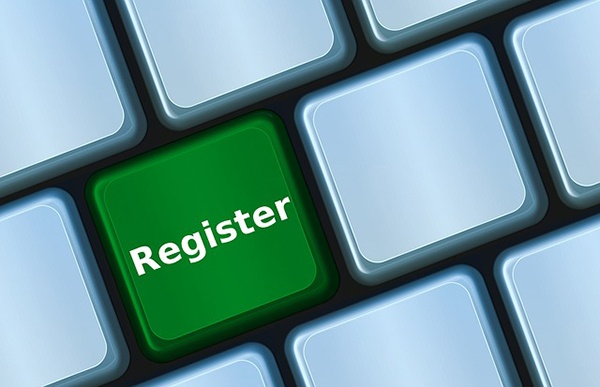 You may be required to take SAT Subject Tests if you're applying to highly selective colleges. Thankfully, registering for subject tests is just as easy as registering for the regular SAT. It might take a bit more planning to verify that the subject test you want is being offered on a certain test date, but otherwise the process is similar. In this article, I'll go through how to register for subject tests step by step so that you don't run into any confusion.
How to Register for SAT Subject Tests, Step-By-Step
I've described each step of the SAT Subject Test registration process below, with screenshots to help you follow along.
Step 1: Check Dates
Go to the official College Board site, and check to see which subject test are offered on which dates in the future. Once you know the date you want to sign up for, click the blue "Register" button in the top right corner.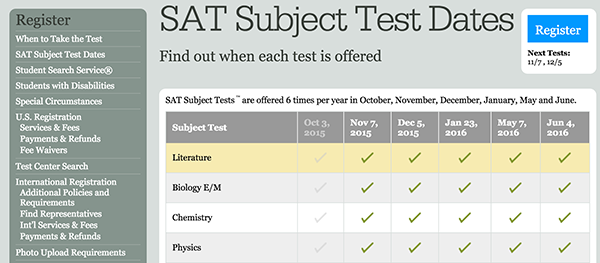 You will need to to sign into your existing College Board account or create a new account if you don't have one yet (you probably do if you took the regular SAT already). Once you sign in, you'll be taken to this page: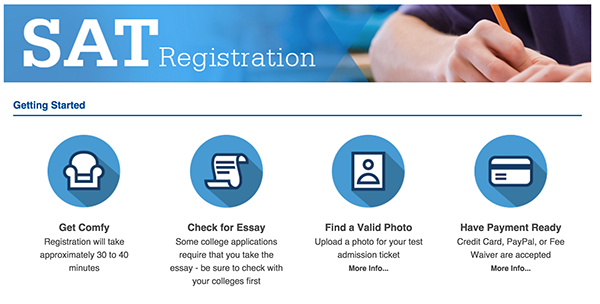 Step 2: Enter Your Personal Information
Click the "Continue" button on the bottom right hand corner of the page. You'll be taken to a screen that asks you to fill out some personal information if you haven't done so during a previous registration. This is very important, so make sure everything is accurate! The demographics section is not as critical; it's just there for the College Board to use in statistical calculations. It may take a few minutes to fill out, but don't worry too much about it.
Step 3: Create Your Student Profile
Continue to the next module, Create Student Profile. Again, you can skip this step and move on to the next one if you've already filled out your profile from a previous registration.
Creating a profile can take a lot of time, but it's mostly optional. If you fill out your profile, the College Board will share your information with colleges that will send you mail to try and entice you to apply. You can go ahead and click the "update later" button at the bottom of the screen once you put in your GPA in the "GPA/Rank" section, which is the only required information.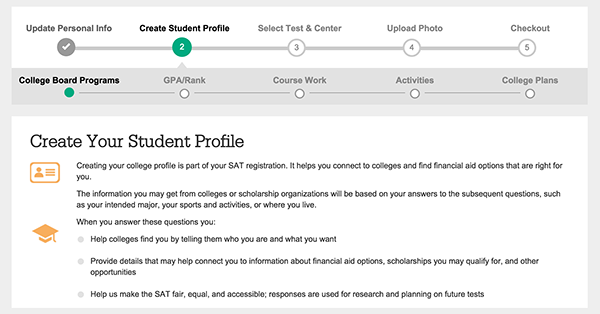 Step 4: Select Your Test
Now you've reached the "Select Test & Center" module, where you must agree to the terms and conditions and then choose the test center where you plan on taking your subject test. In the "Choose Your Test and Date" section, select SAT Subject Tests, and then go to the tab for your chosen test date and select up to three subject tests.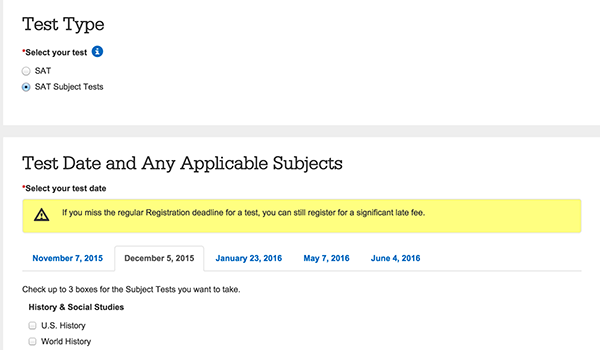 This is also the screen where you'll need to indicate whether you have been approved for test accommodations or a fee waiver.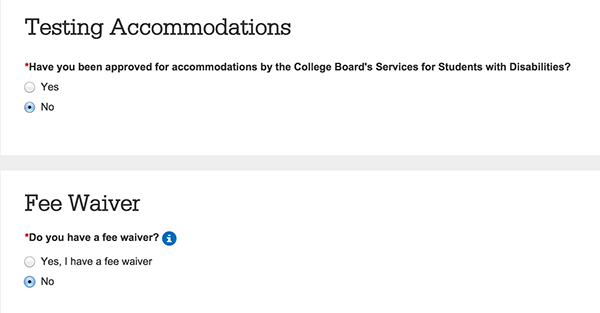 Step 5: Pick a Test Center
On the next page, you will be asked to choose a test center. The zip code that you entered in the personal information section should already be there, so you'll see test centers that are close to your hometown. Keep in mind that not all test centers will be listed as options since some will not offer SAT Subject Tests. This means you might not be able to take your subject tests in the same location where you took the regular SAT. Click "Select" next to the test center that you want to use.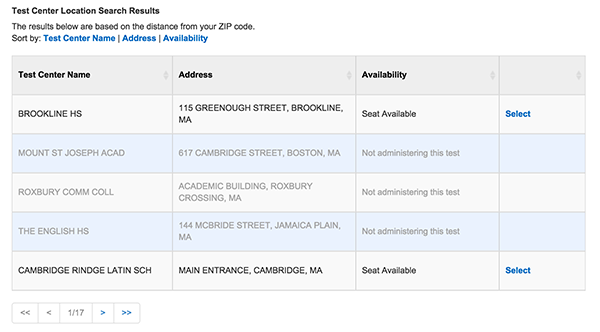 Now the screen will look like this:

Step 6: Upload a Photo
Continue to the next screen where you will be asked to upload a photo of yourself for authentication purposes. The photo will be a part of your admission ticket. These are the examples given by the College Board for acceptable photos:

Basically, just use a clear photo that fully shows your face, isn't too close up, and doesn't include any other people. You can crop your photo after you upload it if necessary.
Step 7: Check Out
Proceed to the checkout step. Continue past the screen that gives you options to buy lots of prep books if you're not interested. Review all of your personal information and the tests you want to take before clicking "make payment."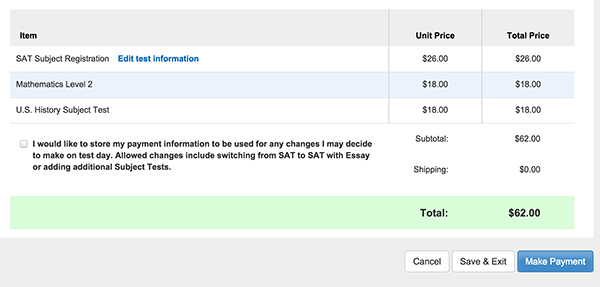 You will be asked to confirm your information one last time before you get to the payment screen. You can pay through PayPal or directly with a credit card depending on what's easier for you!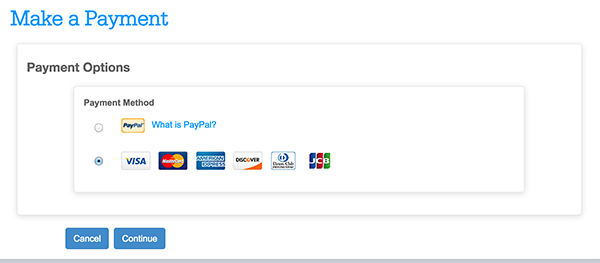 That's pretty much all there is to it. Registering for SAT Subject Tests is very similar to registering for the regular SAT, and it shouldn't take more than 15-20 minutes at most if you skip filling out the information for your student profile (or have already filled it out).
Important Registration Tips for SAT Subject Tests
Although the SAT Subject Test registration process is pretty straightforward, here are some tips you should keep in mind so that you end up with the best testing experience.
First off, make sure you choose the best location. This might not always be your high school! Here's a guide for how to pick the best test center for your needs.
You should also register well before the deadline so that you don't have to pay late fees. These are the SAT test dates and registration deadlines for 2015-2016. Subject tests are offered on all of these dates except for the one in March. Check this link to verify that the test you want to take will be offered on the date of your choosing.
Be sure to apply for a fee waiver before you register if you think you might qualify. Here's some more information on how to get a fee waiver for the SAT and SAT Subject Tests. You can get two fee waivers for SAT Subject Test registration. A subject test fee waiver will cover your registration for one full test day, so it can pay for one, two, or three subject tests if you take them all at once.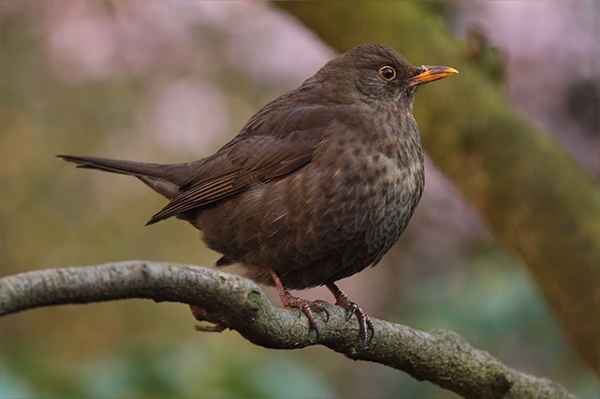 The early bird catches the subject test worm. Or something like that. I just really enjoy this chubby bird.
What's Next?
Do you need to take the Math 2 SAT Subject Test? Find out when you should take it in order to get your best possible score.
What score should you aim for on your SAT Subject Tests? Learn more about what a good score might look like for you.
Some colleges require two or three subject tests. Read our guide to deciding how many you should take.
Want to improve your SAT score by 240 points or your ACT score by 4 points? We've written a guide for each test about the top 5 strategies you must be using to have a shot at improving your score. Download it for free now:
Have friends who also need help with test prep?
Share this article!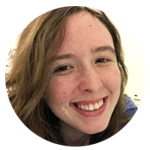 About the Author
Samantha is a blog content writer for PrepScholar. Her goal is to help students adopt a less stressful view of standardized testing and other academic challenges through her articles. Samantha is also passionate about art and graduated with honors from Dartmouth College as a Studio Art major in 2014. In high school, she earned a 2400 on the SAT, 5's on all seven of her AP tests, and was named a National Merit Scholar.
Get Free Guides
to Boost Your SAT/ACT