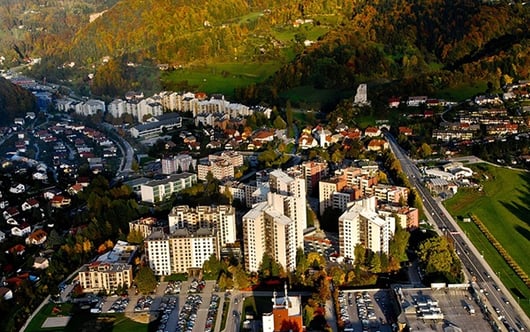 AP Human Geography is an investigation of how the human species has populated the earth and developed different cultures, political systems, and means of production. This is a subject that can be a little hard to pin down because it represents an intersection of lots of different types of information.
How does the College Board test such a wide range of topics? Continue reading to gain a better understanding of the lay of the land (so to speak) on the AP Human Geography exam!
How Is the AP Human Geography Exam Structured?
There AP Human Geography test has two sections (multiple choice and free response) that add up to a two hour 15 minute-long test. The 2020 AP Human Geography test will be held on Tuesday, May 5th at 12 PM.
The multiple-choice section is:
60 questions
One hour long
Scored based on the number of questions you answer correctly (no points deducted for incorrect answers)
On this section, you'll be expected to:
Consider maps and spatial data
Show a strong understanding of how the world looks from a spatial perspective
Interpret patterns and processes at different scales
Understand different regions
Characterize and analyze changing interactions among different places
The free-response section is:
Three questions
One hour 15 minutes long
Each free-response question is now worth 7 points
On this section, you'll be expected to:
Describe, explain, apply geographic situation or scenario (no stimulus)
Describe, explain, apply geographic data using data, image, or map (one quantitative or qualitative source)
Describe, explain, apply geographic data using data, image, and/or map (two sources, qualitative and/or quantitative
Please note that there are changes to the 2020 test with an increased emphasis on analyzing quantitative and qualitative data sources in both individual and set-based multiple choice questions. For more information on the new concepts, check out the AP Classroom tool for AP Human Geography.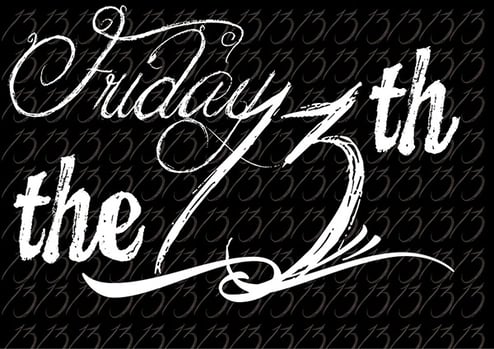 It will be a spoooooky scaaaary AP test.
AP Human Geography Topics
AP Human Geography covers the following seven topic areas, which you're expected to be able to link together conceptually on the test. These topics are connected to subtopics that the College Board labels "Enduring Understandings" (listed below each main heading) that you're expected to master by the time you take the exam.
Topic #1: Thinking Geographically
Geography looks at the world from a spatial perspective.
Geography offers a set of concepts, skills, and tools that facilitate critical thinking and problem solving.
Geographical skills provide a foundation for analyzing world patterns and practices.
Geospatial technologies increase the capability for gathering and analyzing geographic information with applications to everyday life.
Field experiences are important ways of gathering geographic information.
Topic #2: Population and Migration Patterns and Processes
Knowledge of the geographic patterns and characteristics of human populations facilitates understanding of cultural, political, economic, and urban systems.
Populations grow and decline over time and space.
Causes and consequences of migration are influenced by cultural, demographic, economic, environmental, and political factors.
Topic #3: Cultural Patterns and Processes
Concepts of culture frame the shared behaviors of a society.
Culture varies by region.
The physical environment influences the diffusion and spread of cultures and languages
Topic #4: Political Patterns and Processes
The contemporary political map has been shaped by events of the past.
The balances of power are reflected in the political boundaries and government power structures.
Political, economic, cultural or technologic changes challenge state sovereignty
Topic #5: Agriculture and Rural Land-Use Patters and Processes
The development of agriculture led to widespread alteration of the natural environment.
A people's culture and the resources available to them influences how they grow food
The food people consume and produce varies in different locations.
Cultural and technological advances have impacted the way people produce and consume food
Topic #6: Cities and Urban Land-Use Patterns and Processes
Physical geography and resources impact the presence and growth of cities
The attitudes, values, and balance, of power of a population are reflected in the built landscape
Urban areas are affected by unique economic, political, cultural, and environmental changes.
Topic #7: Industrialization and Economic Development Patterns and Processes
Economic and social development happen at different times and in different places
Environmental problems stemming from industrialization can be remedied through sustainable development strategies.
Industrialization helped improve standards of living while also contributing geographically while also contributing to geographically uneven development.
Overall, the course revolves around a thematic understanding of the human cultural landscape and patterns of global development. It deals with how human interactions and demographics are shaped by location and environment.
Learning objectives you're expected to master before the exam include:
Read sophisticated texts and academic writings.
Write well-constructed essays and research papers.
Think critically by synthesizing a variety of perspectives and information from different sources.
Discuss controversial issues effectively.
Present fieldwork and research in visual and oral formats.
Work with other students to analyze real-world issues.
For more details on the curriculum, take a look at the full course description.
World Regions for AP Human Geography
Here are maps of world regions that you'll be examining across all the topic areas in the course. These maps are important because you need to know exactly where different cultural, political, and demographic developments have occurred. Understanding the relative locations of different regions can help you to grasp their places in the grand scheme of the human geographic landscape.
The first map is a broad survey of all the world regions, while the second gets into more specific labels: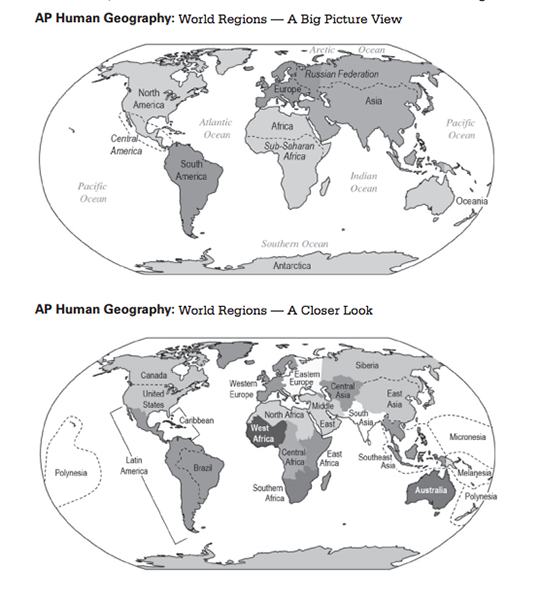 AP Human Geography Sample Exam Questions
This section will give an example of a real AP question from each section of the test. I'll go over explanations of the correct answers and the ways in which points were awarded.
Multiple Choice
For this question, we have to figure out which of the choices is impacted by an intersection of all three factors. Which aspects of human society are strongly connected to environmental laws, labor availability, and access to markets? It appears that this must be something related to the production of goods because both labor availability and access to markets are important for that, and environmental laws have an impact as well.
Choice A can be eliminated because these factors together don't point to an impact on political affiliation. Political affiliation isn't directly related to industrial opportunities.
Choice B is more ambiguous. It's directly related to the economy which is what the three factors would potentially impact. However, all the factors are happening on the ground level, not in direct relation to a country's GDP. This answer doesn't quite fit.
Choice C is definitely incorrect. It seems like an irrelevant answer because property tax rates aren't necessarily directly affected by any of these factors.
Choice D looks promising. Companies choose manufacturing locations based on lack of environmental restrictions on production, labor availability, and ability to easily transport products to markets.
Choice E isn't right because transportation costs are not necessarily impacted by these factors, especially not as directly as manufacturing locations.
The correct answer is D!
This question could be answered through logical thinking and a basic understanding of the reasons for economic developments. You might know that many US businesses have moved manufacturing plants overseas in recent years because of the cheapness/availability of labor, lack of strict environmental laws, and increased ability to transport goods cheaply across long distances to their largest markets. Other multiple-choice questions on this exam may ask you to identify an example of a concept or read data expressed by maps or geographic models. They also ask about particular locations, so you should know the characteristics of global regions regarding population density, economic climate, and cultural landscape.
Free Response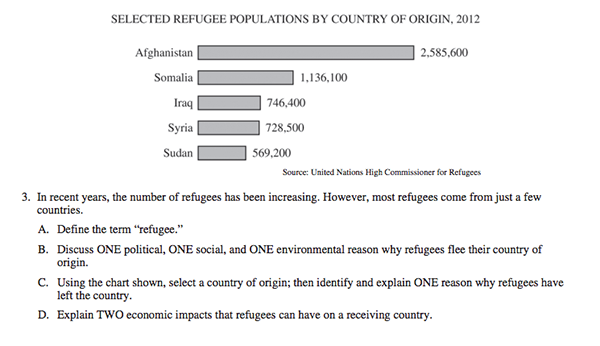 This question is from the 2015 exam and was worth eight points total. For part A, you just need to define a term. This is the suggested definition provided by the scoring guidelines:
A person who flees, is displaced, or is forced to leave his or her home country.
If you said something along those lines, you would get the first point.
For part B, you could earn up to three points, one for each description of a valid reason for refugees to leave their countries of origin.
Example of a political reason:
They were forcibly evicted by the government or the military in their home country.
Example of a social reason:
Their rights or opportunities were denied based on gender or sexuality.
Example of an environmental reason:
Their home country was experiencing food insecurity or famine.
For part C, you could earn two points, one for the identification of a reason why refugees left one of the countries in the chart, and one for an explanation of that reason. If you chose Somalia, for example, you could say a reason for refugees leaving the country was widespread religious, ethnic, and gender persecution. The explanation behind this would be that Militant Wahhabis persecuted other Sunnis, Animists, and Christians; there were major conflicts based on tribal differences; and rights and opportunities were denied to many people based on their genders or sexualities.
For the final two points on part D, you're asked to provide explanations of the economic impact of refugees on a receiving country. These could be positive or negative. Examples include:
Additions to the low-wage labor pool
Increased demand for goods and services that could result in price increases
Refugees may provide added skills and knowledge to the receiving country
For more information on the scoring of this question, see this document.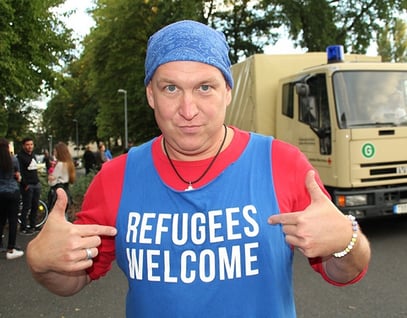 Haven't these poor people been through enough?
How Is the AP Human Geography Exam Scored?
You'll get one point for each multiple choice question you answer correctly. There are no point deductions for incorrect answers, so fill in every bubble!
On free-response questions, points are allotted for answering each part of the question thoroughly. The number of points possible for each question varies slightly from year to year. The maximum score on free response questions is 7. Each free-response question will have an equal bearing on your score regardless of how many points it is worth.
Multiple choice and free response are each worth 50 percent of your score. Your free-response score is scaled in accordance with this and added to your multiple-choice score to arrive at a scaled score that is then converted to a score on the 1-5 AP scale. Below is the score distribution for 2019:
| | |
| --- | --- |
| AP Score | % of Test Takers Earning Score (2019) |
| 5 | 10.7% |
| 4 | 18.3% |
| 3 | 20.1% |
| 2 | 16.9% |
| 1 | 33.9% |
Study Tips for the AP Human Geography Test
As you get started preparing for this exam, here are a few pointers to keep in mind!
Tip #1: Make Flashcards
Much of the AP Human Geography exam deals with key terms covered by the course. Two out of the three free-response questions in 2015 asked students to define a term to earn the first point in part A, and the subsequent parts of those questions were dependent on a strong understanding of that term and its implications.
Multiple-choice also includes many questions that ask you to identify an example of a certain concept defined by a phrase unique to the field of human geography. Your score is dependent on your knowledge of this field-specific terminology, so you should make a set of flashcards of the terms you learned over the course of the year. Go over them until you feel confident that you understand all the definitions well enough to think of real world examples. If it helps, you can include a couple of examples on the back of each flashcard along with the definition!
Tip #2: Know Geographic Models (and Practice Reading Them)
There are several geographic models that are important to understand if you hope to successfully interpret data in human geography. Make sure you're familiar with all of them and can read them easily. Sometimes, the test will present you with questions about identifying different types of models or ask you to comment on data sets.
Tip #3: Take Official Practice Exams
There's no better form of practice than official AP test questions which is why you should take a practice exam to start off your studying. This will allow you to predict your scores on the real test and make an informed decision about how much more you need to study to reach your goals. You might find you have trouble on certain types of questions that you didn't expect to be a problem. A careful analysis of your mistakes on practice tests will help to ensure that you only revisit content that has the potential to trip you up on the exam (rather than trying to reread your entire textbook).
Tip #4: Review Regions (and Connect Them to Key Terms)
A problem that some students have on this AP exam is citing incorrect geographic regions in their responses. It's important to know the names of the different regions of the world and the economic, political, and cultural climates that have evolved over time. Be able to identify the regions on the maps included earlier in this article, and think about their individual statuses in connection to each of the main topics of the course.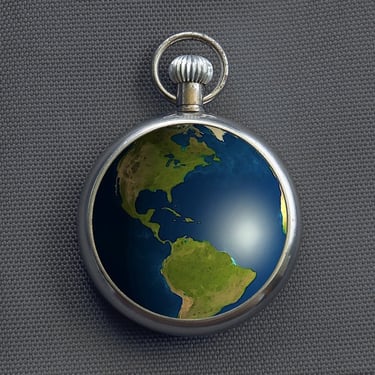 Keep a map of the world's regions in your metaphorical back pocket. Emphasis on metaphorical.
Conclusion
The AP Human Geography exam is structured in a similar way to other AP tests. It's on the shorter side, coming in at just two hours and 15 minutes, but it has both multiple-choice and free-response sections, and its questions require a wide range of skills and content knowledge.
The seven major topic areas you'll encounter on the test are:
Thinking Geographically
Population and Migration Patterns and Processes
Cultural Patterns and Processes
Political Patterns and Processes
Agriculture and Rural Land-Use Patterns and Processes
Cities and Urban Land-Use Patterns and Processes
Industrial and Economic Development Patterns and Processes
Some study tips to remember for this exam include:
Make Flashcards
Know the Geographic Models
Take Official Practice Exams
Review Regions
Make sure you block out enough study time before the exam to take practice tests, review all of your mistakes thoroughly, and revisit key concepts!
What's Next?
Should you include AP Human Geography in your schedule? What about other AP classes? Read this expert guide to find out which AP classes you should take in high school.
Everyone wants to get 5s on their AP exams, but how important is that perfect score in the long run? Learn more about what it means to earn a 5 on an AP exam and whether this is a smart goal for you.
If you're applying to super competitive colleges, you might plan on taking SAT Subject Tests. Check out this article for information on the differences between Subject Tests and AP tests.
Want to improve your SAT score by 160 points or your ACT score by 4 points? We've written a guide for each test about the top 5 strategies you must be using to have a shot at improving your score. Download it for free now:
Have friends who also need help with test prep?
Share this article!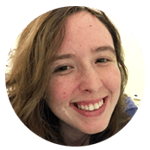 About the Author
Samantha is a blog content writer for PrepScholar. Her goal is to help students adopt a less stressful view of standardized testing and other academic challenges through her articles. Samantha is also passionate about art and graduated with honors from Dartmouth College as a Studio Art major in 2014. In high school, she earned a 2400 on the SAT, 5's on all seven of her AP tests, and was named a National Merit Scholar.
Get Free Guides
to Boost Your SAT/ACT