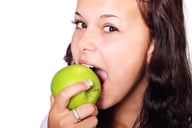 Looking for the best snacks for the ACT? You should be! Snacks are an underrated yet crucial part of planning for the ACT. Good snacks will help you succeed on the ACT, giving you the brain boost you need, while bad snacks can suck your energy and make you more hungry. In this article, I'll address why snacks are important, the qualities of the best ACT snacks, and give you 11 snack options. I'll also give you some tips to succeed on test day.
Why Are Snacks Important?
Snacks keep your stomach from grumbling during the test. The ACT is difficult enough without any added distractions. Eating snacks to avoid feeling hungry and unfocused. However, you need to make sure that you choose a snack that will satisfy you and fuel you without causing an energy crash or making you crave more food. Good snacks will help you succeed on the ACT while bad snacks can worsen your ACT performance.
To make sure you feel full and fueled during the test, bring two good snacks (or one snack that you have three portions of). That way you can have one snack for each break (since there are two breaks during the ACT).
The Qualities of Good ACT Snacks
While sugar and simple carbs are tasty and give you a quick boost, they also can lead to an energy crash. A crash means you might lose focus and feel sleepy, which would be killer during the ACT. Furthermore, these empty carbs can make you crave more food, so try to avoid foods that are made up of only simple carbs, sugar, or corn syrup.
What is a great snack? One that is packed with healthy fats or protein. Healthy fats make you feel full, so there won't be any grumbling. Also, healthy fats and protein help your brain function, boosting your power and helping you succeed. The best snacks will also be convenient to transport, so you can easily eat them at the test center.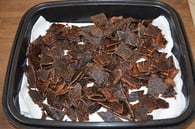 Yum!
The 11 Best ACT Snacks
If you're looking for brain food for the exam, try one of these delicious (and portable!) snacks.
#1: Jerky
Jerky is a tasty and easy grab and go snack that's loaded with protein to keep you going. It doesn't matter what jerky you choose: beef, pork, turkey, salmon are all good choices. Choose whatever kind you enjoy!
#2: Nuts
Nuts are fabulous because they're packed with protein and healthy fat, yet low in carb. They will keep you satisfied while fueling you. Any nut is great: almonds, cashews, walnuts, macadamia nuts, etc.
However, try to choose plain nuts or nuts and dried fruit trail mixes instead trail mixes that add in chocolate or candies. The added sugar could cause a crash and make you feel sleepy.
#3: Veggie/Corn Chips and Guacamole
This is a great option for those with allergies since there are no nuts, wheat, dairy, or eggs involved. Additionally, guacamole is a tasty source of healthy fats. You can pick up single serving packets of guac by Sabra or Wholly Guacamole at your local Target, Walmart, or another grocery store.
I suggest eating your guac with corn or veggie chips since they're healthier than potato chips, but potato chips are a decent substitute.
#4: Carrots/Celery Sticks and Nut Butter
For picky eaters like me, this is a tastier way to eat nuts. I don't like raw nuts, but nut butter is delicious and just as nutritious as nuts. Nut butters will satisfy your hunger and fuel your brain.
Try to choose a nut butter that is natural rather than one with added sugar and/or corn syrup, but if you can only find one with added stuff, that's okay.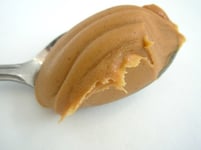 A spoonful of peanut butter helps you ace the ACT!
#5: Carrots/Celery Sticks and Hummus
This snack makes another great option for students with allergies or intolerances since you can avoid dairy, eggs, wheat, and nuts. Also, this snack is yummy and satisfying.
However, I'd suggest you only eat this for one of your two snacks since this snack is not as satisfying as the other on this list. Balance this one with a higher fat packed snack such as the veggie chips and guac to make sure you stay full and fueled throughout the test.
#6: Cheese
Cheese is an awesome snack for picky eaters because who doesn't like cheese? Also, there are several easy to transport and eat cheese options such as string cheese and Babybel. Cheese is loaded with fat and protein to keep you feeling full and to power you to ACT success.

You won't want to share!
#7: Apple/Banana and Nut Butter
Another yummy snack for the picky eaters out there. As I said in the veggie sticks and nut butter section, you should try to choose a natural nut butter over a processed one with sugar and/or corn syrup, but if the processed is all you have, that's fine.
#8: Dried Fruit
Dried fruits are full of nutrients to give you the extra boost you need. If you can, try to pick dried fruit with no added sugar. If you only find dried fruit with added sugar, then you should try to mix them with nuts to create a trail mix that offsets that sugar with healthy stuff.
If you don't mix the dried fruit with nuts (whether due to allergies or a dislike of nuts), only eat dried fruit for one of your two snacks; it's not as filling as other snacks on this list. Select a fat and protein packed snack such as the veggie sticks and nut butter as your other snack.
#9: Seeds
Seeds are a treat usually reserved for the baseball field, but they make an excellent snack anytime. Seeds are full of the healthy fats that will keep you focused during the ACT. Choose any seeds you like: pumpkin seeds (aka pepitas), flax seeds, sunflower seeds, etc.
Another option is to mix different seeds with nuts to create a nutritious trail mix. No matter how you choose to eat them, seeds are easy to transport snacks that will satisfy your cravings and help you maintain your focus.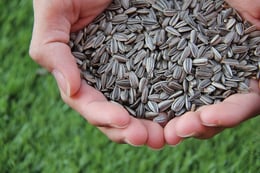 Don't plant them! Eat them!
#10: Fruit and Nut Bars
These bars are delicious, and that's coming from a very picky eater. Check out KIND or Larabars because they contain only natural ingredients. Made up of mostly dried fruit and nuts, these bars are loaded with healthy fats and nutrients.
Choose a flavor without chocolate since you don't need any added sugar. Also, only use this for one of your two snacks since the dried fruit have some sugar. Offset it with another snack on this list such as cheese.
#11: Water
Okay, water isn't really a snack per se, but you must bring water with you to the ACT. Dehydration can cause you to lose focus and potentially lower your ACT score. Bring one bottle of water with your two snacks.
Hey, Dora, won't there be a water fountain at my test center? Well, there might be, but you can't count on it. Also, you don't want to wait on a line to drink from the water fountain during your short breaks.
Note: it's also important to avoid drinking too much water because you don't want to feel the need to pee in the middle of an ACT section. Split the one bottle of water you bring into two imaginary portions. Consume at most one portion (½ of the bottle) at each break.
What Foods You Should Avoid
You can definitely bring another snack that may not be on this list, but you should avoid sugar or corn syrup filled snacks such as candy and simple carbs such as potato chips. These snacks are neither satisfying nor nutritious. After eating them, you'll just want more food.
Additionally, avoid coffee. If you don't normally drink coffee, don't try it on test day. If you normally are a coffee drinker, then only have one cup. Too much coffee will make you jittery and can cause an energy crash. If you want more caffeine, try green tea!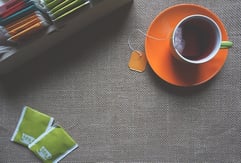 Green tea is delicious and nutritious!
3 Tips for Test Day Success
You want to go into the ACT feeling calm and prepared, so follow our three tips for test day success.
Tip #1: Put all of your ACT materials in a bag the night prior to the test, so you're not running around the morning of the test. Remember to include your ACT admissions ticket, picture ID, calculator, extra batteries, pencils, eraser, pencil sharpener, watch, snacks, and water bottle.
Tip #2: Get at least eight hours of sleep, which means go to bed early. You want to feel well-rested. You also want to feel awake for the test, so wake up at least an hour before you need to leave for your test center. By the time you get to the test center, you'll feel very awake.
Tip #3: Eat a large, healthy breakfast before the test. Eggs, greek yogurt, and oatmeal are all great choices. Also, while you eat, read the newspaper to get your brain going.
Take our advice, and you'll be well-rested, calm, and ready to rock the ACT.
What's Next?
Preparing to take the ACT? Learn how you should spend the night before the ACT. Also, check out the rules and regulations for the test, so you don't make a mistake.
Do you know what your dream college is? Find out what ACT score you need to get in! Learn about what is important to colleges.
Not sure where you want to go to college? We will help you find your target school and help you figure out what your ACT target score should be.
Want to improve your ACT score by 4+ points? Download our free guide to the top 5 strategies you need in your prep to improve your ACT score dramatically.
Have friends who also need help with test prep?
Share this article!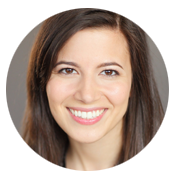 About the Author
As an SAT/ACT tutor, Dora has guided many students to test prep success. She loves watching students succeed and is committed to helping you get there. Dora received a full-tuition merit based scholarship to University of Southern California. She graduated magna cum laude and scored in the 99th percentile on the ACT. She is also passionate about acting, writing, and photography.
Get Free Guides
to Boost Your SAT/ACT