It's hard to know where to begin when studying for AP World History. Though the exam mainly covers broad themes and trends, there's so much information to sift through that it can be easy to get lost in the weeds. Review books can help guide your study plan, ensure that you revisit the most important concepts, and provide critical test-taking strategies.
In this article, I'll go through the best books to use for studying AP World History and how you can choose one that will give you the tools you need to ace this test.
What's in This Guide?
This is a list of the most helpful review books that you can use to study for the AP World History exam and other assessments in class throughout the year. These books are meant to be used in conjunction with a high-quality textbook, so most of them are not stand-alone resources for self-studying. However, some are more thorough than others.
For world history, review books can make the choice to either focus exclusively on the content you need to know for the AP exam (which is what most of them do), or go more in-depth and market themselves as in-class study aids as well. I'll list the books that are the most reliable resources for long-term and short-term studying as well as a few that you might consider buying as supplemental resources. I'll also give you specific pros and cons for each book so you can make a more informed decision about which one fits your needs best.
Best Overall Review Book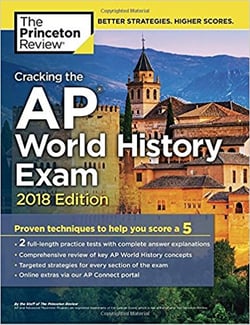 Price: about $15
Pros
Focuses on larger trends and themes rather than small superfluous details; it only tells you about the essential stuff you need to know for the test
Easy to follow and written in a conversational style
Two full-length AP practice tests with analytical multiple-choice questions that closely model College Board materials
Timeline of events at the end of every section to help you organize the information you've learned chronologically
Good tips for designing your study plan and for taking the actual test
Cons
Could improve on essay-writing advice/practice, and doesn't contain sample essays
Not quite detailed enough to use for self-studying
Summary
I'd consider this book to be the best overall resource because you can make it work for you no matter what your study timeline or score goals happen to be. It doesn't go overboard in the information it provides, but it also isn't so sparse that it's only useful for a quick review before the test. The practice tests are good quality with questions that accurately reflect the difficulty level of the AP exam. Its engaging writing style combined with a focus on key themes and overall chronology of events make this a great resource for almost any student.
Best Book for Short-Term Review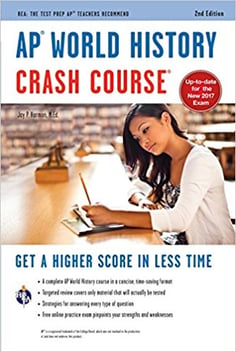 Price: about $13
Pros
Really good for a quick content review in the weeks before the test
Contains only the information you need to know for the exam
Chapters are written in easy-to-digest outline form
Cons
Can't be used to review for in-class tests and assignments or self-study without supplementing with a textbook
Summary
This book is called "Crash Course" for a reason; it's made for those of you who've waited until the last minute to start studying. This book covers everything you need to know for the test and doesn't mess around with any extra unnecessary details. Students find this book to be a helpful refresher that can be useful even as late as a week before the AP test. Just be warned that you'll need to get your practice tests elsewhere if you want to estimate your AP score!
Best Book for Long-Term Review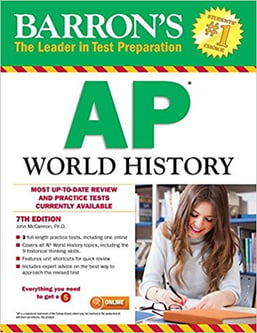 Price: about $15
Pros
Good tips for free-response questions (and sample essays!)
Very thorough in its coverage of information
Connects all the themes of the course to the events in each historical era
Two full-length exams with answer explanations
Cons
Too much material to use for short-term AP review; it's more textbook than review book
Overall dry, academic writing style that might make it hard to engage with the material
No shorter practice tests at the end of each section for review
Practice questions may be more challenging than exam questions
Summary
As is the norm with Barron's books, this is a dense, highly detailed look at the course material that goes a bit overboard in its capacity as a "review book." If you get it a couple of weeks before the AP test in hopes of quickly going over everything you need to know, you're going to be overwhelmed. You should only buy this book if you plan to use it for a couple of months to prepare for the AP test or as a self-study resource that will accompany you throughout the course.
I'd say this book is also for intense students who are genuinely very interested in the subject and would like to review content in more depth. If you have trouble paying attention to textbooks because of their dull writing style and are looking for something more student-friendly to keep you awake, you should probably get one of the first two books on this list instead.
Best Supplemental Books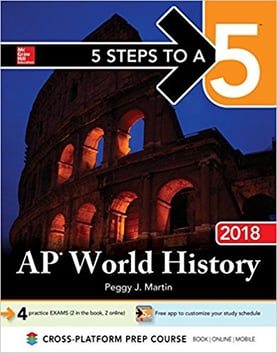 Price: about $18
Pros
Comes with access to McGraw-Hill Education's interactive AP Planner app, which gives you a customizable study schedule on your mobile device
Four complete practice exams
A few different sample study plans to choose from to guide your studying accompanied by a calendar so you can see everything laid out
Helpful charts and short quizzes for each unit
Short and more digestible than other review books
Cons
Not detailed enough to use to study for assignments throughout the year
Two practice tests are on the computer, which isn't how you'll take the real AP exam
Summary
This book falls between the Princeton Review and Crash Course regarding its level of detail. It's easy to grasp, and it has a decent amount of practice materials. If you need more sample questions and want a book that gives you a straightforward, step-by-step study process, this is a nice resource to have.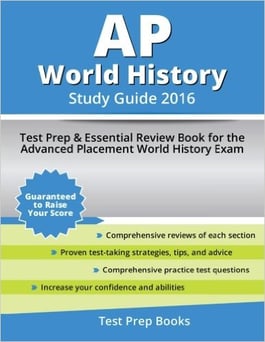 Price: about $11
Pros
High-quality 50-question practice quiz with answer explanations
Strong section on test-taking strategies
In-depth summaries for key concepts
Short and sweet - doesn't give you more information than you need
Cons
Format could use some work - there's a lot of text and not a lot of graphics
Not good for long-term studying because it's tailored to cover only the material on the AP exam
Summary
This book is sparse on practice questions and graphics, so if you zone out easily, it could be tough getting through the walls of text. Still, it's very short, and it is good at going through only what you need to know. This is a book that you could buy if you're a week or two away from the test and want a way to review all the information quickly and learn good test-taking strategies.
Which AP World History Book Should You Get?
All of these books are helpful in their own ways. I'd recommend starting with one of the first three, ideally whichever one aligns best with your time limits and style of learning. The Princeton Review book should be a good fit for a wide variety of students. If you have a month or two to study and are looking for a one-size-fits-all accessible guide to the test, you should go with that one.
The Crash Course book is better if you're short on time and just need a way to review all the concepts quickly and efficiently. This is the best option if you only have a week or two until the exam or are looking for a book that just outlines the most essential concepts.
Barron's is best for self-study throughout the year or review over the course of a few months. If you're an intense student and want a book that you can use throughout the year to study for both in-class assessments and the AP test, Barron's is a good option for you.
If you get one of the first three books and run out of practice materials or aren't a fan of the way the information is presented, you can go ahead and try one of the supplementary resources! Five Steps to a 5 is more suited to long-term study, and the AP World History Study Guide is better for a quick review.
What's Next?
Need more practice materials? Check out this article with links to every AP World History practice test available online and this article with links to the best DBQ examples.
You don't necessarily need to buy a review book to get some great study tips. Read our list of six key strategies for doing well on the AP World History exam.
When do you actually have to get yourself in gear and start studying? Find out when you should begin studying for your AP exams based on your goals.
Want to improve your SAT score by 160 points or your ACT score by 4 points? We've written a guide for each test about the top 5 strategies you must be using to have a shot at improving your score. Download it for free now:
Have friends who also need help with test prep?
Share this article!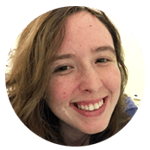 About the Author
Samantha is a blog content writer for PrepScholar. Her goal is to help students adopt a less stressful view of standardized testing and other academic challenges through her articles. Samantha is also passionate about art and graduated with honors from Dartmouth College as a Studio Art major in 2014. In high school, she earned a 2400 on the SAT, 5's on all seven of her AP tests, and was named a National Merit Scholar.
Get Free Guides
to Boost Your SAT/ACT