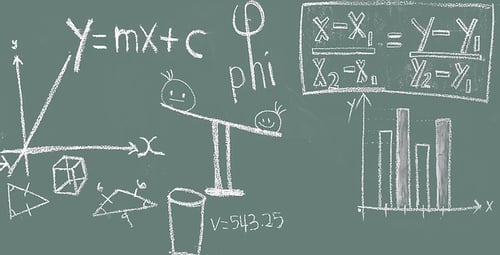 While there are many different SAT prep books, they all have one thing in common: they all claim to be the best. How can you figure out which one will actually help you succeed on the SAT?
This guide will give you my recommendations for the best prep books for the Math section of the SAT. Some of these books are best for strategies and thinking through the problems, while others are best for practice problems. A few are geared toward top scorers, while some will help you improve a low score fast.
Before delving into the list, I have to make one disclaimer:
Disclaimer
Everyone's learning styles and motivation levels are unique. Thus, I don't believe there's a one-size-fits-all book out there that will help everyone equally. While these recommendations should help a lot of students, they can't necessarily account for everyone's individual differences.
That's why I'm a huge proponent of PrepScholar's online method of test prep. It diagnoses your strengths and weaknesses and customizes the test prep for you and your schedule. Because of this high level of personalization, it's very effective for helping students study efficiently and make big leaps in their SAT scores.
That being said, prep books can be very helpful in reviewing material and giving you practice with hundreds of sample SAT questions. It's great that you're already starting to break your test prep down by section by focusing specifically on math.
Since the best representation of SAT questions come from the test makers themselves, I'll start this list with College Board's The Official SAT Study Guide. There are some pros and cons to this book, but perhaps the biggest con is that you can find these same eight practice tests for free online! Read on to decide whether or not this book would be helpful to you.
The College Board's Official SAT Study Guide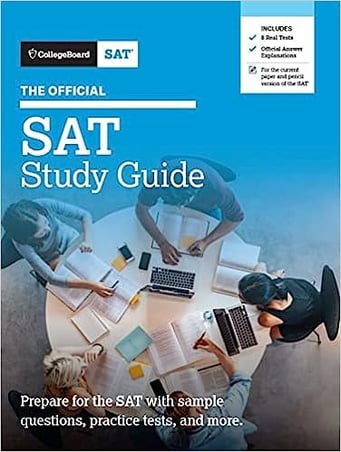 Price: About $22
Pros
When it comes to the SAT, the best sample questions come directly from the test makers themselves. College Board's The Official SAT Study Guide includes eight real practice tests with official answer explanations. Since College Board makes and administers the SAT, this book contains the best representation of the real test.
However, and this is an important point, College Board has also released PDFs of every chapter and practice test in the book on its website! As part of its efforts toward greater transparency and equalizing access to test prep, College Board has published its practice tests and offered free resources via Khan Academy.
The College Board book's main strength is its official SAT questions, since they are the very best practice material. Beyond the practice tests, the book's greatest strengths are its review of the overall test structure and format, its presentation of math concepts, and its description of the new essay (but note that, as of July 2021, the SAT Essay is only available in states where it's required as part of SAT School Day administrations). If you'll be taking the SAT as a written test (before it moves entirely digital in spring 2024), it's a good idea to have hard copies of practice tests to gain practice in the most authentic way. Whether this means buying this book or printing out the free tests yourself is up to you.
College Board's real questions will get you familiar with how questions are worded, how they're arranged, and other patterns of the SAT. You'll gain practice with the new structure, which gives you a 65-minute Reading section, 35-minute Writing section, and two math sections. The eight full-length practice tests in College Board's The Official SAT Study Guide add up to 24 hours of prep or 32 hours if you include the essay section.
Cons
While College Board's official questions are helpful and effective practice, their answer explanations are not as detailed as they could be. They explain the answer choices but don't give you much information about how to approach and think through the question.
Since there are a limited number of official practice tests in the book, you might choose to stagger each one throughout your prep as a way to measure your progress and evaluate your approach. The tests could be best used as measuring posts; College Board's official material won't help you as much as some other options in terms of learning and test-taking strategies.
Overall, you should familiarize yourself with the material in this book, since it contains the most accurate practice questions compared to any other source. Whether you choose to do so with a hard copy of the book or via College Board's website (for free) is a matter of personal preference.
Now that you know where and how to locate official College Board practice problems, let's discuss the best math prep books, starting with the best book for content instruction.
Best SAT Math Prep Book for Instruction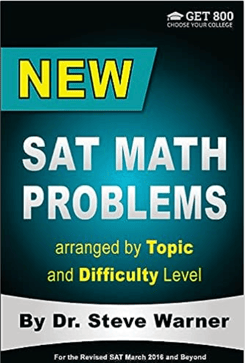 Steve Warner's SAT Math Series
Price: About $30
Pros
Steve Warner offers several SAT math books. The best one for content instruction is New SAT Math Problems, but you can also find workbooks geared towards students in certain scoring levels.
New SAT Math Problems is one of the best books out there for content review and instruction. He discusses the new areas emphasized on the test: Problem Solving and Data Analysis, Heart of Algebra, Geometry and Trigonometry, and Passport to Advanced Math.
The book arranges concepts and their corresponding practice problems in level of difficulty, from Level 1 up to Level 5. This organization by level, rather than problem type, is useful, as it allows you to integrate skills and ensure you don't leave out any important concepts.
It also lets students focus on the difficulty level that will help them most improve their scores, with students scoring around a 600 advised to focus on Levels 2 through 4 and students aiming for 700+ directed to the Level 4 and 5 problems.
The lessons are carefully crafted and paired with practice problems to test your understanding. The questions are realistic and come with detailed explanations, which often go over a few different approaches (unlike College Board's single approach explanations). These explanations allow you to carefully understand your mistakes while learning how to approach a similar question the next time.
Cons
One major con to this book is simply its restricted length. Compared to Steve Warner's multiple-issue series on the math section of the old SAT, his current books don't represent the same scope of material that was so useful to students at all different scoring levels.
Not only will future additions be helpful, but they will ideally break down the concepts into even smaller components. This book is a good start, but students who want to review concepts would be best served with a detailed and specific breakdown of each and every one. If you're using this book, you may want to consult other resources to ensure that you've filled in every gap in knowledge for the SAT.
Furthermore, the New SAT Math Problems book may not contain a sufficient number of practice problems for your prep. Its strength lies in content instruction and review with practice problems interspersed by concept and difficulty level. If you're looking for a large set of practice problems to test your knowledge, then the next book on this list would be a better resource.
Finally, this book was originally published in 2015. While the information is still relevant, it's not as up-to-date as some of the other books on our list.
Best SAT Math Books for Practice Questions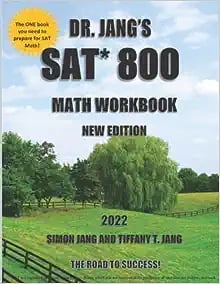 Dr. Jang's SAT 800 Math Workbook for the New SAT
Price: About $26
Pros
If you're looking for math practice problems, you'll find over 1,500 in Dr. Jang's Math Workbook for the New SAT. This book discusses math topics and concepts, but its real strength lies in the sheer number of practice problems. Since timing yourself, answering questions, and analyzing your mistakes is a key part of your preparation, this book could be a very effective study tool.
The practice problems throughout the book are arranged by difficulty level, so if you've got a certain question type mastered then you can challenge yourself with harder ones. Additionally, Dr. Jang's Math Workbook has a diagnostic test at the beginning and 10 sample tests that you can take under test-like conditions.
Not only are the practice questions abundant, but they are realistic. You'll find the addition of trigonometry, and the questions will be marked as non-calculator and calculator. This book is well customized to the concepts, format, and rules of the SAT.
Cons
As mentioned above, this book is most useful for its abundance of practice problems. It's less ideal for students looking for thorough content review. It also is not the best source of test-taking strategies, like time management. Furthermore, its answer explanations are not all that varied, so you won't gain a ton of insight into different approaches you could use to solve a problem.
Dr. Jang's Math Workbook is useful for students at all levels, but you'd probably want to supplement it with a book that provides more in-depth instruction, strategies, and explanations. While the above books cater to students at various scoring levels, the two books below are best for strong math students aiming for top scores.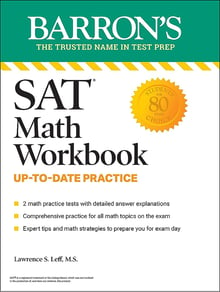 Barron's Math Workbook
Price: About $17
Pros
Barron's Math Workbook has hundreds of practice SAT math questions covering all math topics on the SAT, all with detailed answer explanations. The questions are divided by content area and concept, so you can learn about a specific skill and then drill with relevant problems.
In addition to all of the practice questions, there are two full-length practice tests at the end of the book. You'll also get some test-taking tips, but the real strength of the book lies in its abundance of practice questions.
Cons
Students have noted some typos and spelling errors in Barron's, as if the company rushed to get the book to print without thorough copy-editing first. It doesn't seem to have substantial mistakes, but these little typos can be distracting, especially as you're going through the detail-oriented work of SAT prep.
As a traditional SAT book, it's written in a straightforward style that can get a bit dry and boring. If you're looking for a more engaging, personable, or funny writing style, you won't find it in Barron's. Of course, since the book is more of a workbook full of practice questions, you should look elsewhere for in-depth lessons and content review.
Best SAT Math Books for High Scorers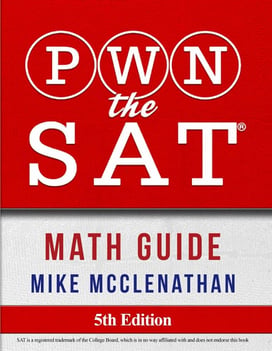 PWN the SAT Math Guide
Price: About $30
Pros
PWN the SAT is geared towards high achieving, motivated students aiming for a top score in SAT Math. The book is written in an engaging, irreverent style, which helps students stay engaged with the material.
The new 5th edition offers 200 new math problems divided into five categories: Techniques, Heart of Algebra, Passport to Advanced Math, Problem Solving and Data Analysis, and Additional Topics in Math. The book breaks down each SAT Math category into its component concepts.
It has realistic practice problems that are designated as either "Calculator" or "No calculator" to help you get ready for both question types. Each chapter also provides a list of official questions of a certain type to help you drill specific skills.
Finally, you can register on the PWN SAT website to get bonus material, as well as watch video answer explanations that walk you through practice problems, step by step.
Cons
The main con of PWN the SAT Math Guide is that its target audience is limited. It will help top scorers with strong math skills, but it won't be as accessible to students who struggle with math.
If you're looking for foundational knowledge, then PWN the SAT isn't the book for you. It won't be the best resource to raise low math scores. Rather, it's better for bringing already strong scores into the top percentiles.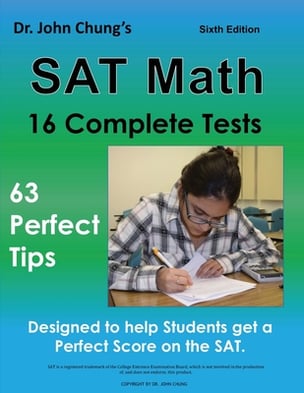 Dr. John Chung's SAT Math: 63 Perfect Tips and 16 Complete Tests
Price: About $27
Pros
Dr. Chung's SAT Math book is one of the most comprehensive currently out there in terms of content and practice questions in one place.
This book is best for strong math students and top scorers. It doesn't go over the fundamentals and assumes its readers have a stable foundation in math concepts. It advertises itself as "designed for students to get a perfect score" and provides useful examples and practice questions to this end.
The 63 "perfect tips" are brief descriptions of concepts, like linear function, exponents, transformations, and average speeds, paired with a few examples and practice problems to reinforce your understanding.
Cons
Dr. Chung does not give you much in the way of review, lessons, or concept reinforcement. The book mostly assumes you have a strong foundation in math. It's a "no-frills" kind of book that essentially looks like a list of practice problems; you won't find much in the way of introduction or narrative. It's not a book you can fully rely on for your test prep, and it's probably not the best one to start out with, either.
Some students have also noted some typos in Dr. Chung's various editions, as if the books were rushed to publication without proofreading for all the errors. While it's great that this book has so many practice questions, it seems like there may be some careless mistakes throughout the material.
Finally, this book is not particularly descriptive of the changes to the SAT. It contains relevant practice problems, but it doesn't go into detail about new skills and question types or even the new structure. Make sure to familiarize yourself with the changes, like the addition of trigonometry and non-calculator questions, outside of this book.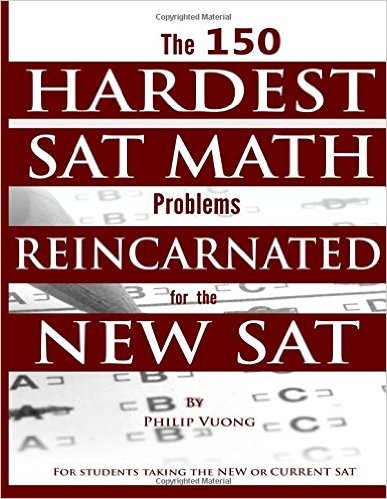 The 150 Hardest SAT Math Problems Reincarnated for the New SAT
Price: About $10
Pros
The 150 Hardest SAT Math Problems Reincarnated for the New SAT was designed for the "A+ student who wants to go from 700 to a perfect score" and doesn't want to waste her time on "fodder problems."
This book collected the trickiest questions that most students missed over the last ten years of SAT administrations. According to the author, he "reincarnated" these questions in the format of the new SAT.
These questions are useful for top scorers who want to make sure they understand fundamental concepts of algebra, geometry, and numbers and how to apply them to the most challenging question types. At the same time, this book has some major weaknesses that you should understand before purchasing a copy.
Cons
The author maintains that his problems have been "reincarnated" to fit the redesigned test, but he doesn't seem to have changed much beyond reducing the answer choices from five to four.
He does include some non-calculator questions, but other than that the author downplays the major changes that were made to the SAT in early 2016. For instance, he includes numbers, algebra, and geometry, but no trigonometry. He also provides little explanation of the new SAT's focus on real-world word problems and scenarios.
Since the math section is the one that changed the least on the SAT, these recycled problems from SATs past will still help you prepare. At the same time, make sure you're aware of the changes that are being made and supplement these questions with ones more specific to the redesigned SAT.
Finally, these next two books are useful for the average math student who wants to shore up her foundation in the fundamentals or can only dedicate a limited amount of time to studying.
Best SAT Math Books for Low Scorers
If you're planning to devote only a few hours to studying for the math SAT, these books should give you a general overview and introduction to the concepts you need to know. However, if you're taking a more active approach to your test prep, then these are the books you should probably avoid. They're not so helpful for truly in-depth understanding and preparation.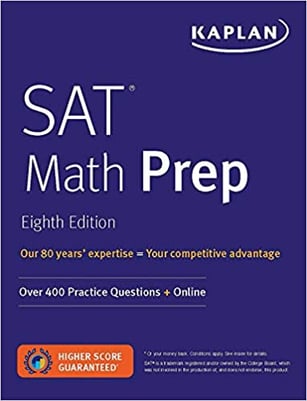 Kaplan SAT Math Prep
Price: About $12
Pros
Kaplan's SAT Math Prep Book is a traditional prep book that reviews concepts and provides corresponding practice sets. It includes new concepts, like trigonometry, and has 16 practice sets and over 250 practice problems.
Kaplan's book also breaks down the new format and structure of the SAT Math section, while many other books do not. It's a useful tool for learning about the new SAT, reviewing 16 key concepts, and trying out practice problems.
Cons
Kaplan's practice questions tend not to be the best written. They're not always realistic or phrased in the same way that the SAT is. In the beginning of this guide, I emphasized the importance of taking official College Board tests, since they're the best representation of the questions you'll get on test day. Kaplan's questions usually represent the other end of this spectrum, because they don't always resemble actual SAT questions.
Doing well on the SAT math isn't just about understanding the concepts, but also about understanding the SAT and being able to apply those concepts to the SAT's uniquely worded questions. Without this practice, you won't be as prepared as you could be for the SAT's unique phrasing and tricks.
Doing well is also about strategy. Kaplan has some strategies, but they're not that helpful for breaking away from a score of around 600. Kaplan gives a basic overview, but it's not the most helpful resource for students looking to make large score improvements or understand the material in depth.
A second book for students who are not planning to do all that much SAT prep is Bob Miller's SAT Math for the Clueless.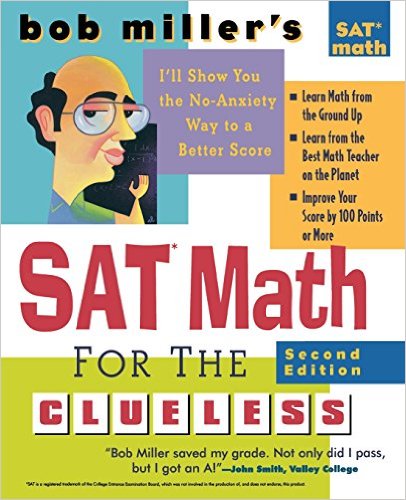 Bob Miller's SAT Math for the Clueless: The Easiest and Quickest Way to Prepare for the New SAT Math Section
Price: About $30
Pros
While I'm not a big fan of the title, Bob Miller's SAT Math for the Clueless book delivers what it says it will—an easy and quick way to prepare for the SAT. It provides a mix of material for the current SAT and the redesigned SAT.
While Dr. Chung's Math Workbook is spare, Bob Miller's book has funny and accessible introductions. If you find it hard to focus on math without some humor, you might find this book more engaging (a useful characteristic when you're self-studying with books).
Cons
Bob Miller's SAT Math focuses more on strategies, techniques, and introductory review than on practice questions. It also lacks an in-depth description of changes made to the SAT in 2016, and it doesn't incorporate the more advanced math problems.
This book is really just for the self-described "clueless" math students who want a brief, accessible review. Perhaps it'll spark your motivation to move onto better study guides with more comprehensive SAT preparation.
So there you have it: my recommendations for instruction, practice problems, high scorers, and low scorers. There are pros and cons of each, and hopefully there will be books of ever higher quality published over the next few months.
One challenge that all the above books share is the self-discipline that's required to study from them. You'll have to set your own schedule, score your own tests, and learn via reading and writing, rather than incorporating visual or auditory approaches. With these considerations in mind, is solely studying for the SAT from books the best option for you as a learner?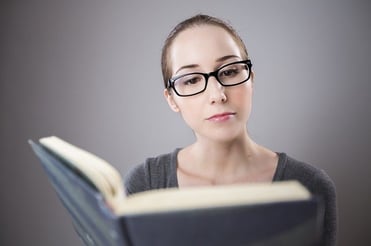 Is Studying From Books the Best Option for You?
While books used to be the main test prep method for the SAT, now there are lots of other approaches. This gives you a lot more choice in finding a method that fits best with your math level, study style, and goals, not to mention how much money you're able and willing to spend on SAT prep.
Books can be affordable, but as you can see from the pros and cons mentioned above, you probably want to use more than one book to truly prepare. This can add up to hundreds of dollars.
As more and more test prep companies focus their attention on providing online resources, you might have to go online to find answers, answer explanations, and other supplementary materials. This could divide your attention while still leaving it up to you to spend a long time scoring your own tests.
Books can be very comprehensive and informative, but you'll only access all the information you need with the self-discipline to take time to study and learn from your mistakes.
PrepScholar's method of online test prep for the new SAT attempts to address and make up for these weaknesses in a number of ways. One, it's an all-in-one program that incorporates the best practices from all these books, while also customizing the test prep based on what you already know and what you need to study further.
It addresses the accountability and self-discipline issue by planning out your study schedule for you in the way that's been proven to be most effective. It also takes away the time-waster of self scoring, since it will give you instant feedback on your performance. On a similar note, you can visually see your progress, how far you've gone in the material, and how much you have left to conquer.
By incorporating the "pros" of every test prep book—high-quality questions, comprehensive explanations, diagnostic tests, and expert test-taking strategies—and making up for the cons with personalized motivators and progress reports, PrepScholar is an affordable, accessible, and highly effective method of convenient online prep for the new SAT.
Just as you should diagnose your strengths and weaknesses to best prepare for the SAT, you'd be smart to reflect on your learning style and what method of test prep, whether through books or online, will best meet your needs and allow you to excel on all sections of the SAT.
What's Next?
Are you aiming for perfection? This perfect SAT scorer describes all the strategies and techniques he used to achieve a full score on the SAT, and what exactly you need to do to reach that perfect score.
Besides studying, planning exactly when you're going to take the SAT is also a key consideration for maximizing your performance. Read all about when you should take the SAT as you design your schedule.
Perhaps you've noticed that the SAT is looking a lot like the ACT these days. If you're deciding which test to take, check out our detailed comparison of the SAT and the ACT.
Ready to go beyond just reading about the SAT? Then you'll love the free five-day trial for our SAT Complete Prep program. Designed and written by PrepScholar SAT experts, our SAT program customizes to your skill level in over 40 subskills so that you can focus your studying on what will get you the biggest score gains.
Click on the button below to try it out!
These recommendations are based solely on our knowledge and experience. If you purchase an item through one of our links, PrepScholar may receive a commission.
Have friends who also need help with test prep?
Share this article!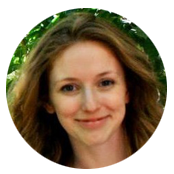 About the Author
Rebecca graduated with her Master's in Adolescent Counseling from the Harvard Graduate School of Education. She has years of teaching and college counseling experience and is passionate about helping students achieve their goals and improve their well-being. She graduated magna cum laude from Tufts University and scored in the 99th percentile on the SAT.
Get Free Guides
to Boost Your SAT/ACT