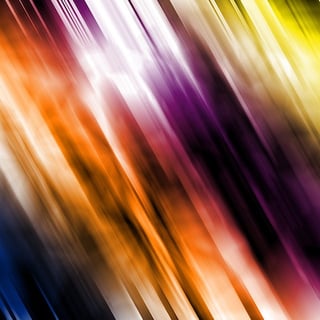 Graphic designers are involved in nearly everything we look at, watch, or read, from the designs on books, to the way websites navigate, to halftime commercials, to logos on business cards. Graphic designers are the visual wizards who make sure every concert poster and app user interface has an impact and communicates a desired message.
If this sounds appealing to you, you might wonder how you can become a graphic designer. Well, you go to school! In this article, I'll discuss what a graphic design program is, how I created this list, the best graphic design schools, and how to choose the right program for you.
What Is a Graphic Design School?
Graphic design, or communication design, is the use of image, text, and media to convey information or ideas. Graphic designers are strategic communicators who design advertisements, book jackets, posters, websites, app interfaces, publishing layouts, album art, logos, and so on and so forth. If you're creative and innovative, particularly if you're also interested in technology, graphic design may be a good option for you.
To become a professional graphic designer, you'll need a strong portfolio of work to show potential employers, which you could theoretically do on your own or by getting an associate degree. But if you want a fully fleshed-out college experience, a guaranteed strong portfolio, and ready-made industry connections, consider getting a BA or BFA in graphic design or communications design (the name and specific degree type depends on the school).
Graphic design programs can be found both at art schools and as departments within larger universities. They're even found at some technical schools!
This list includes graphic design programs of all types, but all are great places to get a graphic design education and to learn the skills you need to launch a design career.
Ranking Methodology for Graphic Design Schools
How did I compile these graphic design school rankings?
First, I gathered as many lists of the best graphic design schools as I could possibly find. I eliminated ones that seemed to come from less reliable or less reputable sources (like personal blogs) or that were already aggregated lists from other sources (since they would be redundant).
This left me with rankings from all kinds of sources with all kinds of data—trade magazines, alumni rankings, student satisfaction, and so on. US News and World Report does not rank undergraduate graphic design programs but does have data on freshman retention rates, which I also factored in.
All of the rankings were preliminarily averaged. Schools were then ranked based on average score, how many lists they appeared in (so a school that appeared in spots 5 and 6 on two lists but appeared on no others didn't necessarily beat a school that appeared in spots 7, 8, 7, and 8 on four lists). Freshman retention rates were used to break ties in close calls.
Overall, the rankings reflect a fairly holistic measure of prestige/name recognition, student satisfaction, alumni valuation of the program, and return-on-investment.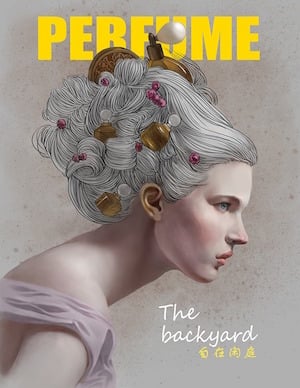 Was this layout designed by a master graphic design student? You decide.
The Best Graphic Design Schools
Here are the 20 top graphic design programs. Included with each entry is the school's location, information about the school, its acceptance rate, and the degrees offered. All acceptance rates are for fall 2020 unless otherwise noted.
I've linked to our admissions requirements pages for all of these schools, but these pages are mostly focused on GPA and test scores. Keep in mind that when applying to a graphic design program, a strong portfolio of your past creative work will likely be more important than grades or GPA.
Best Overall Programs
These are programs with high name recognition, consistently high rankings, and notable faculty and alumni.
RISD is essentially the Harvard of art schools in terms of name recognition and famous alumni (including, but not limited to, the founders of Airbnb, animator/comedian Seth MacFarlane, film director Gus Van Sant, and fashion designers Nicole Miller and Jill Stuart). Alumni have also received a number of MacArthur "genius" grants. If you attend RISD, you can expect well-funded programs and faculty in the very top of their disciplines.
It's unsurprising, then, that RISD was consistently at the top of school rankings for graphic design. It's one of the most competitive schools on this list and has a strongly established, well-known graphic design program.
Students apply to RISD overall and do not select a major until midway through their first year of study. Graphic Design is one of the largest undergraduate departments at RISD, with about 165 students. Students graduate with a BFA degree.
Parsons is another school with a lot of name recognition and top-notch faculty, and they consistently appear at the top of best-program rankings. The school was named the best design school in the United States by QS World University Rankings in 2022 and the third-best in the world, largely in recognition of its interdisciplinary focus on the nuts-and-bolts technical and the design-functional.
The school's four-year BFA program in Communication Design (a graphic design equivalent) has placed alumni at Google, Facebook, and New York Magazine, and has also produced a healthy crop of entrepreneurs and freelancers.
The Pratt Institute is another prestigious program located on a historic campus in Brooklyn, NY. They are invested in a philosophy of "poetic pragmatism," in which artistic vision is married with practical skills. Many faculty are working professionals in their fields who teach part-time.
The Pratt Institute offers a BFA in Communications Design—an interdisciplinary program focusing on advertising, illustration, and graphic design (you choose to focus on one of the three areas). Alumni praise the program for preparing them for careers in their fields and for its innovative and boundary-pushing focus.

Hey, maybe you'll cross this bridge to get to Pratt!
Highly Regarded Programs
These programs are well-resourced and well-known in the industry. Many offer their own unique spin on graphic design or have a special focus not found at many other institutions.
The ArtCenter's undergraduate program in graphic design gives extensive training in both old and new media, creating well-rounded practitioners with skills spanning all areas of graphic design as a discipline. The ArtCenter encourages an experimental and socially conscious approach.
The school also offers a great return-on-investment, with alumni making higher salaries than graduates from peer institutions. Graduates end up in a variety of industries and fields; alumni currently work for many diverse companies, such as Nike and NASA.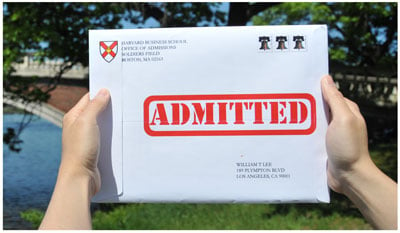 Want to build the best possible college application?
We can help. PrepScholar Admissions is the world's best admissions consulting service. We combine world-class admissions counselors with our data-driven, proprietary admissions strategies. We've overseen thousands of students get into their top choice schools, from state colleges to the Ivy League.
We know what kinds of students colleges want to admit. We want to get you admitted to your dream schools.
Learn more about PrepScholar Admissions to maximize your chance of getting in.
MICA has a modern, urban campus in Baltimore and offers a craft-focused BFA in Graphic Design that aims to develop both your creativity and your skill with technology. MICA also offers liberal arts minors like Gender Studies and Critical Theory.
Additionally, it has a unique interdisciplinary BFA program in humanistic studies, allowing you to combine your graphic design education with an interdisciplinary focus on the liberal arts and humanities.
If you dream of attending an art school founded by Walt Disney, CalArts is for you. Disney envisioned CalArts as a place where students from all artistic disciplines could develop in a collaborative, workshop-centered environment.
The BFA Graphic Design program is fairly small, with only about 12-20 new students each year. Many alumni go on to work for film, television, and major tech companies. If Hollywood's calling you, CalArts could be a great choice!
You might be surprised to see a big research university known for its engineering program on a graphic design list. But don't be! Carnegie Mellon has an innovative approach to the study and craft of graphic design; alumni praise the program's integration of the artistic points of design with advanced technologies.
Instead of a BFA, the Carnegie Mellon school of design offers a BDes, or Bachelor of Design. It also offers an interdisciplinary degree in design combined with another course of study of a student's choice, which should be very appealing to students with multiple interests.
Finally, it's a great choice if you want an art-school education but a big research university experience. Overall, Carnegie Mellon provides a cutting-edge, strong foundation for design careers.
The School of Visual Arts offers a BFA in Graphic Design, with the option to specialize in graphic design in fields like package design, website design, book jacket design, and so on.
Alumni have praised the school's amazing networking opportunities—SVA has a robust internship program, holds professional-level exhibitions of student work, and sends compilations of graduating student work to industry giants every year in the Senior Library. SVA is a good choice if your primary concern is being commercially marketable and networking; it might not be the school for you if you're interested in the practice of design on an artistic and/or theoretical level.
Savannah College of Art and Design is unusually large for an art school, with over 11,000 students enrolled. You can get a BA in Visual Communication (with a focus on graphic design) or a BFA in Graphic Design, so your options are flexible. Professors have significant industry experience, and you'll have a chance to study abroad at SCAD's global campuses in Hong Kong or Lacoste, France. Overall, SCAD is a solid design school that offers lots of opportunities for motivated students.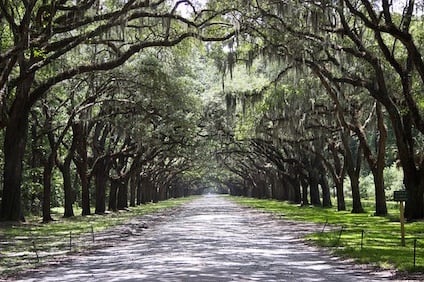 At SCAD, you could have access to these trees all the time!
This is another great choice if you want the art-school chops with the big university experience: VCU is a large public university with more than 30,000 students. VCU offers a BFA in Graphic Design—but you have to complete the "Art Foundation" sequence before you can apply into the major.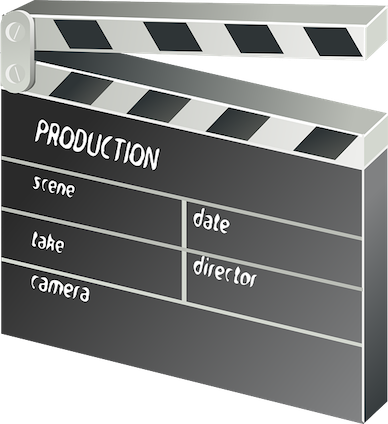 Is Hollywood beckoning?
Well-Regarded Programs
This section includes some big-name art schools whose graphic design programs aren't quite as well established as their other programs as well as some up-and-coming graphic design programs that are just now gaining steam.
The BFA program in graphic design at Otis is located in the Communication Design department, which also houses programs in illustration and advertising design. Otis primarily prepares its graduates to work in the professional sphere; past graphic design graduates have worked for Apple, Anthropologie, Conde Nast, Disney, Interscope Records, Mattel, Sony, and Target. It's a good choice for students who'd like to do design work for major companies and are interested in some of the more commercial aspects of graphic design.
If you're looking to combine the experience of attending a large NCAA division-1 school with a high-quality design program and want to have a chance to take courses in many different disciplines, the University of Cincinnati's College of Design, Architecture, Art and Planning might be a good fit for you!
Unlike many other programs, which offer a BFA, the University of Cincinnati offers a BS in Communication Design as their graphic design degree. Many students go on to work in the healthcare industry, for governments, or for NGOs. So if you're interested in design in those fields, this school is an excellent choice.
CCA offers a BFA in Graphic Design that prepares students to work in multiple design disciplines. It also has a robust internship program for fourth-year students that guarantees you'll graduate with hands-on, real-world professional experience.
Additionally, CCA has a focus on social justice-oriented and socially conscious design practice. Essentially, students get a little bit of everything: a wide skill set, professional experience, and social consciousness.
If you want an Ivy League education as well as excellent preparation to work as a graphic designer, Yale is the dream school for you! Students major in art with a specialization in graphic design and receive a BA degree. Interested students should be aware that they will need to apply for admission to the major in their sophomore year.
As with many other programs at Yale, the graphic design program is very focused on the craft and theory of design as opposed to its more practical and commercial applications. Therefore, this program is best for students whose interests are academic and artistic as opposed to technical and/or commercial.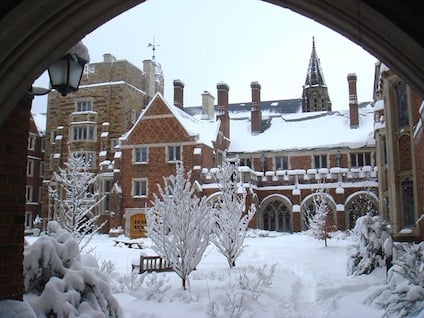 Plus, Yale also has snowy New England winters.
The College for Creative Studies offers a BFA in Graphic Design. They have a unique focus on "experience design," or immersive, multimedia design experiences. If this interests you, CCS is the place to go, as programs focused on experience design are few and far between.
CCS also has an institution-wide focus on community engagement. Graphic design alumni have worked for Dreamworks, Google, Nike, Disney, Fox, Microsoft, and universities and libraries. Many have founded their own design firms, too.
School of the Art Institute is the school associated with Chicago's beloved Art Institute museum. SAIC offers a BFA in Visual Communication Design, with a focus on both physical and virtual design mediums. The department facilitates student freelance work and internships to ensure that students graduate with real professional experience.
The department also hosts an annual lecture series of visiting designers doing innovative work in the field. And, of course, the campus is located in the heart of downtown Chicago, a city home to many cultural and art institutions.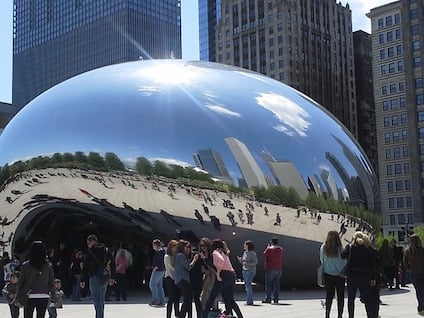 Also, Chicago has the bean—I mean, Cloud Gate.
Solid Programs
At these schools, name recognition is on the lower side, but you'll get a solid educational foundation from which to launch your graphic design career.
Ringling doesn't have quite the name recognition of many schools further up on this list, but it does have a solid, well-rounded program. The school offers a BFA in Graphic Design that aims to turn students into "visual storytellers." Students have the opportunity to study abroad in Europe during their time at Ringling. In addition, alumni have won prestigious industry awards and work for Instagram, LinkedIn, Yahoo, Birchbox, Trader Joe's, and leading design firms.
The BFA program in Graphic Design at UArts trains students in both old and new media. Students have the chance to work on real-world, practical projects based in the wider Philadelphia area as part of their coursework. The department also hosts an annual Spring Workshop with renowned guest faculty on design topics. This is another program whose focus is more on the practical and commercial than the artistic and theoretical.
Academy of Art University's BFA in Graphic Design is focused on the "intersection between art and commerce." There's also a focus on professional preparedness and creative and marketing competencies. Overall, this school is more about giving you actionable workforce skills and connections than developing your refined artistic sensibilities as a designer.
The Graphic Design BFA at RIT is broad in skills education and interdisciplinary in scope. Students have unique opportunities to collaborate with other departments and disciplines on projects, particularly in technical and engineering departments. Students are also encouraged to consider "the social, ethical, and environmental impact of design." RIT is a good option for students who are interested in the intersection between tech and design.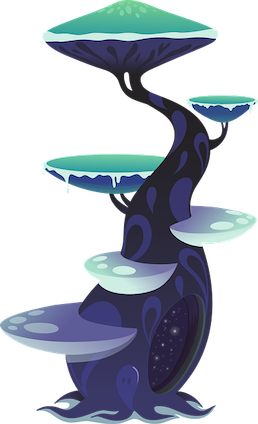 Admire this very important and cutting-edge piece of graphic design.
How To Choose the Right Graphic Design School for You
With so many choices, it can be overwhelming to try to narrow down the field to a few programs you're really interested in. I highly recommend visiting schools, taking advantage of information sessions near you, and talking to current students and recent alumni. If you don't know any alumni personally, try the Reddit graphic design forum!
Additionally, here are some key questions to consider as you assemble your list of graphic design programs to apply to.
#1: How Strong Is My Portfolio? Can I Get Into a Competitive Program?
To get admitted to more competitive programs, you'll often need a strong art and design portfolio.
Have you been taking art classes since you could hold a pencil, or is graphic design a relatively new interest for you? To get feedback on your portfolio, I advise taking it to any portfolio review sessions you can find. Sometimes art schools send representatives around the country to review student portfolios at portfolio review fairs, where you can get feedback from many schools in one day on how your portfolio stacks up and what you can do to strengthen it.
Otherwise, try contacting your local art and design school to try to get portfolio feedback and a clearer sense of how competitive your portfolio might be.
#2: Am I More Interested in the Artistic or Commercial Side of Design?
Some programs, like the one at Yale, are much more concerned with the lofty and artistic side of graphic design and its theoretical applications, whereas other programs, like the School for the Visual Arts, are more focused on transforming you into a commercially prepared practitioner.
One isn't necessarily better or more useful than the other—but one might align better with your goals. Do you dream about doing experimental installations in an art museum, or of designing ads for Target? Do you want to learn how to draw contour line art or would you rather learn the seven principles of design? If the former, a more artistically oriented program might be for you. If the latter, a more commercially focused option is a safer bet.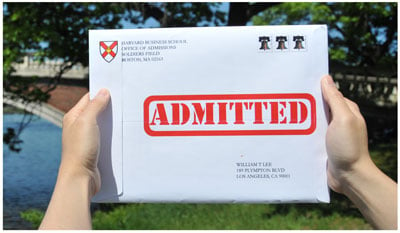 Want to build the best possible college application?
We can help. PrepScholar Admissions is the world's best admissions consulting service. We combine world-class admissions counselors with our data-driven, proprietary admissions strategies. We've overseen thousands of students get into their top choice schools, from state colleges to the Ivy League.
We know what kinds of students colleges want to admit. We want to get you admitted to your dream schools.
Learn more about PrepScholar Admissions to maximize your chance of getting in.
#3: Do I Want To Attend an Art School?
Graphic design programs tend to fall into two categories: those housed within specialized art schools, like RISD, and those housed within larger universities, like Carnegie Mellon.
If you have your heart set on a more "traditional" college experience, you might be better off going to a larger university that offers a graphic design program. If, however, you're interested in a smaller institution with other arts-and-design-minded folks, you might want to attend a dedicated art school instead.
Additionally, if you don't necessarily need a typical university experience but don't want to attend a super-small institution either, consider a larger art school like SCAD.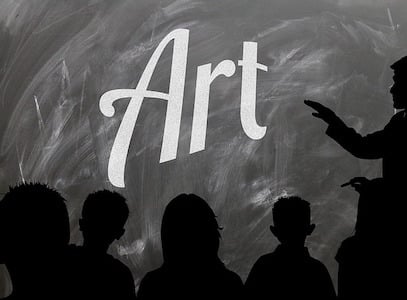 This seems like a very real and official art-school lecture.
#4: Am I Interested in Interdisciplinary Studies? How About Cutting-Edge Technology?
Some programs offer a lot of flexibility to explore other interests. Carnegie Mellon, MICA, and RIT, for example, all offer more flexibility in investigating other interests (particularly technological ones at Carnegie and RIT) than other, more rigid programs do.
You should also consider if you want a program that's explicitly focused on training students in new media and the most cutting-edge graphic design technologies, like the College for Creative Studies.
#5: Are There Particular Faculty I Want To Work With?
Check out the faculty bios of the professors and lecturers at all of the programs you're interested in. Who's doing the work that interests you most? Be sure to mention any faculty you're impressed by and want to work with in your application, too!
#6: Do I Want To Study Abroad?
If you have your heart set on studying abroad, your options are somewhat limited. Both SCAD and Ringling have established study abroad options, but you'll likely need to do some investigation to find out whether going abroad is possible at other schools as well.
#7: Do I Have Geographic Preferences?
Last, but certainly not least, where do you want to live while you attend college? There are a myriad of options in California and on the east coast (NYC in particular), but you're not necessarily limited to those locations. Many programs on this list are as far reaching as Sarasota, Florida; Chicago, Illinois; and Savannah, Georgia.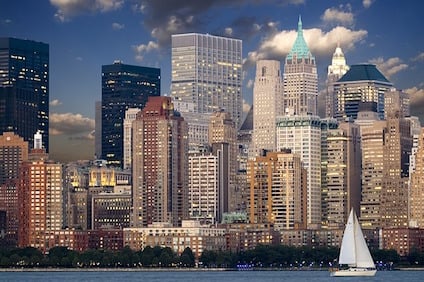 If you want to go to the Big Apple, you have a lot of options.
Key Takeaways: The Best Graphic Design Schools
Graphic designers are involved in pretty much all of the ways we consume information: they design publishing layouts, book jackets, album art, websites, app interfaces, advertisements, event posters, company logos, and so on. Being a graphic designer involves creativity, tech-savviness, and professional acumen.
If this sounds like a career you're interested in, go to graphic design school! There are many great graphic design programs housed in art schools, large public universities, tech schools, and even the Ivy League. With this handy list, you'll be sure to find the program that's right for you!
What's Next?
Not sure about college yet? Or still picking out schools? See our guides on whether you should go to college and the best way to do college research.
Need more help narrowing down your final list of schools? Learn how to choose colleges to apply to, and get tips on how many schools to apply to as well!
Considering what to study and worried about your future income? Check out our list of the highest-paying college majors to help you decide whether you should study one of them.
Want to improve your SAT score by 160 points or your ACT score by 4 points? We've written a guide for each test about the top 5 strategies you must be using to have a shot at improving your score. Download it for free now:
Have friends who also need help with test prep?
Share this article!
About the Author
Ellen has extensive education mentorship experience and is deeply committed to helping students succeed in all areas of life. She received a BA from Harvard in Folklore and Mythology and is currently pursuing graduate studies at Columbia University.
Get Free Guides
to Boost Your SAT/ACT