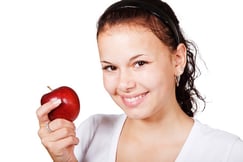 Snacks are one of the most overlooked yet most necessary parts of your SAT planning. Snacks can be an energy fueler, helping you to power through the SAT. However, the wrong snacks can be energy drainers, making you crash during the marathon that is the SAT. In this guide, I'll talk about the importance of snacks, what makes a good snack and provide 11 SAT snack options. I'll also let you know what snacks to avoid.
The Importance of SAT Snacks
The last thing you want is to be part way through a section when you feel your stomach start to grumble. The SAT is stressful enough without this type of additional distraction. You don't want your concentration to be disturbed by a need for food.
You need a snack that will keep your stomach satisfied, help fuel your brain, and won't leave you craving more or crashing. The right snacks can set you up for SAT success, but the wrong snacks can lead to a worsened SAT performance.
I'd recommend you bring three good snacks (or one snack that you have three portions of) so that you have one snack per break (since there are three breaks during the SAT).
What Makes Good SAT Snacks
While sugar and simple carbs will provide you with a quick energy boost, they will also provide you with a steep crash. The crash can bring with it a lack of focus and sleepiness, which you don't want. Also, empty carbs can cause cravings and make you feel more hungry than you were to begin with. Avoid snacks that are entirely made up of simple carbs and/or sugar and corn syrup.
A good snack will be packed with healthy fats (Omega-3s) and/or protein. Healthy fats make you feel satiated, so it'll be unlikely you'll have any stomach grumbling. Additionally, both healthy fats and protein boost brain function, putting you in the best mindset to ace the SAT. A good snack should also be easy to transport. Below I've created a list of the 11 best SAT snacks.
Snack #1: Nuts
Nuts are great snacks because they're high in protein and healthy fat, low in carb. They are very satisfying and will help boost brain function. Choose any nut you like: almonds, cashews, walnuts, macadamia nuts, etc.
I'd recommend you try to stick to just plain nuts or nuts and dried fruit trail mixes rather than trail mixes that add in chocolate or candies. The candies and sugar could cause that unwanted crash and lead to fatigue.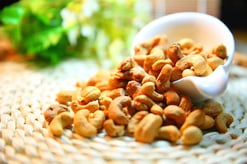 Go nuts for nuts!
Snack #2: Jerky
Jerky is a super easy to transport snack that's packed with protein to fuel you. Any type of jerky will do: beef, pork, turkey, salmon, etc. Pick whatever type you like best!
Snack #3: Carrots or Celery Sticks and Nut Butter
Veggies and nut butter can be a more enjoyable way to eat nuts (for the picky eaters of the world like me!). While I hate raw nuts, I love nut butters. Nut butters have the same great healthy fats and proteins to boost that brain function and keep you satiated.
A nut butter that is natural (just nuts and maybe salt) is preferable to one with added sugar and/or corn syrup, but if you can only find the latter, that's fine.
Snack #4: Veggie Chips/Corn Chips and Guacamole
Guacamole is a great source of omega 3s. You can buy single serving packs of guacamole by Sabra or Wholly Guacamole at your local Target, Walmart, or another grocery store. I'd recommend eating it with corn or veggie chips over potato chips for a slightly healthier option, but potato chips are okay.
This is a good snack for those with allergies since you can avoid nuts, dairy, and eggs with this tasty and healthy snack.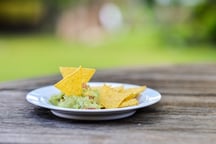 Guac for days.
Snack #5: Cheese
This is a great choice for picky eaters; seriously, who doesn't like cheese? I'd recommend an easy to eat/transport option such as string cheese and/or Babybel. Cheese is packed with fat and protein to satisfy your food cravings and give you brain power to ace the test.
Snack #6: Carrots or Celery Sticks and Hummus
This is another good choice for those with allergies because you can avoid dairy, eggs, wheat, and nuts. It's a really tasty and filling snack. It's more protein than fat, which is fine.
However, I'd probably recommend you only eat this for one of your three snacks as it's not as filling as some of the other snacks listed on this list. Choose a higher fat packed snack such as the veggie chips and guac as your other snack to keep a good balance of proteins and fat.
Snack #7: Dried Fruit
Dried fruits are packed with nutrients to give you a boost during the SAT. Try to pick dried fruit with no added sugar. If you can only find dried fruit with added sugar, I'd recommend mixing them with nuts to create a trail mix that offsets that sugar with healthy fat and protein.
If you don't mix the dried fruit with nuts, I'd probably recommend you only eat dried fruit for one of your three snacks; it's not as satiating as some of the other snacks listed on this list. Choose a fat and protein packed snack such as the veggie sticks and nut butter as your other snack.
Colorful dried fruit rainbow.
Snack #8: Apple or Banana and Nut Butter
This snack is another great way to eat nuts if you're a picky eater. Just as I said in the veggie and nut butter section, try to opt for a natural nut butter over the processed ones with sugar and/or corn syrup.
Snack #9: Fruit and Nut Bars
I love these kinds of bars, and as a very picky eater, I can be hard to impress. I'd recommend KIND or Larabars because these bars contain very few ingredients and only natural ingredients. They're made primarily with dried fruit and nuts, so they're packed with healthy fats and nutrients.
I'd recommend choosing one of the bars without chocolate since you don't need any added sugar. I'd also suggest you only use this for one of your snacks since the dried fruit add some sugar (albeit natural sugar). Offset it with other snacks that are protein and/or fat packed such as string cheese.
Snack #10: Seeds
Seeds are packed with fats to keep you focused during your test. Any seeds will work: pumpkin seeds (aka pepitas), flax seeds, sunflower seeds, etc. You can also mix seeds with nuts to make a yummy and healthy trail mix. This is an easy to make and easy to transport snack that'll keep you full and focused.
Snack #11: Water
While water may not be exactly a snack, I felt it was crucial to have on this list. If you get dehydrated on test day, you can lose focus and potentially end up with a worse score. Bring one bottle of water in addition to your three snacks.
While your test center may have a water fountain, you don't want to rely on that, and you also don't want to be waiting in line throughout your whole break to use the water fountain.
However, avoid drinking too much water because you don't want to get the urge to pee in the middle of your test. I'd recommend splitting the one bottle of water into three portions (you don't literally have to split it, but imagine it). Consume at most one portion each break.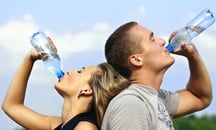 Water: the cool kid's drink.
SAT Snacks To Avoid
While you don't necessarily have to eat one of the snacks on this list, you at least need to avoid sugar-filled or corn syrup filled snacks such as candy. You should also avoid simple carbs such as potato chips. These kinds of snacks are not filling and not nutritious. You'll just end up craving more food after eating these types of snacks.
Also, avoid coffee. If you've never had coffee before, don't try it on the day of your SAT. If you're a regular coffee drinker, limit yourself to one cup. Too much coffee will make you jittery and then will cause a steep crash. If you feel the need for more caffeine, opt for green tea!
Tips for Test Day Success
To ensure you walk into your test center feeling calm and ready, you want to follow our three steps for test day success.
Step #1: Pack all of your belongings the night before so that you're not scrambling the morning of the test. Pack your SAT admissions ticket, picture ID, calculator, extra batteries, pencils, eraser, pencil sharpener, watch, snacks (if non-perishable) and water bottle.
Step #2: Go to bed early. Make sure you get eight hours of sleep so that you feel well rested. Wake up at least an hour before you need to leave for your test center. This way you'll feel awake by the time you get to the test center.
Step #3: Eat a good breakfast in the morning. Eggs, greek yogurt, and oatmeal are all great options for breakfast. While eating breakfast, read the newspaper to get your brain going.
Follow these steps, and you'll be well prepared to take the SAT.
What's Next?
Preparing to take the SAT? Learn how you should spend the night before the SAT. Also, check out the rules and regulations for the test, so you don't make a mistake.
Do you know what your dream college is? Find out what SAT score you need to get in! Learn about what is important to colleges.
Not sure where you want to go to college? We will help you find your target school and help you figure out what your SAT target score should be.
Ready to go beyond just reading about the SAT? Then you'll love the free five-day trial for our SAT Complete Prep program. Designed and written by PrepScholar SAT experts, our SAT program customizes to your skill level in over 40 subskills so that you can focus your studying on what will get you the biggest score gains.
Click on the button below to try it out!
Have friends who also need help with test prep?
Share this article!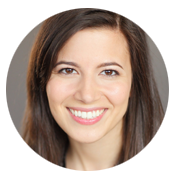 About the Author
As an SAT/ACT tutor, Dora has guided many students to test prep success. She loves watching students succeed and is committed to helping you get there. Dora received a full-tuition merit based scholarship to University of Southern California. She graduated magna cum laude and scored in the 99th percentile on the ACT. She is also passionate about acting, writing, and photography.
Get Free Guides
to Boost Your SAT/ACT