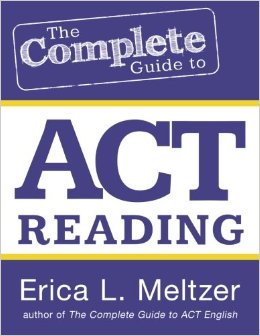 Erica Meltzer's test prep books have burst onto the test prep scene (if that wasn't a thing before, it is now) in the last few years, to great acclaim. She's published 2 books on the ACT: The Complete Guide to ACT English and The Complete Guide to ACT Reading (which is what I will be reviewing in this article). While Meltzer's books are high quality, they are not without their flaws, so read on to figure out whether or not this book is appropriate for you and if you should integrate it into your own ACT test prep. All shall be explained!
Why Trust This Review?
When you get advice (both in general and specifically on the Internet), it's very important to know why that advice is trustworthy/believable. I don't want to sound alarmist, but your ACT score is pretty important, and following the wrong advice might lead to a bad score and loss of chance to improve it.
So why can you trust this review (over other reviews?). Well, for one thing, I know what I'm talking about. While haven't taken the ACT (yet), I scored two perfect scores on the reading section of the (2005-present) SAT, and have been doing in-depth analysis of the ACT questions by skill set and writing articles on each skill. Other writers who haven't done that sort of analysis don't necessarily have the expertise to be able to differentiate between books, so they end up recommending books as kind of an afterthought (and it's pretty obvious).
In contrast to other sites (like about.com and reviews.com), who get money if you click on their links to purchase the books they review, I'm not getting paid for this review, and don't get anything if you end up buying the book.
Disclaimers
Disclaimer the first: I work at PrepScholar, an education company that produces online SAT and ACT prep programs. PrepScholar diagnoses your strengths and weaknesses and customizes a test prep program to suit your needs. I myself mostly write and edit articles for the associated blog and grade the essays of students taking practice tests through the program.
While I think that PrepScholar provides the best prep platform currently available, you don't necessarily need a prep program to ace the ACT. Which means that writing this guide might actually lost us some customers, since you might decide you don't need a program after all. If you decide you don't want to have to deal with 5 different books and want an integrated program that is customized to your learning, however, PrepScholar might be just the thing for you. But I digress.
Disclaimer the second: While I did not attend college at the same time as the author of this book, honesty compels me to admit that we did attend the same undergraduate institution. I don't think this particularly influenced my review, but I wanted to be transparent about it.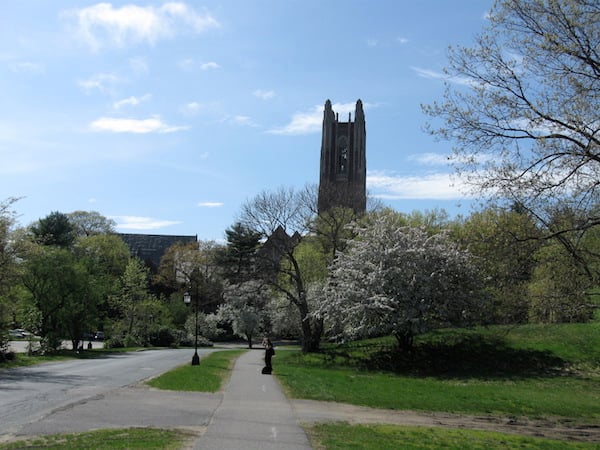 You've got to admit that's some campus, though.

The Complete Guide to ACT Reading: Book Review
When thinking about and evaluating any (test prep) book, I consider the following three points:
Who's the author and what's her experience/background?
How effective is this book overall?
What are the pros and what are the cons of this book?
About the author: Erica Meltzer
Erica Meltzer started out as a tutor, but has been publishing SAT and ACT prep books for the last few years. She graduated from Wellesley College, which is a highly prestigious college ranked #4 of all the liberal arts colleges in the country (as of the time of this article's publication – there're always fluctuations). Even though Meltzer's focus has been on writing, rather than tutoring, for the past few years, her books show a good deal of insight into the SAT and ACT. In addition, she and her company also offer tutor-training sessions for test prep tutoring.
How effective is this book?
From my own experience, I know that ACT Reading is the most difficult score to improve. The skills you need to master it (logical/critical reasoning skills) are not as easily taught as the content on the Writing and Math sections. This means that it's important to focus in on different question types and the skills required so that you can approach the questions in a systematic way. Fortunately, this is the approach Meltzer takes in The Complete Guide to ACT Reading. This book teaches how to get at the core of what each question is asking and how to squeeze the right answer out of the passage. If you're aiming for a 36, this is great for comprehensive drilling.
If you're aiming for a 25 or below, however, this book is probably too thorough. Contrary to popular belief, it's not always good to study from the hardest material. Why? In this case, because Meltzer focuses on strategies that are the most useful for high scorers, she does not cover strategies that would be more helpful for low or midrange scorers (compare, for instance, our articles on how to get a 36 on ACT Reading and how to improve a low ACT Reading score).
Pros and Cons of The Complete Guide to ACT Reading
Pros
Good breakdown of most skill types. Meltzer has a clear division of questions by major skill type – big picture, detail, inference, tone questions. This makes it easy to dip in and out of the book – if there's one particular type of question you have problems with, you can focus on that and ignore the other sections fairly easily.
Realistic passages and questions. The questions in the book are of high quality, as are the (licensed) excerpts the passage-based questions ask about.
Some acknowledgement of different skill levels. Meltzer discusses the strategy of dropping an entire section if you're a slow reader and have problems with comprehension, and also describes playing "positive/negative" with tone questions as a means to narrow down.
Suggested reading list (to prepare for ACT passages). These suggestions are useful not just for Reading skill practice but also for sources to use for your Writing essay (if you do the essay). Also, I've read Inside of a Dog and really enjoyed it, so some of the books might be interesting as well as educational!
Includes two full-length reading sections at the end to practice with.
Provides useful skimming strategies and tips for how to approach the passage.
Cons
Expensive for the amount of material you're getting. The book is 120 pages, but the last 32 pages are all practice reading questions, and many pages are full reprints of sample reading passages, which means the actual "teaching" content of the book is on the shorter side.
Dry writing style. There are no pictures and there's not much layout variety (there's a whole lot of text), so it might be difficult to get into. Basically, it's no frills, which works for me (I don't really need to spend hours of my life reading about ACT…Reading), but it might be difficult for some students to get through.
No real discussion of which questions might be easier/more difficult to answer. Meltzer describes some question types as the "most challenging," which does help somewhat, but she does not provide clear "this is the question you should try to answer first if you're worried about points on Reading" guidelines, which I think would be helpful.
Does not cover paired passages. It has become standard on every ACT Reading section for there to be at least one topic area (often Humanities) with two passages; the ten questions are divided between the passages, with 3 questions that ask about both passages. To be fair, there are barely any materials out there that cover this, including the ACT's own website, but that doesn't mean that they should be left out of a prep book.
Overall Rating
As far as I have been able to determine, this is the best book currently out there for ACT Reading prep. If you're planning on scoring a 31 or above on ACT Reading and prefer to study via book, then this is the right choice for you. It's ridiculously expensive for the amount of content it contains, and it may be too thorough for some students, but it's a great choice that can teach you a lot.
Overall rating: 75/100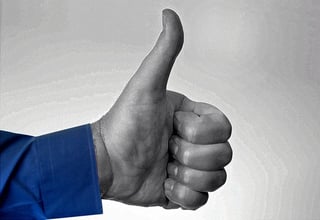 FACEBOOK LIKE by Owen W Brown, used under CC BY 2.0/Cropped from original.
Alternative Options for ACT Reading Prep
I would be remiss if I did not point out that we provide some great free options out there for ACT Reading prep on our blog. In addition to general strategy articles, we also break down Reading questions by skill type with focused suggestions for vocab in context, big picture, little picture, function and development, inference, and paired passage questions.
What's Next?
Read our detailed guide to the Best ACT prep books of 2015 and our list of the best ACT Prep Websites you can use to put together your very own study program.
What's a good ACT score for you? Figure it out with our step-by-step guide based around the colleges you're applying to.
Aiming for a high score? Read our guide to scoring a perfect 36 on the ACT overall and on the ACT Reading section, written by our resident perfect scorer (and PrepScholar co-founder) Allen Cheng. Also, don't forget to check out our top-of-the-class ACT prep program!
Want to improve your ACT score by 4+ points? Download our free guide to the top 5 strategies you need in your prep to improve your ACT score dramatically.
Have friends who also need help with test prep?
Share this article!
About the Author
Laura graduated magna cum laude from Wellesley College with a BA in Music and Psychology, and earned a Master's degree in Composition from the Longy School of Music of Bard College. She scored 99 percentile scores on the SAT and GRE and loves advising students on how to excel in high school.
Get Free Guides
to Boost Your SAT/ACT