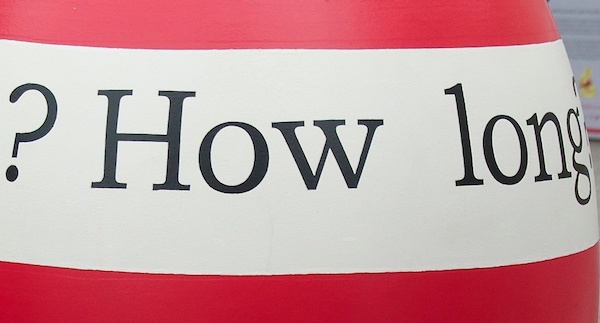 There's not a whole lot of information out there on how essay length affects ACT Writing scoring. Are longer essays better? But the essay scoring rubric doesn't say anything about essay length, so maybe it doesn't matter? Fear not—your questions will be answered in this article.
feature image credit: 48 What's That? How Long? Sit On, It., Lindt Big Egg Hunt Covent Garden 26-3-2013 by Martin Pettitt, used under CC BY 2.0/Cropped and resized from original.
Why Does Essay Length Matter?
Short answer: essay length is highly correlated with essay score. The more you write, the better you'll do on the essay.
There's a fairly famous 2005 New York Times article by Michael Winerip about the then-director of MIT's undergraduate writing program, Les Perelman. When he compared the lengths and scores of the 54 sample essays the CollegeBoard had released, he found that he could predict essay score based on essay length 90% of the time. Short essays (around 100 words) received a 1 out of 6, while the longest essays (around 400 words) received a 6 out of 6.
I searched online to see if anyone had done comparable research on the ACT essay, but did not turn up anything, so I did a quick analysis of the word counts for the sample ACT essays. All the essays were written in response to the same prompt, and all received the same score across the 4 ACT Writing scoring domains (for more on this, read my article on the ACT essay grading rubric).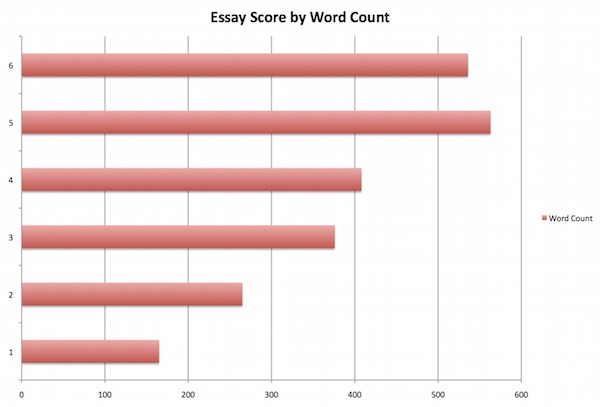 Bonus graph practice for ACT Reading. You're welcome!
As you can see in the graph above, the more words you write in your essay, the better you'll do. In fact, essays with a score of 5 or 6 in all domains had nearly twice as many words (and so were twice as long) as the essay scoring a 2 in all domains.
On the other hand, it's important to note that writing a long essay does not automatically lead to a higher score. Looking at the graph above, it might be tempting to think "hey, I guess I can just fill up my paper with an essay about dinosaurs, and as long as I write at least 400 words I'm guaranteed a 4 or higher! Time to write my magnum opus about the new discovery that apatosaurs and brontosaurs are in fact different species."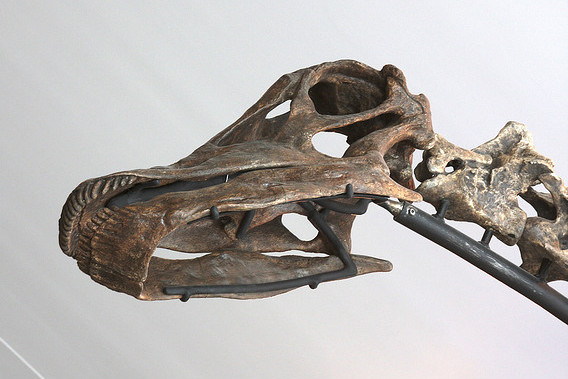 That's right. Brontosaurus is back, babies!
Unfortunately for all of you dinosaur fans out there, it's not that simple. While there is a strong correlation between essay length and essay score, the correlation is most likely caused by a third factor: essay content. Longer essays tend to score higher because it indicates the student has done a deeper analysis of the topic and been more thoughtful. Essay graders aren't just going to look at your 4-page essay on comparative dinosaur anatomy and go "That sure looks like the length of a high-scoring essay. 6s all around!"
The graph above shows this correlation while also highlighting another interesting trend: a 6-scoring essay can very well be shorter than a 5-scoring essay. The most likely reason for this? The 6-scoring essay on the ACT site uses more advanced vocabulary, which means the writer required fewer words to say the same amount of information.
So How Long Should Your Essay Be?
There are multiple factors that determine how long your essay ends up being, only some of which will lead to a higher score. Below, I've listed the four key factors that determine essay length.
#1: Vocabulary. The more advanced vocabulary you use, the fewer words you'll need to get your point across, which might result in a shorter essay. This difference can be seen on the word count graph above: the 5-scoring essay is longer than the 6-scoring essay.
#2: Handwriting size. Students with smaller handwriting may be able to get in more words per pages, which means that their essays end up being fewer pages. This doesn't necessarily mean students with larger handwriting have an advantage, however; in fact, students with larger handwriting tend to run into the issue of filling up all the available pages and failing saying everything they needed or wanted to say.
#3: Your writing and thinking speed. If you take longer than 8-10 minutes to plan out your essay, you might end up writing a shorter essay, simply because you don't have as much time to write. That doesn't necessarily mean that you'll do worse on the essay—an organized essay with well-explained examples will score better than a disorganized one without any support—but it does mean that you might end up with less time to write out your ideas.
#4: Writing vs. planning time. You'll need to figure out what proportion of planning to writing time works best for you through practice. Over the years, I've realized that I can write fairly quickly, which means that it's okay if I take a little more time to plan out my essay—I'll still be able to write everything I need to. On the other hand, if you find that you're a slow writer, you might not be able to write enough unless you get faster at planning your essay.
Assuming you can hand-write about 150 words per page, you should aim for at least two pages to get an ACT writing score of 3 (or above) in the Ideas & Analysis, Development & Support, and Organization domains. To get a 5 or a 6, you'll probably need to write at least three pages.
What's Next?
How can you write so much in so short an amount of time? Follow along, step by step, as I write a top-scoring ACT essay.
Curious as to what "domain" scores are and how you can score a 2 in one domain and still get a perfect 12 on your essay? Take a look at this article on the ACT essay scoring rubric for analysis and strategies.
Took the old ACT and not sure if your essay preparations need to be revamped? Read up on the new enhanced ACT Writing Test!
Want to improve your ACT score by 4 points?
Check out our best-in-class online ACT prep program. We guarantee your money back if you don't improve your ACT score by 4 points or more.
Our program is entirely online, and it customizes your prep program to your strengths and weaknesses. We also have expert instructors who can grade every one of your practice ACT essays, giving feedback on how to improve your score.
Check out our 5-day free trial:
Have friends who also need help with test prep?
Share this article!
About the Author
Laura graduated magna cum laude from Wellesley College with a BA in Music and Psychology, and earned a Master's degree in Composition from the Longy School of Music of Bard College. She scored 99 percentile scores on the SAT and GRE and loves advising students on how to excel in high school.
Get Free Guides
to Boost Your SAT/ACT