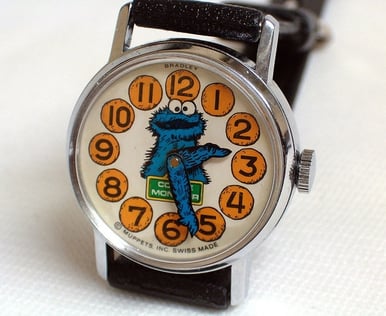 The ACT is a standardized test that requires endurance. You're asked to answer 215 multiple-choice questions subject area by subject area, a style of testing that causes fatigue for many students. The normal four-section (English, Math, Reading, Science) ACT is already lengthy, but how much longer does it get when you add on the Writing test? In this article, you'll find out just how long the ACT with Writing is, along with some actions you can take to deal with its monstrous length.
feature image credit: Vintage Cookie Monster Manual-Wind Character Watch by Bradley Time Company, Swiss Made, Circa 1977 by Joe Haupt, used under CC BY-SA 2.0/Cropped from original.
How Long Is the ACT With Writing?
The first thing to think about is how long each section of the test is on the ACT Plus Writing. In the chart below, I've italicized the sections that don't appear on the ordinary ACT (when you take it without Writing).
| | | |
| --- | --- | --- |
| SECTION | TIME | QUESTIONS |
| English | 45 minutes | 75 questions |
| Math | 60 minutes | 60 questions |
| Reading | 35 minutes | 40 questions |
| Science | 35 minutes | 40 questions |
| Experimental | 20 minutes (approximately) | ? questions |
| Writing | 40 minutes | 1 essay question |
If you take the ACT with Writing, the time for each section (English, Math, Reading, Science, and Writing) adds up to a total of 3 hours 35 minutes of test sections (not including breaks).
The total test time of the ACT without Writing, by contrast, is normally only 2 hours and 55 minutes long. The exception to this rule is when there is an additional 20-minute unscored section (titled "Experimental" in the above chart) added on to the ACT without Writing, which brings the total test time up to 3 hours 15 minutes.
How Long Is the ACT Plus Writing Test-Taking Experience?
Just knowing the amount of time each section takes doesn't tell you the whole story, however. In order to get the full picture of how long the ACT with Writing is, you also have to account for breaks. Below, I've added in the two breaks that occur during the ACT Plus Writing Test:
| | | |
| --- | --- | --- |
| SECTION | TIME | COMMENTS |
| English | 45 minutes | |
| Math | 60 minutes | |
| BREAK | 10 minutes | |
| Reading | 35 minutes | |
| Science | 35 minutes | |
| Experimental | 20 minutes (approximately) | Not scored; Only administered to students not taking ACT Plus Writing. |
| BREAK | 5 minutes | Only for students taking ACT Plus Writing; all other students are free to leave. |
| Writing | 40 minutes | |
When break times are included, the ACT Plus Writing takes a total of 3 hours and 50 minutes. With breaks but without Writing, the ACT is only 3 hours and 5 minutes (or 3 hours and 25 minutes if you have to take the fifth experimental section).
Some students dislike the breaks in between sections. While it's true that breaks do make the test longer, which in turn means you need to keep your brain in "test mode" longer, they are also beneficial. During the breaks, you'll not only be able to use the restroom, but you'll also get the chance to briefly relax your brain; these actions will lead to a higher score on the ACT (since you won't, for instance, lose time running to the restroom mid-section), which will then save you time by making it unnecessary to re-take the test.
Proctors occasionally do forget about breaks or accidentally cut the breaks short. The breaks between the Math and Reading sections and between the Science and Writing sections, however, are absolutely your right as a test-taker. If it seems like a break is going to be shorter than the maximum time or get skipped over altogether, be sure to request a break. Read more about what to do if your ACT testing center has problems here.
ACT Plus Writing Test-Taking Experience With Extended Time
If you normally get extended time on tests in school, or if you think you might need extra time on the ACT, there are a few different accommodations that will allow you to have more time. National Extended Time for ACT Plus Writing will give you 6 hours total (including breaks) for ACT Plus Writing. If you qualify for Special Testing time, you may receive even more time (depending on your diagnosis and the accommodations deemed necessary).
To learn more about how to request and get ACT accommodations, read this guide.
How Do I Deal With The Test Length?
Even if you don't have extended time on the test, the ACT with Writing is still pretty long. So what can you do to prepare for such a lengthy test?
1. Build up to it. Think about the ACT with Writing as a marathon - some people have naturally higher endurance levels than others, but everyone still needs to train to get up to running 26.2 miles in one go. In the case of the ACT, this means starting out by practicing questions on individual sections, then taking entire sections at once, then finally working up to taking full-length, timed practice tests (including breaks).
2. Make your practice tests realistic. It's not enough to practice taking a full-length ACT with Writing. If you really want to know how you'll do on test day, you'll need to practice taking the test under the exact same (or close to it) conditions that you'll face on test day. This means waking up early on a Saturday morning to take the test at 8 AM in a quiet environment. Make sure to practice using a non-mechanical pencil, particularly on the Writing test - the more closely you can emulate real test conditions, the better prepared you'll be.
3. Use the breaks well. Get up and move around during the breaks if your energy levels are getting low. Make sure to bring a snack and water with you so that you can replenish yourself with a minimum of time (and you don't have to go hunting for a vending machine). Make sure to get back to your seat at least two minutes before the test resumes so that you can calm back down into your test-taking mindset.
If your energy or anxiety levels tend to be high during a test and you worry that getting up and moving will break you out of test-taking mode, at least try to do some stretches in your seat. Shaking out and stretching your hands and arms is very important (particularly before the Writing test), as they can get cramped from gripping your pencil tightly. It might also help to slowly roll around your head and stretch your neck, to release any tension that's gathered there.
4. Get enough sleep multiple nights before the test. It's not just the night before that matters - making sure you have a solid night's rest two and three nights before the test can make a big difference. I know that for me, a bad night's sleep catches up with me a couple of days later, rather than the next day;
5. Eat a balanced breakfast before the test. You don't want to have a sugar crash (or a stomach upset) halfway through the test - or to faint because you didn't eat anything. Make sure to eat a breakfast that isn't too greasy or too sugary. Protein and complex carbohydrates (rather than a sweet cereal) are the way to go.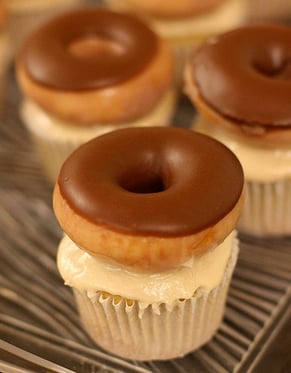 You must ignore the seduction and sorcery that is a doughnut cupcake (?!?!?!) for your test-day breakfast.
What's Next?
Want a quick way to boost your ACT Writing score? Read our 15 tips and strategies for getting a high score on the ACT essay.
Get to know the ACT Plus Writing even better with our article on how to get a perfect score on the new ACT essay.
Discover just how the length of your ACT essay is related to your ACT Writing score here.
Want to improve your ACT score by 4 points?
Check out our best-in-class online ACT prep program. We guarantee your money back if you don't improve your ACT score by 4 points or more.
Our program is entirely online, and it customizes what you study to your strengths and weaknesses. If you liked this ACT Writing lesson, you'll love our program. Along with more detailed lessons, you'll get your ACT essays hand-graded by a master instructor who will give you customized feedback on how you can improve. We'll also give you a step-by-step program to follow so you'll never be confused about what to study next.
Check out our 5-day free trial:
Have friends who also need help with test prep?
Share this article!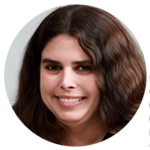 About the Author
Laura graduated magna cum laude from Wellesley College with a BA in Music and Psychology, and earned a Master's degree in Composition from the Longy School of Music of Bard College. She scored 99 percentile scores on the SAT and GRE and loves advising students on how to excel in high school.
Get Free Guides
to Boost Your SAT/ACT