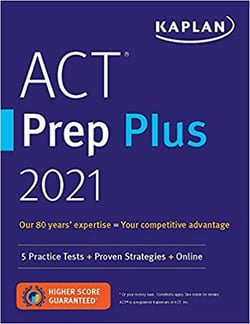 Kaplan is a well-known name in the test prep industry, but does that mean its ACT materials are good? The ACT prep book you choose can mean the difference between reaching your goal score or not, so you want to use a book that's right for you. Kaplan's materials are known for helping students (particularly lower-scoring students) learn the content they need to do well on the ACT, as well as preparing them for the exam's format and question types. However, there are other areas where they're not as strong.
This Kaplan ACT book review explains what Kaplan's ACT book, ACT Prep Plus 2021, includes, what its strengths and weaknesses are, and who the book is right for (and who will be wasting their time reading it).
What Is the Kaplan ACT Prep Book? What Does It Include?
The most recent Kaplan ACT book is ACT Prep Plus 2021. It is 876 pages long and costs about $32 on Amazon (paperback only, there is no ebook version). The book contains one complete practice test, as well as access to four additional practice tests online. One of the five tests is an official ACT practice test, as Kaplan is an official teaching partner of the ACT. In addition to the practice tests, there are hundreds of practice questions to solve throughout the book.
The first part of the book gives an overview of the ACT's format, what skills it tests, and how it's scored. For the next five parts, each covers a different section of the ACT. The parts are broken into multiple chapters, each focusing on a different content area you'll be tested on. So, for example, within Part 3 (ACT Math), there are chapters on algebra, functions, geometry, etc.
Each chapter starts with a short quiz so you can quickly assess how much you know and therefore, how much you need to study that section. Next, there's an in-depth discussion of the content you'll be tested on, what test questions will look like, and strategies you can follow to answer those questions. Most chapters then end with a short quiz where you can assess how much you've learned and what you still need to study.
Part 7 is a brief outline of how to prepare for the actual ACT in the days leading up to the exam, and Part 8 is the full-length practice test, including information on how to score it and answer explanations.
Purchasing the Kaplan ACT prep book also gives you a one year access to online study resources. In addition to the four online practice tests, this includes about three hours worth of video lessons and an online question bank for extra practice.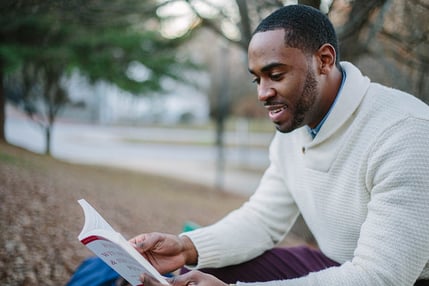 Pros of the Kaplan ACT Prep Book
What does the ACT Prep Plus book do best? Here are its three main strengths.
#1: Excellent Explanation of Content
If you struggle to remember how to solve algebra problems, keep grammar rules straight, analyze graphs, etc. this is a great book to build up your content knowledge. It goes over each of the main skills the ACT tests and explains the major concepts in clear and simple ways. Its Math section is particularly in-depth and explains algebra, geometry, tables, and functions, among other concepts.
The book then explains how the content skills are included in ACT questions and goes over the different question types you'll see. This way, you'll understand exactly how those skills are tested. Many ACT prep books don't go over this information with the depth the Kaplan ACT book does, so we highly recommend it if you need to refresh your knowledge in certain skill areas and/or learn the ACT question types.
#2: Strong Answer Explanations
Lots of times, answer explanations are extremely basic ("Answer A is correct because it is the best answer") or non-existent. Kaplan actually takes the time to explain how to solve each problem and point out spots where students might get tripped up and choose a wrong answer. This is great information to have, especially if you're early on in your ACT prep and are learning the tricks the test uses to try to get students to choose wrong answers.
#3: Good for Quick ACT Prep
Some students are ready to devote dozens of hours to ACT prep, while others prefer maybe 5-10 hours of preparing for the ACT. If you just want a quick review to give you a better sense of what the ACT will be like, ACT Prep Plus 2021 is a good resource for it. The writing style is clear and easy to understand, and you can read just the beginning of each section to learn their main strategies for answering questions. While we recommend everyone put in the time to reach their ACT goal score, if that's not in the cards for you, this is a good ACT prep book for quick studying.
Cons of the Kaplan ACT Prep Book
While the Kaplan ACT Prep Book can be very beneficial for some students, there are two key drawbacks you should be aware of.
#1: Low-Quality Practice Tests
Unofficial ACT practice tests can be very hit or miss, and Kaplan's are mostly a miss. Overall, they're significantly easier than actual ACT questions, and they don't include many of the tricks or wording techniques you'll often see on the actual ACT. If you only take the Kaplan practice ACTs, you may be unpleasantly surprised come test day. Creating high-quality ACT questions is notoriously difficult, which is why the best practice tests will always come straight from the makers of the ACT itself. If you're looking for the best ACT practice tests, there are seven official practice ACTs available for free online, and you may also want to purchase The Official ACT Prep Guide.
#2: Strategies Are Mostly Basic
The Kaplan ACT book isn't the best resource to use if you want to learn all sorts of clever tricks to answer tough ACT questions. (If that's what you're looking for, we recommend the ACT Black Book or one of our own ACT strategy guides.) A lot of Kaplan's strategy involves reading the question carefully to make sure you're understanding what is being asked. This is pretty basic stuff, and most high school students already know to do it (though they forget sometimes, especially when pressed for time).
The Math section has some concrete strategies, such as plugging in answer choices, but for the English section, the strategy doesn't go much beyond "choose the answer that is most correct." Similarly, for Reading passages, only one strategy is explained, even though different students can benefit from either reading the passage first or reading the questions first.
ACT strategies only make up a small fraction of the ACT Prep Plus 2021's content, and if you're looking for a lot of in-depth strategies for answering ACT questions, you'll likely be disappointed.
Kaplan ACT Book Review: Is It the Right ACT Prep Book for You?
So is the Kaplan ACT prep book worth buying? Overall, it comes down to what you're looking for in your ACT prep. However, we can say that, for the majority of students, they'll need to use other ACT resources beyond ACT Prep Plus if they want to reach their goal score.
ACT Prep Plus 2021 is best for students either just beginning their ACT prep or who have done some studying for the ACT but realize they need to build up their skills before really tackling more practice questions. The Kaplan ACT book is a great resource if you want to learn/relearn how to answer geometry questions, how to analyze graphs, what the important grammar rules are, etc. If you don't have a solid grounding in the topics the ACT tests, no amount of clever test tricks will get you a high score, so you need to be confident in these areas. Additionally, the Kaplan ACT book does a great job of explaining the different question types you'll see on the ACT, so if you haven't done any review of the test yet, starting with this book is a smart idea.
However, for students already pretty solid in their understanding of the content and format of the ACT, the Kaplan ACT book won't be that useful. It's not a good resource for high-level strategies or for practice tests; we recommend the ACT Black Book for top-notch strategies and The Official ACT Prep Guide for practice materials. Additionally, if you make it through ACT Prep Plus 2021 but still haven't reached your ACT goal score, we recommend using one or both of those two aforementioned books to continue your studying and keep raising your practice test scores.
Overall, the degree to which you find ACT Prep Plus 2021 will likely depend on where you are in your studying and what your goals are for your ACT score.
What's Next?
Wondering if the ACT is hard? Check out 9 key factors for assessing the ACT's difficulty.
Aiming for a super high score on the ACT? Take a look at this article on how to earn a perfect or close to perfect score with the help of some expert study strategies.
How high does your ACT score need to be? Learn more about what a good ACT score is, based on the colleges you're applying to.
Want to improve your ACT score by 4+ points? Download our free guide to the top 5 strategies you need in your prep to improve your ACT score dramatically.
Have friends who also need help with test prep?
Share this article!
About the Author
Christine graduated from Michigan State University with degrees in Environmental Biology and Geography and received her Master's from Duke University. In high school she scored in the 99th percentile on the SAT and was named a National Merit Finalist. She has taught English and biology in several countries.
Get Free Guides
to Boost Your SAT/ACT