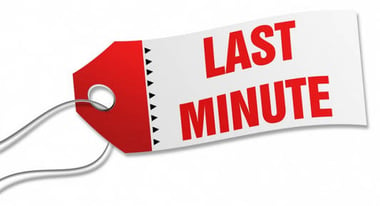 It's the week or the day before your big ACT test date, and you want to have the best chance possible at raising your score. At PrepScholar we've written hundreds of free guides to help you succeed on the test, but some guides are especially helpful right before your test.
By reading these guides, you'll make sure you're in the best shape possible on test day.
General ACT Strategy
What You Must Bring to the ACT on Test Day
In this guide, we explain exactly what you should bring (your admissions ticket, #2 pencils, lots of snacks, etc.) and what you need to leave at home (the iPhone glued to your hand, a #1 pencil, your mom). Test Day can be stressful. Make sure you've got the right supplies.
Should You Guess on the ACT? 5 Guessing Strategies
Short answer: ALWAYS GUESS ON THE ACT. For the long answer, read the strategies our experts recommend. And no, "always guessing 'C'" did not make our list.
The Best Way to Review Your Mistakes from ACT Questions
In your last study time before your ACT test date, don't worry about taking another full-length practice test. Instead, review your mistakes from the past so that you can avoid them on test day. This guide tells you how you should be reviewing your mistakes to get the most out of your time.
How to Get a Perfect ACT Score, by a 36 Full Scorer
If you're looking for a top ACT score (33-36), take advice from someone who scored a 36—me. In this post, I break down all you need to know about striving for perfection on the ACT. It's challenging, but definitely not impossible.
ACT Science Strategy
Time Management Tips and Section Strategy on ACT Science
You can see the light at the end of the Test Day Tunnel. All that stands between you and the rest of your Saturday is the dreaded Science section (and possibly an essay, but more on that later). In this guide, we give tips on how to finish strong and within the time limit.
The Only Actual Science You Have to Know for ACT Science
By now, you've probably figured out that the ACT Science section is basically a reading test with bigger words and more technical pictures. You don't actually have to know a lot of science in order to do well; in this guide, we've outlined the core topics that show up again and again in this section.
ACT Reading Strategy
How to Stop Running Out of Time On ACT Reading
It's not just about watching the clock on Test Day. It's about how to maximize the time you do have. You won't learn to speed read by Saturday, but our experts have outlined strategies to buy you time on test day.
ACT Math Strategy
The 31 Critical ACT Math Formulas You MUST Know
You've probably memorized hundreds of formulas in math classes. Whether or not you remember them… Well, that's a different story. In this guide, we review the 31 formulas you must know in order to ace ACT Math.
How to Stop Running Out of Time on ACT Math
On test day, you'll have 60 minutes to answer 60 math questions. It doesn't take a genius to figure out that this will be challenging. Luckily, PrepScholar experts have outlined the top strategies for taking advantage of every second.
ACT English Strategy
The Complete Guide to ACT Grammar
We're not going to lie. It's a long guide, but every single question you'll face in the ACT English section will be based on this material. How can you not read it?
ACT Writing Strategy
How to Write an ACT Essay: Step by Step Example
Writing a cohesive essay in 40 minutes sounds impossible, but our experts have broken it down into an easy-to-remember, step-by-step process. Practice this at least once or twice before test day to make sure you've got it down.
ACT Writing Tips: 15 Strategies to Raise Your Score
In this guide, we've outlined what ACT wants you to know about the Writing section, some secrets they'd rather not share, and a step-by-step process that can definitely help you improve your writing score.
Want to improve your ACT score by 4+ points? Download our free guide to the top 5 strategies you need in your prep to improve your ACT score dramatically.
Have friends who also need help with test prep?
Share this article!
About the Author
As co-founder and head of product design at PrepScholar, Allen has guided thousands of students to success in SAT/ACT prep and college admissions. He's committed to providing the highest quality resources to help you succeed. Allen graduated from Harvard University summa cum laude and earned two perfect scores on the SAT (1600 in 2004, and 2400 in 2014) and a perfect score on the ACT. You can also find Allen on his personal website, Shortform, or the Shortform blog.
Get Free Guides
to Boost Your SAT/ACT