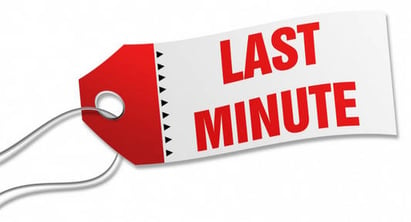 It's the week or the day before your big SAT test date, and you want to have the best chance possible at raising your score. At PrepScholar we've written hundreds of free guides to help you succeed on the test, but some guides are especially helpful right before your test.
By reading these guides, you'll make sure you're in the best shape possible on test day.
General SAT Strategy
Make sure you've sharpened your pencils and checked your calculator's batteries! This post outlines the best ways to make your test day (almost) stress free.
The Best Way to Review Your Mistakes from SAT Practice Questions
In your last study time before your SAT test date, don't worry about taking another full-length practice test. Instead, review your mistakes from the past so that you can avoid them on test day. This guide tells you how you should be reviewing your mistakes to get the most out of your time.
Should You Guess on the SAT? 6 Guessing Strategies
Guessing is a huge component of the SAT. And no, guessing "C" every time didn't make our list. Check out PrepScholar's expert advice on how to answer when you don't know the answer.
Here are even more ideas on how to make sure you finish every section and guarantee your best possible score.
SAT Math Strategy
The 21 Critical SAT Math Formulas You Must Know
Make sure you know these SAT math formulas before the test. Even if some are given to you, you should memorize them to answer questions more quickly. If you know every formula on this list, you're in a great spot for SAT math.
How to Avoid Time Problems on SAT Math
The SAT Math section gives you a lot of time pressure. How do you overcome this so you get to answer more questions in less time? Read our expert guide.
SAT Reading Strategy
How to Stop Running Out of Time on SAT Reading
Is your Reading score not what you were hoping for? Are you running out of time on SAT Reading passages? Read how you can buy yourself more time on this time-consuming section.
How to Get an 800 on SAT Reading
While this guide tells you how to improve through studying, for last minute tips focus on the strategies on eliminating answer choices and how to read passages.
SAT Writing/Essay
The Complete Guide to SAT Grammar Rules
Who or whom? What's the difference between an adverb and an adjective? PrepScholar has the answers and we've put them all in one place. Review every grammar rule tested on the SAT to refresh your memory and to prime yourself for the test.
How to Write an SAT Essay, Step by Step
Not sure how to write that perfect essay in just 25 minutes? We break it down into an easy-to-follow, easy-to-remember process that's sure to boost your score. Practice this at least once before SAT test day so you make sure you get it down.
6 SAT Essay Examples You Can Use to Answer Every SAT Essay Prompt
Don't walk into the SAT Writing essay empty-handed. If you prepare your examples beforehand, you WILL have a much better shot at scoring higher on the essay. Take time to pre-plan your examples ahead of time - it can improve your essay score by 2 points or more.
BONUS: How to Get a Perfect SAT Score by a 2400 Full Scorer
If you're striving for a really high SAT score (2300-2400), take a minute to read advice from a perfect scorer - me. I tell you the strategies you need to be using during your prep and test to minimize your mistakes and make sure you're prepared for perfection.
Want to improve your SAT score by 160 points? We've written a guide about the top 5 strategies you must be using to have a shot at improving your score. Download it for free now:
Have friends who also need help with test prep?
Share this article!
About the Author
As co-founder and head of product design at PrepScholar, Allen has guided thousands of students to success in SAT/ACT prep and college admissions. He's committed to providing the highest quality resources to help you succeed. Allen graduated from Harvard University summa cum laude and earned two perfect scores on the SAT (1600 in 2004, and 2400 in 2014) and a perfect score on the ACT. You can also find Allen on his personal website, Shortform, or the Shortform blog.
Get Free Guides
to Boost Your SAT/ACT