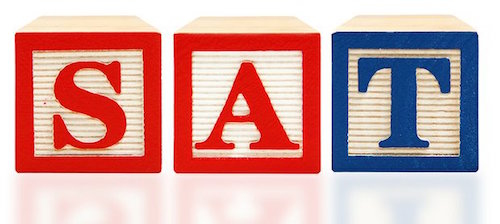 The SAT has three sections, Critical Reading (formerly referred to as Verbal), Mathematics, and Writing. All of the questions within these sections are multiple choice, with the exception of a 25 minute essay in Writing and ten student-produced responses in Mathematics.
Note: this article is a series in the PrepScholar 2016 Students' Encyclopedia, a free students' and parents' SAT / ACT guide that provides encyclopedic knowledge. Read all the articles here!
The Critical Reading section features two types of questions, passage-based questions and sentence completions, which test students' reading comprehension and understanding of vocabulary. Questions in the Mathematics section test students' data literacy and ability to interpret tables, charts, and graphs. Students must solve single step and multi-step problems by applying mathematical concepts from four main areas: number and operations, algebra and functions, geometry and measurement, and data analysis, statistics, and probability.
The Writing section is largely concerned with testing the rules of English grammar, mechanics, and usage. Multiple choice questions measure students' ability to recognize errors in sentences and paragraphs and to improve them by changing word choice or idea organization. In the essay, students must develop a point of view on a prompt, often philosophical or related to a social issue. Strong essays provide relevant and well-supported examples and demonstrate varied vocabulary and a logical flow of ideas.
The SAT is administered in ten subsections, each of which is strictly timed at 25 minutes, 20 minutes, or 10 minutes. The 25 minute essay is always first, and a 10 minute multiple choice Writing section is always last. Sections 2 through 7 are 25-minute sections, and sections 8 and 9 are each 20 minutes long. The order of Critical Reading, Mathematics, and Writing sections differs among tests and, apart from the first and last sections, cannot be predicted.
One of the 25 minute sections on the SAT is an experimental, or variable, section and is unscored. The experimental section is used to ensure accuracy in scoring and to evaluate material for future tests. It can be Critical Reading, Mathematics, or Writing, and students have no way of knowing in advance which section it will fall in.
The total testing time of the SAT is 3 hours and 45 minutes. The actual test-taking experience takes about 4.5 hours, including instructions from the proctor and three 5 minute breaks.
The highest possible composite score on the SAT is 2400. The raw scores students receive on each section, based on the number of questions they got correct, incorrect, or skipped, are converted to a scaled score between 200 and 800 through a process called equating, which takes into account the performance of all students who took the SAT on a given test date.
The essay is graded by two readers, who give it a score from 1 to 6 and add their scores together. A score of 0 is possible if the essay section is left blank or the student's response is illegible or completely off topic. The essay contributes about 30% to the overall Writing score, while the multiple choice makes up the other 70%.
SAT multiple choice questions range in difficulty level from easy to medium to hard. Most of the Mathematics and Writing multiple choice questions increase in difficulty level throughout a given section, along with the sentence completion questions in Critical Reading. The exception to this pattern is passage-based questions in Critical Reading, which are ordered chronologically along with the passage(s) to which they refer.
Since each section is strictly timed and students may not revisit a section one time has expired, time management and pacing are particular challenges for students on the SAT. Efficiency is a key factor for achieving strong scores. Students generally benefit from taking timed official SAT practice tests before sitting for the SAT on their registered test date.
Redesign Alert
The new SAT, which will be first administered in March of 2016, returns to a pre-2005 1600 scoring system, with Critical Reading and Writing scored together out of a maximum possible score of 800. The essay will be placed at the end of the test and made optional. There will be no more penalty for wrong answers, and each multiple choice question will have 4 answer choices instead of the current 5. Along with changes in format and scoring, the new SAT also focuses on some different skills and content knowledge.
Read more from the SAT Encyclopedia!
Further Reading
What's Actually Tested on the SAT Critical Reading Section?
What's Actually Tested on the SAT Math Section?
What's Actually Tested on the SAT Writing Section? Grammar and Questions
Have friends who also need help with test prep?
Share this article!
About the Author
Rebecca graduated with her Master's in Adolescent Counseling from the Harvard Graduate School of Education. She has years of teaching and college counseling experience and is passionate about helping students achieve their goals and improve their well-being. She graduated magna cum laude from Tufts University and scored in the 99th percentile on the SAT.
Get Free Guides
to Boost Your SAT/ACT