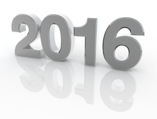 We present information about SAT test dates for the 2015-2016 school year here. We also link to our top articles that you must read before deciding on a test date.
Table: 2015-2016 SAT Test Dates and Deadlines
The 2015-2016 school year's test dates, normal registration deadlines, late registration deadlines, and score availability are posted below.
| | | | |
| --- | --- | --- | --- |
| Test Date | Normal Deadline | Late Registration | Online Score Release |
| October 3, 2015 | September 3, 2015 | September 22, 2015 | October 22, 2015 |
| November 7, 2015 | October 9, 2015 | October 27, 2015 | November 26, 2015 |
| December 5, 2015 | November 5, 2015 | November 23, 2015 | December 24, 2015 |
| January 23, 2016 | December 28, 2015 | January 12, 2016 | February 11, 2016 |
| March 5, 2016 * | February 5, 2016 | February 23, 2016 | May 10, 2016 |
| May 7, 2016 * | April 8, 2016 | April 26, 2016 | June 14, 2016 |
| June 4, 2016 * | May 5, 2016 | May 25, 2016 | July 12, 2016 |
* = New SAT Test Dates for all tests March 2016 and forward — see note below
The College Board administers the SAT on Saturdays, with more tests offered in the fall. If you can't take the test on Saturday for religious or other reasons, Sunday alternate dates are usually available.
Visual Calendar of 2015 and 2016 Dates
You shouldn't just put down the next date that's available. To choose the best test dates for you personally, we have created a full guide for you for SAT test date selection.
First, here are four test date factors you should consider. Second, you should plan ahead and think about whether you want to take the SAT more than once. (Note: the chart below is based on older predictions, so while the test dates are accurate, refer above to the offical table for exactly accurate Normal and Late Deadline Dates)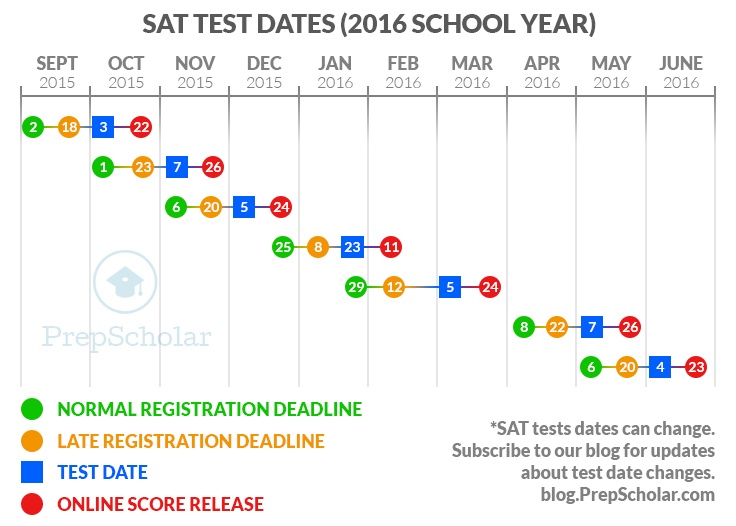 (C) 2015 PrepScholar Inc, Use with Link to PrepScholar.com Allowed
You can clearly see a few things immediately:
SAT test dates are very tightly clustered in the fall. In Spring 2016 the dates were much more spread out, with the exception of May/June.

It's difficult to take two SATs in a row: by the time the score comes out, the late registration date has already passed. Besides, you'll want to prep to make the most of a re-test.
Warning:
SAT Test Dates May Change
Sign up to Receive Free Updates
What's Next?
The next step after you've figured out which dates you want is to register for the SAT (read our step-by-step instruction here). Also, if you want to score well, you should consider the different ways to prep for the sat. We consider the pros and cons of different prep methods with our free ebook.
Notes about New SAT and Accuracy
All the SATs from March 2016 forward are in the New SAT (out of 1600) format. Since these tests were still being actively developed by the College Board, they were especially liable for fluctuation — even after official College Board annouces them formally. Last minute College Board date changes can and do happen historically, so we encourage you sign up for our free notifcation through our blog. We'll keep an eye on changes so you don't have to!
Other Articles You May Be Interested In
How to Choose the Best SAT Test Dates (updated!)
Disappointed with your scores? Want to improve your SAT score by 160 points? We've written a guide about the top 5 strategies you must be using to have a shot at improving your score. Download it for free now:
Have friends who also need help with test prep?
Share this article!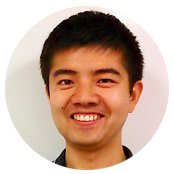 About the Author
Fred is co-founder of PrepScholar. He scored a perfect score on the SAT and is passionate about sharing information with aspiring students. Fred graduated from Harvard University with a Bachelor's in Mathematics and a PhD in Economics.
Get Free Guides
to Boost Your SAT/ACT