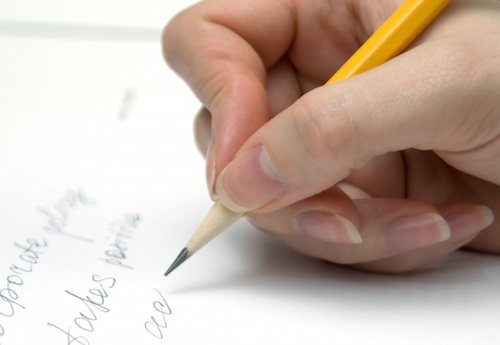 The Writing section of the SAT consists of multiple choice questions and a 25 minute essay. The Writing section was added to the SAT in 2005, changing the maximum composite score from 1600 to 2400. It was based on, though not directly comparable to, the old SAT Subject Test in Writing.
Note: this article is a series in the PrepScholar 2016 Students' Encyclopedia, a free students' and parents' SAT / ACT guide that provides encyclopedic knowledge. Read all the articles here!
To prepare for the Writing section, students benefit from focusing on two main areas: their understanding of grammar rules and their ability to present and support their point of view in a 5-paragraph essay. In terms of grammar, students must identify specific rules, like subject-verb agreement and dangling modifiers, and fix sentences that contain errors. Students will also be called upon to exhibit correct grammar and varied sentence structure in their essays, as well as to provide thoughtful examples to support a thesis.
The Writing section, like the Mathematics and Critical Reading sections, is scored on a scale of 200 to 800. The essay contributes about 30% to the total Writing score, while the multiple choice counts for approximately 70%. In addition to their scaled Writing score, students receive a separate subscore for the essay between 2 and 12.
Two readers grade the essay on a scale from 1 to 6. These scores are then added together. If there is significant disagreement on an essay grade, then a third reader is called in to give his/her opinion. The average reader spends less than 3 minutes grading each essay, so structure and clarity are key to communicating a point of view and giving a strong impression to readers. An essay score of 0 is possible if the space is left blank or if the essay is illegible, completely off topic, or written with a prohibited instrument (ie, not a Number 2 pencil).
Highly scoring SAT essays typically demonstrate a 5-paragraph structure, with an introduction, three supporting paragraphs, and a conclusion. The 25 minute essay is always the first section on the SAT. The essay section begins with a short blurb or quote, followed by a question asking for the student's point of view. The following essay prompt was given on the June 2015 administration of the SAT.
Sample SAT Essay Prompt


While the prompts differ, every essay assignment asks students to develop their point of view and to support it with reasoning and examples from various sources. As in the above example, the prompts are broad and often philosophical or related to a social issue.
According to College Board, the essay is graded on several components. The first is the development of a point of view with strong supporting evidence. Graders look for organization, focus, and a logical and smooth flow of ideas. The essay is also graded on the skillful use of language, varied vocabulary and sentence structure, grammar, usage, and mechanics. An essay with a score of 12 will excel in all of these areas, while those that receive lower scores may have weaker development and organization, along with errors in grammar and usage.
Despite College Board's claims to the contrary, several SAT critics and tutors have stated that longer essays often automatically garner higher scores. Many of these critics also recommend the insertion of high level vocabulary words, like "provincial," "myriad," and "plethora" into essays to increase scores into the 10+ points range.
Lee Perelman, former director of writing at MIT, asserted that longer essays almost always score higher. He also suggested that students "pick a side," rather than argue a moderate opinion, follow a predictable 5 paragraph structure, and not concern themselves with accuracy in order to gain a strong essay score. In 2010, then 14 year old Milo Beckman examined 115 SAT essays and concluded that longer essays almost always achieve the strongest scores.
In addition to the essay, the Writing section consists of 49 multiple choice questions, divided into one 25 minute section and one 10 minute section for a total of 55 minutes.Both of these are entirely multiple choice, and the 10 minute section always comes at the end of the test.
Students may encounter an additional 25 minute Writing section when they take the SAT. If this is the case, then one of the 25 minute sections is the experimental, or variable, section and will remain unscored. Since there is no way of knowing exactly which section is experimental, students benefit from assuming all SAT sections count toward their scores.
These questions take three forms: identifying sentence errors, sentence improvement, and paragraph improvement. Writing questions mainly draw on a student's understanding of grammar, sentence structure, and organization within a paragraph or passage.
There are 18 identifying sentence error questions on SAT Writing. All of these sentences are independent of one another. They will have four words or phrases within them underlined, comprising answer choices A, B, C, and D. Answer choice E will read, "No error." Students choose the answer choice that corresponds to an error in grammar, usage, or mechanics or selects "E" if the sentence is correct as is.
Sample SAT Question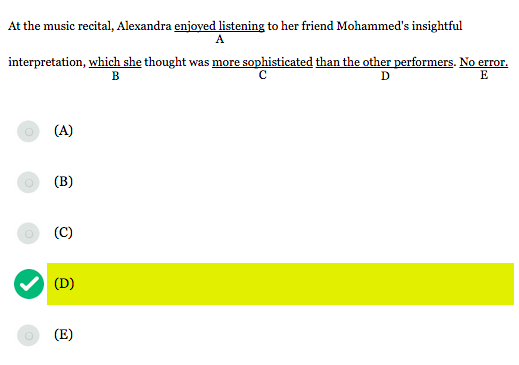 The 25 improving sentences questions test similar skills of grammar and usage, but they take a different form. In each of these questions, answer choices B, C, D, and E present an altered version of an underlined portion of the sentence. Answer choice A maintains the underlined portion as it is and is the correct answer choice if the sentence contains no error.
Sample SAT Question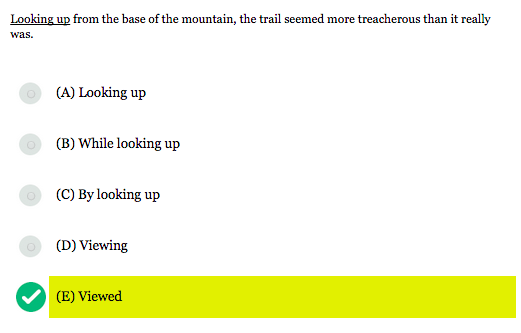 The 6 improving paragraph questions have a similar format, but they refer to underlined portions of an entire paragraph or short passage. In addition to errors within sentences, improving paragraph questions may ask about the placement or order of sentences, along with the organization and sequence of ideas.
According to College Board, the Writing multiple choice questions require students to demonstrate the following skills:


To communicate ideas clearly and effectively
To improve a piece of writing through revision and editing
To recognize and identify sentence-level errors
To understand grammatical elements and structures and how they relate to each other in a sentence
To recognize correctly formed grammatical structures
To clearly express ideas through sentence-combining and use of transitional words and phrases
To improve coherence of ideas within and among paragraphs
Most of these skills overlap with the stated expectations for the essay. Students also benefit from having the ability to recognize and revise rules of English grammar. The following include what SAT experts agree are the most commonly tested grammar rules on the SAT Writing:


Subject-verb agreement
Subject-pronoun agreement
Parallel sentence structure
Subject/object
Proper verb tense
Comparative/superlative
Number agreement
Dangling modifiers
Idioms
While the Writing section has been a part of the SAT for almost ten years, some colleges do not consider it with the same weight as they do the Mathematics and Critical Reading sections. Students may research the standardized testing scores of their institutions of interest in order to learn whether it is a significant, or even required, factor in their college applications.
Redesign Alert
The new SAT starting in March of 2016 relocates the essay to the end of the test and makes it optional. The essay will be 50 minutes and will ask students to analyze a given passage. Furthermore, the new SAT will no longer have single sentence questions, instead testing skills of grammar, usage, and mechanics within the context of longer passages. Finally, the new SAT will return to a scoring system out of 1600, combining Critical Reading and Writing scores together on a scale from 200 to 800.
Read more from the SAT Encyclopedia!
Further Reading
The 12 Hardest SAT Writing Questions Ever
How to Write an SAT Essay, Step by Step
6 SAT Essay Examples to Answer Every Prompt
Have friends who also need help with test prep?
Share this article!
About the Author
Rebecca graduated with her Master's in Adolescent Counseling from the Harvard Graduate School of Education. She has years of teaching and college counseling experience and is passionate about helping students achieve their goals and improve their well-being. She graduated magna cum laude from Tufts University and scored in the 99th percentile on the SAT.
Get Free Guides
to Boost Your SAT/ACT