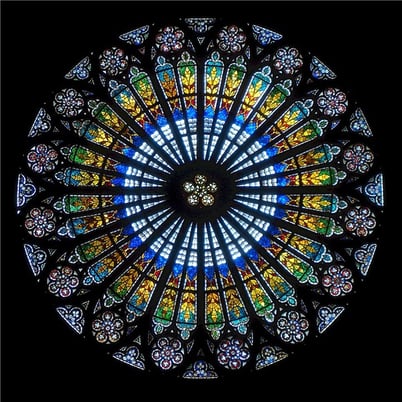 It's difficult to know where to start when studying for the AP World History test. The few months you have to study for the class are dwarfed by the thousands of years of history covered by the curriculum. The good news is that the AP exam mainly asks you to look at long-term trends rather than minute details, so it's not as daunting to review for as you might think. In this guide, I'll give a brief overview of the test content, lay out a template for a successful AP World History review plan, and provide some essential study strategies for making the most of your prep time.
What's on the AP World History Exam?
The AP World History Exam covers five themes that stretch across six historical periods. For links to notes that go through all the content, you can visit my article that deals specifically with AP world history notes.
The Themes Are:
Theme 1: Interaction Between Humans and the Environment

Theme 2: Development and Interaction of Cultures

Theme 3: State-Building, Expansion, and Conflict

Theme 4: Creation, Expansion, and Interaction of Economic Systems

Theme 5: Development and Transformation of Social Structures
The Historical Periods Are:
Period 1: Technological and Environmental Transformations, Before c. 600 B.C.E.
Big Geography and the Peopling of the Earth

The Neolithic Revolution and Early Agricultural Societies

The Development and Interactions of Early Agricultural, Pastoral, and Urban Societies
Period 2: Organization and Reorganization of Human Societies, 600 B.C.E. - 600 C.E.
The Development and Codification of Religious and Cultural Traditions

The Development of States and Empires

Emergence of Transregional Networks of Communication and Exchange
Period 3: Regional and Transregional Interactions, 600 - 1450
Expansion and Intensification of Communication and Exchange Networks

Continuity and Innovation of State Forms and Their Interactions

Increased Economic Productive Capacity and Its Consequences
Period 4: Global Interactions, 1450 - 1750
Globalizing Networks of Communication and Exchange

New Forms of Social Organization and Modes of Production

State Consolidation and Imperial Expansion
Period 5: Industrialization and Global Integration, 1750 - 1900
Industrialization and Global Capitalism

Imperialism and Nation-State Formation

Nationalism, Revolution, and Reform

Global Migration
Period 6: Accelerating Global Change and Realignments, 1900 - Present
Science and the Environment

Global Conflicts and Their Consequences

New Conceptualizations of Global Economy, Society, and Culture
Here's a chart that shows how much each historical period will show up on the multiple-choice portion of the exam:
| | |
| --- | --- |
| Historical Period | Percentage of Multiple Choice Questions |
| Before 600 B.C.E. | 5 |
| 600 B.C. - 600 C.E. | 15 |
| 600 - 1450 | 20 |
| 1450 - 1750 | 20 |
| 1750 - 1900 | 20 |
| 1900 - Present | 20 |
Note that eighty percent of the multiple-choice section will ask about events in world history that occurred after 600 C.E. There's a lot of information packed in here. How can you actually start reviewing for the AP test? In the next section, I'll give you some advice on how to create a study plan that will get you the best score possible!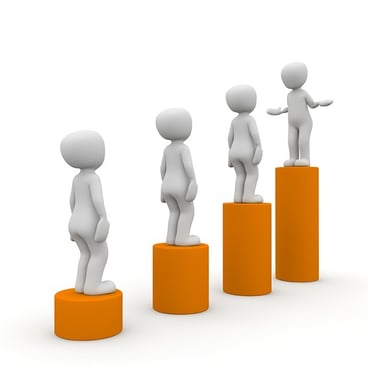 This represents your progression towards a 5 as you go through the review plan. Hopefully, you'll end up less arrogant than the dude on the tallest pillar, though. He needs to tone down the attitude.
AP World History Review Plan
Here's a step-by-step review plan for the AP World History exam that will get you on the right track with your studying.
Step 1: Take and Score a Diagnostic Test
The first step in your review should be taking a full practice test
to see where you're scoring on the AP scale.
Based on your scores, you can set a goal for yourself and make study plans that fit with the amount of work you need to do to improve.
When you take this test, you should adhere to the time guidelines set by the real exam:
55 minutes for the 55 multiple-choice questions

50 minutes for the four short-answer questions

55 minutes for the document based question

35 minutes for the long essay questions
It's a challenge to write this fast, so you should get used to it as soon as possible. Also, circle any multiple-choice questions where you weren't entirely sure of the answer. Even if you get them right, you should still review the content.
If you find you're in the lower range for a certain AP score, you should continue to work on your skills even if you're satisfied with that score. The curve tends to get tougher over time, so the calculator gives a slightly inflated score estimate.
Step 2: Analyze Your Mistakes
After you take and score your test, go through your mistakes and detect any issues you had with the material. Categorize your mistakes by era so that you can get a better idea of what you need to study. Note any patterns that occurred. Were you especially rusty in one geographic area? Did questions dealing with particular themes give you the most trouble? Take this step very seriously because it will get you on the right track with your studying going forward!
Step 3: Study Relevant Content Areas
Now that you've gone through your mistakes, it's time to dive back into your notes and review whatever you forgot. Work your way through all the gaps in your memory that manifested themselves on the test. Make sure that you're absorbing the information and not just reading it over. Follow the tips in the previous section on looking for larger themes, and check in with yourself after each section of notes to make sure what you learned didn't fall out of your brain immediately.
Step 4: Essay Dress Rehearsal
The next step before taking another practice test is to do a little essay rehearsal. I'll reemphasize the importance of practicing essay writing skills in the upcoming strategy section, but I also think they warrant their own step in the study process. Just knowing the information won't guarantee you a high essay score if you write too slowly or aren't prepared to connect specific examples with trends and themes. Take a look back at your first test, and note the strengths and weaknesses of your essays. Try to write new essays (or essay outlines) that improve on your original essays and would score higher based on the AP guidelines.
Step 5: Take Another Practice Test
Finally, take another practice test to see whether all that studying paid off! If you find that you're happy with your new score, you can take a break and just do a few light review sessions before the test. If you're still unsatisfied, you can repeat the study process again using the results of this test.
If you find that you haven't improved from the first test, you need to reexamine your study methods and your analysis of incorrect answers. You may have been distracted during part of the process or read through your notes too quickly without understanding them on a deeper level. Attention to detail is key if you want to see big improvements!
Here's an estimate of the timeline for these five steps:
Step 1: 3.5 hours

Step 2: 1 hour

Step 3: 2 hours

Step 4: 2 hours

Step 5: 3.5 hours
That's a total of around 12 hours for one cycle of this process. It's well worth your time to go through it at least once if you're dedicated to earning a great score!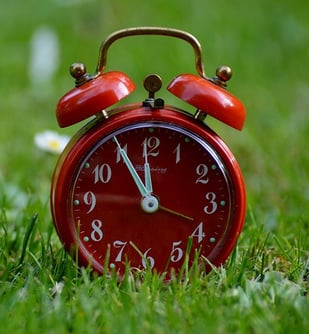 Twelve hours is but a blink of an eye compared to the whole of human history! Try not to think about that too much.
AP World History Review Tips and Strategies
These are three of the most important strategies to keep in your back pocket as you review. Check out this article to find additional study tips for AP World History!
Strategy #1: Don't Try to Memorize Everything
The main thing you should know about AP World History, before you start reviewing, is that you're not expected to memorize tons of specific dates or the names of every ruler of every empire in history. Don't fill up valuable space in your memory with minute details that most likely won't come up on the test.
You should have a good idea of how major events have progressed chronologically in each region throughout history, but there's no need to get into the nitty gritty of less prominent names and places. Study the same way you might read Lord of the Rings (I assume you've done this if you're truly a nerd): Skim over the insane names of minor characters and places that are peripheral to the main storyline, but hold onto key details that will allow you to make logical sense of the plot as you progress through the book.
Strategy #2: Look for the Themes
A strong understanding of the five themes and the ability to connect them to events throughout history is the key to doing well on this test. As you study content, think back to how the themes might play into the reasons for shifts in political dynamics, cultural developments, or other trends. This can help you to come up with supporting examples to use in your free-response essays. The essays will ask you to explain changes over time and compare different societies. The course themes are great jumping-off points for your essays that will help you explain how events are connected and why societies have adopted different values or political systems.
Strategy #3: Practice Essay-Writing Skills
I want to doubly emphasize the fact that the free-response section is your most challenging obstacle to a high score on AP World History. Two essays in an hour and a half is no easy task, even for the best writers! That's why it's critical to practice plenty of essays before you sit down to take the real test.
If you're short on time, you don't have to practice full essays. However, you should at least write a thesis and then outline how you would support it with specific examples. For the DBQ, which many students find to be the most challenging question on the test, look at questions from past exams, and think about how you would weave together your analysis of all the documents. Here's some more information on the DBQ and what you need to include in your answer to get a high score.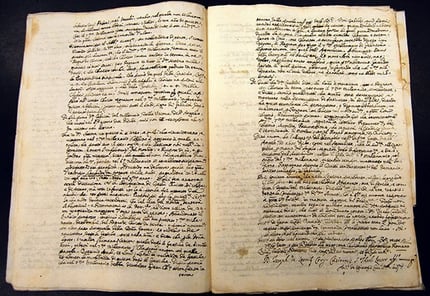 Just be thankful that you don't have to read the original documents. Most of these things are so illegible that I wouldn't be surprised if we were completely wrong about certain parts of our history.
Conclusion
Reviewing for AP World History doesn't have to be a super stressful experience. Despite the fact that the exam covers a huge amount of content, it's also pretty forgiving if you happen to forget some of the minor historical players. Themes and long-term trends are the focus of both the course and the exam.
To recap, this is the process I recommend for conducting your review:
Step 1: Take and Score a Diagnostic Test
Step 2: Analyze Your Mistakes
Step 3: Study Relevant Content Areas
Step 4: Essay Dress Rehearsal
Step 5: Take Another Practice Test
As you go through these steps, some strategies to keep in mind are:
#1: Don't Try to Memorize Every Little Detail
#2: Look for the Themes
#3: Practice Essay Writing Skills Regularly
As you do more practice and start to get used to the format and content of the test, you'll see that a 5 is definitely within reach if you put in a strong effort!
What's Next?

If you're taking AP World History as an underclassman, you're probably still planning out the rest of your high school schedule. Read this article for advice on which AP classes you should take based on your school's offerings and your goals for college.
Are you bummed that your high school doesn't offer an AP class that you're interested in taking? Learn more about AP self-studying so you can decide whether it's the right choice for you.
You may end up taking SAT Subject Tests in addition to AP tests if you're applying to very competitive colleges. Check out this article for the inside scoop on which type of test is more important for college applications.
Want to improve your SAT score by 160 points or your ACT score by 4 points? We've written a guide for each test about the top 5 strategies you must be using to have a shot at improving your score. Download it for free now:
Have friends who also need help with test prep?
Share this article!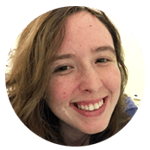 About the Author
Samantha is a blog content writer for PrepScholar. Her goal is to help students adopt a less stressful view of standardized testing and other academic challenges through her articles. Samantha is also passionate about art and graduated with honors from Dartmouth College as a Studio Art major in 2014. In high school, she earned a 2400 on the SAT, 5's on all seven of her AP tests, and was named a National Merit Scholar.
Get Free Guides
to Boost Your SAT/ACT