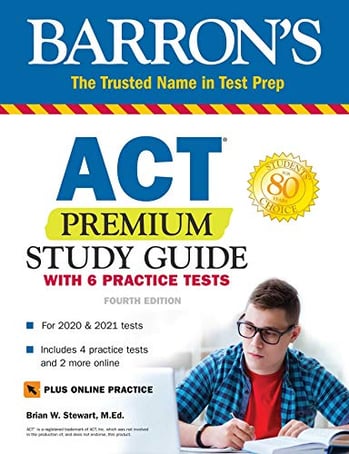 Barron's ACT is one of many books available in Barron's lineup of test prep resources. Since there are so many to choose from, you want to make sure you choose the specific Barron's test prep guide that will mesh with your test prep needs.
In this article, we'll give you a full review of Barron's ACT to help you understand what unique features this Barron's ACT book offers. Our review will cover the following:
What Barron's ACT is
What content is provided in this Barron's ACT book, chapter by chapter
Six pros and cons of the book
How to decide if using this Barron's ACT book would be a good fit for you.
Now, let's dive in!
What Is Barron's ACT?
Barron's ACT Premium provides a thorough review of every section of the ACT, and it includes high-quality practice materials to help readers prepare for the exam.
For each ACT subject area (Math, Reading, Writing, Science, and English), Barron's ACT Premium provides plenty of sample questions with explanations, and the three practice tests included at the end of the book are accompanied by an answer key and in-depth explanations of correct answers.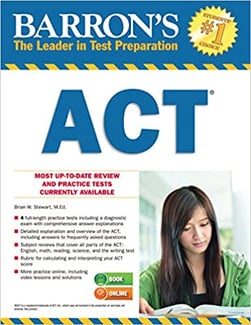 There are actually two versions of the Barron's ACT study guide: the standard and the premium edition. Read on to learn about the differences.
Barron's ACT Premium vs. Barron's ACT Standard Version
If you've been looking for ACT prep books, then you've probably discovered that there are actually two versions of the Barron's ACT book: a standard Barron's ACT book and the Barron's ACT Premium study guide. The two biggest differences between these editions are the number of practice tests and the more "customizable" book content.
Unlike the standard edition of Barron's ACT study guide, the Barron's ACT Premium includes two additional practice exams. While these aren't in the printed book, you'll be able to access them online!
Also, the premium edition labels some of its practice questions—especially the passage-based ones—as "easy," "medium," and "hard." That way you can customize your study plan and work your way up to practicing more difficult skills once you've mastered the foundations.
Despite these small differences, the nice thing is that the two books are pretty similar in terms of cost. The standard Barron's ACT book costs about $18 on Amazon for a physical copy (there's no eBook available). Barron's ACT Premium costs about $20 on Amazon. The premium eBook edition is just a bit more expensive, coming in around $23.
So which should you get? Well, it depends. If you want more hands on practice and guidance in customizing your study plan, then go with the premium guide. But if you're just looking for a solid test book to get you through the ACT, then the standard Barron's ACT will work for you!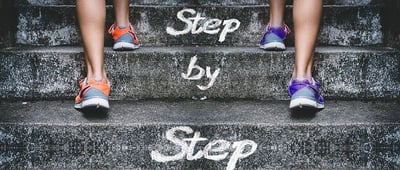 Not all ACT study resources are equal...at least when it comes to meeting your unique needs. We're breaking down the content of Barron's ACT guide so you can figure out if it's a good fit for you.
Full Breakdown of Barron's ACT
This Barron's ACT book is broken up into eight main sections: Introduction, Diagnostic Test, English section, Mathematics section, Reading section, Science section, Writing section, and Practice Tests.
Our Barron's ACT prep review below gives an overview of the most important aspects of each of these sections in order to help you decide if Barron's ACT is the best study guide for you!
Barron's ACT Section 1: Introduction
The Introduction to this Barron's ACT book overviews the basics of the ACT by answering 17 frequently asked questions about the ACT. These FAQs cover everything from how to sign up for the ACT, to when and where readers should take the exam, to the different ways readers can use Barron's ACT to prepare for the ACT.
Additionally, the authors provide four "big ideas" that readers can use to overcome their worries and develop strategies to succeed on the ACT. These four big ideas form the foundation for the test taking strategies, advice, and in-depth explanations that are provided in the remaining sections of the book.
Barron's ACT Section 2: Diagnostic Test
The Introduction is followed by a Diagnostic Test. The purpose of the Diagnostic Test is to help students assess how prepared they are for the ACT and identify problem areas. Students can then use their results to create a custom, targeted study plan so that they can improve their test score as much as possible.
Barron's ACT Section 3: ACT English
The first subject that Barron's ACT reviews is ACT English. To help readers prepare for the content that will appear on ACT English, this chapter provides a grammar review with short sections dedicated to concepts that will definitely appear on the ACT. These concepts include sentence basics, number agreement, punctuation, possession, tense, parallelism, transitions, wordiness, word order, illogical comparisons, and proper wording.
The chapter wraps up with explanations for ten useful ACT English strategies and examples of how to apply these strategies in context. Readers can practice applying these strategies as they complete the sample ACT English passage at the end of this section.
Many students find the ACT Math section tricky. Luckily, Barron's ACT has a whole section dedicated to helping you improve your math score.
Barron's ACT Section 4: ACT Mathematics
This chapter focuses on a combination of skill development and strategy. The authors cover concepts pertaining to Pre-Algebra, Elementary Algebra, Intermediate Algebra, Plane Geometry, Coordinate Geometry, Trigonometry, and Statistics and Probability. They also spend more time on the topics that are most common on the ACT so that you're working on the skills that will give you the biggest score bump.
For each concept in each subject area, this chapter provides a one-paragraph description of what the concept means, then provides practice questions and answers for each concept. Following the overview of each math topic, this chapter provides additional practice questions that increase in level of difficulty.
Barron's ACT Section 5: ACT Reading
After providing the basic facts about how ACT Reading works, this chapter teaches students an efficient method for tackling problems on this section of the ACT. This methodology provides simple steps for time management, focused reading, and picking the right answer using logic.
The chapter on ACT Reading concludes with practice passages and questions, and includes guidance on how to answer the questions correctly. This section gives students practice with the most common types of questions found on the ACT Reading test, like: meanings of words questions, supporting details questions, generalizations and conclusions questions, main ideas and author's approach questions, and comparative questions.
Barron's ACT Section 6: ACT Science
The ACT Science section can seem tricky to some test takers. This section helps students overcome that problem by covering the types of source material that will appear on ACT Science: Data Representation, Research Summary, and Conflicting Viewpoints. The chapter goes on to give students three strategies for reading the three types of science passages.
Barron's ACT also provides sample passages for each type of source material, breaking down what readers should glean from their reading of each passage. For each passage and practice question, the book provides a brief description of the correct answer, and how readers can arrive at the correct answers.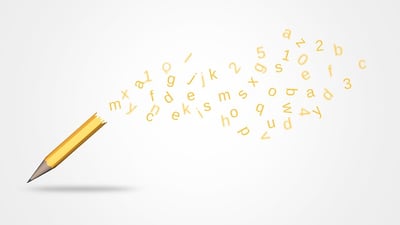 While the ACT Writing section is optional, your university may require that you take it. If so, it's important that you get a good score.
Barron's ACT Section 7: ACT Writing
This chapter discusses methods that readers can use to strengthen their ACT Writing skills in the following areas: prewriting, thesis writing, examples and description, evaluating complexity and other viewpoints, and wording and sentence structure. It also walks students through a perfect essay and explains what makes it rise above the rest!
The Barron's ACT chapter on ACT Writing also includes some practical strategies for success, like effectively managing your time, practicing a full essay several times before test day, and drawing upon your own knowledge to create in-text examples.
Barron's ACT Section 8: Practice Tests
The last major section of Barron's ACT consists of the three full-length practice exams. Each practice test is formatted as similarly to the real ACT as possible and is followed by a full answer key.
For each practice test, there is also a set of answer explanations that readers can use to understand why they got a question or wrong and how to arrive at the correct answer next time.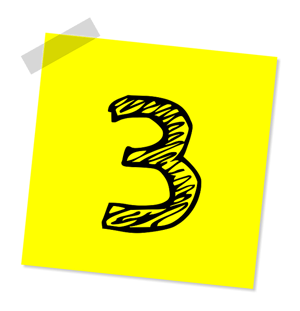 3 Pros of Using Barron's ACT for ACT Prep
Next, let's boil down this Barron's ACT book to its most appealing qualities and its main weaknesses by looking at six pros and cons of the book.
Pro 1: Major Worries Are Addressed Head-On
Every student who prepares for the ACT is a little anxious going into the exam. This Barron's ACT book anticipates the core worries of their readers and helps students conquer them.
To help readers build their test taking confidence, Barron's ACT gives students four "big ideas" that sum up what to do when your ACT anxiety starts peaking. These big ideas offer practical advice and real steps that students can take to help them find a path to success on the test.
Pro 2: It Helps You Make a Targeted Study Plan
If you've been reading our blog, you're probably aware that the best way to maximize your ACT study time is by analyzing your strengths and weaknesses as a test-taker before you study for the exam.
But trying to figure out where you struggle on your own can be challenging. The Barron's ACT diagnostic test helps you zero in on the areas where you need the most work. Carving out your ACT prep "study niche" can actually help you approach your study methods in ways that will help you personally get everything you can out of your studying.
And of course, maximizing your ACT prep will also help you boost your score!
Pro 3: The Authors Think Like a Test-Taker
One of the best things about Barron's ACT is that the authors show their ability to think like a test-taker right off the bat. The book teaches you skills you should know, but it also coaches you on strategies and approaches that will help you on test day.
Keep in mind that even the smartest student who knows everything may not do well on the ACT if they aren't familiar with the test format, the content covered by the test, or how to approach the ACT's tricker or more unusual questions. The balance between instruction and strategy make this book really shine.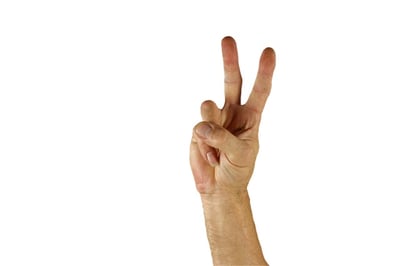 2 Cons of Using Barron's ACT for ACT Prep
There is a lot to like about Barron's ACT. But that doesn't mean it's perfect! Here are two drawbacks you should know about before you commit to using this book for your ACT prep.
Con 1: It's Super Long
Clocking in at over 850 pages, Barron's ACT is...well, it's long.
Students who are already intimidated by the ACT might find this study guide is too intensive for their needs. It can be a bit overwhelming to try and figure out how to use the book without reading it cover to cover, so if you're unfamiliar with the ACT or already nervous about ACT prep, then this might not be the book for you.
Students who have already prepped for the ACT and are looking to boost their score another few points may also find this guide has too much information. If you're really trying to home in on one specific subject, like Science or English, then it might make more sense to pick up a smaller, more focused study guide instead.
Con 2: The Practice Questions Can Be Overwhelming
The Barron's ACT study guide includes a lot of practice questions in every section. In fact, most major concepts have practice questions attached in order to reinforce what you've learned!
While admittedly thorough, the variety of practice questions in each subject area section might come across as overkill to some studiers, especially given the fact that the book provides three practice tests at the end. For instance, the ACT Science section provides six practice passages, ranging from "easier," to "medium," to "harder" difficulty levels. Plus, the answer explanations that accompany each practice passage can go on for several pages.
The detailed nature of the practice questions provided in Barron's ACT may be an appealing feature to some students, but for those whose ACT study mantra is "less is more," this guide might not work.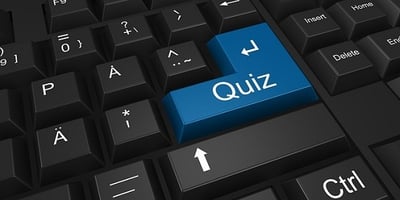 How to Figure Out If This Book Is Right for You
If you still need some help determining whether Barron's ACT is a good fit for your ACT prep needs, take this five question quiz to decide. For each question, answer with a "yes" or a "no":
Do you need help crafting an ACT study plan and ongoing guidance for customizing your studies?
Are you looking for a comprehensive study resource for all five ACT subject areas?
Are you seeking advice for managing test anxiety?
Do you want to optimize your test-taking mindset?
Are you looking for a test prep book that anticipates your questions before you ask them and provides well-reasoned, contextualized answers to all ACT-related FAQs?
If you answered "yes" to most or all of the questions above, Barron's ACT is likely to make a worthwhile addition to your test prep arsenal. This book has a lot to offer, but it's probably best suited for students who are searching for a wealth of advice, guidance, and a comprehensive look at ACT content.
Barron's ACT Prep Review Summary
To wrap up this Barron's ACT prep review, let's go over the four main takeaways.
#1: This Guide Is Thorough
Barron's ACT is designed for students who require a thorough review of all ACT content and extensive, guided practice. The book has a section dedicated to each subject, and there are plenty of practice problems and practice tests to help you build your skills.
#2: You'll Target Your Weak Areas
This book includes a diagnostic test to help readers identify their problem areas so they can create a structured study plan. Targeting your weakest areas can help you increase your score, and the diagnostic test is a fantastic tool for zeroing in on where you need the most help.
#3: There's Even More Customization
Each subject area section includes several practice questions, answers, and detailed explanations, organized by easy, medium, and hard difficulty levels to help students customize their study plans.
#4: You Get Online Resources, Too
Barron's ACT provides additional online resources with purchase of the book, including two more online practice tests. The online sources are great for students who are on the go, too. Instead of hauling your book around, you can access the online resources to keep on top of your studying, too.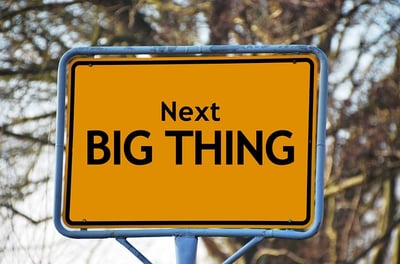 What's Next?
If you're looking for more ACT guidebooks to choose from, we've got you covered.
If you're applying to really competitive schools, then you'll need to knock the ACT out of the park.
A good place to start is learning from someone who's been there, done that. Check out our guide to making a 36 on the ACT, written by a perfect scorer.
We also have free ACT study resources that are designed to help you work on your problem areas. For instance, if you struggle with math, don't miss this breakdown of the 31 ACT Math formulas you should know. And if the ACT Reading section keeps tripping you up, make sure you check out this strategy guide that explains how to raise your score!
Want to improve your ACT score by 4 points?
Check out our best-in-class online ACT prep program. We guarantee your money back if you don't improve your ACT score by 4 points or more.
Our program is entirely online, and it customizes your prep program to your strengths and weaknesses. We also have expert instructors who can grade every one of your practice ACT essays, giving feedback on how to improve your score.
Check out our 5-day free trial:
These recommendations are based solely on our knowledge and experience. If you purchase an item through one of our links, PrepScholar may receive a commission.
Have friends who also need help with test prep?
Share this article!
About the Author
Ashley Sufflé Robinson has a Ph.D. in 19th Century English Literature. As a content writer for PrepScholar, Ashley is passionate about giving college-bound students the in-depth information they need to get into the school of their dreams.
Get Free Guides
to Boost Your SAT/ACT