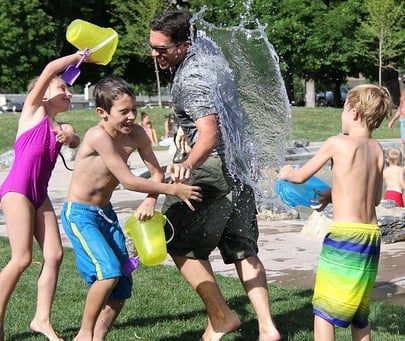 Your backyard provides endless opportunities for fun, learning and creativity, but coming up with actual backyard games and activities can be tough. We're here to help! In this guide, we've compiled 24 of the best backyard activities and backyard games for kids of all ages to enjoy. Want to take a swing at a water balloon pinata? Create a tiny picnic table for squirrels? Lounge on a giant water blob? We'll tell you how!
Best Backyard Games for Kids
These backyard games can be played with children of various ages. Most include minimal setup yet hours of outdoor fun. Difficulty level and messiness are ranked, although each of these is doable without too much setup or mess.
Adding a fun summer twist to the birthday party standard, these water balloon pinatas are easy to make and are easier to whack than traditional pinatas (some of those guys seem reinforced with steel!). Just tie a bunch of water balloons to a length of twine or rope, hang, and have at it!
Difficulty Level: Easy
Messiness: Medium
Have some empty glass bottles you want to turn into a fun backyard game? Make a bottle ring toss! Group the bottles in a crate, get some rings of various sizes, and try to throw one over the neck of one of the bottles. Turn it into an art project as well by decorating the bottles, crate, and/or rings.
Difficulty Level: Easy
Messiness: Low
This may be the most fun you have in your backyard. Create a "mud run" (a messier version of an obstacle course) using hula hoops, caution tape, benches, etc. It's easy to tailor this game to the materials you have (and the amount of mess you want to make). Hand out medals to each of the "race participants" after they complete the course.
Difficulty Level: Hard
Messiness: High
You can go bowling in your own backyard! Roll out a yoga mat to use as the lane, then set up ten "pins" to bowl for. This example uses cut down pool noodles (which are great for younger kids because they're easier to knock over), but you can also use plastic bottles, tin cans, etc. Feel free to number and decorate the pins to further customize your backyard bowling games.
Difficulty Level: Easy
Messiness: Low
Horseshoes is a great game for older kids because it's easy to learn but requires skill and concentration to get the rings exactly where you want. Your horseshoe game can be as simple as driving a stake into the ground and tossing horseshoes (metal or plastic), or you can take things up a notch and create regulation-standard horseshoe pits with sand and frames. Either way, you're in for hours of fun!
Difficulty Level: Medium
Messiness: Low
The point of Twister is that you'll eventually fall over, and isn't it better to land on a smooth lawn compared to a hard wooden or tile floor? Take Twister outside and turn it into lawn Twister! Use temporary spray paint or homemade cornstarch paint to make the colored circles, and you're ready to play! This version also eliminates the worst part of Twister: when the mat would get all tangled around your feet and you'd have to stop the game to straighten it out again.
Difficulty Level: Easy
Messiness: Medium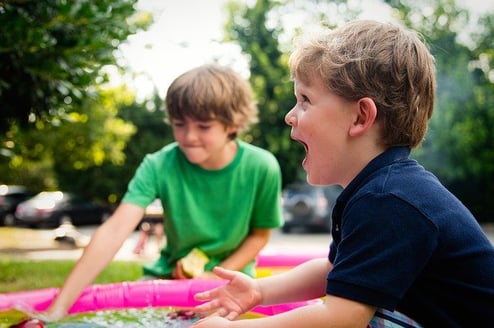 This is a fun carnival-themed game people of all ages can enjoy. Set up a line of golf tees, place ping pong balls on top of each one, and use squirt guns to see who can knock theirs off the tees fastest!
Difficulty Level: Easy
Messiness: Medium
Have some Harry Potter fans? They'll love this Quidditch pitch you can create in your own backyard. With just some hula hoops, planks of wood, and a bit of hammering, you'll soon have Quidditch rings. Round out the game with volleyballs, balloons, golf balls, etc. to stand in for quaffles, bludgers, and golden snitches you need to play your game. Brush up on Muggle rules, get on your broom, and get ready to earn the Quidditch Cup!
Difficulty Level: Hard
Messiness: Low
How can you make Bananagrams more fun to play? Make it giant! You can create a backyard version of the favorite game by writing letters on pieces of cardboard or paper you laminate. Begin your game by throwing the "tiles" on the grass, and get ready for all your neighbors to be impressed by the words you create on your lawn.
Difficulty Level: Easy
Messiness: Low
You can turn a plain garden hose into a fun sprinkler with just a pool noodle! Poke some holes in the pool noodle(s), secure the hose with duct tape, and you'll have a homemade sprinkler shooting water all over the place. You can get extra elaborate here too, and use multiple pool noodles to create a mini water park in your backyard.
Difficulty Level: Medium
Messiness: High
This classic game really couldn't be easier to set up. Give each child a sack (pillowcases and sleeping bags also work well), set a finishing point, line them up, and they're off! See who can hop across the track fastest.
Difficulty Level: Easy
Messiness: Low
Bean bags can be used for a variety of games you can alter depending on the number of players you have and their accuracy skills. Sew up a few bean bags, make something to aim for (whether that's a row of paper plates, a basketball hoop, etc.), and see who can get closest!
Difficulty Level: Medium
Messiness: Low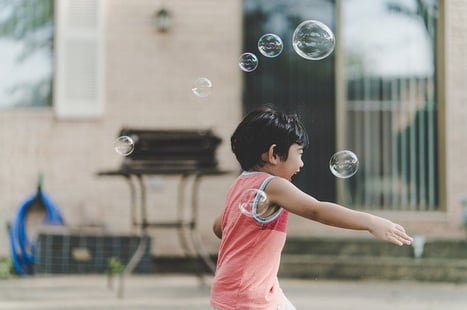 Best Backyard Projects for Kids
As opposed to games with set rules and winners, these backyard projects are more open-ended. They'll encourage children's creativity and interest in what's going on right in their own yard.
Kids love blobs; it's a proven fact. So they're sure to go wild over this giant water blob you can create in your backyard. All it takes is plastic sheeting, strong tape, and a hose to fill it with water.
Difficulty Level: Medium
Messiness: Low (just be sure to tape it well!)
For any child immersed in make-believe (and which kids aren't?), fairy gardens will be a magical addition to your backyard. Anything tiny works here: doll furniture, birdhouses, little pebbles, etc. Gather your supplies, select a pot or area of the garden to create the fairy world, and see what your child creates.
Difficulty Level: Easy
Messiness: Low
Chalkboards are fun and a great way to get kids drawing and writing, but the mess they make can "erase" any of those good times. The solution? Move them outside so your home doesn't need to contend with chalk dust. The additional space also means you can make the chalkboard giant. All you need to do is paint some boards or other smooth surface with chalkboard paint, and you're ready to go.
Difficulty Level: Medium
Messiness: Medium
Squirrels are pretty cute on their own, but imagine them sitting down for a snack at their very own tiny picnic table. You can put one in your backyard, along with a helping of their favorite food (peanuts are popular). The picnic tables are easy to make for anyone with woodworking skills (it's also a great beginner woodworking project), or you can buy one online, from a site like Etsy.
Difficulty Level: Easy to Medium
Messiness: Medium
This homemade solar oven definitely requires some adult help to set up, but after it's ready you'll have your own mini oven. It'll use energy from the sun to make s'mores or melt cheese on pizza. While the food is cooking, you can explain to kids how the oven uses the sun's rays to heat the food.
Difficulty Level: Hard
Messiness: Medium
Too cold to go swimming in the kiddie pool? Transform it into a comfy lounge area, perfect for reading or watching movies in the backyard. Just inflate it as usual, then fill it with a bunch of pillows and blankets for a comfy chill-out spot.
Difficulty Level: Easy
Messiness: Low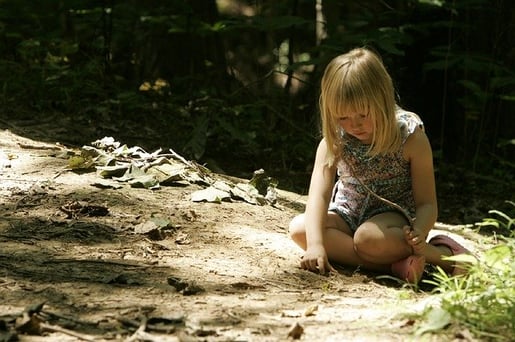 For those who don't have camping sites nearby, or who want to try something closer to home before taking kids on a full-fledged camping trip, have a backyard campout. Pitch the tent in the backyard, add activities like roasting marshmallows and campfire songs, and you're set.
Difficulty Level: Medium
Messiness: Low
Elevate standard sidewalk chalk by swapping it out for puffy sidewalk paint! The paint only requires 3 ingredients, and it's non-toxic and washable. Fill up some squirt bottles, and turn your sidewalks into works of art!
Difficulty Level: Easy
Messiness: High
Bubbles as big as your child? It's possible, and easy to do! Combine water, dish detergent, cornstarch, baking soda, and glycerin, then find (or make) some giant bubbles wands and watch these bubbles laze across the lawn.
Difficulty Level: Easy
Messiness: Medium
Not only is making a vegetable garden fun, it's been found to encourage healthy eating habits in kids as they eat what they grow. The link explains some of the easiest vegetables to grow, so you're sure to get a bountiful harvest.
Difficulty Level: Easy
Messiness: Medium
This is one of the cutest summer arts and crafts out there. Kids will love being able to choose the colors of their boat and sail, and they'll be even more excited when they get to see their ice cube boat bobbing in the water. Have ice cube boat races, try to guess where the wind will blow them, or try to predict which boat will stay afloat the longest.
Difficulty Level: Easy
Messiness: Low
Sure you could just leave some birdseed out for the birds, but why not step it up and make a craft both kids and feathered friends will enjoy? There are lots of DIY ideas for bird feeders, but we love this one because all the materials it uses are biodegradable, so the Earth loves it too.
Difficulty Level: Easy
Messiness: Medium
Summary: Best Backyard Games
The best backyard games for kids are simple to organize and provide hours of fun. Whether you want to keep a large group occupied with a competitive game, teach your kids about science and the natural world, or encourage their creativity, backyard activities are a great way to achieve this.
What's Next?
Need a mood booster? We're here to help! Check out our 119 favorite jokes for a guaranteed laugh.
A great family-oriented game you can play is This or That. Not sure how to play? Our expert guide will get you started.
Want to get kids writing? We have 57 writing prompts of all types to get those creative juices flowing.
Have friends who also need help with test prep?
Share this article!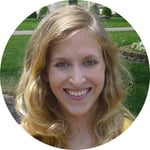 About the Author
Christine graduated from Michigan State University with degrees in Environmental Biology and Geography and received her Master's from Duke University. In high school she scored in the 99th percentile on the SAT and was named a National Merit Finalist. She has taught English and biology in several countries.
Get Free Guides
to Boost Your SAT/ACT