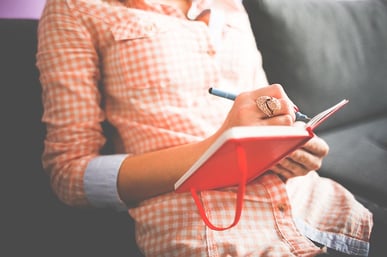 Finding a dedicated creative writing program at a school you're excited about can be a real challenge, and that's even before you start worrying about getting in. Nonetheless, there are some great options. In order to help you find the best school for you, this list rounds up some of the best colleges for creative writing in the United States.
The Best Creative Writing Programs: Ranking Criteria
You should never take college rankings as absolute truth—not even the very official-seeming US News ones. Instead, use these kinds of lists as a jumping-off place for your own exploration of colleges. Pay attention not just to what the rankings are but to how the rankings are determined.
To help with that, I'll explain how I came up with this highly unscientific list of great creative writing colleges. I started by narrowing my search down to schools that offered a specific creative writing major. (If you don't see a school you were expecting, it's likely because they only have a minor.)
In ranking the schools, I considered five major criteria:
#1: MFA Ranking—If a school has a great graduate creative writing program, it means you'll be taught by those same professors and the excellent graduate students they attract. Schools with strong MFA programs are also more likely to have solid alumni networks and internship opportunities. However, many schools with great undergrad programs do not offer MFAs, in which case I simply focused on the other four options.
#2: General School Reputation—The vast majority of your classes won't be in creative writing, so it's important that other parts of the school, especially the English department, are great as well.
#3: Extracurricular Opportunities—One of the key advantages of majoring in creative writing is that it can provide access to writing opportunities outside the classroom, so I took what kind of internship programs, author readings, and literary magazines the school offers into consideration.
#4: Diversity of Class Options—I gave extra points to schools with a variety of genre options and specific, interesting classes.
#5: Alumni/Prestige—This last criterion is a bit more subjective: is the school known for turning out good writers? Certainly it's less important than what kind of education you'll actually get, but having a brand-name degree (so to speak) can be helpful.
The Best Creative Writing Schools
Now, let's get to the good stuff: the list of schools! The exact numbering is always arguable, so look at it as a general trend from absolutely amazing to still super great, rather than fixating on why one school is ranked #3 and another is ranked #4.
Northwestern's undergrad creative writing program boasts acclaimed professors and an unparalleled track record of turning out successful writers (including Divergent author Veronica Roth and short-story writer Karen Russell).
Outside the classroom, you can work on the student-run literary journal, intern at a publication in nearby Chicago, or submit to the Department of English's yearly writing competition. The university is also home to a top journalism program, so if you want to try your hand at nonfiction as well, you'll have plenty of opportunities to do so.
Like Northwestern, Columbia is home to both a world-class creative writing program and a top journalism school (plus one of the best English departments in the country), so you have a wide range of writing-related course options. Columbia also benefits from its location in New York City, which is bursting at the seams with publishing houses, literary journals, and talented authors.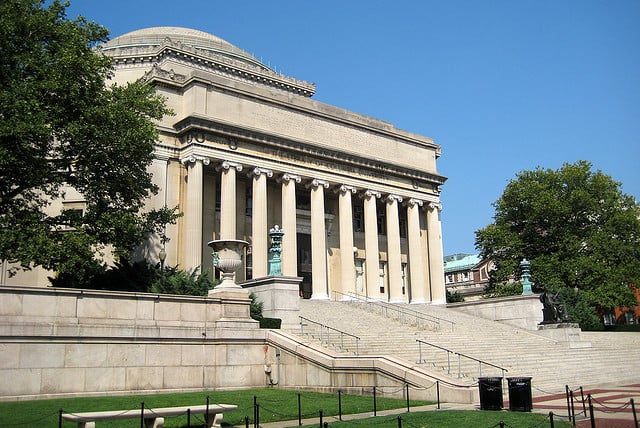 Columbia University's Low Library (Wally Gobetz/Flickr)
The University of Iowa's big draw is the infrastructure of its graduate Writers' Workshop, which is often considered the best MFA program in the country.
As an English and Creative Writing major here, you'll take classes from great young writers and established professors alike, and get to choose from a wide range of topics. This major provides transferable skills important for a liberal arts major with a creative focus. You'll also have access to the university's impressive literary community, including frequent readings, writing prizes and scholarships, and the acclaimed literary journal The Iowa Review.
Emory is renowned for its dedicated undergrad creative writing program, which draws the very best visiting scholars and writers. Students here have the chance to attend intimate question-and-answer sessions with award-winning authors, study a range of genres, compete for writing awards and scholarships, and work closely with an adviser to complete an honors project.
A small liberal arts school in Ohio, Oberlin offers very different advantages than the schools above do. You'll have fewer opportunities to pursue writing in the surrounding city, but the quality of the teachers and the range of courses might make up for that. Moreover, it boasts just as impressive alumni, including actress and writer Lena Dunham.
Hamilton is another small college, located in upstate New York. It's known for giving students the freedom to pursue their interests and the support to help them explore topics in real depth, both inside and outside the classroom. Hamilton's creative writing program takes full advantage with small classes and lots of opportunities to intern and publish; it also has one of the best writing centers in the country.
Brown's Literary Arts program offers one of the top MFAs in the US as well as an undergraduate major. For the major, you must take four creative writing workshops and six reading-intensive courses, which span an array of departments and topics, from music and literature to Middle East studies and Egyptology.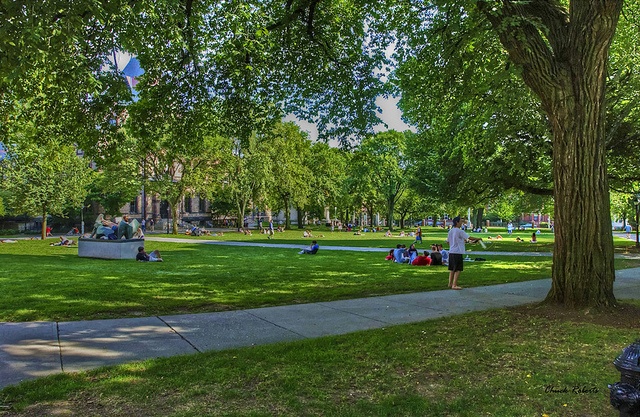 Part of Brown University's campus (Chuck Roberts/Flickr)
Washington University has an excellent creative writing MFA program, lots of super specific class options, and a number of scholarships specifically earmarked for creative writing students. This school's undergraduate English program also offers a concentration in creative writing that allows students to specialize in a specific genre: poetry, fiction, or creative nonfiction. If you're interested in exploring your potential in a specific writing genre, Washington University could be a great pick for you.
MIT might not be a school you generally associate with writing, but it actually has an excellent program that offers courses in digital media and science writing, as well as creative writing, and provides plenty of guidance on how graduates can navigate the tricky job market.
Not to mention the school is located in Cambridge, a haven for book lovers and writers of all kinds. Though it probably isn't a good fit for students who hate science, MIT is a great place for aspiring writers who want to build writing skills that are marketable in a wide range of industries.
#10: University of Michigan
University of Michigan is one of the best state universities in the country and has a top-notch MFA program. This school's undergrad creative writing sub-concentration requires students to submit applications for admittance to advanced creative writing courses. These applications give students crucial practice in both building a writing portfolio and articulating their interest in creative writing to an audience who will evaluate their work. If you're looking to attend a big school with a great creative writing major, this is a fantastic choice.
Johns Hopkins is another school that's known more for engineering than it is for writing, but, like MIT, it has a dedicated writing program. As a major here, you must take not only courses in prose, poetry, and literature, but also classes on topics such as philosophy and history.
Colorado College is a small liberal arts school known for its block plan, which allows students to focus on one class per three-and-a-half-week block. The creative writing track of the English major includes a sequence of four writing workshops and also requires students to attend every reading of the Visiting Writers Series.
I didn't include NYU in the main list because it doesn't have a dedicated creative writing major, but it's a great school for aspiring writers nonetheless, offering one of the most impressive creative writing faculties in the country and all the benefits of a Manhattan location.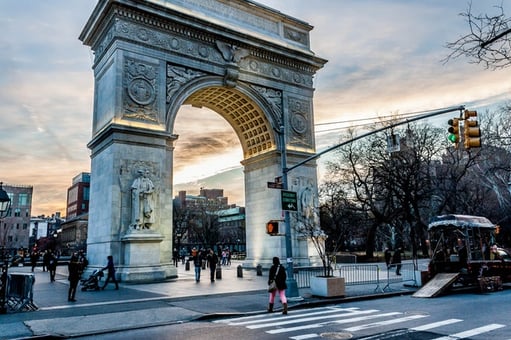 Washington Square Park at NYU
How To Pick the Best Creative Writing School for You
Just because Northwestern is a great school for creative writing doesn't mean you should set your heart on going there. (The football fans are completely terrifying, for one thing.) So where should you go then?
Here are some questions to ask yourself when looking at creative writing programs to help you determine the best school for you:
Does It Have Courses You're Interested In?
Look at the course offerings and see whether they interest you. While you can't predict exactly what classes you'll love, you want to avoid a mismatch where what you want to study and what the program offers are completely different. For example, if you want to write sonnets but the school focuses more on teaching fiction, it probably won't be a great fit for you.
Also, don't forget to look at the English courses and creative writing workshops! In most programs, you'll be taking a lot of these, too.
What Opportunities Are There To Pursue Writing Outside of Class?
I touched on this idea in the criteria section, but it's important enough that I want to reiterate it here. Some of the best writing experience you can get is found outside the classroom, so see what kind of writing-related extracurriculars a school has before committing to it.
Great options include getting involved with the campus newspaper, working on the school's literary journal, or interning at the university press.
Who Will Be Teaching You?
Who are the professors? What kind of work have they published? Check teacher ratings on Rate My Professors (but make sure to read the actual reviews—and always take them with a grain of salt).
If you're looking at a big school, there's a good chance that a lot of your teachers will be graduate students. But that's not necessarily a bad thing: a lot of the best teachers I had in college were graduate students. Just take into consideration what kind of graduate program the school has. If there's a great creative writing MFA program, then the graduate students are likely to be better writers and more engaged teachers.
What Are the Alumni Doing Now?
If you have a sense of what you want to do after you graduate, see if any alumni of the program are pursuing that type of career. The stronger the alumni network is, the more connections you'll have when it comes time to get a job.
What About the Rest of the School?
Don't pick a school for which you like the creative writing program but dread everything else about it. Most of your time will be spent doing other things, whether hanging out in the dorms, exploring off campus, or fulfilling general education requirements.
Many schools require you to apply to the creative writing major, so make doubly sure you'll be happy with your choice even if you aren't accepted to the program.
What's Next?
Are you sure a creative writing major is the right fit for you? Read our post on the pros and cons of the major to help you decide what path to take in college.
For more general advice about choosing a college, check out our complete guide to finding the right school for you. Some major factors to consider include deciding whether you're interested in a small college or a big university, an in-state or out-of-state institution, and a public or private school.
Want to improve your SAT score by 160 points or your ACT score by 4 points? We've written a guide for each test about the top 5 strategies you must be using to have a shot at improving your score. Download it for free now:
Have friends who also need help with test prep?
Share this article!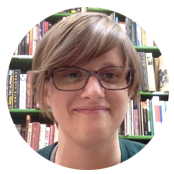 About the Author
Alex is an experienced tutor and writer. Over the past five years, she has worked with almost a hundred students and written about pop culture for a wide range of publications. She graduated with honors from University of Chicago, receiving a BA in English and Anthropology, and then went on to earn an MA at NYU in Cultural Reporting and Criticism. In high school, she was a National Merit Scholar, took 12 AP tests and scored 99 percentile scores on the SAT and ACT.
Get Free Guides
to Boost Your SAT/ACT