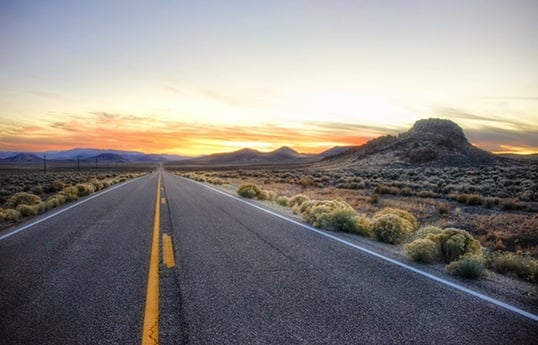 One of the most important decisions you'll make in the college research process is where in the country to focus your search. Going to school out of state has its benefits, but is an out-of-state college the right choice for you? In this article, I'll give you the general pros and cons of attending an out-of-state college and provide some guidance on whether you should apply.
What's the Difference Between Out-of-State and In-State Colleges?
Out-of-state colleges differ from in-state colleges mainly in the fact that they're, well, not in your home state. The term "in-state colleges" is primarily used to refer to public universities in your home state because this usually means a lower tuition price tag. For private colleges, in-state and out-of-state tuition are usually the same. The two main qualities that differentiate out-of-state colleges from in-state colleges are that out-of-state colleges are farther away from your hometown and more expensive than in-state colleges.
Pros and Cons of Out-of-State Colleges
Pros
You'll be able to explore a new area and get outside your comfort zone.
You'll meet more people from different backgrounds and be more incentivized to make new friends.
You'll have more independence and get a feel for what it's like to live on your own.
Tons of choices! If you're open to attending college out of state, you'll have a huge range of different types of schools to choose from and won't be limited by what your state offers.
Cons
You'll pay a higher tuition price for an out-of-state college than you would for an in-state public university.
You'll miss out on any savings you might get from living at home and commuting to an in-state school.
You'll be further away from home, so you won't be able to rely on your family for support as much or see your old friends as often.
You might feel isolated or lonely in an unfamiliar place.
Should You Go to an Out-of-State College?
Is an out-of-state college right for you? There's a couple of personal factors you should consider now that you understand the general positives and negatives.
First, how important is the cost of college to you and your family? Out-of-state tuition is usually pricier than in-state tuition. The average tuition price is $9,139 for in-state students and $22,958 for out-of-state students (both at public colleges). If you plan on attending a private college, however, in state and out-of-state tuition rates will be more similar. Discuss financing college with your family and do some research. To reduce your student debt, you may decide that an in-state public college is the best option.
You should also ask yourself how far from home you want to be for college. Some students deal with the transition from high school to college better than others, and it can be tough to be in an unfamiliar place without access to your usual support system. During other times of change in your life, such as switching to a new school or moving to a new town, did you adapt well or did you struggle? This should give you clues as to how you might deal with settling into a new environment in college. If you think you'll be all too happy to be away from your family and start meeting new people, you may thrive at an out-of-state school where you can re-establish your identity.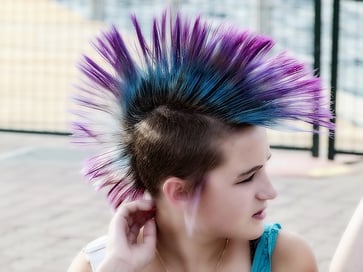 Dye your hair purple, get a mohawk, and never look back.
Researching Out-of-State Colleges
If you want to attend an out-of-state college, you have a lot of options to sift through. The next thing to think about is whether you want attend a public or private college and if you're interested in a specific area of the country. There are many college search resources online that will help you narrow down your search. You can also look at this guide to choosing a college to get ideas on what other questions to ask yourself about your preferences.
Try signing up for a profile on Cappex, which will give you the opportunity to identify your preferences on location, size, and other factors. It will also ask you to share your academic statistics so you can find out your chances of admission at different schools. You'll be matched up with colleges that fit your criteria, or you can search for schools by name if you have some in mind. Each school has a full profile that lists relevant statistics and facts about campus life.
If you're interested in a school, add it to your running list of options and compare it with other colleges to see how it measures up. In your profile, you can specify how far away from home you want to be so that you'll only get recommendations for out-of-state schools.
Summary
Out-of-state schools may be right for you if you're looking for new experiences and some distance from your hometown. If you think you want to attend school out of state, you'll have a huge variety of colleges to choose from that each possess many different qualities that may make or break your experience. Depending on how important cost and proximity to your hometown are for you, you may or may not decide that out-of-state schools are the best choice. Get started researching schools now so that you can start narrowing down your options!
What's Next?
How much does it really cost to go to college? Learn about the financial realities of attending college in this article.
If you plan on attending an out-of-state college, you'll be choosing between schools that come in a variety of sizes. Read this article to learn whether you're better suited to a large or small college environment. For more specific information on small colleges and what they're like, take a look at this article.
Thinking about applying to some of the most selective schools in the country? Check out this guide on how to get into Ivy League and other highly competitive colleges.
Want to improve your SAT score by 160 points or your ACT score by 4 points? We've written a guide for each test about the top 5 strategies you must be using to have a shot at improving your score. Download it for free now:
Have friends who also need help with test prep?
Share this article!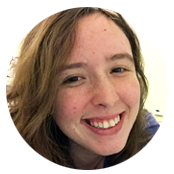 About the Author
Samantha is a blog content writer for PrepScholar. Her goal is to help students adopt a less stressful view of standardized testing and other academic challenges through her articles. Samantha is also passionate about art and graduated with honors from Dartmouth College as a Studio Art major in 2014. In high school, she earned a 2400 on the SAT, 5's on all seven of her AP tests, and was named a National Merit Scholar.
Get Free Guides
to Boost Your SAT/ACT