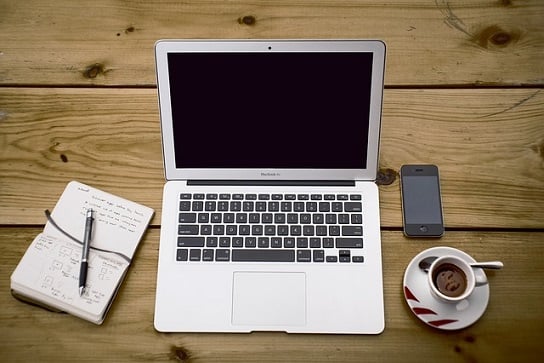 As appealing as the option might sound, you can't take the SAT online—it must be administered on paper at a designated test center. However, there are a lot of SAT prep resources available online and some alternate testing options for those who are unable to take the test under standard circumstances.
This post will explain when it will be possible to take the SAT on a computer and what that will look like, as well as what resources are open to you in the meantime.
The Current Online Testing Situation
The SAT is not currently offered online, but the College Board is supposedly planning to offer a computerized version of the redesigned 2016 test at some point in the future. There are no concrete dates as of yet.
Due to the COVID-19 pandemic, the College Board had considered offering at-home online SATs in Fall 2020 if in-person testing wasn't possible. However, in June 2020 they announced they'd no longer be going forward with that plan, and future SATs will still be held in-person.
The ACT has already started administering some tests on the computer, though so far only through school district testing. (International students are required to take the ACT on computer!) If you sign up for the test yourself, you'll still be taking it on paper.
Despite these changes, there's unlikely to ever be at-home online testing (at least not any time soon). For one thing, it would be impossible to guarantee that the testing experience is standardized. (Of course there's some variation between testing rooms, but it's much less than the variation between people's homes.) More importantly, it would be really, really easy to cheat.
What Computerized Testing Will Look Like
We've covered how online testing won't work, but you might still be wondering what taking the SAT on a computer will be like. Though it's impossible to know for sure, I'll offer some predictions based on the computerized ACT and GRE.
You'll Still Have a Set Test Date and Location
Assuming that the College Board uses the same structure as ACT, Inc., the computerized test will be administered at set test centers and on specific dates. You'll use the test center's computers, which will be set up to lock out all programs except the test, and you'll be expected to follow all the same rules that apply to the SAT now (no cell phones!).
It Will Look a Lot Like the Khan Academy Practice Tests
As I'll describe in more depth below, the College Board has partnered with Khan Academy to provide free SAT practice online, including online practice tests. The format is very similar to the GRE, a computerized test also administered by ETS. See the images below to get a sense of the format.
Reading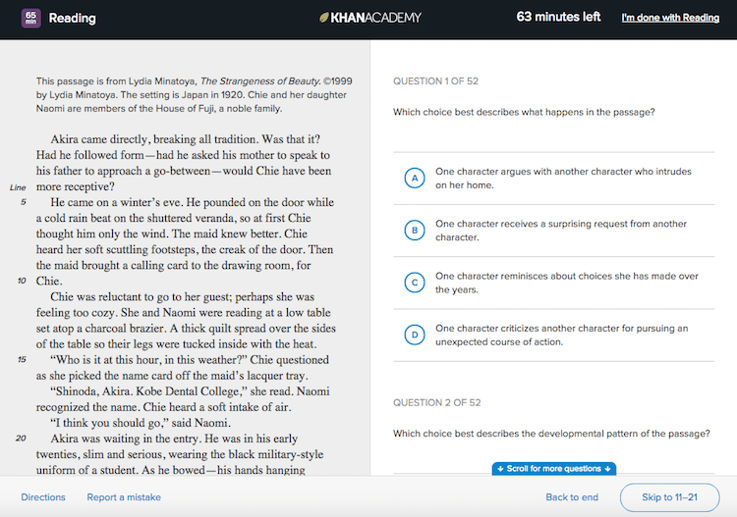 You can see the total time in the top left and the time remaining in the top right. Each page includes one passage (on the left) and its associated questions (on the right). On the bottom, directions are on the left and navigation is on the right.
Writing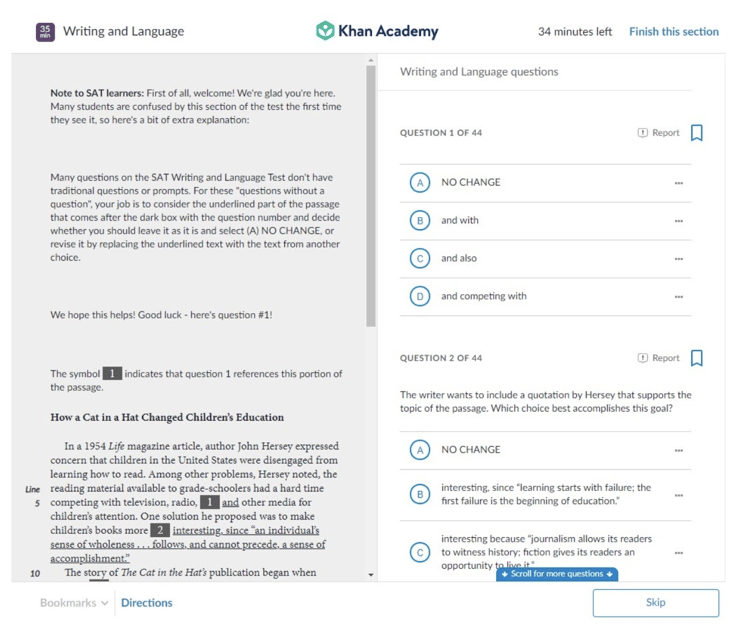 Writing looks pretty much the same as Reading — just slightly different introductory text.
Math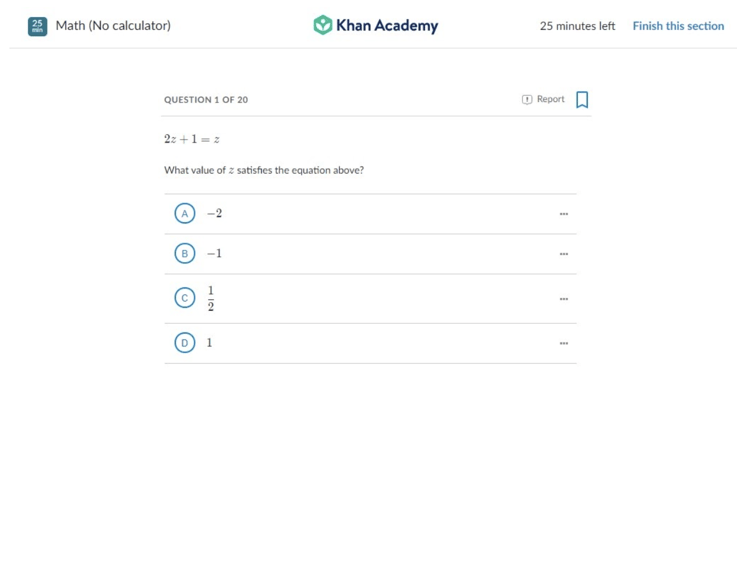 Since there are no passages, each math question is on its own page. There's also more information in the bottom left, including a link to the formulas provided with the test.
You'll Use a Word Processor for the Essay
Probably the biggest upside of taking the SAT on a computer is the ability to type the essay. This can be hugely helpful to students who are more comfortable on the computer, but keep in mind that, unlike a regular word processor, the test won't automatically check your spelling or grammar.
As you can see, the computerized SAT ultimately won't be that different from its paper incarnation.
SAT Resources That Are Available Online
Even though you can't take the actual test online, the College Board offers tons of SAT information and resources on their website. You can:
The College Board also offers a free test prep program through Khan Academy. It includes full official practice tests, extra practice questions, and helpful math review videos. Unfortunately, it doesn't offer much guidance for the reading and writing sections, so I would recommend supplementing it with a more strategy-focused guide.
There are also a lot of unofficial SAT materials, of varying quality, available online. PrepScholar has both excellent free resources (just scroll through the topics on the right sidebar to find what you're looking for) and a best-in-class adaptive SAT prep program.
Testing Accommodations
If you were hoping to take the SAT online because you have a learning difficulty or physical disability or cannot reach any of the available test centers, the College Board offers accommodations that can make the test more manageable for you.
If You Struggle With the Paper Test
If you have a learning disability, visual impairment, or other condition that makes the paper format of the test challenging for you, you may qualify for SSD accommodations. These can include using a larger bubble sheet, taking the essay section on a computer, or even having a scribe record your answers for you.
If You Can't Reach a Test Center
If the nearest SAT testing center is more than 75 miles from your home, you can request testing closer to your home. Should the College Board grant your request, they'll set up a more conveniently located testing center.
Keep in mind that there are some exceptions: you can't request closer-to-home testing when registering late or in India and Pakistan.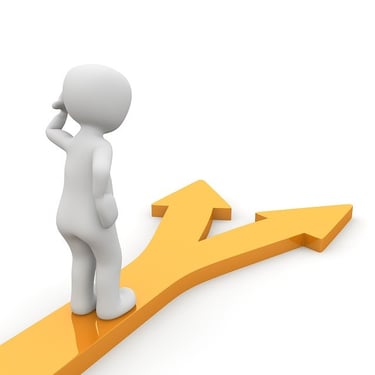 What's Next?
Do you have other questions about registering for the SAT? Check out our full guide to the process (with pictures), read up on the admission ticket, and learn how much the test costs.
Make sure you know what to expect on test day, including how long the test takes, the test instructions, and the rules you must follow.
Want to improve your SAT score by 160 points? We've written a guide about the top 5 strategies you must be using to have a shot at improving your score. Download it for free now:
Have friends who also need help with test prep?
Share this article!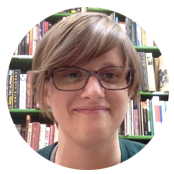 About the Author
Alex is an experienced tutor and writer. Over the past five years, she has worked with almost a hundred students and written about pop culture for a wide range of publications. She graduated with honors from University of Chicago, receiving a BA in English and Anthropology, and then went on to earn an MA at NYU in Cultural Reporting and Criticism. In high school, she was a National Merit Scholar, took 12 AP tests and scored 99 percentile scores on the SAT and ACT.
Get Free Guides
to Boost Your SAT/ACT