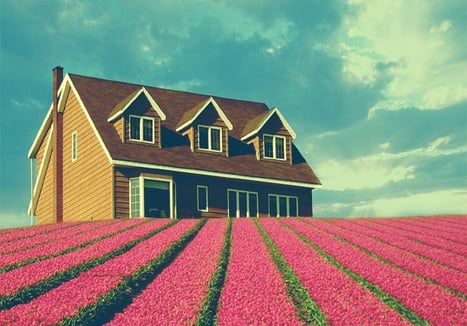 Location is one of the most important factors to consider when choosing a college. So how do you decide whether to go to school close to home or far away? It's not an easy choice, and a lot of it depends on your personality and what you want to do in college. In this article I'll go through the positives and negatives of attending college close to home and how you can decide whether it's the right choice for you.
Overview
There are some positive and negative aspects of going to school close to home that will most likely apply to any student. Here's a quick rundown of the pros and cons.
The Positives:
You can get support from your family through stressful times and illnesses.
You already know the area well, so you'll feel more comfortable and secure.
If you're going to a state school near home, in-state tuition will run you an average of about $15,000 a year as compared to out of state public school tuition, which is $25,000 a year on average ($35,000 if you're looking at private schools)
You'll save about $10,000 a year on room and board if you choose to live at home while you go to school, not to mention the money you'll save on food and laundry.
If you live and school and start feeling homesick, you can just go home for the weekend!
You'll be able to see your high school friends more frequently.
Packing for college won't be as stressful; if you forget anything, you can go home and get it or have your parents bring it to you without too much hassle.
The Negatives:
If you're hoping to get some distance from your parents, it will be difficult to prevent them from coming to see you all the time.
You may not have as many new and diverse experiences because you're already familiar with the area.
You might have trouble assimilating into the college community because you'll be able to see your old friends so frequently. It's tempting to go home on weekends instead of hanging out with people at college.
You might not get as much exposure to what it's really like to live on your own if you visit home frequently (being able to do laundry is a valuable skill!).
You may get stuck in an emotional rut if your living situation doesn't change between high school and college.
Figuring Out Your Needs
After weighing these pros and cons, the most important thing to ask yourself is "what do I want?" Your personality and goals for college may be more or less suited to living close to home depending on a couple factors. You should ask yourself these three questions:
1. Do You Handle Change Well?
If you've ever switched schools before, think about whether it was easy for you to adjust to a new environment. If you haven't actually moved, you might consider the transition from elementary to high school and how it affected you. If you relied on support from your family and took a while to make new friends, you might consider going to school closer to home in case you have a similar experience as a college freshman.
This is a tough call though. Keep in mind that going to school close to home could impede your ability to integrate yourself fully into the college community and give you less motivation to make new friends. You might look at schools that are within driving distance of your hometown but not so close by that you'll be tempted to go home every weekend.
Have you ever been away from home for a significant period of time before (2 weeks or more)? If so, how did it feel? Were you eager to go home at the end? Maybe you've been to an overnight camp or gone on an exchange program in high school. That experience might be a good model for how you can expect to feel at the beginning of college. If you felt significant homesickness, consider going to school somewhere relatively close by so that you can visit home sometimes. Many people need a more gradual transition from living at home to living at college.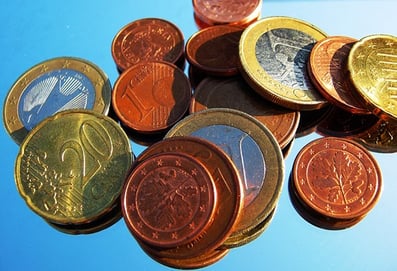 Change is scary.
2. Is Cost a Concern for You?
As mentioned earlier, you can save a lot of money on tuition and housing if you attend a school near you. If you're worried about paying for college, nearby schools make great options. State schools usually have a ton of resources for motivated students and offer many merit scholarships in addition to a lower tuition price tag.
Try not to base your college decision solely on cost though; this should be considered in conjunction with other reasons for attending your state school. If you really don't want to go there and you're just choosing it because it's cheaper, the sacrifice won't be worth the money you'll save.
3. What Do You Want to Accomplish in College?
You also should ask yourself about the resources available at nearby schools. Will they fulfill your needs? Certain areas may have more or less opportunities for jobs and internships. Schools nearby may or may not offer the programs or campus setting you're looking for. Think about what type of environment you'll prefer in college (urban or rural or somewhere in between) and your tentative major plans to inform your decision.
I'll give you some resources in the next section that will help you understand the characteristics of different schools so you can decide whether a college close to home is really the right choice for you.
How to Find Nearby Colleges
So, you're thinking about going to college close to home. How do you find schools that fit your criteria? The simplest way to start is to go to College Navigator, which allows you to search for colleges by zip code or state. You can specify how many miles away from your zip code you want to be and what type of program you're looking for (you can also search for specific schools, but if you're just checking your options, zip code or state is the place to start). If you click on "more search options" you can also specify the price range you're looking for as well as student enrollment, campus setting, and more.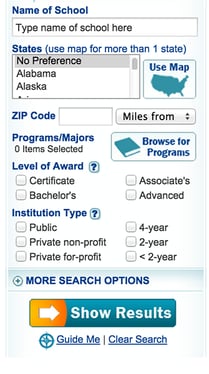 This search will give you a comprehensive list of schools along with relevant statistics so you can see whether they'll be good fits for you.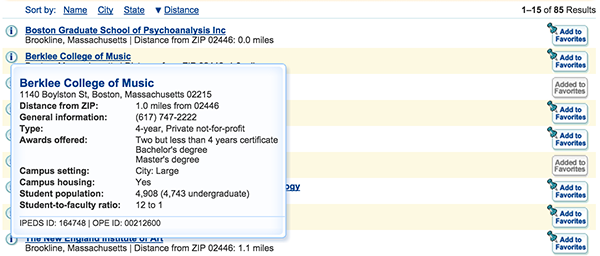 You can also compare schools side by side when you add them to your "favorites" to figure out which is the better option. You can compare schools by price, admissions, enrollment, and retention and graduation rates: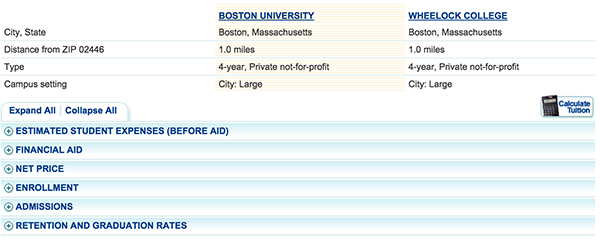 College Navigator is a good tool for compiling an initial list of nearby schools that interest you. Once you find a few that sound promising, you might consult other college choice sites to find out more about them. Cappex is the site that I usually recommend because it has hard data about schools as well as student reviews. Go there next to learn more about other factors that might impact your decision. You can create a profile and search for schools that you already found on College Navigator, or you can get matched up with schools on Cappex by creating a profile and specifying how far away from home you want to be and which majors interest you.
Conclusion
College is a huge transition, and many students feel more comfortable attending school close to home to make it a little less stressful. There are positives and negatives to going to college close to home, but what really matters is how you feel about it. Ask yourself if you're ready for such a dramatic change in your life and if you might need more or less support from your family and old friends. You should also think about the cost of college and whether it's worth it for you to go out of state and spend more on tuition.
What are your goals for the next four years? What do you want to accomplish? Do some self-examination and college research to make sure you're choosing a school that will give you all the opportunities you want for youreself.
What's Next?
If you're still not sure of the best way to go about your college search process, read my guide to choosing the right college!
You should also look at this list of the best online resources for conducting your college search.
If you're thinking about attending your state school, read this article on how to get merit scholarships and honors at state schools.
Want to improve your SAT score by 160 points or your ACT score by 4 points? We've written a guide for each test about the top 5 strategies you must be using to have a shot at improving your score. Download it for free now:
Have friends who also need help with test prep?
Share this article!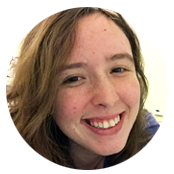 About the Author
Samantha is a blog content writer for PrepScholar. Her goal is to help students adopt a less stressful view of standardized testing and other academic challenges through her articles. Samantha is also passionate about art and graduated with honors from Dartmouth College as a Studio Art major in 2014. In high school, she earned a 2400 on the SAT, 5's on all seven of her AP tests, and was named a National Merit Scholar.
Get Free Guides
to Boost Your SAT/ACT