Over one million high school students use the Common App each year to apply to colleges. The Common Application website can seem confusing at first, but we're here to simplify things. Looking for Common App instructions? Want to learn how to add colleges to Common App profiles? Just want to know what the Common App looks like before you dive in? We answer all those questions and walk you through each section of the Common App so you can create the strongest college application possible.
Common App Overview
The Common Application is an online platform that allows you to apply to multiple colleges at once. The Common App streamlines the college application process by allowing students to fill out details such as their contact information, extracurricular activities, grades, and essays just one time. It's the most popular college application platform, and more than a million students use it each year.
Using the Common App is free for students, though you'll likely have to pay application fees for the schools you're applying to. If you're worried about these costs, you can apply for a fee waiver.) Over 900 colleges use the Common App, so there's a high chance that all the schools you're applying to allow Common App submissions.
The big benefit to using the Common App is that you can apply to schools through a centralized college application system instead of having to submit all your applications individually. This type of system not only makes the whole college application process a lot easier, but it also saves you a ton of valuable time since you won't have to keep filling out the same information for each school.
How to Set Up a Common App Account
Setting up your Common App account is a fast and easy process. First, go to the Common Application's website. In the upper right corner is a button labelled "Create an Account." Click it! You'll select if you're a student, parent, or education professional. (Most people will select "first year student" since they're applying to enter college as a freshman.)
Then you'll set up your account. You'll enter basic information such as your email (which will be your username) and password, as well as your name, phone number, date of birth, and address. Finally, you'll decide whether you want the Common App to share your contact information with colleges so they can send you school brochures and if you want the Common App to send you emails and texts not directly related to your application. Both of these are completely optional and won't impact your application.
Click "Create Account," and you're ready to go!
What does the Common App look like? After your account is created, and every new time you log in, you'll be brought to your dashboard, which looks like this: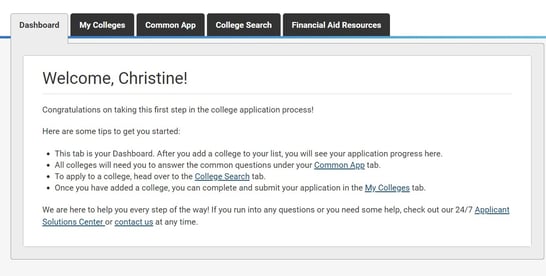 How to Add Colleges to Common App Account
Once you have your Common App account set up, you can start adding the schools you want to apply to. To do this, click the "College Search" tab. Enter the name of the school into the search bar, then click the plus sign to the left of the school name to add it to your list of schools.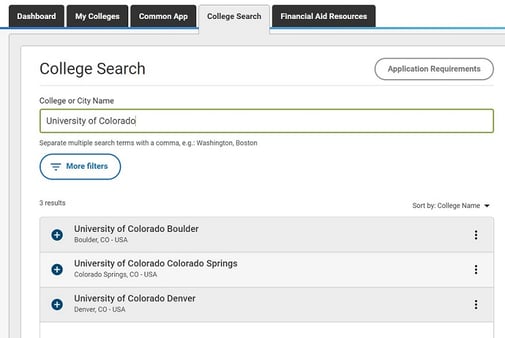 Adding schools right now is non-binding, so don't stress too much about this. Just add every school you're planning on applying to. To remove a school, click its name, scroll to the bottom of the page, and click "Remove college."
Once you have all your schools added, click the "My Colleges" tab, and you'll see them listed on that page. You can click on the name of each school to see that college's contact information, application deadlines, standardized test score policy, letters of recommendation policy, personal statements required, and any additional application information. These pages contain a wealth of information, so be sure to check them out!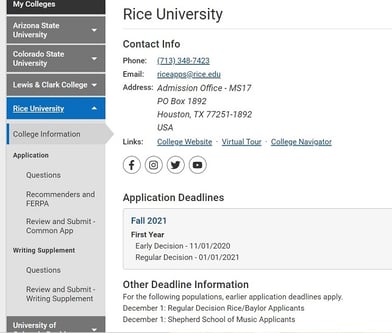 Common App Instructions for Each Section of the Application
Under the "Common App" tab, you'll see seven sections to complete. Here we explain the Common App instructions for each of these sections to ensure you fill them out correctly.
Profile
This is basic demographic information like your name, contact information, native languages, citizenship, etc. You're only required to fill out the questions with a red asterisk next to them. Leaving the optional questions blank won't negatively impact your applications. There are a fair number of questions to answer here, but they're all short and easy, so this will be one of the fastest sections to complete. If you have a fee waiver or believe you're eligible for one, this is also where you'll indicate that.

Family
This is similar to the Profile section, but these questions are about your family members, not yourself. You'll answer questions about your parents' educational status, birthplace, and occupation, and your siblings' age and education level. (If any of these don't apply, you can mark that and skip those questions.) Like the Profile section, the Family section has a bunch of short, easy questions that shouldn't take you long to complete.

Education
In this section, you'll enter information about the high school(s) you attended, your GPA and class rank, any community college classes you've taken, each class you'll be taking this year, and any academic achievements you've received.

You'll already be sending your academic transcripts to the schools you're applying to

, but this is a way for schools to quickly view some of the main information from your transcript.

Testing
Here you'll enter your standardized test scores (although you'll still need to submit official score reports to colleges you're applying to). You'll choose which test scores you're reporting, such as SAT, ACT, AP, IB, TOEFL, etc., and then you'll enter information about the type of test you took, the date you took it, and the scores you received. As long as you have your scores handy, this will be a quick and easy section to fill out.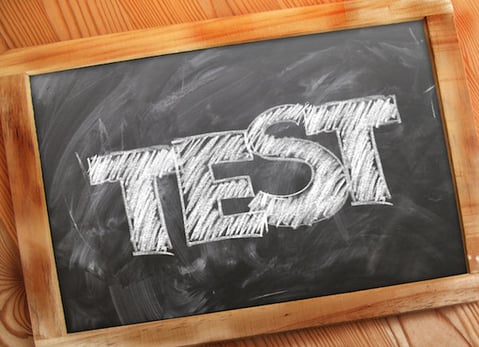 Activities
For the Activities section, you'll list each of the extracurriculars you've been involved in. This includes both school-related extracurriculars, like being on the JV soccer time, and non-school extracurriculars, like jobs you've had or private clubs you've been part of. For each activity, you'll list the activity, the position you held, how long you participated, how many hours per week you spent on it, and if you plan to continue the activity in college. You'll also need to give a brief description of the activity (up to 150 characters long).

For the descriptions, we recommend using up all those 150 characters (which really isn't much) and putting in as much information as you can about how you participated and if you had any leadership role or won awards. For all extracurriculars, colleges love to see leadership, dedication, and skill. This means, emphasize all the times you took charge, had a great accomplishment, went above and beyond, or made an impact.

This section often takes a fair amount of time to fill out because you need to recall a lot of information and decide how to describe each of your activities in the best way to show your skills and dedication.

Writing
This is the section where you'll complete your personal essay. There are seven essay prompts; you'll choose one of them and write an essay 250-650 words long. Some colleges don't require this essay. At the top of this page, you'll see which of your schools require it, and which don't. We have an in-depth guide on the Common App personal statement, how to choose the right prompt, and how to write the strongest essay. We recommend you spend a fair amount of time on this part of the Common App, since a lot of schools do look closely at your personal statement. We recommend writing it in a word document, looking it over several times, and asking a parent and/or classmate for their opinion before pasting it into the Common App.
This is also the section where you'll discuss any disciplinary history you may have had, as well as where you can complete the optional "COVID prompt." The COVID prompt is where students can explain impacts the COVID-19 pandemic may have had on them, both personally and academically. It can be up to 250 words. It's totally optional, and if the coronavirus didn't negatively impact your grades, extracurricular participation, or anything similar, then don't feel the need to answer this prompt.
This is also where you have the opportunity to answer the prompt, "Do you wish to provide details of circumstances or qualifications not reflected in the application?" This is your chance to explain things that negatively impacted your grades/transcripts/extracurricular participation and

aren't

related to the coronavirus. For example, you might have gotten mono sophomore year and missed a lot of class, which hurt your grades. You may have had a death in the family with a similar impact. You might have broken your arm one year and not have been able to participate on the basketball team. Again, it's completely optional, but if you have something you want colleges to know, this is your place to discuss it. You can write up to 650 words.
Courses & Grades
Some schools don't require you to complete this section (again, at the top of the page, it'll say which of your colleges do). If none do, then you're very lucky, because this can be a time-consuming section to fill out. To complete it, you'll need to enter every class you took, when you took it, the grade you got, and the level it was taken at. Like we said, it'll take some time. We recommend having your transcript next to you as you fill this section out. Here's what the form you'll need to fill out for each grade looks like: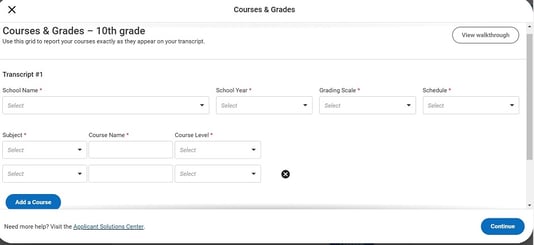 Common App Instructions for Supplements
Most colleges you're applying to will have supplemental questions and/or essays you need to complete. To complete them, click on the school's name under "My Colleges." You'll see supplemental questions under "Questions," "Recommenders and FERPA," and "Writing Supplement.". The questions are easy to complete and can ask anything from if you have siblings attending the school to if you plan on applying for financial aid to if you plan on living on-campus your freshman year.

If a school requires letters of recommendation, it'll be under "Recommenders and FERPA." You'll sign the FERPA agreement, decide whether or not you want to waive your rights to viewing what your recommenders wrote, and then select who you want to write your letters. Each school will have instructions on how many letters they want, and who they want them from (such as teachers or guidance counselors). Ask the people you want to write your letters first before entering their information because they'll immediately be sent the invitation form, and you don't want to catch them off guard.

For schools that do have supplemental essays, they often focus on why you want to attend that particular school.

We call these "Why This College" essays and have an article entirely devoted to how to answer them

.





Submitting the Common App
Once you have all the sections of the Common App completed, you're ready to submit! A nice thing about the Common App is that it'll alert you to any required information you haven't answered, so you don't need to worry about forgetting something important. If a required question is left blank, you won't be able to submit without answering it. We do recommend double-checking your answers though, to make sure you included all the information you wanted and there are no errors.
You'll submit your application separately for each school. When you're ready, go to your "My Colleges" tab, click on the school's name, and click "Review and Submit." After you've confirmed that your application is complete, you'll be directed to a third-party site to pay the school's application fee. Finally, you'll be brought back to the Common App to sign and submit your application. Repeat this process for each of your schools, and you'll be set! Remember to send transcripts, official test scores, and other additional information the schools request (you can see this information by clicking on the school's name).
What's Next?
Working on your college essay? Learn what not to do with our in-depth guide.
Trying to decide if you should retake the SAT or ACT? Learn how to develop a target ACT score or SAT score based on the colleges you want to apply to.
Which schools accept the Common App? See the complete list on our guide to schools that accept the Common Application.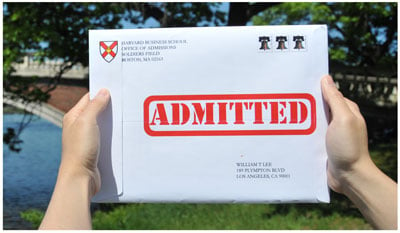 Want to build the best possible college application?
We can help. PrepScholar Admissions is the world's best admissions consulting service. We combine world-class admissions counselors with our data-driven, proprietary admissions strategies. We've overseen thousands of students get into their top choice schools, from state colleges to the Ivy League.
We know what kinds of students colleges want to admit. We want to get you admitted to your dream schools.
Learn more about PrepScholar Admissions to maximize your chance of getting in.
Have friends who also need help with test prep?
Share this article!
About the Author
Christine graduated from Michigan State University with degrees in Environmental Biology and Geography and received her Master's from Duke University. In high school she scored in the 99th percentile on the SAT and was named a National Merit Finalist. She has taught English and biology in several countries.
Get Free Guides
to Boost Your SAT/ACT