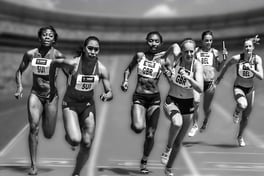 Interested in playing a high school sport? You should be! High school sports are a great way to make friends, get involved in your school, and stay active. What sports are offered? I'll give you the full list of high school sports available in the US, and I'll explain why you should join a team and how to figure out which sport is right for you.
The Complete List of High School Sports Offered in the US
These are the sports that fall under the jurisdiction of a State Athletic Association. Each state has its own Athletic Association that runs the sports leagues and championships for the below sports.
NOTE: Not all of these sports are offered in all states. For example, Skiing & Snowboarding isn't offered in Florida. Less obviously, bowling isn't offered in California and several other states.
Additionally, even if a sport is offered in your state, it may not be offered at your school. There might not have been enough interest or funding to create a team. If you hope to play a sport that's offered in your state, but not at your school, consider starting a team. I'll discuss this option more in-depth below.
There may be other sports offered at your high school that are played at a "club" level (they don't have a state championship). To find out which sports are offered at your specific high school, check out your school's website or email a school administrator or athletic director.
Unless otherwise noted, sports have both boys' and girls' teams or a co-ed team:
Badminton
Baseball (Boys)
Basketball
Bowling
Cheerleading / Competitive Spirit Squads
Cross Country
Dance Team
Field Hockey
Flag Football (Girls)
Football (Boys)
Golf
Gymnastics
Hockey
Indoor Track & Field
Lacrosse
Skiing & Snowboarding
Soccer
Softball (Girls)
Slow Pitch Softball (Girls)
Surf
Swimming & Diving
Tennis
Track & Field
Volleyball
Water Polo
Weightlifting
Wrestling
When Is Each Sport Played?
The season (fall, winter, spring) for each sport varies by state. There are a few sports that are consistent in season from state to state — football, for example, is always played in fall.
To check when each sport is played in your state, do a Google Search for your state's high school athletic association. Simply search "[State Name] High School Sports" or "[State Name] High School Athletic Association." That will bring you to the athletic association website for your state. There should be a tab on the website for sports. Under that tab, you should see a list of all sports and their season.
Below is a screenshot from the Florida High School Athletic Association website: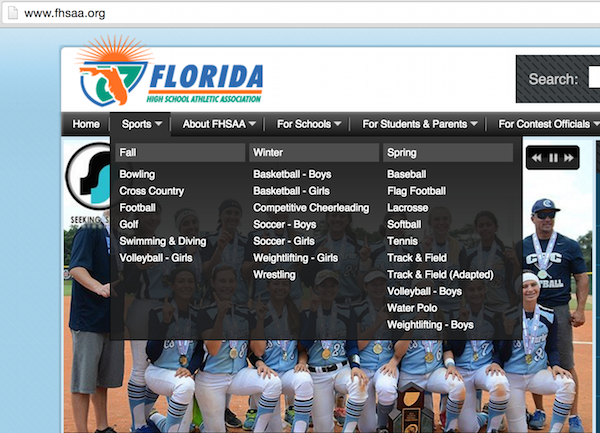 How to Choose Which Sport(s) to Join
There are many ways to choose which team (or teams) to join at your school. First, you should take into consideration the season when each sport is played. Follow the steps above to find out when each sport is played in your state. Most schools don't allow you to play two sports that are in the same season (or that overlap seasons as fall and winter sports sometimes do). Talk to your high school athletic director if you're interested in playing two sports that are in the same season or may overlap.
Next, you should take into consideration which sports you've played before and how much you enjoyed them. Did you play a sport in middle school or recreationally that you enjoyed? Is that sport offered at your high school? If it is, consider joining that team! You already enjoyed playing it, so you should continue.
If the sport is not currently offered by your school but is offered by your state athletic association, consider starting a school team. Again, follow the steps outlined above to see if the sport is offered by your school athletic association. If you'd rather not start a team, you also might be allowed to join that team at another high school. For example, if you wanted to be on the bowling team, and it wasn't offered at your high school but was at a high school a couple of miles away, you'd likely be allowed to try out for that team. Talk to your athletic director to see if this is an option. If it's not, you should see if there is a local community sports team for that sport. If there is, consider joining that team!
If the sport you love isn't offered by your state athletic association (such as Ultimate Frisbee), consider starting a club to play it with friends after school. You won't have a state championship, but you'll still have the opportunity to play the sport. As a bonus, starting your own club will also be a great leadership experience to include on your resume.
Before picking a sports team to join, consider how well your experience in a sport matches up with how competitive it is at your school. Have you played the sport before? For how long? How good is that team at your high school? Did they go to the state championship?
For example, at my high school, when I attended, our football and lacrosse teams were terrible. They essentially lost almost every game. However, our men's tennis team went to the state championship. If I was picking a team to join and I'd never played any of the sports before, I'd probably try out for football or lacrosse and NOT tennis, since I'd have a better shot at making the football or lacrosse teams. If I had played tennis competitively throughout middle school, I'd still tryout for the tennis team. It's good to be aware of how competitive each team is in advance of trying out.
To help figure out how competitive each team is, you should also try to figure out how many people get picked to be on each team and how many players are returning from the previous season. For example, football teams typically have around 40 players. Tennis teams at high schools typically have five singles players and two doubles teams (often composed of four of the five singles players). Football is probably a less competitive team to join (even a good football team) than a tennis team since there are 40 spots versus five.
However, if you're only going to try out for one specific position on the football team (such as quarterback), it may be MORE competitive than tennis since there is only one starting spot for quarterback versus five starting spots for tennis players. If all five tennis players are returning from the previous season, I'd be hesitant to try out because I likely wouldn't make the team unless I were good enough to beat one or more of the current players.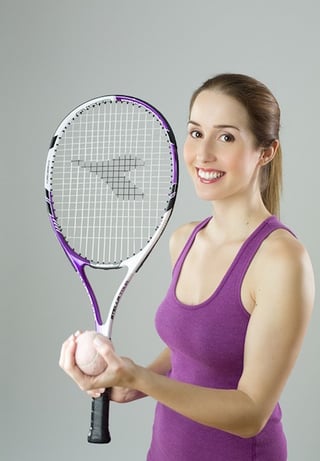 While all of the above should be taken into consideration when picking a sports team, don't let any of the above stop you. If you've always been dying to play on a tennis team but have never played before, still try out! You never know, you might make it! If you're interested in a sport that's very competitive at your school, check to see if you can try out for a JV team (or some schools even have freshman teams in addition to JV and varsity). You can start there and work your way up to varsity.
4 Great Reasons to Join a Sports Team
Sports teams are a great extracurricular activity. I have some of my best high school memories from playing on the tennis team at my high school.
Reason 1: It's a great way to make friends (or make more friends). Sports team often bring together a lot of different people (who may not have been friends otherwise). Joining a sports team will provide you with a new group of friends, who you might not have met otherwise.
Reason 2: It can be a great opportunity for leadership (which colleges love to see on your resume). Sports teams often elect a team captain, which gives that person the opportunity to be a leader. Typically, team captains don't have a lot of responsibility; usually, it's more of an honorary title. If anything, team captains are responsible for boosting team morale. However, becoming team captain will still help boost your college applications because it shows schools that you're well-liked and could potentially be a leader at their school.
Reason 3: It helps you stay active and relieve stress. High school is stressful, and playing sports helps relieve stress. Staying active through sports can make you feel happier and have major health benefits.
Reason 4: Depending on how good you are and what your goals are, participating in a sport can help you get into college. If you rise to become a top player of the sport in your state, you might be recruited to play that sport in college, and you might also be offered a scholarship. NOTE: this is rare. This isn't the norm. Don't count on being recruited to college for your sport. If you're seriously interested in college athletic recruiting, learn about the process in our other guide.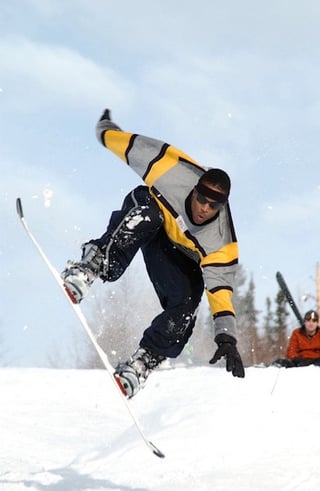 What Benefits Should You Not Expect to Get From Joining a Sport?
While joining a team has many benefits (as you can see above), you shouldn't join a team if you're hoping it'll be the extracurricular activity that gets you into college. Unless you're in the top 1% of players in your sport, it's unlikely you'll be recruited to play it for college.
Also, admissions officers are not particularly impressed by your participation on a team. My friend, who is a former admissions officer, said it is one of the most common topics for personal statements. Admissions officers hate to read these personal statements because they've heard every high school sports story. They've read about you and your team overcoming some obstacle and winning. They've read about crushing defeats. In your personal statements, admissions officers want to see who you are and what makes you unique. Playing a sport will not make you unique since many students play sports.
Don't play a sport so that you seem "well-rounded" on your college application. Top schools no longer want well-rounded students. Top schools want students who are an expert in something. If you're the number 1 ranked tennis player in your state, you'll be impressive because you're an expert in tennis. However, if you're the 150th ranked tennis player in your state, the college likely won't care. It'd be better for you not to play a sport and to be a state champion mathlete or a state science fair winner or a debate champion. These all prove expertise in a field. To read more about this expert philosophy, read our guide on how to get into Harvard and the Ivy League.
If you're not that interested in playing a sport, don't do it! Playing a sport takes a lot of time. If you don't enjoy the sport, it's a huge time-suck from which you aren't getting many benefits. Consider spending your time doing another amazing extracurricular activity such as one of the activities mentioned below.
What's Next?
If you're interested in playing a sport, you should learn about what makes an amazing extracurricular activity for you college applications. Also, you should learn about how many extracurricular activities you need for college.
Interested in learning about other great extracurricular opportunities? Learn more about job shadowing, community service, and volunteer abroad programs.
Want to improve your SAT score by 160 points or your ACT score by 4 points? We've written a guide for each test about the top 5 strategies you must be using to have a shot at improving your score. Download it for free now:
Have friends who also need help with test prep?
Share this article!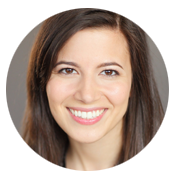 About the Author
As an SAT/ACT tutor, Dora has guided many students to test prep success. She loves watching students succeed and is committed to helping you get there. Dora received a full-tuition merit based scholarship to University of Southern California. She graduated magna cum laude and scored in the 99th percentile on the ACT. She is also passionate about acting, writing, and photography.
Get Free Guides
to Boost Your SAT/ACT