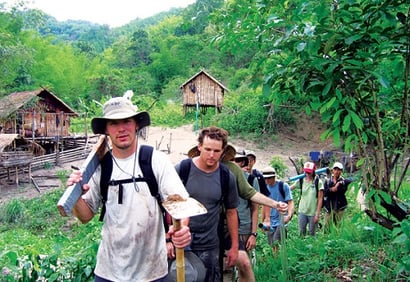 Have you heard about volunteer abroad programs and are wondering if you should participate in one? Volunteer abroad programs can provide amazing experiences and the opportunity to help improve the world, but they can also be expensive, frustrating, and at times ineffective.
Read this guide to learn about potential positive and negative effects of volunteer abroad programs and to learn whether you should participate in one.
What Is a Volunteer Abroad Program?
A volunteer abroad program is any program where a participant travels to a different country and performs volunteer work. Traditionally, religious groups often conducted the majority of volunteer abroad programs, but the popularity of these programs has grown in recent decades, and now many organizations offer them. They are particularly popular with high school and college students as a way to have interesting experiences while young and as something to include on your resume.
These programs take place all over the world, from rain forests in Central America to large cities in Asia. Volunteer abroad programs generally work to improve a specific issue or issues. One common area these programs often focus on is education, and many volunteers teach children English or basic math skills in rural schools. Programs that are more health focused may have volunteers provide basic health care in clinics or shadow a local doctor, and volunteers participating in conservation or environmental programs may find themselves rehabilitating elephants in Asia or collecting data on coral reef growth in Africa.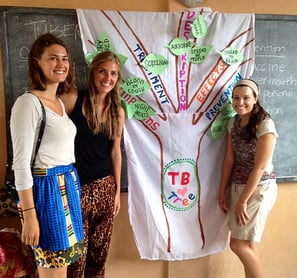 It is important to know that choosing whether to participate in a volunteer abroad program can be a difficult decision, and there are many factors to take into consideration. While many volunteer abroad programs undoubtedly have a positive impact, some have few real benefits, and there are even a few that can negatively affect people and places.
Before you participate in a volunteer abroad program, you should know the impacts, both positive and negative, that they can have. Read on to learn more about volunteer abroad programs and how to decide if you should participate in one.
What Are the Benefits of Volunteer Abroad Programs?
Allow You to Give Back and Support a Cause You Care About
Volunteer abroad programs can be an amazing way for you to work on an issue that is important to you. While participating in a volunteer abroad program, you may help out at free medical clinics, track endangered animal species, teach children in orphanages new games, build houses, or do one of many other activities, depending on your interests and the program's focus.
Being there and doing the work yourself allows you to more easily see the impact of the project and what you did specifically to improve it. You are able to view the results of your work first-hand, such as seeing children use new school supplies, witness people in remote areas receive medical care, see homeless people move into new housing, and more.
Many people have at least one cause they are passionate about, and participating in a volunteer abroad program can give you a great opportunity to improve this issue.
Provide Experience You Can Include on Your Resume
Because volunteer abroad programs provide direct and active work experience, you can often include participating in one on your resume. People who have participated in a volunteer abroad program are still the minority, so having that experience on your resume can help you stand out from the crowd. Participating in a volunteer abroad program can show that you are motivated, a hard worker, and passionate about a cause, all traits that employers like to see.
There are also some volunteer experiences that focus on particular career fields. Examples of this include volunteering in a rural hospital, teaching children English, or treating animals at a wildlife sanctuary. These experiences can be a great way to see if you like the work a specific career involves.
Give You an Opportunity to Meet New People and Have New Experiences
Many people develop close personal relationships as volunteers. You often work closely with both your fellow volunteers and the groups of people you are helping, which makes it easier to form personal bonds than if you were simply sending money. For your volunteer program, you may be working with orphans, teaching schoolchildren, giving food and blankets to the homeless, or another activity that involves meaningful interactions with others.
These programs also often give you the opportunity to have experiences you wouldn't typically have the chance to do otherwise, like travel to a new country, see rural villages, work with vulnerable populations, or see wildlife up close.
Can Influence Your Personal Growth
Many people return from volunteer abroad experiences with a better understanding of the world and the people in it. Seeing others in difficult situations is an eye-opening experience, and it often makes volunteers more appreciative of what they have and more willing to give back in the future.
Volunteering abroad also gives you a better understanding of global problems and their impacts on people and communities than a more passive way of learning would, like reading a book or listening to a presentation.
What Are the Potential Drawbacks of Volunteer Abroad Programs?
May Not Be as Beneficial as They Claim to Be
While all programs claim to have significant benefits, this is unfortunately not always the case. Some are little more than glorified vacations, where participants spend most of their time zip-lining and swimming while devoting only a few hours to painting houses or working at a soup-kitchen.
Also, considering their large price tags, some programs don't use their funds wisely, choosing projects that are more fun and interesting for participants rather than ones that help communities more. For example, painting houses is a common activity on these programs because it is easy for participants to do, but the community may be in more need of new houses or improved plumbing or electricity.
In addition, paying a volunteer abroad program's hefty price tag may not be the most effective way to improve a problem. If a volunteer abroad program has 20 students who each paid $5000 to participate in a program where they spend a few weeks helping out at a homeless shelter in Costa Rica, that is a total of $100,000 being spent, a lot of which goes towards plane tickets and room and board. That's a lot of money, and it may be better spent if participants stayed home and instead combined those donations and used them towards building a brand new homeless shelter or a similar large-scale project.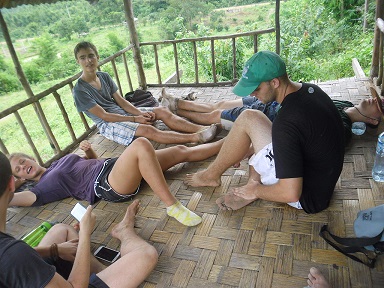 You may be doing a lot of this on some volunteer programs.
Some Programs Can Actually Be Harmful
This issue is less common, but still occurs. Some volunteer abroad programs can actually have a negative impact. One example is volunteer programs that work in orphanages. While it may be enjoyable for participants to spend a few days or weeks playing with children, it can be very difficult for orphans, who have already lost their parents, to continuously meet new people only to have them leave.
There was even an instance of an orphanage in Cambodia that worked with volunteer programs and ended up being exposed as a scam and shut down. The orphanage had made so much money off volunteer abroad programs that parents were pulling their children out of school and sending them to the orphanage instead to earn money for the family. Other potentially negative impacts can occur when unpaid volunteers end up taking jobs away from local workers, such as dentists, doctors, and teachers, who cannot compete with the low or non-existent fees the volunteers charge.
Programs Can Be Very Expensive
Even if certain programs are very beneficial, nearly all of them have a high price tag for participants. Many of the organizations that run volunteer abroad programs are non-profit organizations without a lot of money, so participants typically have to cover their own expense, like airfare, housing, and food, as well as program costs, such as the costs of providing medical supplies, school supplies, or building materials.
There are also for-profit organizations that run high-priced volunteer abroad programs because they know interest is high among students looking for ways to give back and have unique experiences to include on their resumes.
No matter who they are run by, volunteer abroad programs often cost thousands of dollars, with some costing $10,000 or more. This can be very difficult for young people to afford, especially when these programs often occur over the summer when participants may have been able to make money by having a paying job.
Conditions Can Be Challenging
The brochures and websites of these programs may be filled with images of pristine beaches and mountain views, but the reality can be very different. Living conditions are often very simple, with participants living in dormitories or with a local family.
You often won't have a lot of amenities common in Western countries, such as air conditioning, clean water, and internet access. You also probably won't have access to many of your favorite foods, and finding things to eat can be especially difficult if you have certain dietary restrictions, such as being gluten-free or vegetarian. Additionally, while rare, there is also a higher chance of contracting a disease, especially in tropical countries.
Even if you are motivated and working on a program you care about, don't underestimate the effects difficult living conditions can have. While it may be exciting to live in such a different place at first, it can quickly become disorienting and challenging. I spent several summers conducting research in rural Nicaragua, and I can say from experience that while lounging in a hammock for a few hours can be delightful, spending 8 hours in one every night while wrestling with a mosquito net is not so delightful.
How to Decide Whether or Not to Participate in a Volunteer Abroad Program
So now that you know there are many benefits and potential drawbacks to participating in a volunteer abroad program, how do you decide whether to participate in one?
In order to make an informed decision, research a few programs you may be interested in, and ask yourself the following questions:
Why Do You Want to Participate in a Volunteer Abroad Program?
Be honest with yourself here. Is your primary motivation truly to try and improve a certain problem in the world, or are you more interested in traveling to a new country and meeting new people? Or maybe you just want something interesting and impressive to include on your college applications?
There's no shame in admitting any of those reasons. People travel just for pleasure all the time, and traveling in a way that is sustainable and benefits local businesses can also have a significant positive impact on an area. Similarly, it is very common for students to participate in a certain activity mainly because they are trying to improve their chances of getting accepted to colleges and want their application to stand out.
However, you should only participate in a volunteer program if your main reason for doing so is so you can work on a cause you care about, as the people these programs help deserve to have only the most motivated and dedicated volunteers.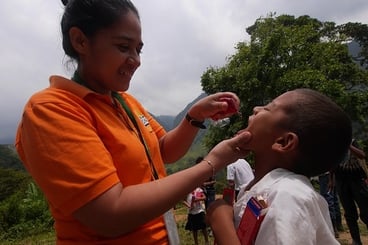 How Well Have You Researched Particular Programs?
You should always research a program thoroughly before agreeing to join it. To do this, read through the program's website and brochures, and think critically about the information they tell you. Ask yourself the following questions:
How Does This Program Benefit People or a Place?
Don't just take the program's assurances at face value; really think about the impact this program will have. Does the project claim to help schoolchildren in El Salvador? How? Do they donate school supplies, give English lessons, train local teachers? What will volunteers specifically be doing?
It's easy for programs to make big claims like their participants improve education in rural Cambodia, even if their volunteers spend only a few hours playing with some school kids. The way to avoid joining a program that you end up feeling like doesn't have much of an impact is prior research.
Find out the specific activities volunteers will be participating in and how much time will be spent on those activities as opposed to how much time will be spent on more traditional "tourist" activities. If the program is vague about what volunteers will be doing or you don't feel like volunteers spend enough time helping others, you may want to consider a different program or way to give back.
How Do Others Feel About the Program?
Hearing others' opinions is a useful way to learn about how effective and beneficial a particular program is. Don't just read quotes from past participants on the program's website, which will all most likely be glowing. Search "[name of the program] reviews" to see what others are saying about it. This information can come from past participants, the people or communities the program works to help, or third-parties who review and rate programs.
Try to find out what others are saying about the program's benefits, living conditions, and organization. If multiple people are sharing concerns about the program and its impacts, you may want to consider a different option.
Where Does Your Money Go?
Other important information to gather is how your program fee is spent. There are unfortunately some volunteer programs that exist only to make a few owners richer and provide little or no help to others, and there are many more programs that spend participants' money on costs that don't directly benefit local communities, such as providing expensive accommodations and leisure activities for volunteers.
You'll likely be spending a significant amount of money on this program, and you deserve to know how this money is used. Look on the program's website to see if they explain how program fees are spent. If they don't, call or e-mail the program. Any reputable program will share a breakdown of costs with participants.
Next, analyze these costs. Does most of the money go directly to the communities, or is a lot of it spent on things like overhead costs or leader salaries? Different programs have different costs, but ideally, at least a third to half of participant fees should go towards directly benefiting the community. In general, non-profit organizations are more likely to put more money directly towards communities than for-profit groups, but always research any program you are considering. You want to make sure that if you're spending thousands of dollars for a volunteer program, that your money will actually be helping others.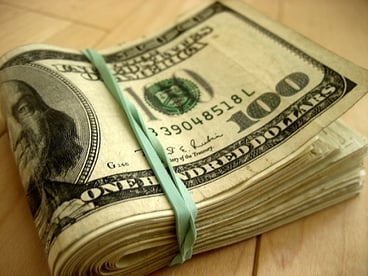 Research volunteer abroad programs before you spend a lot of money on one
Will You Be Able to Afford the Program?
Program costs can vary significantly, but nearly all volunteer abroad programs cost at least a few thousand dollars, and you want to make sure you can afford it before you join one. If money is a concern, look around at different programs. Cost can vary widely depending on how long the program lasts, what part of the world volunteers travel to, and the activities they participate in.
Are You Prepared for the Challenges Involved?
Take time to really consider what it'd be like working in a new country that is often very different from your home. Do this by researching the living conditions of volunteers for different programs and in different parts of the world. Would you be ok sharing a room with multiple other people? Not have reliable internet access? Taking anti-malarial medication regularly? Eating very different and often plain food? I learned the hard way that in Central America, most people eat rice and beans three meals a day, every day.
Not thinking about these things beforehand can mean a miserable time once you start the program, and if you are unhappy while participating in a volunteer abroad program, you will likely not be as motivated to work, which means you will not help that community as much as you could be. Struggling to adapt to a new country can also mean that you spread your frustrations to other volunteers and people back home, which may make them think less of that particular country and its people. In short, if you are unhappy with your lifestyle during a volunteer abroad program, many people may suffer as a result.
Are There Other Options Available?
If you don't think a volunteer abroad program is right for you, there are other options. If you are still interested in volunteering for a cause, you can see if there are similar programs in your hometown or nearby. It may not be as exotic as going to a new country, but there are places everywhere that need volunteers to tutor kids, take care of animals at a shelter, paint houses, donate food to soup kitchens, and many other activities. You can also raise money and donate it directly to organizations abroad.
What's Next?
If you've decided to do a volunteer abroad program, read our guide on the best volunteer abroad programs to discover examples of great programs!
Are you considering summer academic programs for middle school and high school students as an alternative to a volunteer abroad program? Look at our guides on the SIG, CTY, and Stanford EPGY programs
Extracurriculars are also a great way to work on issues you care about and have interesting experiences. Read our guide on what an extracurricular is and why you need them.
Want to improve your SAT score by 160 points or your ACT score by 4 points? We've written a guide for each test about the top 5 strategies you must be using to have a shot at improving your score. Download it for free now:
Have friends who also need help with test prep?
Share this article!
About the Author
Christine graduated from Michigan State University with degrees in Environmental Biology and Geography and received her Master's from Duke University. In high school she scored in the 99th percentile on the SAT and was named a National Merit Finalist. She has taught English and biology in several countries.
Get Free Guides
to Boost Your SAT/ACT