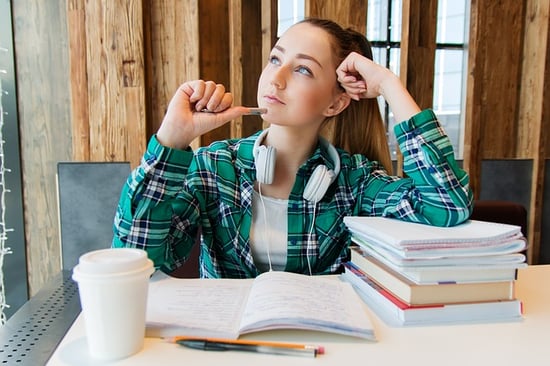 If you don't have a high school diploma, you can still earn an equivalent credential by getting your General Education Diploma, or GED. Having a GED can open up many more opportunities for you, especially since most U.S. employers require employees to have a high school diploma or an equivalency.
If you don't have a high school diploma, you're a great candidate for taking the GED test and earning your GED. The exam is designed to determine whether you have the academic skills equivalent to those of a high school senior, so you'll be tested in four subject areas: math, language arts, social studies, and science.
That's a lot of information to know, which is why one of the best ways to study for the GED is by using a GED book. GED study books are designed to help you learn all the material you'll be tested on when you actually take the test.
In this article, we'll walk you through the best GED books on the market so you can choose the one that's right for you. Then we'll give you our top six study tips to help you ace your exam.
Let's get started!
Our Methodology
Before we start talking about the books themselves, we wanted to take a second and tell you how we chose the books on this list.
First and foremost, we only chose books from reputable test prep companies and publishers. If you search for "GED prep book" on Amazon, you'll get tons of results. But many of those books are published small, unaccredited organizations that don't have a proven track record of success. Since those books are less likely to contain good, accurate information, we booted them from our list.
Second, we chose each GED study book based on the thoroughness of their information. Not every GED book on our list covers the whole test, of course. But we made sure that we only selected books that provided in-depth, comprehensive information on its selected topic.
With that in mind, let's dig into the best GED prep books you can buy!
Best Overall GED Book: GED Test Prep Plus 2021: 2 Practice Tests + Proven Strategies by Kaplan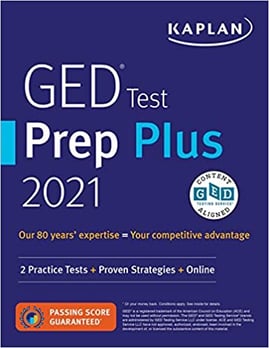 Cost: About $25 on Amazon
Best For: People who want a top-of-the-line guide that focuses on teaching concepts
Kaplan has been in the test prep business since 1938, so they know how to help students succeed on tests like the GRE. What we love about this book—and why it gets top marks from us!—is the way it breaks down and teaches hard concepts. (It was also named "a top selling GED Book for 2021," so you don't have to take our word for it.)
The book addresses the major topics you'll need to know about, then breaks that topic into manageable, easy-to-digest lesson modules. For example, instead of grouping "Earth and Space Science" into one big unit, it's broken down into five subtopics with practice problems: "Structure of the Earth," "Earth's Resources," "Weather and Climate," "Earth in the Solar System," and "The Expanding Universe." That way, you can easily work on tough concepts without wasting time on things you already know. (More on targeted studying practices later!)
Also, this book teaches you by acting like a mini-tutor. The lessons are set up like you'd see them in a classroom, with explanation and context before you jump into the sample problems. We think this set-up minimizes frustration while maximizing learning, which will help you ace the GRE.
Best Introductory GED Prep Book: McGraw-Hill Education Pre-GED, Third Edition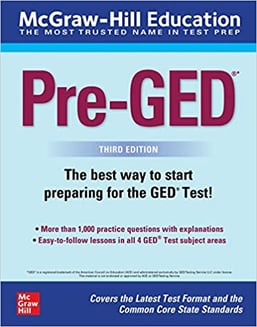 Cost: About $20 on Amazon
Best For: People who want to wade into studying instead of jumping in the deep end
If you've been out of school for a while, it can be intimidating trying to get back into the swing of studying. That's why we love this book by McGraw-Hill. This book is called a "Pre-GED" book for a reason: it takes you back to the basics!
This GED book focuses on teaching you core concepts that you'll need to tackle the test, like grammar rules and basic math skills. This book also works hard to remove the intimidation factor of the exam by breaking concepts down into "micro-lessons" so you can learn in bite-sized pieces. And the book also comes with a companion app so that you can study on the go!
But our favorite aspects of the book is that it gives you a list of the top skills you need to learn for each of the subject exams in order to pass. That way, you have a handy-dandy checklist to work through to make studying easier.
Best GED Study Book For Strategy: Master the GED Test 2020 by Petersen's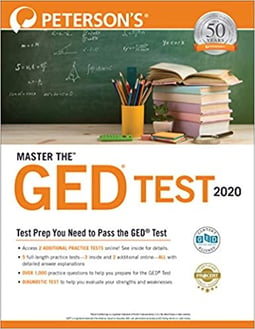 Cost: About $21 on Amazon
Best For: People who want to do targeted studying
When you're crunched for study time, it's important that you make every minute count. One of the best ways to do this is through targeted studying, or only focusing on studying topics where you need the most practice. (More on this later.)
The great thing about this GED study book--and the reason it makes our list--is that it has lots of diagnostic and practice tests for you! Diagnostic tests are key to figuring out which areas of the GED you need to study, and practice tests are great for making sure you're improving in your weakest subjects.
As an added bonus, this GED book has a whole section dedicated to test-taking strategies. At PrepScholar, we know that how you take your test is as important as knowing the test material. Learning test-taking strategies like time management and the process of elimination, you can significantly improve your test score.
Best Book for Practice Exams: 5 Practice Exams for the GED Test by The Princeton Review

Cost: About $20 on Amazon
Best For: People who just need some extra practice
This book is exactly what the title says it is: it's a book of five full-length GED practice exams. While most of the GED study books on this list include at least one practice exam as part of the guide, this book focuses only on practice tests.
What sets this book apart from the others is that for each test, there's an additional section that walks you through how to solve each answer. If you miss a question, you have a guided tutorial explaining where you made your mistake and how to fix it!
Best Book for People Who Don't Like Study Guides: GED Test For Dummies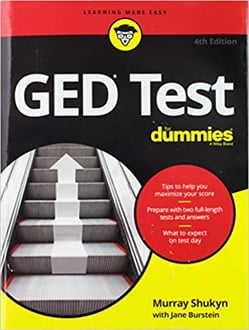 Cost: About $17 on Amazon
Best For: Well...people who don't like study guides!
You've probably seen--or maybe even read!--books in the "For Dummies" series before. These books are characterized by their fun, easy-to-read style. That's definitely true for their GED study guide, too.
Unlike other books on this list that focus on the nuts-and-bolts of the exam, this book uses storytelling and casual writing to help you master key concepts. In other words, it's a lot easier to read than some of the other GED prep books we've chosen!
But that doesn't mean this book is light on content. Not only does it explain ideas well, it tackles all the major content areas you'll face on the test itself. It also doesn't scrimp on strategy, either, and offers practical tips for success (like making the most out of the short breaks you get during the exam). By the time you finish this book, you'll be well-prepared to take the GED.
Best Non-Book Study Aid: Barron's GED Test Flash Cards: 450 Flash Cards to Help You Achieve a Higher Score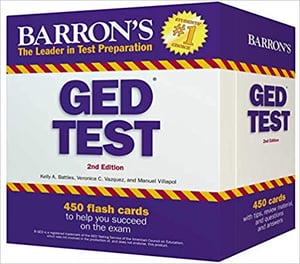 Cost: About $12 on Amazon
Best For: People who need a quick refresher on material and/or people on the go
Okay, okay: so this option isn't really a book. It's actually a set of expertly curated flashcards that cover the material you'll see on the GED exam. So why have we included them on this list? Well, flashcards are one of the most effective study tools, but they can be very time intensive to make. This is a much simpler, effective way to integrate flashcards into your study routine.
The best way to study with these flashcards is to start by methodically working your way through the deck. You can take some with you to work, put them in your pocket for your subway ride, or go through them as you eat dinner. When you hit a card you don't know, set it in a separate pile. That way, you can quickly and easily review trickier concepts to help you commit them to memory.
Best Book for Spanish Speakers: Preparación para el Examen de GED, Tercera edicion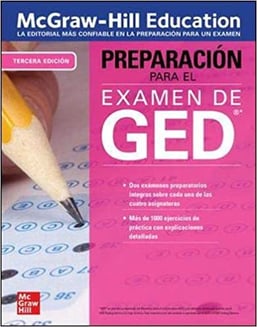 Cost: About $22 on Amazon
Best For: Spanish speakers!
Did you know that the GED is available in Spanish? We think that's pretty great, so we wanted to include a GED prep book for native Spanish speakers, too. This book by McGraw-Hill covers every topic you'll be tested on the GED exam, so it's just as rigorous as the other choices on this list. It also includes diagnostic and practice tests, too! In other words, if you're planning on taking the Spanish version of the GED, then this book is a must have.
One of the big differences between the GED in English and Spanish is that the language arts portion of the Spanish GED covers Spanish grammar. This book provides a comprehensive overview of the Spanish grammar rules you'll need to know for your test...which obviously aren't covered in English-language guides!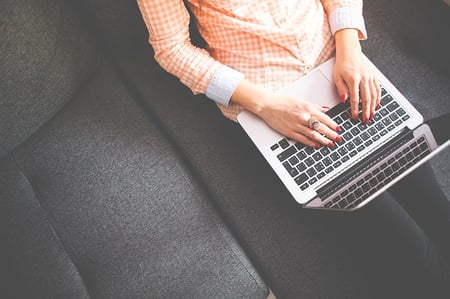 The 6 Study Tips You Need to Ace the GED Exam
Once you've chosen the right book for you, it's time to get down to business: studying! The trick to making a good score on the GED is to use study strategies to your advantage. Making sure you're studying smart not only helps you remember the information better, it helps you maximize your limited study time, too.
Keep reading to learn more about each of our top study tips for the GED.
Tip #1: Determine Your Target Score
Each of the four portions of the GED is scored on a scale of 100 to 200, where 100 is the lowest score you can make, and 200 is a perfect score. Each section is scored individually, and those scores are combined into an overall score.
The most important thing to remember is that in order to pass the GED, you must score a minimum of 145 points on each of the subject tests to pass the exam.
Beyond this, the GED breaks down scores into four distinct categories:
Not Passing: This indicates that you scored lower than 145 on one or more of your subject tests. In general, you need to answer 60%–65% of the questions on a subject test to earn a passing score.
Passing Score/High School Equivalency: This score indicates that you scored a minimum of 145 on each test, demonstrating that you have high school equivalency-level skills. Congratulations!
GED College Ready: You receive this distinction if your cumulative score is between 165–175. Some colleges may waive placement testing and/or remediation for students who score in this range (but check with your individual institution).
GED College Ready + Credit: If your cumulative score is 175 or above, you earn this distinction. It means that you already know skills that are taught on the college level, and some universities may award you college credit as a result! Not only does this help you meet your educational goals faster, it can save you money, too.
Take a look at the chart below. Which outcome best meets your educational goals? Once you know that, you can start studying appropriately. For example, if you're aiming for the GED College Ready + Credit distinction, you're going to have to put in significantly more time and effort than if you're just aiming for high school equivalency!
Tip #2: Start With Diagnostic Tests
People taking the GED come from all walks of life, but many GED-takers have been out of school for a while. That doesn't mean you can't do well on the GED test—it just means you might be rusty on some of the skills you'll see on the exam!
That's why we recommend you take a GED Diagnostic Test, either online or in one of the GED prep books we mentioned above. The idea behind a diagnostic test is to help you see which concepts on the exam you're strongest in, and identify subject areas where you might need more work. You don't need to study for a diagnostic test: in fact, studying will throw off the results!
It's okay if you don't do well on a diagnostic test, since the purpose is to help you identify the areas where you need to study the most. The idea is that if you focus on the topics, concepts, and skills where you're weakest, you'll have the greatest impact on your overall score.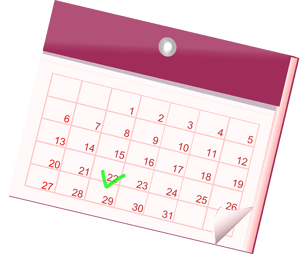 Tip #3: Start Studying in Advance
It's tempting to put off studying until a few weeks before the GED. We get it: studying isn't exactly fun, and you're a busy person! But science shows that cramming for an exam, especially an exam with as many subject areas as the GED, doesn't do much to improve your overall score.
That means you're gonna have to start studying a few months before you're signed up to take the GED. (Sorry.) We recommend you begin studying at least two months before your test date.
But here's the good part: studying ahead of time helps you minimize your stress levels. Not only are you taking in the information in smaller chunks—which is much better for memorization!—you're getting used to the test. That way you'll be calm, cool, and collected on test day.
Need more help with this topic? Check out Tutorbase!
Our vetted tutor database includes a range of experienced educators who can help you polish an essay for English or explain how derivatives work for Calculus. You can use dozens of filters and search criteria to find the perfect person for your needs.
Tip #4: Set Aside a Daily Study Time
This tip goes hand-in-hand with Tip #3: study every single day. Now, that doesn't mean you need to study for three hours a day or anything crazy. But when you make studying a part of your daily routine, you'll find that you actually stick with it. And as the old saying goes: practice makes perfect!
There are two ways to start a daily study habit. The first is to pick a specific time every single day and set it aside for studying. Make sure you choose a time when your life is pretty calm, like before you get ready for work or after your family goes to bed. The trick is that you sit down with your GED prep book every day at that specific time for 15 to 30 minutes and work on the material.
If setting a specific time doesn't work for your schedule, then commit to doing one small subsection of your GRE prep book every day. The top two books on our list break subjects down into small, manageable chunks that only take a few minutes to learn and practice. The benefit to this method is that it's a more flexible schedule and feels a little less like school.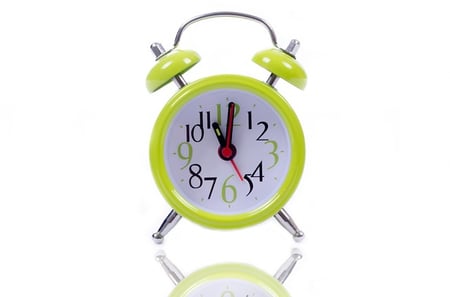 Tip #5: Practice With a Timer
The GED is a timed exam, meaning that you'll have a set amount of time to complete each subject test. Here's how much time you'll have on each section of the GED:
Mathematical Reasoning: 115 minutes
Reasoning Through Language Arts: 150 minutes and an additional 45 minutes for the essay
Social Studies: 70 minutes
Science: 90 minutes
While knowing the material for the test is important, if you don't know how to manage your time wisely, you'll struggle. It can be tough to work under pressure, especially when you're trying to keep an eye on the clock and work through challenging questions!
That's why studying with a timer is so critical: it gets you accustomed to the time constraints of the exam.
There are two ways to use timed study practice effectively. The first way is to set a timer while you work through a set of 10 problems at your own pace. Don't push yourself: the goal is to get a benchmark for how long it takes you to answer questions! Once you finish the set, look at your timer and divide the number by 10. That's how long, on average, it takes you to answer one GED question. From there, you can start to gauge how much faster you need to work in order to answer as many questions (correctly!) as possible.
The second way to use timed study is to work in reverse. With this method, you're practicing the "countdown pressure" of the clock. You'll take a set of problems, then set a timer to go off in a few minutes. Try to work the whole problem set before the clock reaches zero!
It's also important that you take practice tests regularly during your study process to gauge your progress and figure out which areas you need more work on. It's tempting to take these practice tests at your own pace, but we recommend you time them just like the regular GED. This will help you simulate a "test day" environment.
Tip #6: Look for In-Person Study Groups
It's easy to feel intimidated when you first get your GED study book in the mail. Most of them are almost 1,000 pages long, and it can feel like an impossible task to get started. It can be a huge confidence boost to study with other people who have the same goals you do. That's why it's a good idea to see what community resources are available for GED test-takers.
For example, many libraries have GED study programs that are free and available to the public. Additionally, if there's a university or community college in your town, they may have in-person study sessions available, too. Sometimes cities even have adult education initiatives that provide GED tutoring for free!
While these resources vary from city to city, there's a pretty good chance that there's at least one public GED program available to you where you live. And if there aren't, you can always start your own study group.
What's Next?
Did you know there's another high school equivalency exam called the HiSET? Check out this article to learn more about the HiSET and whether it's a good fit for you.
No matter which GED book 2019 you choose, you'll want to take plenty of practice tests, too. Here are the 11 best GED practice tests to help you prepare for the exam.
Maybe you've read through this article and you're still not sure whether a GED study book is right for you. That's okay...you have options! There are online courses you can take to get your GED instead. Check out this article to learn more about them.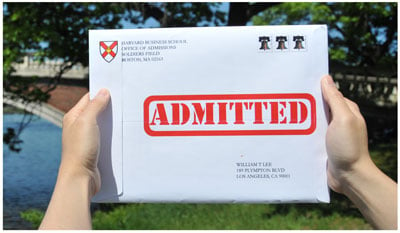 Want to build the best possible college application?
We can help. PrepScholar Admissions is the world's best admissions consulting service. We combine world-class admissions counselors with our data-driven, proprietary admissions strategies. We've overseen thousands of students get into their top choice schools, from state colleges to the Ivy League.
We know what kinds of students colleges want to admit. We want to get you admitted to your dream schools.
Learn more about PrepScholar Admissions to maximize your chance of getting in.
These recommendations are based solely on our knowledge and experience. If you purchase an item through one of our links, PrepScholar may receive a commission.
Have friends who also need help with test prep?
Share this article!
About the Author
Ashley Sufflé Robinson has a Ph.D. in 19th Century English Literature. As a content writer for PrepScholar, Ashley is passionate about giving college-bound students the in-depth information they need to get into the school of their dreams.
Get Free Guides
to Boost Your SAT/ACT