So you've just taken the SAT. Congratulations! Once you get a little rest, you'll probably start wondering when your scores will come out, and how to find SAT scores on the College Board website. In this post, we will tell you exactly what time of day scores will appear and where to check your scores on the website.
When Do Scores Come Out?
SAT scores come out three to six weeks after your test. (Results generally arrived faster in the past — 17 to 19 days — but this new timeline seems to be sticking around with the Redesigned SAT.) The exact timeline depends on the which test date you're signed up for so make sure to check out the full schedule of 2016-2017 score release dates.
If you listed colleges for your scores to be sent to when you registered, those scores will be sent beginning on the day before you can view your score.
Scores are usually released starting at 5 a.m. EST/ 2 a.m. PST, but it can take a little while for all of the scores to appear on the website. Most scores are up by 8 a.m. EST/ 5 a.m. PST at the latest. (We don't recommend staying up late and hitting "refresh" until your scores are available – get some sleep and check in the morning!)
In case you were wondering, there is no way to see your scores earlier than the score release date. In fact, scoring the SAT is such a complex process, it's pretty amazing you can get your scores in less than three weeks (when things are running at full steam and the College Board isn't dealing with the repercussions of a new exam format). So after you take the SAT, try to relax and be patient for those three weeks until your scores come out.
How Do I Check My SAT Scores?
Once you've waited and your scores are up on the website, how exactly do you view SAT scores? Follow our step-by-step guide to find your SAT scores.
First, head to the SAT College Board main website. Click on the middle box where it says the May scores are in. The exact month will be updated according to which test date's scores were last released.
Then, you'll be directed to a sign-in page. Log in with the user name and password you created when you registered for the SAT. After you sign in, you'll be able to view your test scores. Your most recent scores will be listed first
Click on "See Them Now" to view your scores in the updated format, which admittedly looks much nicer.

This is your score summary page. You will be able to see your composite scores for each section of the SAT, as well as any scores from old test dates. (Read more on how the SAT is scored.) To see your score report, which includes your raw scores in each section and your essay scores (if you did the essay), click on "View Details."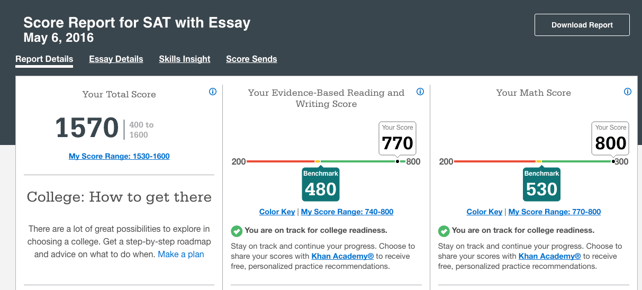 Also, your score report contains national percentiles, information on questions you answered correctly and incorrectly, and subscores. Definitely take some time to read through the report so you can understand what you did well and where (if anywhere) you need to improve. This will be a huge help if you decide to retake the SAT.
Tips and Advice About Your Scores
You will not receive an SAT score in the mail unless you specifically request it at registration. You can call College Board to ask for your scores, but they charge a $15 fee for scores given over the phone. So make sure you have your user name and password ready to go on the day scores are released to find your SAT scores!
The SAT is offered often enough that you won't have to retake the test on the next test date, unless you are running up against college application deadlines. So don't stress about immediately signing up for the next SAT if you are not happy with your score. Besides, if you decide you want to retake the SAT, you will want to give yourself sufficient time to study.
What's Next?
Scores still not listed even though it's score release day? Find out why!
Now that you have your score, you might be wondering how good it is. Find out what constitutes a good (and an excellent!) SAT score.
So now that you have your score, should you retake the SAT? Use our three-step process to decide.

Unhappy with your SAT scores? PrepScholar might be the program for you. We guarantee an improvement of 160 points on your current SAT score, or your money back.
We have the industry's leading SAT prep program. Built by Harvard grads and SAT full scorers, the program learns your strengths and weaknesses through advanced statistics, then customizes your prep program to you so you get the most effective prep possible.
Check out our 5-day free trial today:
Have friends who also need help with test prep?
Share this article!
About the Author
Halle Edwards graduated from Stanford University with honors. In high school, she earned 99th percentile ACT scores as well as 99th percentile scores on SAT subject tests. She also took nine AP classes, earning a perfect score of 5 on seven AP tests. As a graduate of a large public high school who tackled the college admission process largely on her own, she is passionate about helping high school students from different backgrounds get the knowledge they need to be successful in the college admissions process.
Get Free Guides
to Boost Your SAT/ACT