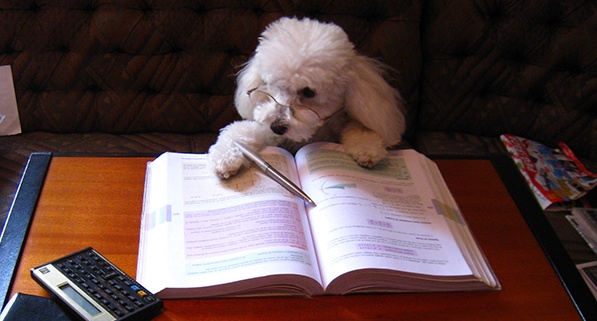 In planning your SAT prep, you probably want to know how long you need to study. Is it weeks or months? Is it dozens of hours or hundreds?
The answer to these questions depends on a variety of factors, including the scores you are hoping to get and how comfortable you already are with the test material from your general experiences in school and life. There's no reason to torture yourself with endless SAT studying if your scores are already in the target range for your top choice schools. On the other hand, if you are still pretty far away from the scores you are looking for, you may have to work harder than you think.
In this guide, I'll show you how to figure out how much you need to improve on the SAT, how many hours you need to spend to get there, and how you should build a study schedule before your next real test. Below are the six steps you need to follow to figure out your SAT study plan.
#1: Figure Out Your SAT Target Score
The easiest way to get a target score is to Google your top choice school and "average SAT scores". You should find a 25th percentile score and a 75th percentile score for the school. The range between the two represents the scores of the middle 50 percent of admitted students. Aim for the 75th percentile score (e.g. a higher score than 75% of the school's admitted students) as your target to make sure you have the best chance at being accepted!
For more details about this, see our article on target scores. Remember, not everyone can or should have the same target score. It's up to you to be realistic and assess your abilities while also challenging yourself.
#2: Take a Practice SAT to Determine Your Starting Point
It's important to know your abilities and weak spots before you begin studying. You can plan out your studying time based on how large of an improvement you need to make from your starting point to your target scores. Check out our guide to a set of official SAT practice tests available free online.
You can also use your PSAT scores as a baseline for judging how much you will need to improve on the SAT if you've taken that test already. However, I would still recommend taking another practice test if you are in the latter half of your sophomore year and took the PSAT at the beginning of the year.
(When I first took the PSAT in high school, I had no idea what was going on in the math section since I had just started my first geometry class. I was like "Shapes? Forget this!" and the proctor told me I had to stop disrupting the other students. Anyways, by the end of the year, everything was much less confusing.)
Once you have your baseline scores, you can begin to see where you need to make improvements to reach your target.

#3: Decide When You Will Take the Real Test
We recommend taking the SAT for the first time during the fall of your Junior year (see the advice under "When Should I Take the SAT?"), but you may decide to take it earlier or later depending on your schedule and level of preparedness.
In general, the early bird catches the worm (the metaphorical worm in this case being a higher SAT score). You will have more potential test dates available in the future and a better idea of where you stand if you start earlier. You will also run up against much less stress. You probably don't want to be worrying about standardized tests while you're filling out college applications during the fall of your senior year.
But what if you're in a scenario where you don't have your choice of test dates? Maybe you're planning a hot air balloon trip around the world that's happening at the same time as all the earlier dates. Maybe you're already coming up on senior fall, and there's only one test date left. In this case, your test date is constrained, and you'll need to work hard to meet the suggested number of hours before your test.
Whatever the case may be, you can still find a study plan that works for you.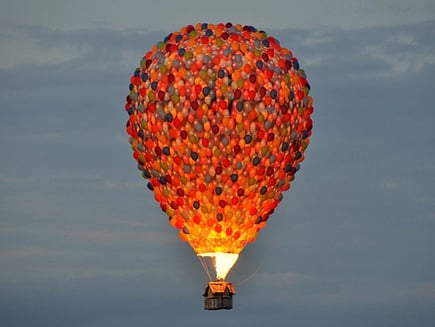 Sometimes you gotta miss the SAT to fulfill the dreams you and your beloved wife once shared. That's how life is.
#4: Give It to Me Straight Doc, How Many Hours Do I Actually Have to Study?
Based on your goals, you can figure out how many hours you will probably need to study. Follow this handy chart that shows the number of hours you should devote to poring over ancient tomes of SAT knowledge.
| | |
| --- | --- |
| Number of Points You Want to Improve By | Approximate Hours You'll Need to Study |
| 0-30 Points | 10 hours |
| 30-70 Points | 20 hours |
| 70-130 Points | 40 hours |
| 130-200 Points | 80 hours |
| 200-330 Points | 150+ hours |
This is a rough estimate, so it obviously isn't perfect. Each student has different levels of development in terms of study habits and test strategies. We'll go into more detail later about factors that might lead to score variations given the same amount of study time.
But in our experience, this is roughly what it takes. If you want to improve by around 30 points, you'll be able to this with a light review, a single practice test, and retaking the official test.
On the other hand, if you want to improve by 200 points or more, you'll need to make serious improvements in your understanding of fundamental content and skills. The SAT tests so much subject matter that to improve by 200 points, you'll need to address deep content weaknesses. Tips and tricks aren't going to cut it.
You also might not have this much time to devote to studying because of other commitments. That's why you should take these hourly estimates into consideration while still weighing everything on an individual basis to see what works for you. This brings us to...
#5: Make a Study Plan Based on Your Time Constraints and Studying Style
Ideally, you will still have at least six months or so before the test to formulate your study plan. As I've said, there is no one size fits all approach to this. You may not need to start studying six months in advance. Two months could be more than enough if you are already closer to your target score or prefer to study for longer chunks of time.
Ask yourself how much of an improvement you want to make and then consider what is manageable in terms of time spent. Here are a couple of example scenarios:
I Want to Improve by 70-130 Points, and I Have Many Other Commitments
Try focused studying for an hour or two every week for however much time you have before the test. If you start at least a few months beforehand, you won't be overwhelmed with yet another commitment. You'll gradually gain familiarity with questions and learn to avoid any silly mistakes that might cause you to lose points. If you can study for just two hours a week for two months, you should be able to boost your score by 100 points or so.
I Want to Improve by Around 200 Points, and I Have the Summer to Study, but I'm not Sure Where to Start!
Unstructured time is hard to manage, but this means you have your choice of when you are most comfortable and least distracted for studying times. If you schedule out a few hours each week where you will focus on studying, a couple months can be enough to improve your scores.
The chart above recommends around 80 hours of studying for a 200 point improvement. If you have three months to study, that comes out to about five hours a week. Not so bad. If your parents invite their friends over for a barbecue, and they try to talk to you about your college plans in a desperate attempt to relate to you, you can use SAT studying as an excuse to avoid them. Everybody wins.
I Want to Improve by 330 Points or More. Am I Crazy?
No, you are (probably) perfectly sane! You should start studying earlier, but it's doable if you are willing to put in some serious time and effort. Especially if your initial score is below average (typically less than 1000), you have a good chance of making a drastic improvement through studying.
If you still have six months before the test, you should think about which day of the week you will be least stressed by other commitments and schoolwork and set that afternoon/evening aside for an SAT extravaganza. If you can block out five hours a week for six months in advance of the test, you should start to see significant positive results.
Also, if you happen to have the resources to hire a tutor, this is when you might consider doing so. Tutors have expertise and familiarity with the test material, so they can often help you see your weak spots when you might miss them. Since the SAT is very different from any test you might take in a regular class, it's hard to be a student who is new to the test and try to teach yourself question strategies that are alien to you.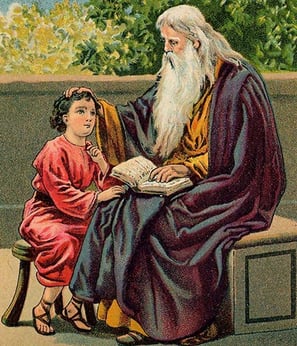 Learn from a wise mentor.
#6: Consider Factors That Increase or Decrease Study Time
You might have special circumstances that mean you need to customize your study plan more drastically. Some people should study for more or less time based on past experience and time management skills.
You'll Need to Study Longer If:
You've already studied a lot, and you haven't seen much improvement. This typically means you need to switch up your strategies in addition to studying more. Take a step back and look at how you have been approaching your study time so you can make productive changes.
You're easily distracted. You might not get as much out of your blocks of study time if you are always being sidetracked by other things. Try scheduling out more time, and put your phone away while you're studying.
It takes a while for you to learn from your mistakes. If you need to practice answering questions a few times before you understand your mistakes, you should consider studying for longer periods of time.
You Might Improve in Less Time If:
You are new to the SAT. If you are someone who has barely looked at the test before and just started studying, you are going to see larger score gains in a shorter amount of time.
You are a super focused studier.

What might take another person two hours to process will take you one, so consider dialing back your study time so you aren't overdoing it and getting test fatigue.
You learn quickly from your mistakes. If you never make the same mistake twice, you also shouldn't overdo it with studying. You probably only have to get the wrong answer once before you can rely on yourself to get the right one in the future.
Summary: How Long to Study for the SAT
You can formulate your SAT study plan based on your goals and the statistics for your top choice schools. The key is starting early!
Figure out your target score, take a few practice tests, and decide how much you need to improve. Then, assess your time constraints and be realistic about how much energy you can devote to studying.
You've got this!
What's Next?
Check out our Complete Plan for when you should start studying for the SAT. This will give you a more comprehensive view of how to structure your time including what's tested, when you should take the test, and sample score goals for different levels of college selectivity.
Also, take a look at our guide for how to review missed questions on the SAT and ACT. If you can learn to effectively review missed questions, you will be a much more productive studier!
Want to get a super high SAT score? Check out our perfect SAT score guide, written by a perfect scorer.
Want to improve your SAT score by 160 points?
Check out our best-in-class online SAT prep classes. We guarantee your money back if you don't improve your SAT score by 160 points or more.
Our classes are entirely online, and they're taught by SAT experts. If you liked this article, you'll love our classes. Along with expert-led classes, you'll get personalized homework with thousands of practice problems organized by individual skills so you learn most effectively. We'll also give you a step-by-step, custom program to follow so you'll never be confused about what to study next.
Try it risk-free today:
Have friends who also need help with test prep?
Share this article!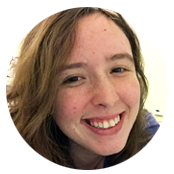 About the Author
Samantha is a blog content writer for PrepScholar. Her goal is to help students adopt a less stressful view of standardized testing and other academic challenges through her articles. Samantha is also passionate about art and graduated with honors from Dartmouth College as a Studio Art major in 2014. In high school, she earned a 2400 on the SAT, 5's on all seven of her AP tests, and was named a National Merit Scholar.
Get Free Guides
to Boost Your SAT/ACT