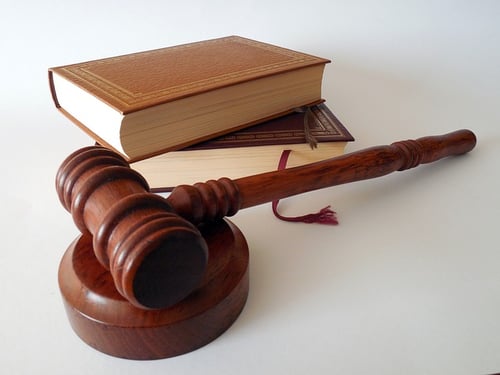 Trying to become a lawyer in the United States? Then you'll most likely need to take the MPRE. The MPRE is an important, usually mandatory test you must pass before you can be admitted to your state's bar.
In this guide, we explain what kind of content the MPRE tests and give you all the info you need on the upcoming MPRE dates and deadlines. We will also discuss the MPRE registration process, what MPRE scores you need to pass the test, and what to do once you get your MPRE results.
What Is the MPRE?
Administered by the National Conference of Bar Examiners (NCBE), the Multistate Professional Responsibility Examination (MPRE) is an exam designed to test your knowledge of ethics and conduct in law.
Specifically, it covers topics such as the following:
Client-lawyer relationships
Client confidentiality
Roles of the lawyer
Judicial conduct
Safekeeping funds and other property
You've likely heard of the bar exam, which is the exam that law students must pass in order to be admitted to their state's bar and become a practicing lawyer. Well, the MPRE is another required exam for lawyers that specifically tests ideas relating to ethics and conduct (by contrast, the bar exam tests other concepts, such as evidence, constitutional law, criminal law, contracts, etc.).
In other words, law students must typically pass the MPRE and the bar exam to be able to conduct law in their state. (Most states require the MPRE but not all—we'll go over this more momentarily.)
So what kind of test is the MPRE exactly? The MPRE is a two-hour test consisting of 60 multiple-choice questions, 10 of which are unscored and will thus not count toward your final score. Know that you won't be told which questions are unscored, so treat all of them as if they're being scored. There are also no breaks during the test.
Every question has four answer choices, and just one is correct. You only earn points for questions you answer correctly—you do not lose points for any wrong answers; therefore, it's in your best interest to put down an answer for everything and venture a guess when you're clueless.
Here's an official sample MPRE question: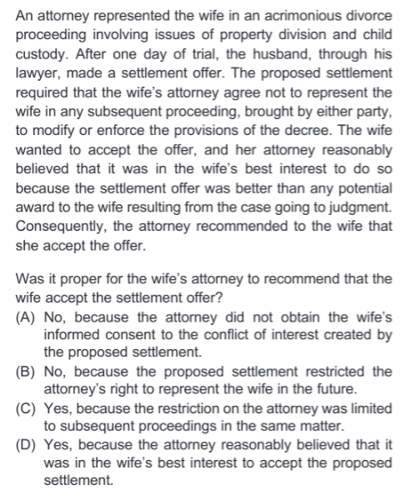 To sign up for the MPRE, you must create an account on the NCBE website. The cost is $135 if you register by the regular MPRE registration deadline and $220 if you register by the late registration deadline.
While the MPRE has traditionally been a paper test, it's now in the process of becoming an entirely computerized test. From March 2020 onward, only the computer version will be available, and there will be no paper option. This change will not affect the scoring or content in any way.
MPRE Registration Deadlines and Dates
The MPRE is administered three times a year, typically in March, August, and October/November. Registration for the 2020 MPRE dates will open on Monday, December 16, 2019.
Here are the upcoming MPRE dates and deadlines for 2020. All test dates and regular registration deadlines have been confirmed by NCBE. The remaining dates are our predictions based on the patterns of previous testing years.
Test Date

Registration Deadline

Late Registration Deadline

Online Score Release

Thu, Mar 12, 2020
OR
Fri, Mar 13, 2020

Feb 12, 2020

Feb 19, 2020

Apr 16-17, 2020

Tue, Aug 11, 2020
OR
Wed, Aug 12, 2020

June 25, 2020

July 2, 2020

Sept 15-16, 2020

Fri, Oct 23, 2020
OR
Wed, Oct 28, 2020

Sept 14, 2020

Sept 21, 2020

Nov 27-Dec 2, 2020
As you can see, regular MPRE registration deadlines are usually about four to six weeks before the test, with late registration deadlines just a week after the regular deadlines.
After the late registration deadline has passed, there's no way to sign up for that MPRE test date⁠—you simply have to wait for the next administration.
MPRE scores are typically released online within five weeks after taking the test. They will be posted directly to your NCBE Account. Be aware that your scores will only stay in your account until the date of the next MPRE administration, so make sure to save them while they're available.
Your MPRE scores will also be automatically reported to the jurisdiction you designated when you signed up for the exam.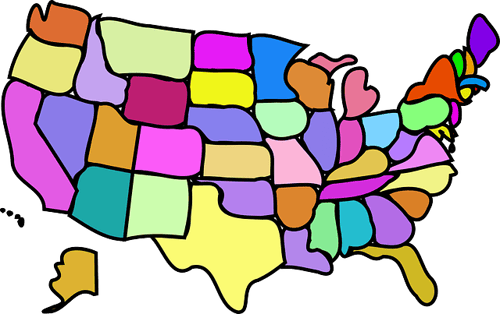 What MPRE Scores Do You Need to Pass?
Before you register for an MPRE date, you should know what score is needed to pass the exam.
The MPRE is scored on a scale of 50-150. Each jurisdiction (that is, each state/territory) maintains its own passing score, so the score you will need in order to pass will vary depending on the state in which you're taking the MPRE.
Note that the MPRE is required in all jurisdictions EXCEPT the following:
Additionally, both Connecticut and New Jersey permit you to waive the MPRE requirement if you show proof of satisfactory completion of a law school ethics course. Otherwise, you'll need to take the MPRE and earn the minimum passing score required for the state.
Here are the passing scores for all jurisdictions that require the MPRE:
| | | | |
| --- | --- | --- | --- |
| State/Territory | MPRE Passing Score | State/Territory | MPRE Passing Score |
| Alabama | 75 | Montana | 80 |
| Alaska | 80 | Nebraska | 85 |
| Arizona | 85 | Nevada | 85 |
| Arkansas | 85 | New Hampshire | 79 |
| California | 86 | New Jersey | 75 |
| Colorado | 85 | New Mexico | 80 |
| Connecticut | 80 | New York | 85 |
| Delaware | 85 | North Carolina | 80 |
| District of Columbia | 75 | North Dakota | 85 |
| Florida | 80 | Northern Mariana Islands | 80 |
| Georgia | 75 | Ohio | 85 |
| Guam | 80 | Oklahoma | 75 |
| Hawaii | 85 | Oregon | 85 |
| Idaho | 85 | Palau | 75 |
| Illinois | 80 | Pennsylvania | 75 |
| Indiana | 80 | Rhode Island | 80 |
| Iowa | 80 | South Carolina | 77 |
| Kansas | 80 | South Dakota | 85 |
| Kentucky | 80 | Tennessee | 82 |
| Louisiana | 80 | Texas | 85 |
| Maine | 80 | Utah | 86 |
| Maryland | 85 | Vermont | 80 |
| Massachusetts | 85 | Virgin Islands | 75 |
| Michigan | 85 | Virginia | 85 |
| Minnesota | 85 | Washington | 85 |
| Mississippi | 75 | West Virginia | 80 |
| Missouri | 80 | Wyoming | 85 |
Source: NCBE
As the chart indicates, the minimum MPRE score needed to pass the exam ranges from as low as 75 to as high as 86.
Here are the states with the lowest and highest MPRE passing scores:
Lowest Passing Score (75)
Alabama
District of Columbia
Georgia
Mississippi
New Jersey
Oklahoma
Palau
Pennsylvania
Virgin Islands
Highest Passing Score (86)
Once you know your state's MPRE passing score, you can figure out how to tailor your prep so that you have a better shot at getting (or exceeding) that minimum score.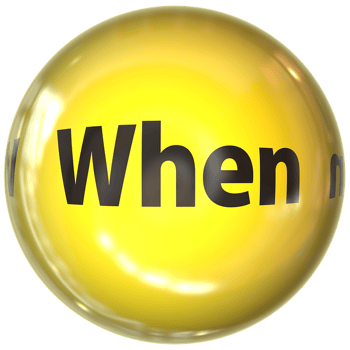 When Should You Take the MPRE?
Most US jurisdictions require you to take the MPRE as a law student before you take the bar exam (which is usually taken once you graduate from law school with your JD).
That said, exactly when you must take the MPRE will vary depending on the jurisdiction, with some states allowing you to take the MPRE after the bar exam. Many states maintain specific time parameters regarding when you can take the MPRE. You can find each jurisdiction's rules here.
For example, Maine has a relatively lax rule for when you must pass the MPRE (bold emphasis mine):
"An applicant for admission by examination or by transferred UBE score must have taken and obtained a passing score on the MPRE within 15 years prior to the date on which the application is filed."
Meanwhile, South Carolina's rule is slightly stricter (again, bold emphasis mine):
"MPRE must have been taken within 3 years of date on which application is filed."
Furthermore, some states don't have any time restrictions at all; these include Ohio, Illinois, and Minnesota. In other words, as long as you pass both the MPRE and bar exam, you can enter that jurisdiction's bar, no matter how much time has passed between the two exams.
In general, though, most students take the MPRE in August between their second and third years of law school. This way you can shift your focus in your final year of law school to the bar exam, which most students take as soon as they earn their JD.
If you don't take the test in August, you can still opt for the October/November or March test dates your third year of law school, since these shouldn't interfere with your bar exam prep. Remember that the bar is a notoriously difficult test with a low passing rate, so you'll want to give yourself plenty of time to dedicate solely to studying for this exam.
What to Do With Your MPRE Results
You've taken the MPRE, waited a month, and finally received your results. What do you do now?
First, see whether you achieved a passing MPRE score for your jurisdiction. To do this, simply compare your score with the minimum required score for your state/territory in the chart above.
If you achieved at least this minimum score, congratulations! You have officially passed the MPRE and are now ready to study for the bar exam. If you didn't pass the MPRE, that's OK⁠—you still have plenty of opportunities to pass it. (And it's definitely not uncommon to have to take it multiple times!)
Assuming you took the MPRE in August after your second year of law school, your next step is to register for the next MPRE test date, which will be in October/November. Try to spend more time prepping for the exam than you did before, focusing on the areas that you feel you struggled with the most.
Many law students on Reddit advise using the free BARBRI MPRE course to help you review for the exam. Remember that there's no limit to how many times you can take the MPRE. The only major thing to keep in mind is your jurisdiction's rules regarding when you can take the MPRE and bar exam.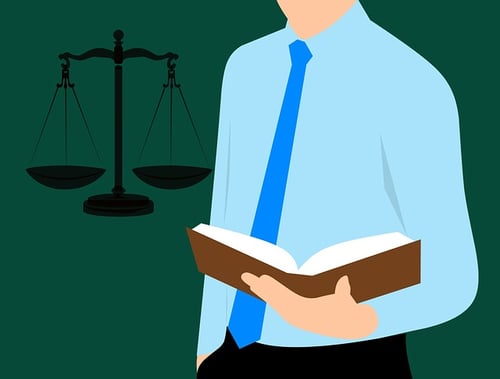 Wrap-Up: MPRE Dates, Deadlines, and Scores
The MPRE is a specialized exam that tests your knowledge of ethics and conduct in law. Typically, you must pass it prior to taking the bar exam in order to become a lawyer and gain admission to your jurisdiction's bar (though some jurisdictions do not require the MPRE at all).
There are three MPRE dates every year in March, August, and October/November. Regular MPRE registration deadlines are normally four to six weeks before the test, and late registration deadlines are about one week after regular deadlines.
The MPRE registration fee is $135 (if you register by the normal deadline) and $220 (if you register by the late deadline).
MPRE scores use a scale of 50-150, and the score you need to pass the test varies depending on the state/territory. You'll usually need an MPRE score in the range of 75 to 86.
Most law students take the MPRE between their second and third year of law school in August; this allows them to spend the rest of their time in law school preparing for their jurisdiction's bar exam, which is generally thought to be the harder of the two tests.
Even if you don't pass the MPRE on your first try, you'll still have plenty of opportunities to pass it!
What's Next?
Thinking of getting into law? Then check out our step-by-step guide to becoming a lawyer. We give you tips on what to do in high school and beyond to prepare yourself for a career in law!
A pre-law major can help you on your way to becoming a lawyer. Read our expert guides to how to prepare for law school in college and take a look at the best pre-law schools.
Considering a different career path? Then consider checking out our guides to how to become a doctor and how to become a professor.
Have friends who also need help with test prep?
Share this article!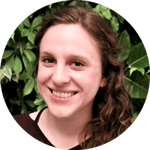 About the Author
Hannah received her MA in Japanese Studies from the University of Michigan and holds a bachelor's degree from the University of Southern California. From 2013 to 2015, she taught English in Japan via the JET Program. She is passionate about education, writing, and travel.
Get Free Guides
to Boost Your SAT/ACT