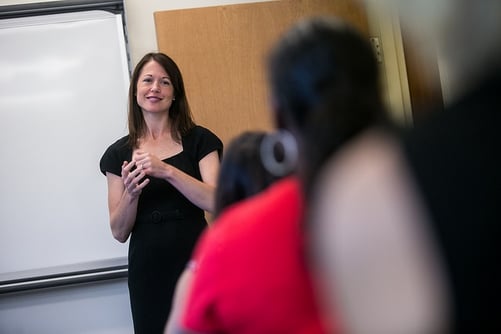 Do you love conducting research and engaging with students? Can you envision yourself working in academia? Then you're probably interested in learning how to become a college professor. What are the basic requirements for becoming a college professor? What specific steps should you take in order to become one?
In this guide, we start with an overview of professors, taking a close look at their salary potential and employment growth rate. We then go over the basic college professor requirements before giving you a step-by-step guide on how to become one.
Feature Image: Georgia Southern/Flickr
Becoming a College Professor: Salary and Job Outlook
Before we dive into our discussion of salaries and employment growth rates, it's important to be aware of the incredible challenge of becoming a college professor.
These days, it is unfortunately well known that the number of people qualified to be professors far outnumbers the availability of professor job openings, which means that the job market is extremely competitive. Even if you do all the steps below, the chances of your actually becoming a college professor are slim—regardless of whether you want to teach in the humanities or sciences.
Now that we've gone over the current status of the professor job market, let's take a look at some hard figures for salary and employment growth rate.
Salary Potential for Professors
First, what is the salary potential for college professors? The answer to this question depends a lot on what type of professor you want to be and what school you end up working at.
In general, though, here's what you can expect to make as a professor. According to a recent study conducted by the American Association of University Professors, the average salaries for college professors are as follows:
Full professors: $140,543
Associate professors: $95,828
Assistant professors: $83,362
Part-time faculty members: $3,556 per standard course section
As you can see, there's a pretty huge range in professors' salaries, with full professors typically making $40,000-$50,000 more per year than what associate and assistant professors make.
For adjunct professors (i.e., part-time teachers), pay is especially dismal. Many adjunct professors have to supplement their incomes with other jobs or even public assistance, such as Medicaid, just to make ends meet.
One study notes that adjuncts make less than minimum wage when taking into account non-classroom work, including holding office hours and grading papers.
All in all, while it's possible to make a six-figure salary as a college professor, this is rare, especially considering that 73% of college professors are off the tenure track.
Employment Rates for Professors
Now, what about employment rates for professor jobs? According to the Bureau of Labor Statistics (BLS), the projected growth rate for postsecondary teachers in the years 2020-2030 is 12%—that's 4% higher than the average rate of growth of 8%.
That said, most of this employment growth will be in part-time (adjunct) positions and not full-time ones. This means that most professor job openings will be those with the lowest salaries and lowest job security.
In addition, this job growth will vary a lot by field (i.e., what you teach). The chart below shows the median salaries and projected growth rates for a variety of fields for college professors (arranged alphabetically):
| | | |
| --- | --- | --- |
| Type of Professor | Median Salary (2020) | Employment Growth Rate (2020-2030) |
| Agricultural Sciences | $90,340 | 2% |
| Anthropology and Archaeology | $89,220 | 4% |
| Architecture | $90,880 | 5% |
| Area, Ethnic, and Cultural Studies | $78,840 | 5% |
| Art, Drama, and Music | $69,690 | 6% |
| Atmospheric, Earth, Marine, and Space Sciences | $94,520 | 2% |
| Biological Science | $85,600 | 9% |
| Business | $88,010 | 12% |
| Chemistry | $80,400 | 4% |
| Communications | $71,030 | 3% |
| Computer Science | $85,540 | 3% |
| Criminal Justice and Law Enforcement | $63,560 | 7% |
| Economics | $107,260 | 5% |
| Education | $65,440 | 5% |
| Engineering | $103,600 | 9% |
| English Language and Literature | $69,000 | 2% |
| Environmental Science | $84,740 | 4% |
| Foreign Language and Literature | $69,990 | 6% |
| Forestry and Conservation Science | $87,400 | 2% |
| Geography | $82,330 | 3% |
| Health Specialties | $99,090 | 21% |
| History | $76,890 | 4% |
| Law | $116,430 | 7% |
| Library Science | $71,580 | 3% |
| Mathematical Science | $73,650 | 1% |
| Nursing | $75,470 | 18% |
| Philosophy and Religion | $76,160 | 7% |
| Physics | $90,400 | 4% |
| Political Science | $85,760 | 5% |
| Psychology | $78,180 | 9% |
| Social Sciences | $69,340 | 0% |
| Social Work | $71,570 | 6% |
| Sociology | $75,610 | 4% |
Source: BLS.gov
As this chart indicates, depending on the field you want to teach in, your projected employment growth rate could range from 0% to as high as 21%.
The fastest growing college professor field is health; by contrast, the slowest growing fields are social sciences, mathematical science, atmospheric and earth sciences, computer science, and English language and literature. All of these are growing at a slower-than-average pace (less than 5%).
Law professors have the highest salary, with a median income of $116,430. On the opposite end, the lowest-earning field is criminal justice and law enforcement, whose professors make a median salary of $63,560—that's over $50,000 less than what law professors make.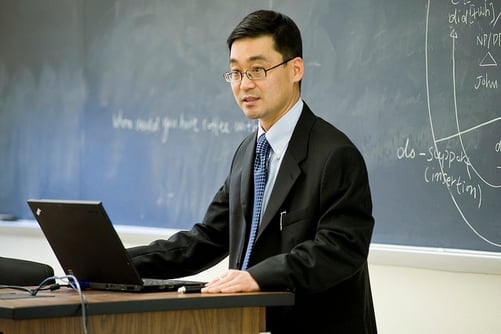 University of Minnesota Duluth/Flickr
College Professor Requirements and Basic Qualifications
In order to become a college professor, you'll need to have some basic qualifications. These can vary slightly among schools and fields, but generally you should expect to need the following qualifications before you can become a college professor.
#1: Doctoral Degree in the Field You Want to Teach In
Most teaching positions at four-year colleges and universities require applicants to have a doctoral degree in the field they wish to teach in.
For example, if you're interested in teaching economics, you'd likely need to get a PhD in economics. Or if you're hoping to teach Japanese literature, you'd get a PhD in a relevant field, such as Japanese studies, Japanese literature, or comparative literature.
Doctoral programs usually take five to seven years and require you to have a bachelor's degree and a master's degree. (Note, however, that many doctoral programs do allow you to earn your master's along the way.)
But is it possible to teach college-level classes without a doctoral degree? Yes—but only at certain schools and in certain fields.
As the BLS notes, some community colleges and technical schools allow people with just a master's degree to teach classes; however, these positions can be quite competitive, so if you've only got a master's degree and are up against applicants with doctorates, you'll likely have a lower chance of standing out and getting that job offer.
In addition, some fields let those with just master's degrees teach classes. For example, for creative writing programs, you'd only need a Master of Fine Arts.
#2: Teaching Experience
Another huge plus for those looking to become professors is teaching experience. This means any experience with leading or instructing classes or students.
Most college professors gain teaching experience as graduate students. In many master's and doctoral programs, students are encouraged (sometimes even required) to either lead or assist with undergraduate classes.
At some colleges, such as the University of Michigan, graduate students can get part-time teaching jobs as Graduate Student Instructors (GSIs). For this position, you'll usually teach undergraduate classes under the supervision of a full-time faculty member.
Another college-level teaching job is the Teaching Assistant or Teacher's Aide (TA). TAs assist the main professor (a full-time faculty member) with various tasks, such as grading papers, preparing materials and assignments, and leading smaller discussion-based classes.
#3: Professional Certification (Depending on Field)
Depending on the field you want to teach in, you might have to obtain certification in something in addition to getting a doctoral degree. Here's what the BLS says about this:
"Postsecondary teachers who prepare students for an occupation that requires a license, certification, or registration, may need to have—or they may benefit from having—the same credential. For example, a postsecondary nursing teacher might need a nursing license or a postsecondary education teacher might need a teaching license."
Generally speaking, you'll only need certification or a license of some sort if you're preparing to teach in a technical or vocational field, such as health, education, or accounting.
Moreover, while you don't usually need any teaching certification to be able to teach at the college level, you will need it if you want to teach at the secondary level (i.e., middle school or high school).

#4: Publications and Prominent Academic Presence
A high number of publications is vital to landing a job as a professor. Since full-time college-level teaching jobs are extremely competitive, it's strongly encouraged (read: basically required!) that prospective professors have as many academic publications as possible.
This is particularly important if you're hoping to secure a tenure-track position, which by far offers the best job security for professors. Indeed, the famous saying "publish or perish" clearly applies to both prospective professors and practicing professors.
And it's not simply that you'll need a few scholarly articles under your belt—you'll also need to have big, well-received publications, such as books, if you want to be a competitive candidate for tenure-track teaching positions.
Here's what STEM professor Kirstie Ramsey has to say about the importance of publications and research when applying for tenure-track jobs:
"Many colleges and universities are going through a transition from a time when research was not that important to a time when it is imperative. If you are at one of these institutions and you were under the impression that a certain amount of research would get you tenure, you should not be surprised if the amount of research you will need increases dramatically before you actually go up for tenure. At first I thought that a couple of peer-reviewed articles would be enough for tenure, especially since I do not teach at a research university and I am in a discipline where many people do not go into academe. However, during my first year on the tenure track at my current institution, I realized that only two articles would not allow me to jump through the tenure hoop."
To sum up, it's not just a doctorate and teaching experience that make a professor, but also lots and lots of high-quality, groundbreaking research.
How to Become a Professor: 19-Step Guide
Now that we've gone over the basic college professor requirements, what specific steps should you take to become one? What do you need to do in high school? In college? In graduate school?
Here, we introduce to you our step-by-step guide on how to become a college professor. We've divided the 19 steps into four parts:
Part 1: High School
It might sound strange to start your path to becoming a professor in high school, but doing so will make the entire process go a lot more smoothly for you. Here are the most important preliminary steps you can take while still in high school.
Step 1: Keep Up Your Grades
Although all high school students should aim for strong GPAs, because you're specifically going into the field of education, you'll need to make sure you're giving a little extra attention to your grades. Doing this proves that you're serious about not only your future but also education as a whole—the very field you'll be entering!
Furthermore, maintaining good grades is important for getting into a good college. Attending a good college could, in turn, help you get into a more prestigious graduate school and obtain a higher-paying teaching job.
If you already have an idea of what subject you'd like to teach, try to take as many classes in your field as possible. For example, if you're a lover of English, you might want to take a few electives in subjects such as journalism or creative writing. Or if you're a science whiz, see whether you can take extra science classes (beyond the required ones) in topics such as marine science, astronomy, or geology.
Again, be sure that you're getting high marks in your classes, particularly in the ones that are most relevant to the field you want to teach in.
Step 2: Tutor in Your Spare Time
One easy way of gaining teaching experience as a high school student is to become a tutor. Pick a subject you're strong at—ideally, one you might want to eventually teach—and consider offering after-school or weekend tutoring services to your peers or other students in lower grades.
Tutoring will not only help you decide whether teaching is a viable career path for you, but it'll also look great on your college applications as an extracurricular activity.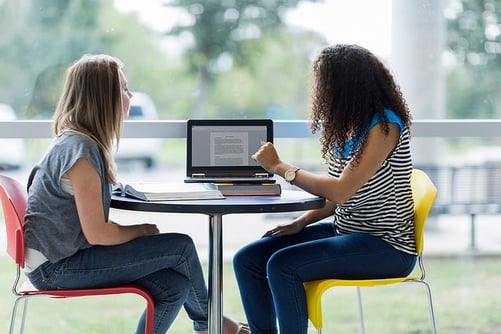 Tutoring other students can help you determine whether you enjoy teaching. (NEC Corporation of America/Flickr)
Step 3: Get a High SAT/ACT Score
Since you'll need to go to graduate school to become a professor, it'll be helpful if you can get into a great college. To do this, you'll need to have an impressive SAT/ACT score.
Ideally, you'll take your first SAT or ACT around the beginning of your junior year. This should give you enough time to take the test again in the spring, and possibly a third time during the summer before or the autumn of your senior year.
The SAT/ACT score you'll want to aim for depends heavily on which colleges you apply to.
For more tips on how to set a goal score, check out our guides to what a great SAT/ACT score is.
Step 4: Submit Impressive College Applications
Though it's great to attend a good college, where you go doesn't actually matter too much—just as long as it offers an academic program in the (broad) field or topic you're thinking of teaching in.
To get into the college of your choice, however, you'll still want to focus on putting together a great application, which will generally include the following:
Be sure to give yourself plenty of time to work on your applications so you can submit the best possible versions of them before your schools' deadlines.
If you're aiming for the Ivy League or other similarly selective institutions, check out our expert guide on how to get into Harvard, written by a real Harvard alum.
Part 2: College
Once you get into college, what can you do to help your chances of getting into a good grad school and becoming a college professor? Here are the next steps to take.
Step 5: Declare a Major in the Field You Want to Teach
Perhaps the most critical step is to determine what exactly you want to teach in the future—and then major in it (or a related field). For instance, if after taking some classes in computer science you decide that you really want to teach this subject, then go ahead and declare it as your major.
If you're still not sure what field you'll want to teach in, you can always change your major later on or first declare your field of interest as a minor (and then change it to a major if you wish). If the field you want to teach is not offered as a major or minor at your college, try to take as many relevant classes as possible.
Although it's not always required for graduate school applicants to have majored in the field they wish to study at the master's or doctoral level, it's a strong plus in that it shows you've had ample experience with the subject and will be able to perform at a high level right off the bat.
Step 6: Observe Your Professors in Action
Since you're thinking of becoming a college professor, this is a great time to sit down and observe your professors to help you determine whether teaching at the postsecondary level is something you're truly interested in pursuing.
In your classes, evaluate how your professors lecture and interact with students. What kinds of tools, worksheets, books, and/or technology do they use to effectively engage students? What sort of atmosphere do they create for the class?
It's also a good idea to look up your professors' experiences and backgrounds in their fields. What kinds of publications do they have to their name? Where did they get their master's and doctoral degrees? Are they tenured or not? How long have they been teaching?
If possible, I recommend meeting with a professor directly (ideally, one who's in the same field you want to teach in) to discuss a career in academia. Most professors will be happy to meet with you during their office hours to talk about your career interests and offer advice.
Doing all of this will give you an inside look at what the job of professor actually entails and help you decide whether it's something you're passionate about.
Step 7: Maintain Good Grades
Because you'll need to attend graduate school after college, it's important to maintain good grades as an undergraduate, especially in the field you wish to teach. This is necessary because most graduate programs require a minimum 3.0 undergraduate GPA for admission.
Getting good grades also ensures that you'll have a more competitive application for grad school, and indicates that you take your education seriously and are passionate about learning.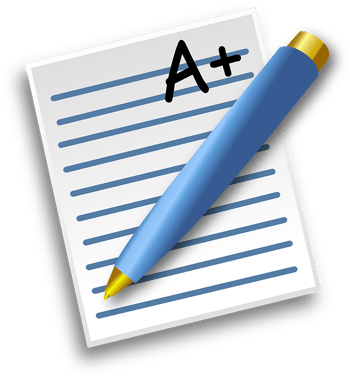 Always aim high!
Step 8: Get to Know Your Professors
Aside from watching how your professors teach, it's imperative to form strong relationships with them outside of class, particularly with those who teach in the field you want to teach as well.
Meet with professors during their office hours often. Consult them whenever you have questions about assignments, papers, projects, or your overall progress. Most importantly, don't be afraid to talk to them about your future goals!
You want to build a strong rapport with your professors, which is basically the same thing as networking. This way, you'll not only get a clearer idea of what a professor does, but you'll also guarantee yourself stronger, more cogent letters of recommendation for graduate school.
Step 9: Gain Research and/or Publication Experience
This isn't an absolute necessity for undergraduates, but it can certainly be helpful for your future.
If possible, try to gain research experience through your classes or extracurricular projects. For instance, you could volunteer to assist a professor with research after class or get a part-time job or internship as a research assistant.
If neither option works, consider submitting a senior thesis that involves a heavy amount of research. Best case scenario, all of your research will amount to a publication (or two!) with your name on it.
That being said, don't fret too much about getting something published as an undergraduate. Most students don't publish anything in college yet many go on to graduate school, some of whom become college professors. Rather, just look at this as a time to get used to the idea of researching and writing about the results of your research.
Step 10: Take the GRE and Apply to Grad School
If you're hoping to attend graduate school immediately after college, you'll need to start working on your application by the fall of your senior year.
One big part of your graduate school application will be GRE scores, which are required for many graduate programs. The GRE is an expensive test, so it's best if you can get away with taking it just once (though there's no harm in taking it twice).
Although the GRE isn't necessarily the most important feature of your grad school application, you want to make sure you're dedicating enough time to it so that it's clear you're really ready for grad school.
Other parts of your grad school application will likely include the following:
Undergraduate transcripts
Letters of recommendation
For more tips on the GRE and applying to grad school, check out our GRE blog.
Part 3: Graduate School (Master's Degree)
Once you've finished college, it's time to start thinking about graduate school. I'm breaking this part into two sections: master's degree and doctorate.
Note that although some doctoral programs offer a master's degree along the way, others don't or prefer applicants who already have a master's degree in the field.
Step 11: Continue to Keep Up Your Grades
Again, one of your highest priorities should be to keep up your grades so you can get into a great doctoral program once you finish your master's program. Even more important, many graduate programs require students to get at least Bs in all their classes, or else they might get kicked out of the program! So definitely focus on your grades.
Step 12: Become a TA
One great way to utilize your graduate program (besides taking classes!) is to become a Teaching Assistant, or TA, for an undergraduate class. As a TA, you will not only receive a wage but will also gain lots of firsthand experience as a teacher at the postsecondary level.
Many TAs lead small discussion sections or labs entirely on their own, offering a convenient way to ease into college-level teaching.
TAs' duties typically involve some or all of the following:
Grading papers and assignments
Leading small discussion or lab sections of a class (instead of its large lecture section)
Performing administrative tasks for the professor
Holding office hours for students
The only big negative with being a TA is the time commitment; therefore, be sure you're ready and willing to dedicate yourself to this job without sacrificing your grades and academic pursuits.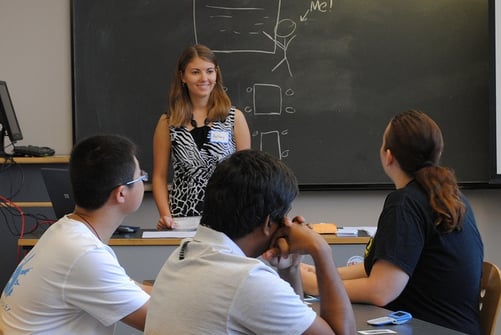 Becoming a TA can teach you a lot about ... teaching. (Center for Teaching Vanderbilt University/Flickr)
Step 13: Research Over the Summer
Master's programs in the US typically last around two years, giving you at least one summer during your program. As a result, I strongly recommend using this summer to conduct some research for your master's thesis. This way you can get a head start on your thesis and won't have to cram in all your research while also taking classes.
What's more, using this time to research will give you a brief taste of what your summers might look like as a professor, as college professors are often expected to perform research over their summer breaks.
Many graduate programs offer summer fellowships to graduate students who are hoping to study or conduct research (in or outside the US). My advice? Apply for as many fellowships as possible so you can give yourself the best chance of getting enough money to support your academic plans.
Step 14: Write a Master's Thesis
Even if your program doesn't require a thesis, you'll definitely want to write one so you can have proof that you're experienced with high-level research. This type of research could help your chances of getting into a doctoral program by emphasizing your commitment to the field you're studying. It will also provide you with tools and experiences that are necessary for doing well in a doctoral program and eventually writing a dissertation.
Step 15: Apply to Doctoral Programs OR Apply for Teaching Jobs
This step has two options depending on which path you'd rather take.
If you really want to teach at a four-year college or university, then you must continue on toward a doctorate. The application requirements for doctoral programs are similar to those for master's programs. Read our guide for more information about grad school application requirements.
On the other hand, if you've decided that you don't want to get a doctorate and would be happy to teach classes at a community college or technical school, it's time to apply for teaching jobs.
To start your job hunt, meet with some of your current or past professors who teach in the field in which you'll also be teaching and see whether they know of any job openings at nearby community colleges or technical schools. You might also be able to use some professors as references for your job applications (just be sure to ask them before you write down their names!).
If you can't meet with your professors or would rather look for jobs on your own, try browsing the career pages on college websites or looking up teaching jobs on the search engine HigherEdJobs.
Part 4: Graduate School (Doctorate)
The final part of the process (for becoming a college professor at a four-year institution) is to get your doctoral degree in the field you wish to teach. Here's what you'll need to do during your doctoral program to ensure you have the best chance of becoming a college professor once you graduate.
Step 16: Build Strong Relationships With Professors
This is the time to really focus on building strong relationships with professors—not just with those whose classes you've taken but also with those who visit the campus to give talks, hold seminars, attend conferences, etc. This will give you a wider network of people you know who work in academia, which will (hopefully) make it a little easier for you to later land a job as a professor.
Make sure to maintain a particularly strong relationship with your doctoral advisor. After all, this is the professor with whom you'll work the most closely during your time as a doctoral student and candidate. Be open with your advisor: ask her for advice, meet with her often, and check that you're making satisfactory progress toward both your doctorate and your career goals.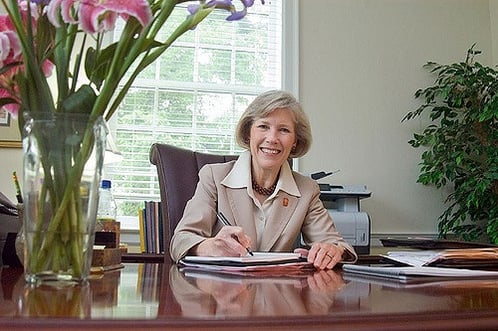 Don't be afraid to go to your professor's office and have a chat! (Georgia Southern University, Armstrong Campus/Flickr)
Step 17: Work On Getting Your Research Published
This is also the time to start getting serious about publishing your research.
Remember, it's a huge challenge to find a job as a full-time professor, especially if all you have is a PhD but no major publications. So be sure to focus on not only producing a great dissertation but also contributing to essays and other research projects.
As an article in The Conversation notes,
"By far the best predictor of long-term publication success is your early publication record—in other words, the number of papers you've published by the time you receive your PhD. It really is first in, best dressed: those students who start publishing sooner usually have more papers by the time they finish their PhD than do those who start publishing later."
I suggest asking your advisor for advice on how to work on getting some of your research published if you're not sure where to start.
Step 18: Write a Groundbreaking Dissertation
You'll spend most of your doctoral program working on your dissertation—the culmination of your research. In order to eventually stand out from other job applicants, it's critical to come up with a highly unique dissertation. Doing this indicates that you're driven to conduct innovative research and make new discoveries in your field of focus.
You might also consider eventually expanding your dissertation into a full-length book.
Step 19: Apply for Postdoc/Teaching Positions
Once you've obtained your doctorate, it's time to start applying for college-level teaching jobs!
One option you have is to apply for postdoctoral (postdoc) positions. A postdoc is someone who has a doctorate and who temporarily engages in "mentored scholarship and/or scholarly training." Postdocs are employed on a short-term basis at a college or university to help them gain further research and teaching experience.
While you can theoretically skip the postdoc position and dive straight into applying for long-term teaching jobs, many professors have found that their postdoc work helped them build up their resumes/CVs before they went on to apply for full teaching positions at colleges.
In an article for The Muse, Assistant Professor Johanna Greeson at Penn writes the following about her postdoc experience:
"Although I didn't want to do a post-doc, it bought me some time and allowed me to further build my CV and professional identity. I went on the market a second time following the first year of my two-year post-doc and was then in an even stronger position than the first time."
Once you've completed your postdoc position, you can start applying for full-time faculty jobs at colleges and universities. And what's great is that you'll likely have a far stronger CV/resume than you had right out of your doctoral program.
Conclusion: How to Become a College Professor
Becoming a college professor takes years of hard work, but it's certainly doable as long as you know what you'll need to do in order to prepare for the position and increase your chances of securing a job as a professor.
Overall, it's extremely difficult to become a professor. Nowadays, there are many more qualified applicants than there are full-time, college-level teaching positions, making tenure-track jobs in particular highly competitive.
Although the employment growth rate for professors is a high 11%, this doesn't mean that it'll be easy to land a job as a professor. Additionally, salaries for professors can vary a lot depending on the field you teach in and the institution you work at; you could make as little as minimum wage (as an adjunct/part-time professor) or as much as $100,000 or higher (as a full professor).
For those interested in becoming a professor, the basic college professor requirements are as follows:
A doctoral degree in the field you want to teach in
Teaching experience
Professional certification (depending on your field)
Publications and prominent academic presence
In terms of the steps needed for becoming a college professor, I will list those again briefly here. Feel free to click on any steps you'd like to reread!
Part 1: High School
Part 2: College
Part 3: Graduate School (Master's Degree)
Part 4: Graduate School (Doctorate)
Good luck with your future teaching career!
What's Next?
Considering other career paths besides teaching? Then check out our in-depth guides to how to become a doctor and how to become a lawyer.
No matter what job (or jobs!) you end up choosing, you'll likely need a bachelor's degree—ideally, one from a great school. Get tips on how to submit a memorable college application, and learn how to get into Harvard and other Ivy League schools with our expert guide.
Need help finding jobs? Take a look at our picks for the best job search websites to get started.
Want to improve your SAT score by 160 points or your ACT score by 4 points? We've written a guide for each test about the top 5 strategies you must be using to have a shot at improving your score. Download it for free now:
Have friends who also need help with test prep?
Share this article!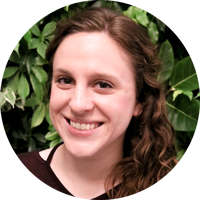 About the Author
Hannah received her MA in Japanese Studies from the University of Michigan and holds a bachelor's degree from the University of Southern California. From 2013 to 2015, she taught English in Japan via the JET Program. She is passionate about education, writing, and travel.
Get Free Guides
to Boost Your SAT/ACT