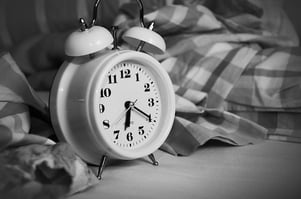 The night before the SAT can be stressful, to say the least. Maybe you're not sure about the best way to prepare yourself during these final hours - all you know is that you want to do the best you can on the exam.
Well, we've made it easy (and stress-free) for you to do what you need to do the night before the test. Here, I'll lay out everything you should and shouldn't do before you head to bed in order to ensure your best possible score. Follow these tips - including everything from logistical concerns to exam prep strategies - to wake up confident, refreshed, and ready.
Let's get started!
Take Care of Logistics
You don't want to wake up the morning of the SAT only to stress yourself out over some silly detail. Squaring away these logistical issues the night before the test serves two purposes:
You save yourself time, hassle, and stress the next morning.

You can distract yourself from any anxieties the night before by focusing on getting organized.
Logistical Details to Take Care of the Night Before the SAT
Know

what time the test is

and when you need to be there.

Plan on getting there 15-20 minutes early to account for any unforeseen timing issues.

If you're not sure when the test is, double-check your

College Board account

.
Know

where the test is

, how to get there, and how long it'll take you to get there.

You can double-check the location on your exam ticket or at your

College Board account

.

I'd encourage you to use

Google Maps

to plan out the fastest route. Enter your arrive by time for the next morning in addition to the testing center address and your starting point- Google Maps will tell you when to leave!
Set multiple alarms

, especially if you're prone to oversleeping.

Give yourself 10-15 extra minutes to get ready in the morning - you don't want to feel rushed.

If possible, have a family member (preferably a morning person) agree to check in on you to make sure you're up
Gather everything you should bring for test day

. There are only a few items you

have

to bring, but there are several other items that would be smart to have for the test:
Your admission ticket (mandatory)

Acceptable photo ID (mandatory)

Several sharpened #2 pencils (mandatory)

A couple of erasers

An approved calculator

+ extra batteries

A watch (without an audible alarm)

A bottle of water and snacks to eat during breaks. T

hese may have to stay in your bag, locker, or up at the test administrator's desk and will have to be consumed outside of the testing room

.
Know what you shouldn't bring on test day. If you bring any forbidden items, it could lead to delays and hassles. Here's a list of items you should leave at home:

Anything electronic device aside from your calculator and watch (and no, you can't wear a smart watch). If you're caught with a computing or recording device - even if it's accidental - you could jeopardize your scores.

Any writing utensils or tools aside from your #2 pencils. This includes things like rulers, protractors, colored pens and pencils, and highlighters.

Any pamphlets or papers. There are only two places you can write on during the test: the test booklet (which is not graded) and your answer sheet.

Dictionaries or other books.
A note about cell phones: If you don't have to bring your phone, then don't. If you must bring your phone, make sure to turn it off well before the start of the test. Your proctor will confiscate the phone and immediately cancel your scores if it makes any noise, or if you access the phone at any point during the test.
Set out all your clothes for the next morning

. Pick comfortable clothes that you'd be okay sitting around in for a few hours.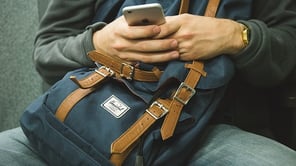 An example of what you definitely don't want to be doing while you're taking the SAT
Take Care of Yourself
Now that we have all of the logistical stuff out of the way, we can get to the fun stuff: self-care! Students sometimes forget that the best thing you can do before a big test is to relax. If you're tired, hungry, and stressed out the morning of an exam, chances are you won't do so well no matter how hard you studied.
Here, I'll go over the things you should do and the things you should avoid doing the night before the SAT.
What You Should Do
Eat a satisfying and healthy dinner

- ideally something with produce, fruits and vegetables, and whole grains. Your brain needs fuel!
On that note,

plan your breakfast for the next morning

. Something quick, easy, and filling should do the trick, like whole-grain cereal or a bowl of oatmeal.
Get in bed earlier than usual -

maybe 30-60 minutes before your normal bedtime. This gives you a bit more time to fall asleep if you're having trouble.
If you can't get to sleep, here are some things you can try:


Do some light, gentle stretches. Anything more strenuous than that might keep you awake.
Listen to some relaxing music.
Take a warm bath.
Drink a cup of herbal tea (just make sure to stay away from caffeine).
Take a shower to save time the next morning.

This may also help you relax and get to sleep. If your normal routine is to shower in the morning, though, then skip this step.
What You Shouldn't Do
Play video games, surf the internet, or play on your phone

for 2-3 hours before you go to bed. The light from the screens and monitors can keep you from falling asleep.
Disrupt your normal bedtime routine.

If you do certain things before bed every night, follow through with your normal rituals.
Take any medications to help you go to sleep.

Unless sleep medications are part of your normal bedtime routine, avoid any sleep aids. They could negatively affect you through the next morning, making you groggy and slow.
Ready to go beyond just reading about the SAT? Then you'll love the free five-day trial for our SAT Complete Prep program. Designed and written by PrepScholar SAT experts, our SAT program customizes to your skill level in over 40 subskills so that you can focus your studying on what will get you the biggest score gains.
Click on the button below to try it out!
Prepare for the Exam
Obviously, you should be cramming as much as possible for the test the next morning. Everyone knows that the best way to do well is to stress yourself out, stay up really late, and work on as many practice problems as possible.
Just kidding... that's a terrible idea.
Each student is unique, and as such may have different feelings about reviewing material the night before the SAT. Here are a couple of different strategies you can take, and the pros and cons of each:
Strategy #1: Don't Review Anything
This strategy is my personal favorite. If you've prepared well for the test (and even if you haven't!), I don't think you can process and retain much more useful information in the hours before the SAT. That being said, some students might get nervous if they're missing out on time to review concepts or practice problems.
Good SAT prep happens through long-term practice - it's not a test where you can memorize a bunch of factoids and then brain-dump everything you've learned the next morning. Last-minute prep tends to stress me out, so I avoid it. If you feel the same way, this is probably the strategy for you.
Strategy #2: Review Key Concepts and/or Problem Areas
Some students may find it stressful to "force" themselves to relax by avoiding all SAT materials. If this sounds like you, you may want to take some time (say, 45 minutes - 1 hour) to briefly review key concepts.
The most effective way to do this is to review any notes you may have before working on a few practice problems. Stay away from screens while you do this - try to keep everything on paper.
Keep the difficulty level of practice problems easy-intermediate. Working on difficult problems can stress you out for the next morning, and could prevent you from falling asleep.
The Morning of the SAT: Tackling the Test
If you've followed the tips and strategies listed so far, you'll hopefully wake up refreshed, confident, and ready for the SAT. Here are some things to do the morning of the test to help you be as successful as possible:
You know that breakfast you set out for yourself last night? Eat it! Some people get nervous stomachs the morning of the test, and eating just a little something can help. Also, a satisfied stomach will help you stay more focused and alert while you're working on the SAT.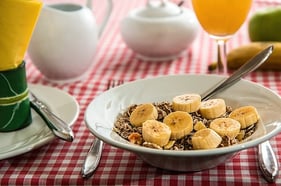 The most important meal of the day is extra important the day of the SAT
Try to avoid caffeine. It can make you feel nervous and jittery, especially if you aren't a regular coffee-drinker. Since it's a diuretic, it can also send you to the bathroom more often during the test. That being said, definitely do not avoid caffeine if it's part of your normal morning routine.
Stay in the moment. It's easy to get overwhelmed at the prospect of finishing the whole SAT test. But remember, you don't have to do that all at once - you work on one problem at a time, and you finish one section at a time. Once a section is finished, it's finished - your responsibility to it is over, and your focus should be completely on the work you're currently doing.
After you've finished with the exam, reward yourself for your hard work! Even though you're sitting for the whole test, you may find yourself surprisingly burnt out after the SAT is over. After sitting around for a test like the SAT, I like to go for a run or grab a nice lunch.
The hard part - actually prepping for the exam - is over. Try to think of the test as an opportunity to use what you've learned thus far. My final pieces of advice: take a deep breath, and trust your own knowledge and skills. You've got this!
What's Next?
Not quite ready to take the SAT? Not to worry - we have a ton of great articles to check out if you want to work on prepping for the test.
Start with our complete guide to the SAT - this will give you a good run-down of the test and its contents. If already spent some time familiarizing yourself with the old SAT, read about why the changes to the exam aren't as revolutionary as you might think.
If your scheduled test is quickly approaching, we have resources for you too! Check out our guides to last-minute study tips and prep strategies. Use these tips to get the best scores possible.
Disappointed with your scores? Want to improve your SAT score by 160 points? We've written a guide about the top 5 strategies you must be using to have a shot at improving your score. Download it for free now:
Have friends who also need help with test prep?
Share this article!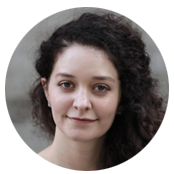 About the Author
Francesca graduated magna cum laude from Harvard and scored in the 99th percentile on the SATs. She's worked with many students on SAT prep and college counseling, and loves helping students capitalize on their strengths.
Get Free Guides
to Boost Your SAT/ACT