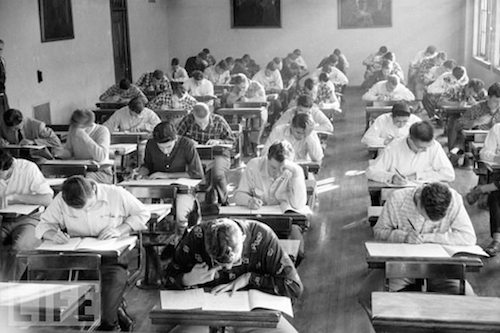 The SAT was first administered to a few thousand college applicants in 1926. Called the Scholastic Aptitude Test, it was adapted from Army Alpha and Beta tests, intelligence tests used for recruitment during World War I. Psychologist and Princeton professor Carl Brigham helped develop and later adapt these tests for use in college admissions. The development of this standardized admissions test was partially intended to eliminate bias and equalize educational access among people from different socio-economic backgrounds.
Note: this article is a series in the PrepScholar 2016 Students' Encyclopedia, a free students' and parents' SAT / ACT guide that provides encyclopedic knowledge. Read all the articles here!
The first SAT was 90 minutes long and asked 315 questions on vocabulary and math. In 1933, Harvard president James Conant started a scholarship based on SAT scores. Assistant dean at the time, Henry Chauncey, supported the SAT as a qualifying exam that would measure intelligence independent of social background. In 1938 he met with the College Board, an organization of top American universities, and encouraged it to adopt the SAT for all scholarship applicants. By 1942, the SAT had become the standard qualifying test for all applicants to participating colleges. Over 300,000 students across the country were taking the SAT by 1944.
The SAT has undergone various revisions throughout the years, as well as changes in its name. Its name was first changed to the Scholastic Assessment Test and then to the current SAT Reasoning Test, with the letters SAT no longer an acronym for anything. The current version of the SAT was first administered in 2005. It differed from its predecessor with the elimination of analogy questions and the addition of the essay and Writing section, which changed the maximum composite score from 1600 to 2400.
Starting in March of 2016, the SAT will return to a 1600 scoring system and make the essay section optional, along with other revisions in format, content, and tested skills. In 2009, College Board introduced Score Choice, an option that allows students to decide which of their score reports get sent to colleges. While most colleges support the use of Score Choice, there are a select few that require students to send score reports from all dates they take the test.
College Board has been the target of criticism and controversy over the years. One major criticism of the SAT is that it does not fulfill its mission of fairness and equity, but rather favors students from higher income backgrounds whose parents have a higher level of education. Some of the changes made to the SAT may have been motivated to address these criticisms and make the test more accessible to students across socio-economic backgrounds.
Other critics question the validity of the SAT's assessment and predictive power for college achievement and readiness. Some colleges have deemphasized SAT scores in their admissions processes by adopting test flexible or test optional policies, allowing students to submit SAT Subject Test or AP scores in lieu of the SAT Reasoning Test or to omit their scores completely from their applications. While students have the option of withholding their SAT scores from SAT optional schools, they may be at an empirical disadvantage when compared with other applicants who chose to send them.
The SAT has also been at the center of cheating controversies, particularly as it becomes more popular overseas. In both 2007 and 2013, the scores from all SAT tests taken in South Korea were cancelled. In January 2015, the scores of all students who tested in China and Chinese nationals who tested outside of China were withheld for investigation. SAT security has recently been compromised due to communication technology, College Board's practice of recycling old tests for use overseas, and time zone differences in test administrations.
There has also been evidence of cheating in the U.S., the most notable scandal occuring in 2011 in Long Island, New York when high school students hired others to take the SAT for them with falsified identification. To prevent similar instances of cheating, College Board has required students to upload an identifying photograph during registration since 2012.
Read more from the SAT Encyclopedia!
Further Reading
History of the SAT: Its Failures and Controversies
Cheating on the SAT Spreads to the United States
If Your SAT Test Center Has These Problems - SPEAK UP
Have friends who also need help with test prep?
Share this article!
About the Author
Rebecca graduated with her Master's in Adolescent Counseling from the Harvard Graduate School of Education. She has years of teaching and college counseling experience and is passionate about helping students achieve their goals and improve their well-being. She graduated magna cum laude from Tufts University and scored in the 99th percentile on the SAT.
Get Free Guides
to Boost Your SAT/ACT