If AP Human Geography is one of your first AP classes, you might be looking for some guidance on what you should study and how you should plan out your time. Even if you're not new to APs, it can be difficult to pin down what's important in this cross-disciplinary course. That's where review books come in handy. This guide will provide a list of the best AP Human Geography books for exam review and advice on how to choose one that fits your needs.
What's in This Guide?
In this article, I'll go through the most useful review books for the AP Human Geography exam. Human Geography is a subject that can be a little difficult to grasp, and there are quite a few field-specific terms to memorize. This is also typically one of the first AP classes taken in high school. If that's your situation, these books will provide much-needed insight into what the test is really like and how you can use smart strategies to earn the most points possible.

I've categorized these books so that you can choose the one that works best for your personal learning style and time constraints. You'll also find pros, cons, and overall summaries for each of the AP Human Geography books so you can look at their specific qualities and make a more informed decision about which way you want to throw your hard-earned cash!
Best Overall Review Book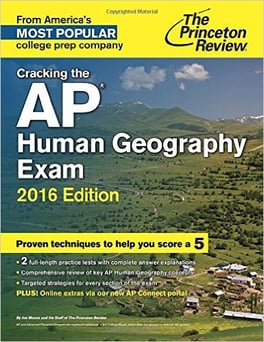 Price: $11.39
Pros
Two complete practice tests with answer explanations
Practice questions accurately replicate the style and format of real exam questions
Lists of key terms for each content chapter
Great test-taking strategies
Good explanations of geographic models
Solid content review that covers everything you need to know for the test
Cons
Not in-depth enough to replicate the textbook content, but too in-depth to read in just a couple of nights
Some students feel that the practice test questions are slightly easier than the real exam questions, especially the practice free-response questions
No chapter-specific practice questions for topic review
Summary
This is a reliable review book if you have a month or two to study and are looking for good test-taking strategies. I'd recommend it for most students because of its relatable tone and easy-to-grasp explanations. Just make sure you continue to supplement with additional practice tests and questions from other sources!
Best Long-Term Review Book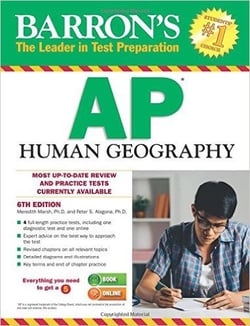 Price: $9.55 by itself, $22.60 with CD
Pros:
Two full practice exams with answers and explanations in the book
Two additional practice tests with automatic scoring and answer explanations if you get it with the CD (four full practice tests total!)
Diagnostic test that includes a chart to help you map out your mistakes and see what you actually need to study
Good survey of the different types of questions you'll see on the test and the best way to solve each of them
Does a good job of sticking to the content you need to know for the test
Glossary of key terms after each chapter
Cons:
FRQs overestimate the difficulty of the actual exam questions a bit
Practice multiple-choice questions are very heavy on basic vocabulary knowledge; there could be more questions that ask you to take your knowledge a bit further
Dense with long paragraphs, harder to get through than Princeton Review
Summary
Overall, people have been happy with this book. Although Barron's has a reputation for getting way too in-depth, I didn't see as many complaints in that vein about this book. It covers all the key concepts and terms, and it doesn't go too far beyond the scope of the test. I'd recommend it if you have a few months before the test, and you don't mind a somewhat drier style of writing. You might also consider getting the Barron's AP Human Geography Flashcards (for the added price of $10.86) if you want an easy way to test yourself on all the terminology.
Best Short-Term Review Book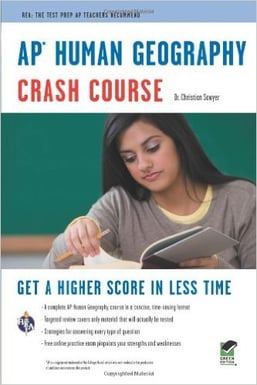 Price: $9.84
Pros
Nice overview of all the geographic models you have to know for the exam
Short and sweet review of all topics written in an accessible manner
Smart, succinct advice on test-taking strategies
Cons
Only one practice exam, which isn't included in the book itself (you have to go to the online REA Study Center - you'll get an access code if you buy the book)
Not enough information to use for self-study during the course itself
Summary
This is a great book for a quick review in the weeks before the test. It's the most directly exam-oriented book of all the options on this list, so it's a smart choice if you just want a straightforward, easy-to-digest guide to essential concepts.
Supplemental AP Human Geography Books
In this section, I'll list a couple more books that I wouldn't consider essential review materials but are still useful for additional practice. These books are not quite as high-quality as the first three. However, if you run out of practice tests or want to see the content presented in a slightly different way, you might consider adding one of them to your repertoire.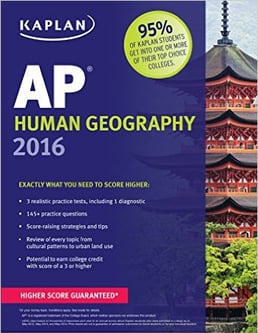 Price: $14.56
Pros
Two full-length practice tests plus a diagnostic test to assess your areas of weakness
Strategies from actual AP teachers and students who got 5s on the exam
Review questions at the end of each content chapter so you can test yourself topic by topic
Easy-to-read format that's not too wordy or too sparse on content
Cons
I don't fully agree with the free-response advice (writing a conclusion for your free response answers on this exam? Not worth your time.)
Practice questions are less challenging than the real test questions
Summary
This book is along the same lines as the Princeton Review and Barron's, but it's not quite as good. You can use it for additional practice materials and piecemeal review of individual topics, but be wary of the fact that the questions are slightly easier than the ones you'll see on the AP test.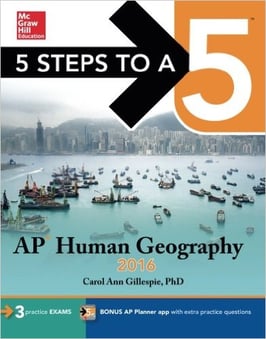 Price: $13.30
Pros
Three study plans that you can choose from based on your schedule and learning style
Three full practice exams
Sets of review questions at the end of each content chapter
Answer explanations that also include explanations of why the other choices are incorrect (lacking in a lot of other review books)
Cons
Sparse on test-taking tips
Content review is not as thorough as it could be
Summary
This book has nice suggestions for planning out your prep schedule. However, you should supplement it with another, more comprehensive, review book to ensure that you're revisiting all the content that might show up on the test.
Which AP Human Geography Book Should You Get?
This depends on how much time you have before the test and what your style of learning is like. I'd recommend getting one of the first three books to start.
If you want a quick overview of the material to use as a little boost on top of your class notes and textbook (or if you only have a couple of weeks before the test), then go for Crash Course. If you want an in-depth, mostly standalone resource for longer term self-study, you should go for Barron's. If you have a month or two before the test and are just looking for a standard solid review book, stick with Princeton Review. Then, if you feel you need more practice materials or would like to see the content presented slightly differently, you can think about buying one of the supplemental books!
What's Next?
Before you get to work earning points, you should know where they come from! Find out exactly how AP exams are scored.
What will you get out of a high score on the AP exam? Read this article to learn how AP credit works at colleges.
If you're still working on planning out the rest of your high school schedule, take a look at this article for some advice on which AP classes you should take in the upcoming years.
Want to improve your SAT score by 160 points or your ACT score by 4 points? We've written a guide for each test about the top 5 strategies you must be using to have a shot at improving your score. Download it for free now:
Have friends who also need help with test prep?
Share this article!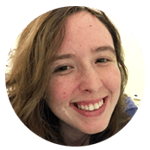 About the Author
Samantha is a blog content writer for PrepScholar. Her goal is to help students adopt a less stressful view of standardized testing and other academic challenges through her articles. Samantha is also passionate about art and graduated with honors from Dartmouth College as a Studio Art major in 2014. In high school, she earned a 2400 on the SAT, 5's on all seven of her AP tests, and was named a National Merit Scholar.
Get Free Guides
to Boost Your SAT/ACT