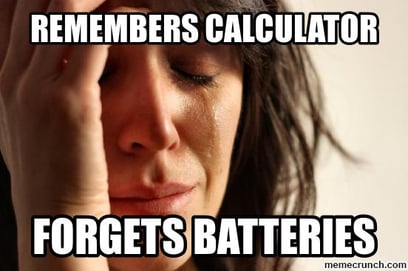 The ACT can be a slog. First you have to do all that studying, then spend a bunch of hours taking the test, then wait weeks for your scores to get back. Do you know what makes it better? Memes. This guide contains 21 of the most relatable ACT 2020 memes out there, from the frustration at not being able to use a mechanical pencil to finding out your scores have been delayed. And yes, there is a baby Yoda ACT meme too.
Feature image source: Memecrunch
ACT 2020 Memes That Perfectly Describe the Testing Experience
Whether you're struggling to find which room you're supposed to take the test in or an extra test section is suddenly sprung on you, the ACT memes below show that there are many other test-takers commiserating right along with you.
It's Supposed to Be a Journey
When the Truth Hits
It's Rarer Than You Think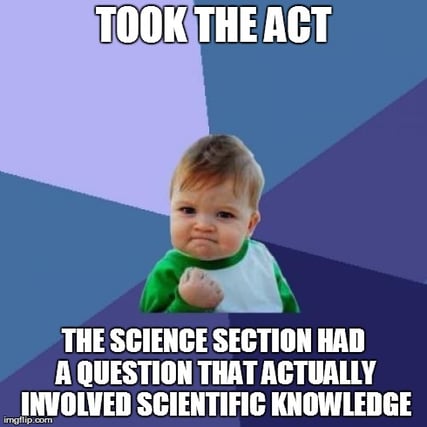 Source: Imgflip
That Feeling When...There's an Extra Section on the Test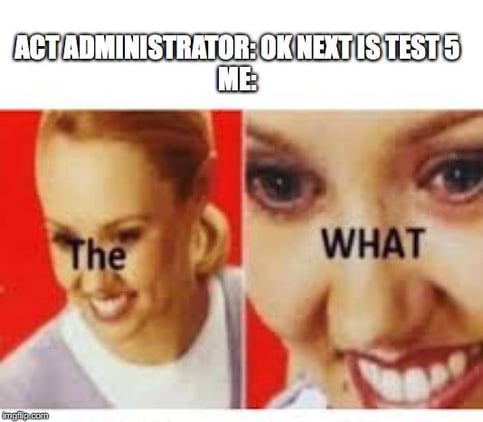 Source: Reddit
He'll Just Have to Except Whatever Happens I Guess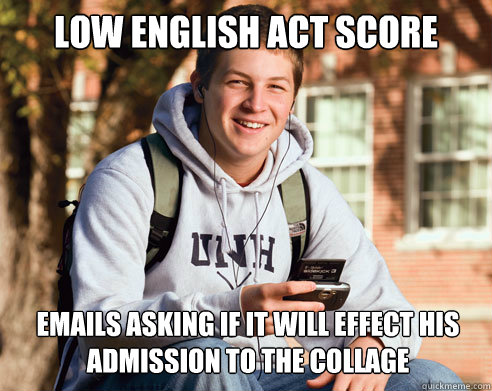 Source: Quick Meme
Dr. Who Understands Perspective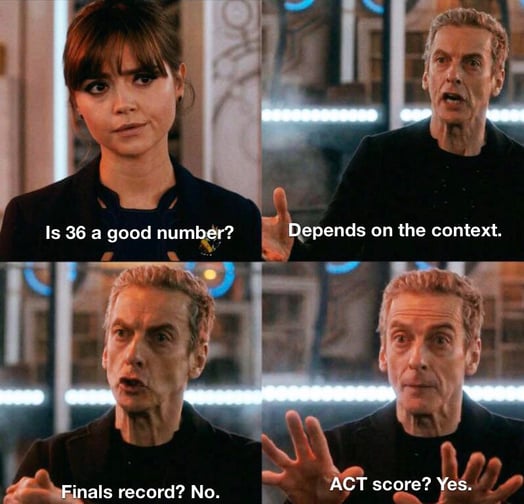 Source: Reddit
ACT Memes About All Those Rules
There are lots of rules involved when taking the ACT. Stressed about them? Annoyed by them? Just straight up confused as to why they exist? These are the memes for you.
Whatever You Do, Don't Break the Seal
Even ACT Inc. Jumped on the Baby Yoda Bandwagon
Gotta Remember That #2
They Have a Sense of Humor Though, Right? Right?
But for Real, Like How Illegal?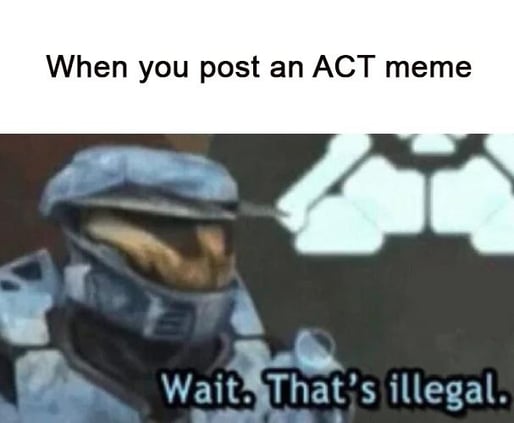 Source: Reddit
ACT Memes That Understand You Ignore the Clock at Your Own Peril
Time management is a huge part of doing well on the ACT, and it's also one of the areas where students struggle the most. These ACT memes know how you feel.
Just Watching the Clock Tick Down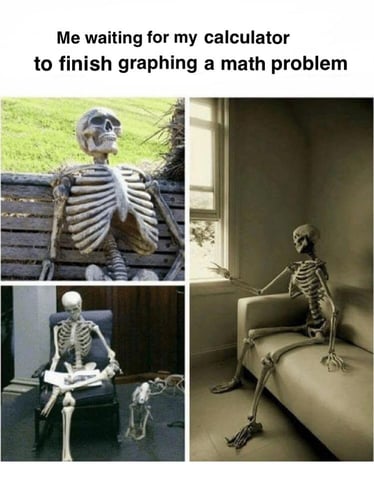 Source: Reddit
When Running Out of Time Hurts You Twice
Maybe The Question Was Worth Extra Points? (No, It Never Is)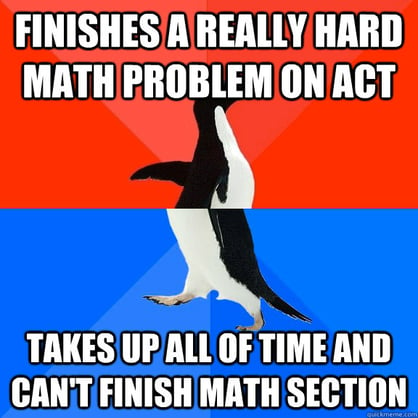 Source: Quick Meme
ACT Memes That Understand the Anguish of Waiting for Your Scores
It typically takes about 10 to 21 days for you to get your ACT scores back. If there's not a delay that is. While you're waiting, enjoy these ACT memes.
Real, the Struggle Is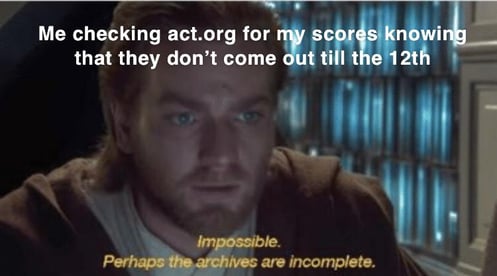 Source: Reddit
All the Cool Kids Are Hanging Out Without You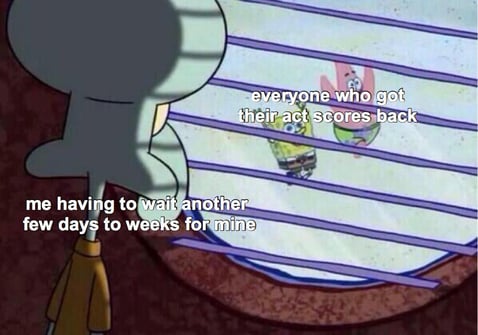 Source: Reddit
That Last Face Looks Kind of Happy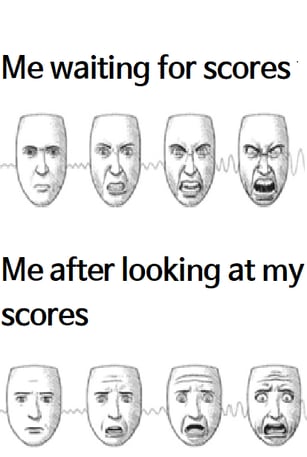 Source: Reddit
All Sides Can Agree With This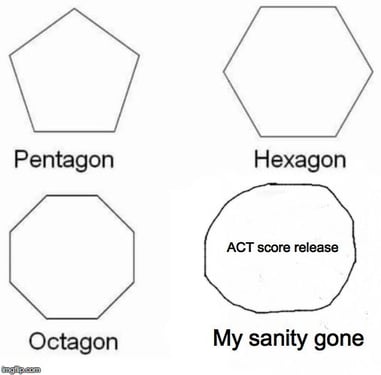 Source: Reddit
Probably Exactly How This Went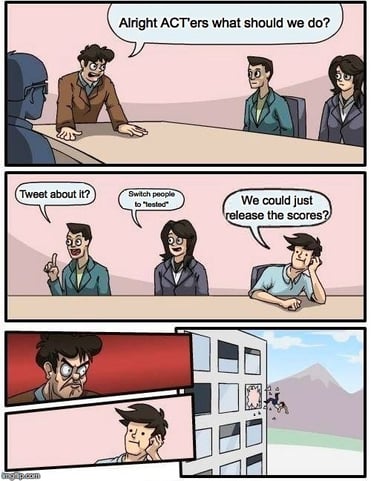 Source: Reddit
ACT Memes 2020 for When You Crushed It
And finally, with all the time and effort you've put into your ACT prep, how can you not do great? Celebrate with these on-point memes.
Strut That Stuff
Like a Baby
What's Next?
Need more memes in your life? (Obviously.) We've got you covered with SAT memes and PSAT memes too.
How long should you study for the ACT? Our six-step guide will help you figure out exactly how many hours you need to devote to ACT prep to reach your goal score.
Taken the ACT already but unhappy with your score? Use our guide to decide whether you should retake the ACT.
Want to improve your ACT score by 4+ points? Download our free guide to the top 5 strategies you need in your prep to improve your ACT score dramatically.
Have friends who also need help with test prep?
Share this article!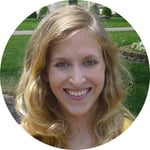 About the Author
Christine graduated from Michigan State University with degrees in Environmental Biology and Geography and received her Master's from Duke University. In high school she scored in the 99th percentile on the SAT and was named a National Merit Finalist. She has taught English and biology in several countries.
Get Free Guides
to Boost Your SAT/ACT