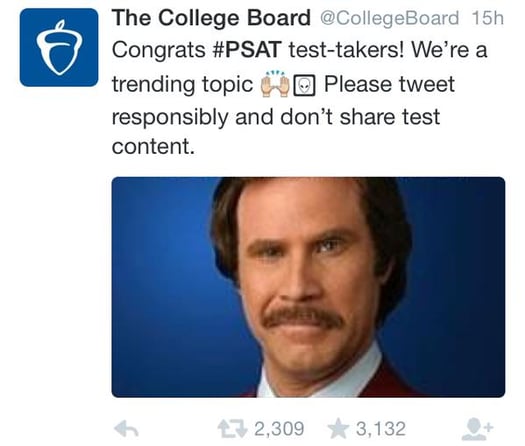 2018 was a banner year for PSAT memes. That's because the College Board released a statement forbidding students to create memes about the 2018 PSAT exam. The result? The internet was flooded with amazing PSAT memes.
The College Board definitely shouldn't have tempted students!
There are a ton of great ones out there, so it was difficult to whittle down our list of the best PSAT memes. But we rose to the challenge!
So without further ado, here are the 30 best PSAT memes.
Feature Image: (@CollegeBoard/Twitter)
PSAT Content Memes
Sharing PSAT content online is a huge no-no, but that hasn't stopped anyone from exploiting test questions for hilarious memes. (Some of the questions can be pretty ridiculous, to be fair.)
Here are our favorite memes about the PSAT's content.
#1: How Big Is This Bumblebee's Head?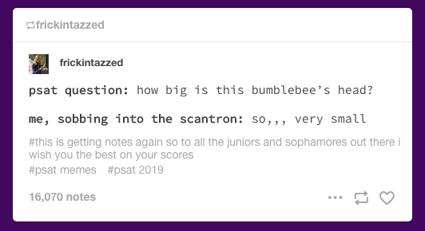 (Frickintazzed/Tumblr)
#2: In This Situation, the Answer Is C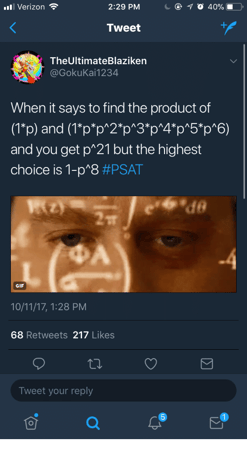 (@GokuKai1234/Twitter)
#3: Good Thing They Let Me Bring a Calculator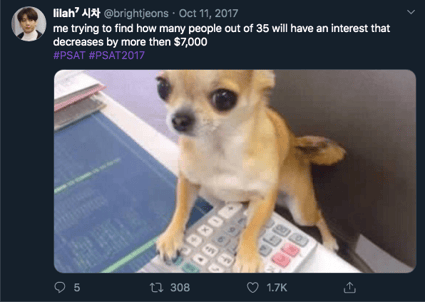 (@brightjeons/Twitter)
#4: This Is for Whomst'ver Needs This PSAT Meme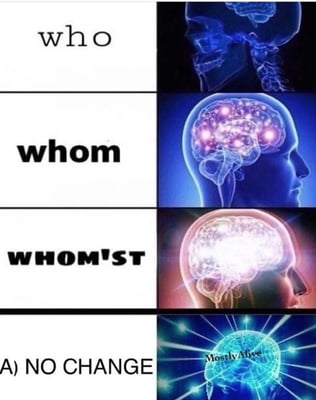 #5: The Only Constant Is Change or Something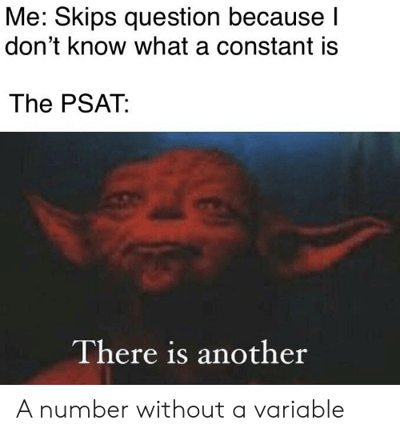 #6: PSAT = Phorty Seconds to Answer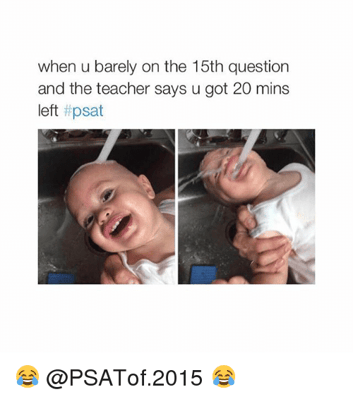 #7: You Don't Know My Life, College Board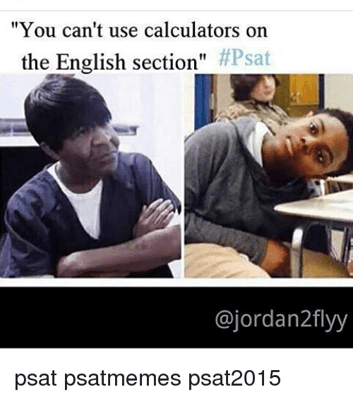 (@jordan2flyy/Instagram)
#8: Never Say PSAT Aren't Helpful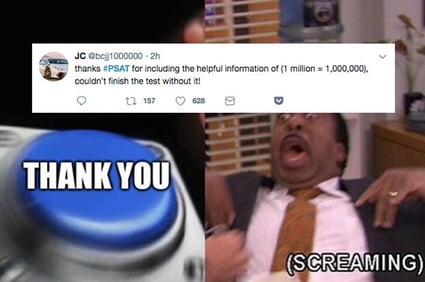 #9: Foolproof PSAT Multiple Choice Strategy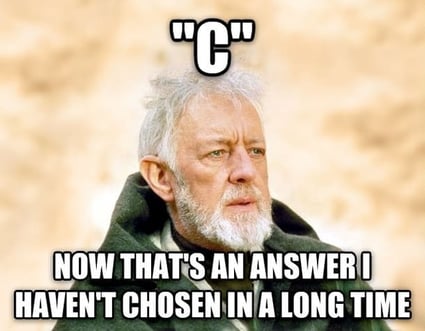 #10: This Meme Is Referring to a Very Specific Question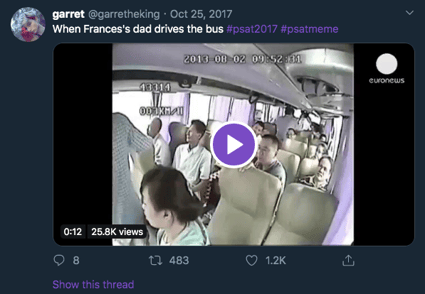 (@garretheking/Twitter)
#11: The PSAT Loves Dolphin Questions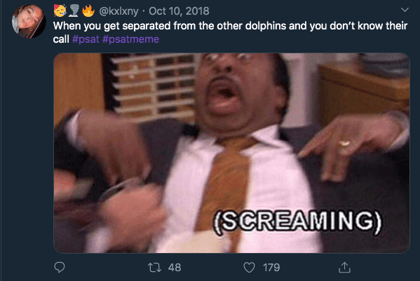 (@kxlxny/Twitter)
#12: Seriously. So Many Dolphin Questions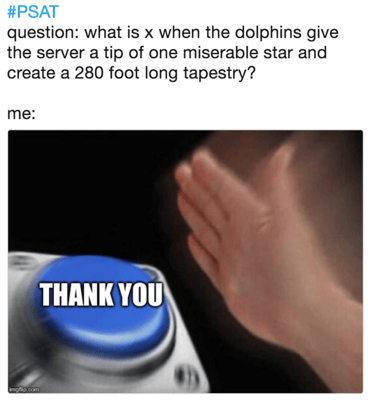 #13: Turn Your Speakers Down for This One. (Seriously.)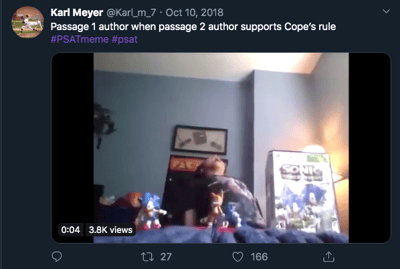 (@Karl_m_7/Twitter)
PSAT College Board Memes
Some of the best PSAT Memes aren't even about the test. They're about the College Board, the organization that administers the PSAT. After all, they're the ones that are really responsible for your pain.
So here are our favorite PSAT memes: College Board edition.
#14: I'm Not in This for the Money, I'm in It for the ART!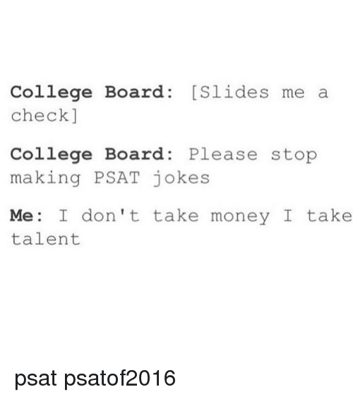 #15: When College Board Made Their Own PSAT Meme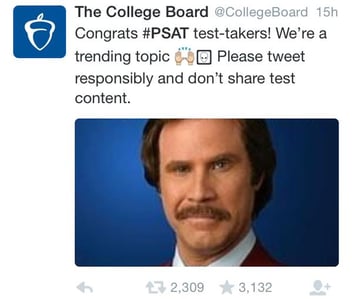 (@CollegeBoard/Twitter)
#16: Honestly, College Board Should Hire One of Us to Make Their PSAT Memes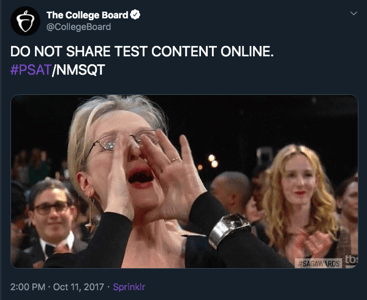 (@CollegeBoard/Twitter)
#17: The Scroll of Truth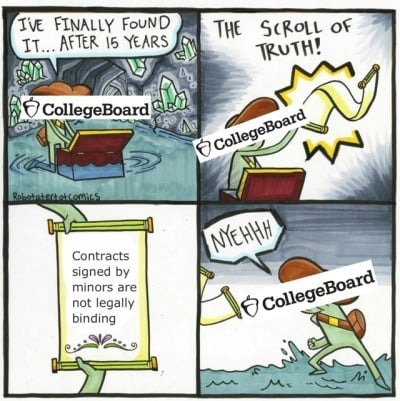 #18: Can I Just Skip the Taking the Test Part and Go Straight to the Memes?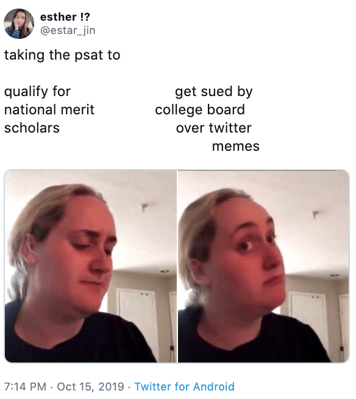 (@Estar_Jin/Twitter)
#19: College Board, You've Made a Terrible Mistake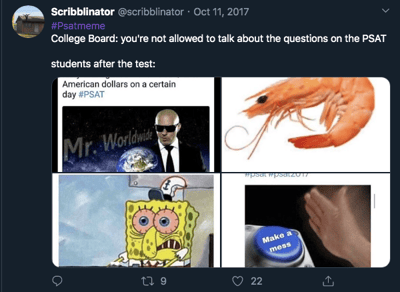 (@scribblinator/Twitter)
"Don't Make PSAT Memes" Memes
We all know that the College Board hates PSAT memes. (We guess they hate fun? And probably also cheating.) They even make sure you sign a statement saying that you won't share content, even in meme format.
Despite the College Board's harsh warnings, the PSAT memes keep rolling in. In honor of all the rule breakers out there, here are the best Don't Make PSAT Memes memes!
#20: Ninja Stealth on the PSAT Memes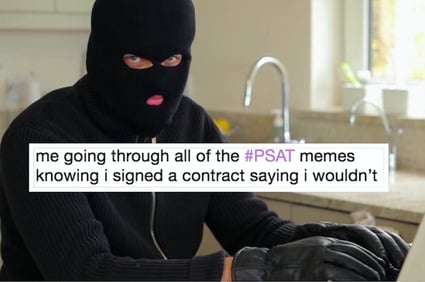 #21: The Best Reason to Take the PSAT!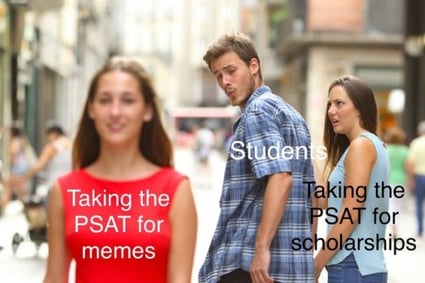 #22: Portrait of a Very Effective, Legally Binding Contract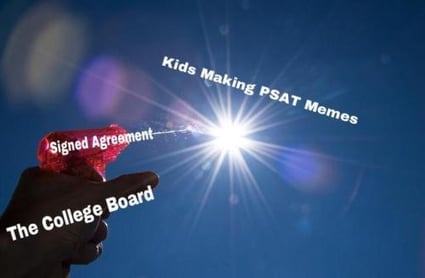 #23: Just Because You Can't Take the PSAT Doesn't Mean You Can't Enjoy the Memes
via MEME
#24: They'll Never Find Me If I Don't Upload a Profile Pic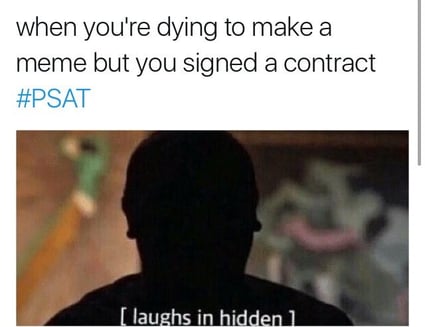 Best Spongebob PSAT Memes 2018
There are so many SpongeBob PSAT memes that we had to break them out into their own category. While there are tons out there, here are our favorites.
#25: Now Watch Me DAB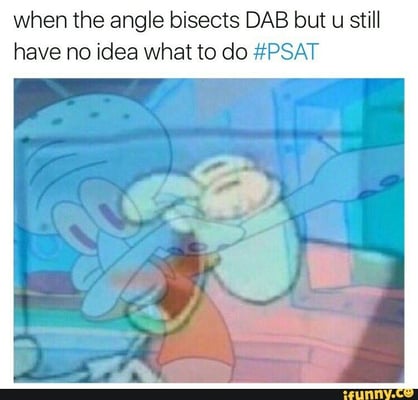 #26: What's the Square Root of Wuthering Heights?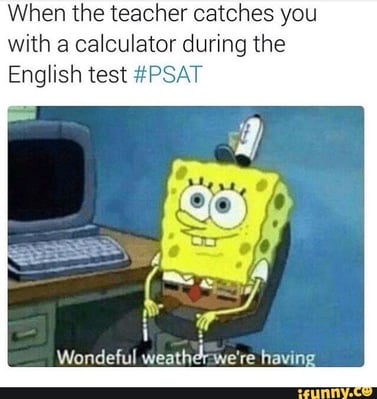 #27: i'M sOrRy fOr pOsTiNg aLL tHeSe mEmEs, cOLLeGe bOaRd!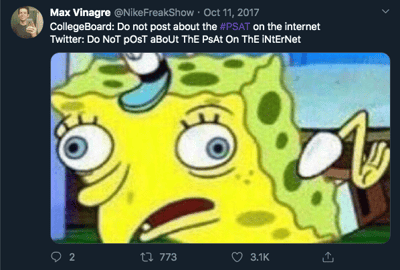 (@NikeFreakShow/Twitter)
#28: One Miserable Star for This PSAT Meme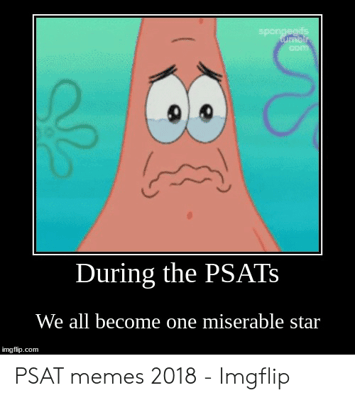 #29: Even College Board Is Making SpongeBob PSAT Memes!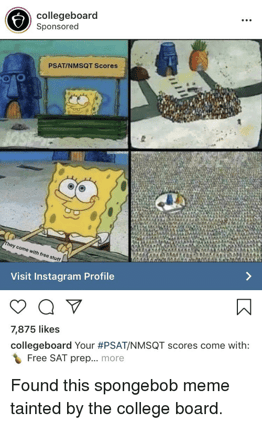 #30: College Board: Don't Make PSAT Memes!
Also College Board: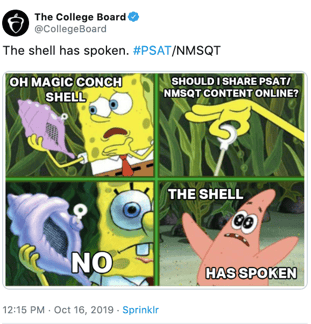 (@CollegeBoard/Twitter)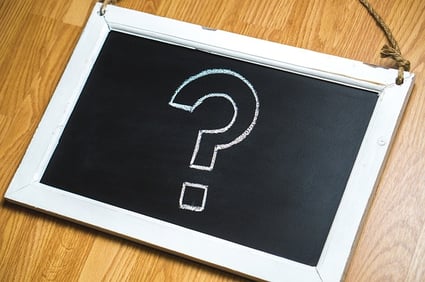 What's Next?
We've got more memes than just these. Be sure to check out our favorite SAT memes and ACT memes, too.
Memes are fun, but now the study break's over. Time to get ready for the actual PSAT. We have a ton of expert articles breaking down the PSAT for you. Feel free to browse, or you can start with our favorite: how to get a perfect score on the PSAT.
One good way to study for the PSAT exam is to use PSAT practice tests. Practice tests can help you assess your current knowledge, create a study plan, and then check your progress down the line. Here's a list of the best PSAT practice tests you can use to optimize your studying.
Disappointed with your PSAT performance? Want to improve your PSAT score by 150 points? We have the industry's leading PSAT prep program. Built by Harvard grads and SAT full scorers, the program learns your strengths and weaknesses through advanced statistics, then customizes your prep program to you so you get the most effective prep possible.
Check out our 5-day free trial today:
Have friends who also need help with test prep?
Share this article!
About the Author
Ashley Sufflé Robinson has a Ph.D. in 19th Century English Literature. As a content writer for PrepScholar, Ashley is passionate about giving college-bound students the in-depth information they need to get into the school of their dreams.
Get Free Guides
to Boost Your SAT/ACT