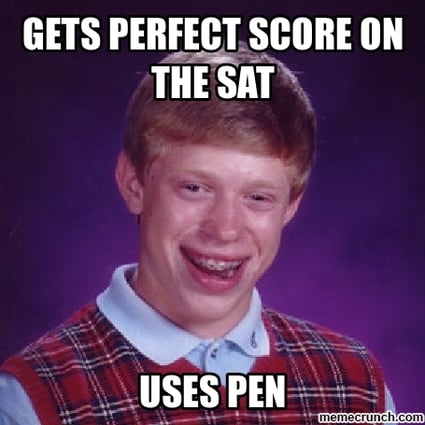 We've found the best new SAT memes on the internet, just for you. (Sorry, SAT 2019 memes. You've been replaced.) Is there Floating Kid? Yep. Are there cats? You bet. Spongebob? Naturalmente. We even have Baby Yoda SAT memes for you, hot off the presses.
So, without further ado: here are the hottest SAT Memes of 2020!
The Best Studying for the SAT Memes 2020
Studying for the SAT can be brutal, but some great SAT memes can make the process better. (Or at least they'll make you feel less alone.)
Here are our top picks for studying-related SAT memes in 2020.
#1: Don't Pretend You Haven't Been There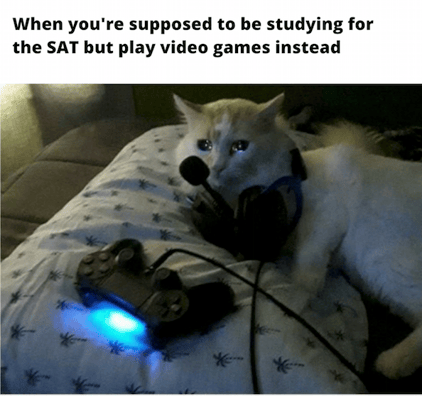 #2: More Likely Than a Sign from College Board!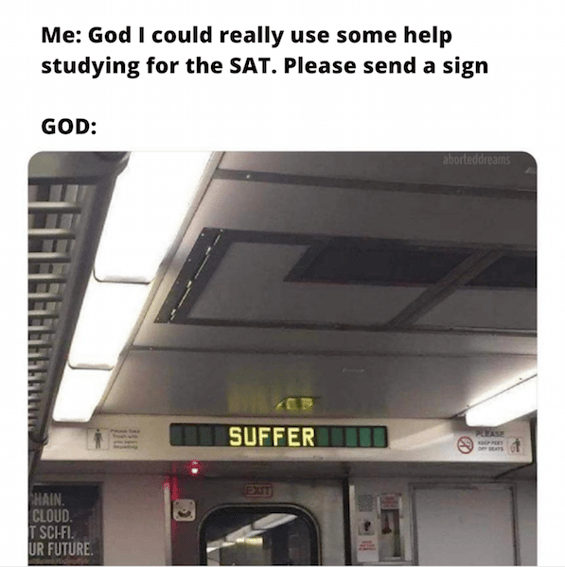 #3: Strength in Numbers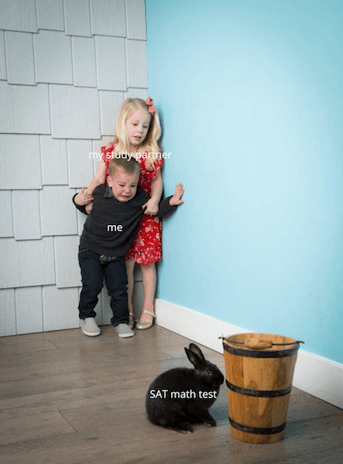 #4: Is This a Common Study Method?
#5: There's an App for That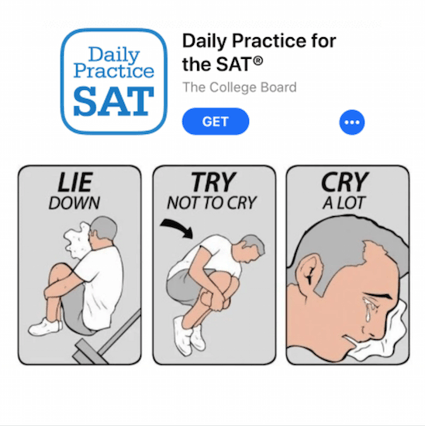 #6: They Follow You Everywhere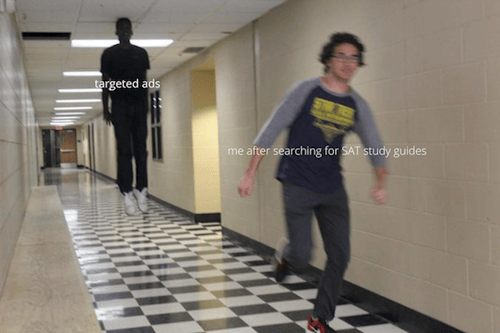 #7: Go to Bed You Should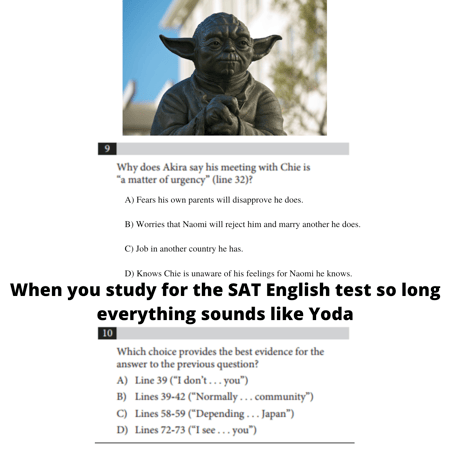 #8: I'm in This Photo and I Don't Like It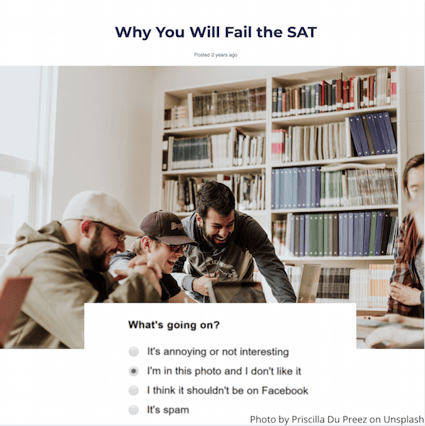 #9: What Doesn't Kill You...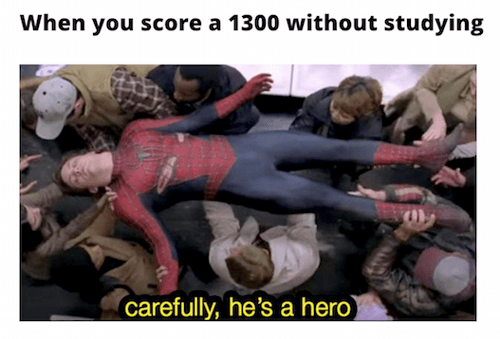 The Best SAT Memes About Waiting for Scores
Waiting for your SAT scores can be brutal. Why not laugh in the meantime? These SAT memes can help ease the pain while you wait.
#10: This SAT Meme Is Just Dark, but True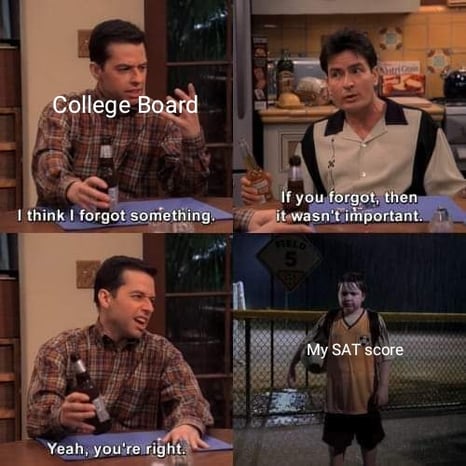 (lilpuncher/Reddit)
#11: You Wanna Tell Me About my SAT Scores?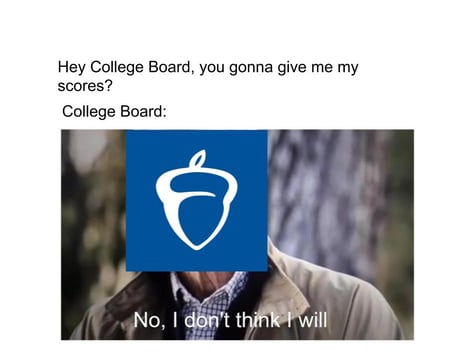 (Caliel23/Reddit)
#12: Playing to Type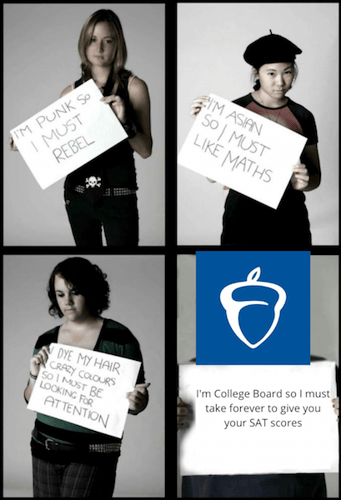 #13: This Is the Way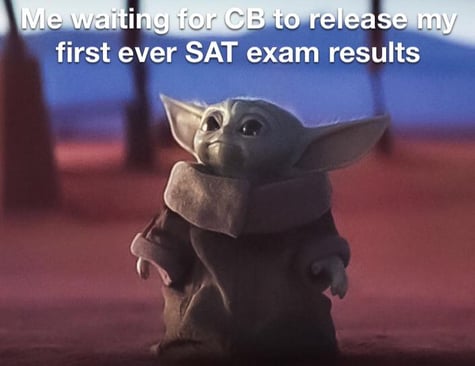 (Xinzel/Reddit)
The Best College Board SAT Memes 2020
Sometimes the best SAT memes are those that take aim at College Board itself. Considering how much effort and logistics go into administering the SAT test, we think they do a great job! But that doesn't mean we can't poke fun at them through a few good-natured College Board memes.
Here are our favorites!
#14: When the New York Times Asked College Board to Clarify What SAT Stands For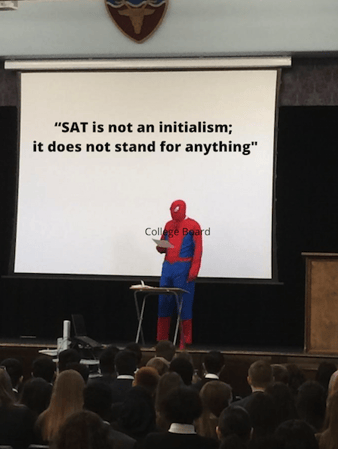 #15: SAT Actually Stands for Speed Assessment Test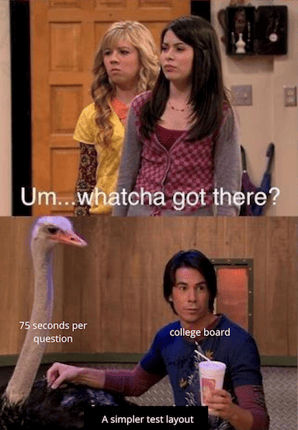 #16: Could've Done Worse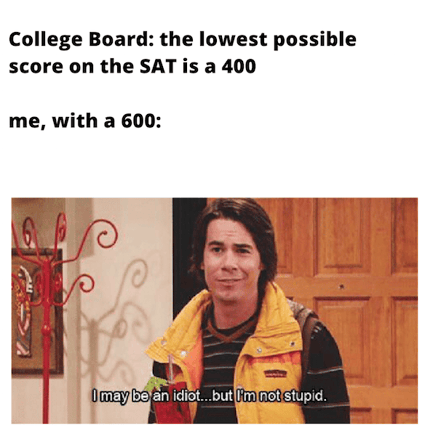 #17: Whomst've Would've Thought They Could Make It Harder?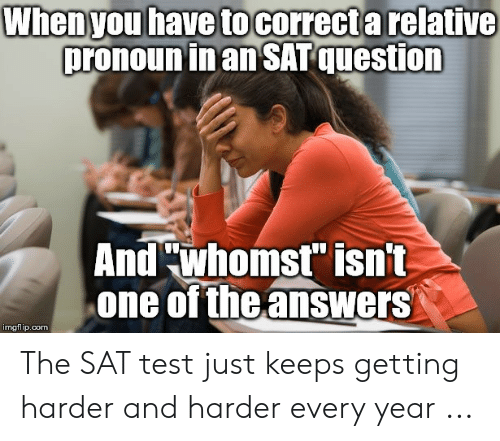 #18: The Best Worst Feeling
(Sophie/Sophieable2.weebly.com)
#19: When You Study so Much It Feels Like Love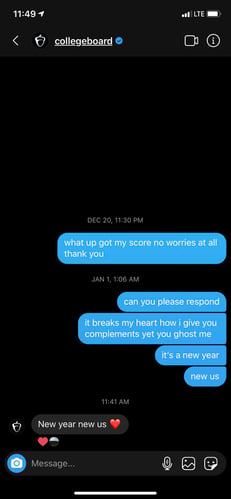 #20: So Cute That She Still Believes in the SAT Curve
(fong585/Reddit)
#21: When the Optional Essay Isn't Optional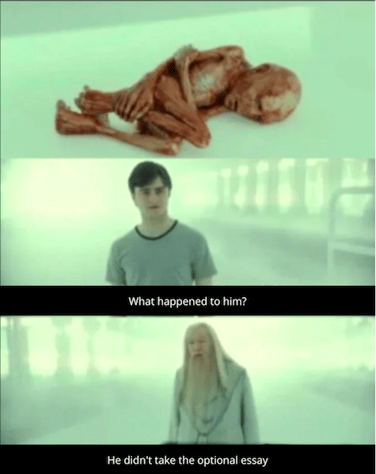 #22: Hope I Can Still Get My Scores After These SAT Memes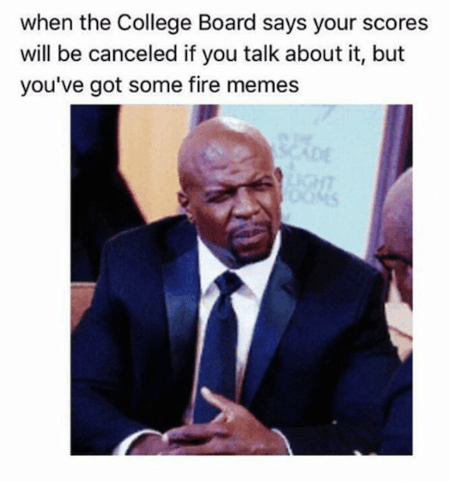 #23: This MAY Be a Throwback to the Best SAT Memes 2018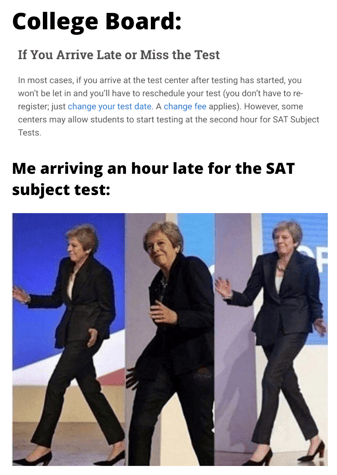 #24: Can I Be Excused for the Rest of my Life?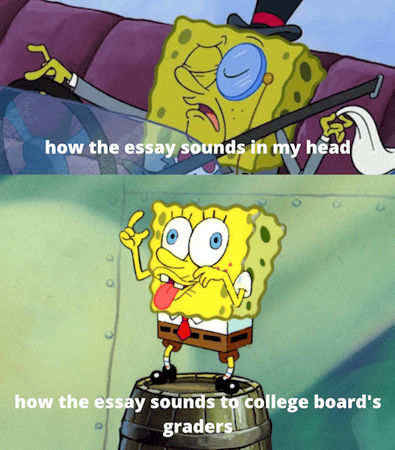 #25: Another Throwback to SAT Memes March 2019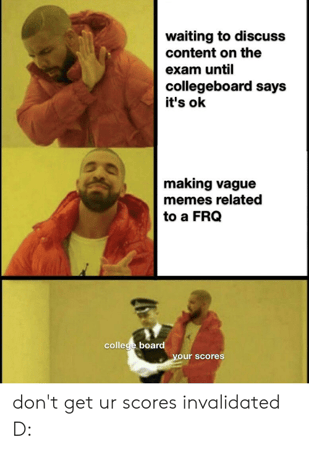 (piinecones/Reddit)
#26: Do It Under the Cloak of Anonymity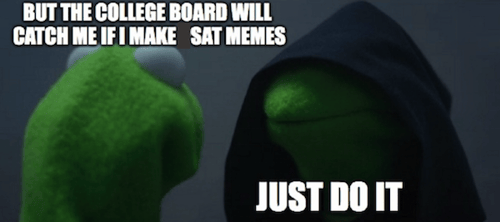 The Best Red-Headed Bird SAT Memes 2020
Last year, one of the SAT reading questions involved a battle between red-headed birds and black-headed birds at the bird feeder. This set off a wave of SAT memes exploiting that scenario. So, enjoy the best Red-headed Bird SAT Memes 2020!
#27: There Can Be Only One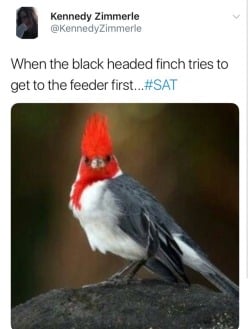 (@KennedyZimmerele/Twitter)
#28: When You Study for the SAT so Long You Become an SAT Meme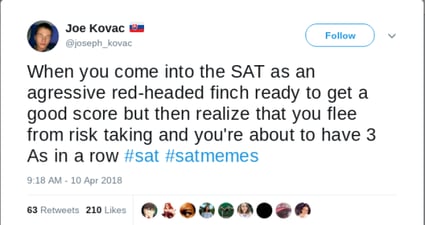 (@joseph_kovac/Twitter)
#29: Is the Coast Clear?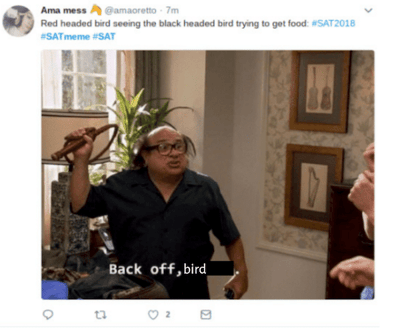 (@CaitlinSmith7/Twitter)
#30: I'm Watching You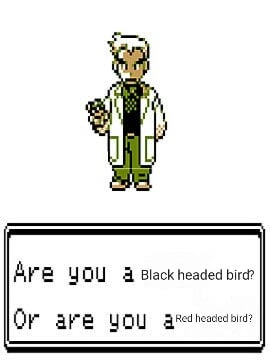 (@toluupnxt/Twitter)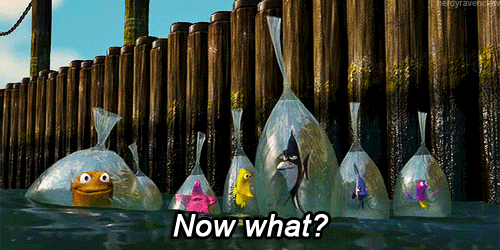 Now What?
Do you need more memes in your life? Then be sure to check out our ACT and PSAT meme posts.
Now that you've read through our favorite SAT memes, it's time to get back to studying. Why not flip through our Ultimate SAT Study Guide to make sure you're covering all of your bases? And once you've done that, you can read more about how to get a perfect score on the SAT.
If you're not sure what a good SAT score is, that's okay. A "good" score depends on a lot of things: what schools you want to go to, how competitive they are, and whether you need financial aid or not. This article will teach you everything you need to know to determine what a "good" SAT score is for you!
Disappointed with your scores? Want to improve your SAT score by 160 points? We've written a guide about the top 5 strategies you must be using to have a shot at improving your score. Download it for free now:
Have friends who also need help with test prep?
Share this article!
About the Author
Ashley Sufflé Robinson has a Ph.D. in 19th Century English Literature. As a content writer for PrepScholar, Ashley is passionate about giving college-bound students the in-depth information they need to get into the school of their dreams.
Get Free Guides
to Boost Your SAT/ACT